The Airline Vaccine Mandate Question
Consumers support a vaccine mandate to travel, but the industry remains hesitant. Experts discuss if — and how — U.S. airlines should go about enacting one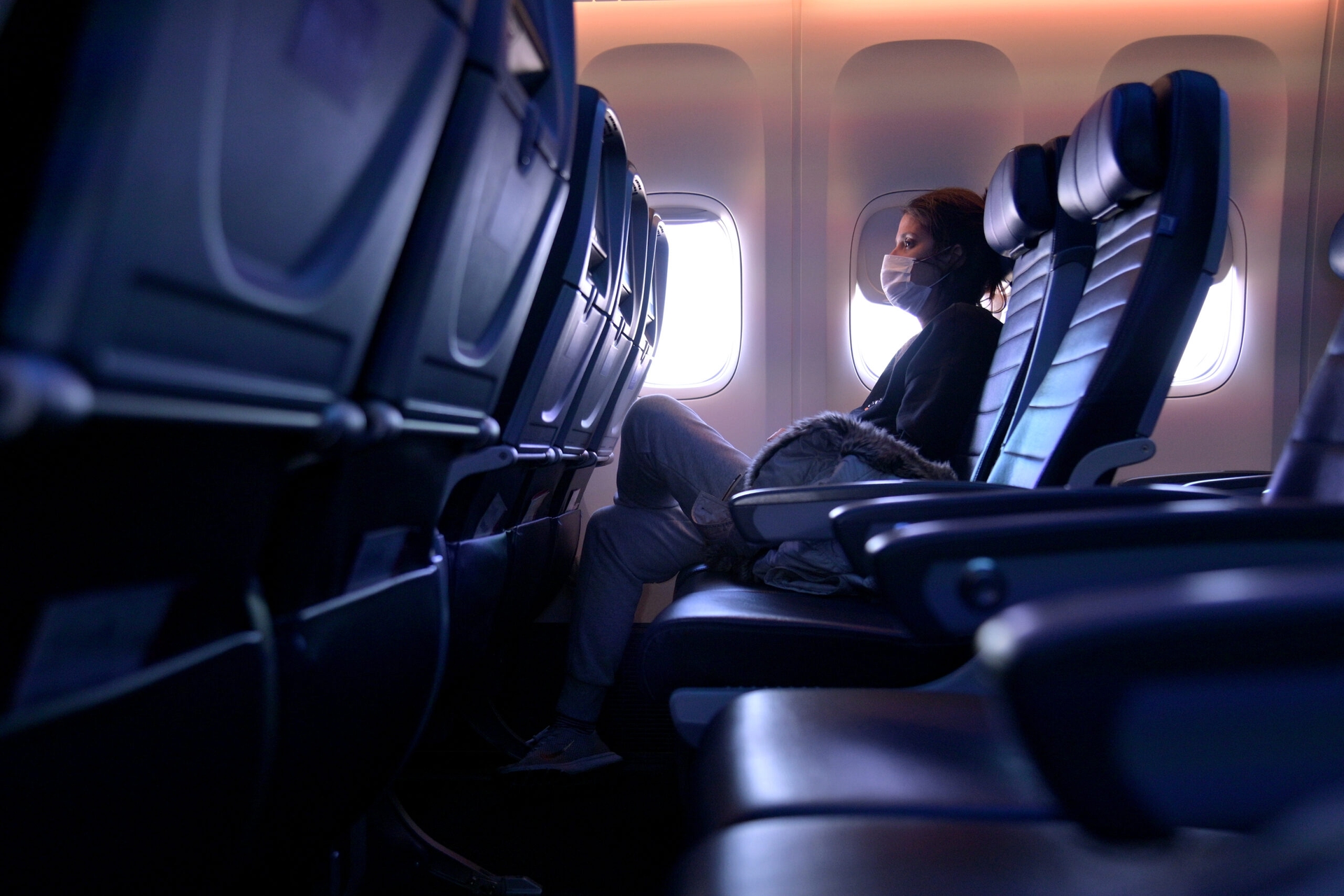 Key Takeaways
61% of U.S. adults support requiring travelers to show proof of vaccination on domestic flights; 64% support them for international flights.

56% said they would prefer to fly with an airline that requires all passengers and employees to be vaccinated — more than double the share who said they'd prefer one with no mandates.

53% of consumers said they feel safe flying with mask mandates alone.
As the weather cools down, Americans are warming up to the idea of air travel ahead of the holiday season. Vaccine mandates for airline passengers could further encourage hesitant travelers to book flights. And though some legislators and public health experts favor such a policy, not everyone in the travel industry is on board.
Sixty-one percent of U.S. adults support requiring individuals to show proof of vaccination against COVID-19 on domestic flights, while 64 percent support vaccine requirements on international flights, according to data from Morning Consult. That support differs along party lines: Almost twice as many Democrats favor mandates on domestic flights as Republicans.
Majorities of Adults, Democrats, Independents Support Vaccine Mandates on Flights
Shares of U.S. adults who said COVID-19 vaccines should be required for the following:
Poll conducted Sept. 21-26, 2021, among 4,400 U.S. adults, with a margin of error of +/-1%.
Despite majority support among consumers for an airline vaccine mandate, the policy still has a long way to go before it's implemented in the United States.
Internationally, a handful of airlines are testing the waters. Australia's Qantas Airways Ltd. announced a vaccine requirement for passengers last month, and Air New Zealand Ltd. followed soon after.
But, so far, no airlines based in the United States have asked customers for proof of vaccination in order to fly, and there are no immediate federal plans to require them to do so, according to Katherine Estep, managing director of communications for trade association Airlines for America.
That's not to say there hasn't been talk of it. 
Some U.S. passenger carriers, such as American Airlines Group Inc., Alaska Air Group Inc. and JetBlue Airways Corp., have told employees they must be vaccinated in order to comply with Biden administration rules for government contractors. 
Sen. Dianne Feinstein (D-Calif.) introduced a bill last month that would require passengers on domestic flights to show proof of COVID-19 vaccination or a negative test, following in the footsteps of the Canadian government. Some public health organizations are backing the legislation. 
"We support it strongly," said Dr. Georges Benjamin, executive director of the American Public Health Association. "I've always tried to encourage people first, but at some point if you have to mandate, you have to mandate, and we're there." 
Flyers feel safe with just masks — but vaccine requirements could encourage even more to travel
Vaccine mandates would be more effective in protecting passengers from the coronavirus — especially the highly contagious delta variant — than the current mask requirements on airplanes alone, Benjamin said, though he added that masking and factors such as the high air exchange rates on planes make flying "relatively safe," even if some passengers are unvaccinated. 
Most consumers do feel comfortable with only masks, according to a new survey from Morning Consult: 53 percent said they feel safe flying with airlines that require masks, but not vaccines, on flights. Most are also confident in airlines' abilities to enforce mask policies: 62 percent said they think airlines are doing at least "somewhat of a good job" with this task. 
Comfort in this scenario is highest among men, millennials and adults whose household income is more than $100,000 per year. Democrats and Republicans are about equally as comfortable on flights that don't require vaccines.
Most Consumers Are OK Flying With Just Mask Mandates
Shares of U.S. adults who said they feel "very" or "somewhat" comfortable flying with airlines that require masks but not vaccinations:
Poll conducted Oct. 9-12, 2021, among 2,200 U.S. adults, with a margin of error of +/-2%.
Still, the risk of spreading the virus across communities can't be ignored.
"What makes an airplane different from your neighborhood school is the potential for broad spread throughout communities," Benjamin said. "You get one person who's not vaccinated and highly infectious, and that disease can infect and spread through lots of communities."
In addition to increased protection, an airline vaccine mandate could lead to greater peace of mind for consumers, who then might be more eager to book flights.
Fifty-seven percent of adults said they'd be comfortable on a domestic flight if they knew all employees were vaccinated, and that number increased to 62 percent in a scenario in which all people present, including patrons and employees, were vaccinated.
Comfort on Flights Increases With Vaccine Mandates
Shares of U.S. adults who said they feel comfortable flying domestically and internationally in general, if employees were vaccinated and if all people present were vaccinated:
Polls conducted Oct. 9-12 and Oct. 14-16, 2021, among 2,200 U.S. adults each, with margins of error of +/-2%
When given the choice, 56 percent of adults said they would prefer to fly with an airline that required all passengers and employees to be vaccinated, according to the survey. Roughly 1 in 4 (23 percent) said they'd prefer to travel with an airline that does not require anyone to be vaccinated.
Even Republicans are evenly split between preference for airlines that require everyone to be vaccinated (38 percent) and airlines with no vaccine mandates at all (38 percent).
"Not only is this an opportunity because people are in support of vaccines for domestic air travel, but it also might help to compel some of those people who are putting off their air travel because they feel uncertain or unsafe, and could give them a level of comfort that they're not getting right now," said Lindsey Roeschke, Morning Consult's travel and hospitality analyst, who advised airlines to adopt vaccine mandates in an Oct. 7 memo. "This could potentially be the time to get people while they are in that planning mindset."
Most Americans Would Opt to Fly With Airlines That Require Proof of Vaccination
Shares of U.S. adults who said they would prefer to fly with an airline that requires the following groups to be vaccinated:
Poll conducted Oct. 9-12, 2021, among 2,200 U.S. adults, with a margin of error of +/-2%. Figures may not add up to 100% due to rounding.
Risks to air travel could outweigh rewards, U.S. Travel Association executive says
Trade associations such as Airlines for America and the U.S. Travel Association oppose vaccine mandates, alleging that the additional check would have a chilling effect on the industry.
"We think it's a really dangerous proposition, quite frankly," Tori Emerson Barnes, executive vice president of public affairs and policy at U.S. Travel, said. "The risk of masked passengers contracting an airborne virus like COVID-19 is extremely unlikely." Benjamin confirmed that the risk of transmission on planes is relatively low. Other public health experts have told Morning Consult since the start of the pandemic that the air exchange on planes makes them a safer space than many other public spaces.
The U.S. travel industry is still recovering from the pandemic, with travel spending levels down 11 percent in August 2021 compared to the same month in 2019. That may explain why airlines are reluctant to make any fundamental changes without knowing exactly how they'd impact their business.
Plus, airports and airlines, which are already dealing with increasingly disgruntled passengers, could face even more backlash if vaccine requirements lead to delays of any sort— a very real possibility, according to Barnes. Travelers would likely have to show proof of vaccination at Transportation Security Administration checkpoints and at their gates, for instance, another step in an already drawn-out process.
"You've got two points there where you'll likely have to wait in long lines," Barnes said. "It would be much more cumbersome to fly, and overall, the traveler experience would be so negatively impacted that you'd have fewer people traveling."
Family travel could also suffer, she said, since children under the age of 12 are not yet eligible for vaccines. (On Wednesday, the White House announced a plan to vaccinate children aged five to 11 in anticipation of an authorization by the FDA and CDC.) Most consumers are likely not considering these factors at this point, Barnes said.
Roeschke also acknowledged the potential for negative ramifications for airlines if they do implement vaccine mandates, but said her research largely indicates support for the policy, especially among consumers who traveled fairly regularly before the pandemic.
For instance, 69 percent of those who traveled by air domestically for leisure or business at least annually before the pandemic favor a vaccine mandate on domestic flights, according to Roeschke's recent memo. 
"People who are going to be these airlines' main targets are even more in favor of a mandate," Roeschke said. "Airlines should be prepared for some detractors and some backlash."
To mitigate repercussions as much as possible, Roeschke said airlines that consider vaccine mandates should make plans to clearly explain changes to the traveling process to people passing through airports, such as providing guidance on how much time they should allow for check-ins before boarding flights. 
"If you set their expectations," she said, "then they're not able to formulate their own and then not have them met by your services."
Stay home for the holidays? 'Not going to happen'
Vaccine mandates or not, the outlook for the travel industry heading into the holiday season is certainly looking better than last year, experts agreed. 
Morning Consult's Return to Normal tracker on travel indicates that comfort with traveling is trending upward as the holidays approach, with 63 percent of Americans saying they'd feel comfortable taking a vacation as of an Oct. 14-16 survey, just 2 percentage points shy of a record high in comfort with the activity set on the Fourth of July. Comfort with international flights also reached a record high of 31 percent as of an Oct. 7-9 survey.
And even public health experts agree that travelers — if they follow the rules already put in place by airlines and the federal government — should feel encouraged to reunite with their families and friends for the holidays. 
"All of this is about reducing your risk," Benjamin said. "The only way to protect yourself 100 percent from disease is to stay home, but that's not going to happen. The reality is that everything we're doing is reducing risk."
Alyssa Meyers previously worked at Morning Consult as a reporter covering brands and marketing.
We want to hear from you. Reach out to this author or your Morning Consult team with any questions or comments.
Contact Us