As Pandemic Wanes, Video Game Companies Face Challenge of Keeping New Users
Experts say celebrity and brand partnerships, along with mobile components, can aid retention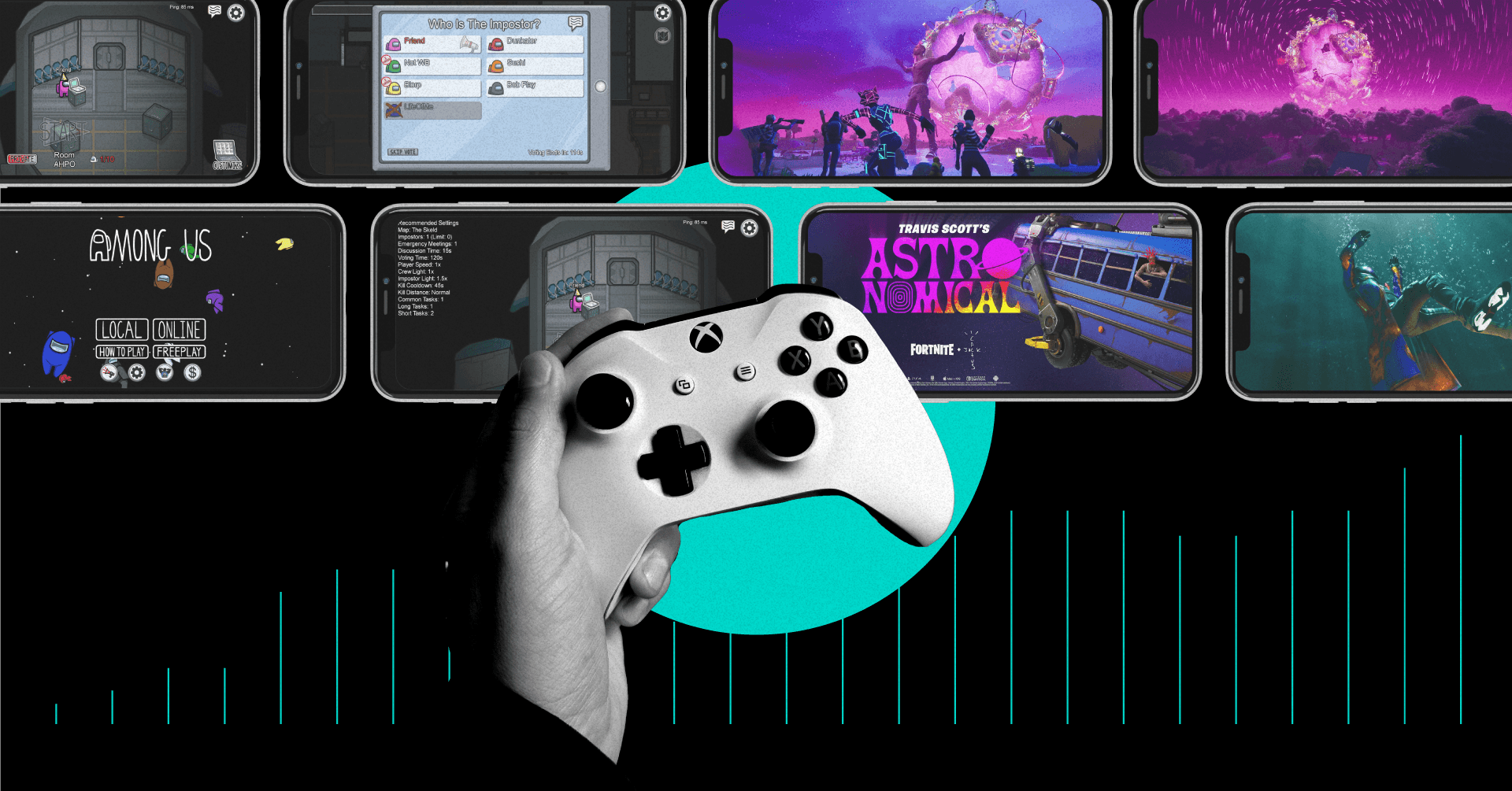 While many Americans put travel plans on hold last summer, others spent time finding imposters in space and building their own private islands — at least virtually.
Amid the pandemic, video games, from "Animal Crossing" and "Fall Guys: Ultimate Knockout" to "Cyberpunk 2077," have seen a spike in popularity, with users spending a record amount of time on a range of devices. But as movie theaters, concerts and sporting events become viable entertainment options again, games — especially smaller, independent titles — must continuously innovate in order to retain their new fans. 
In 2020, games and interactive media earnings grew 12 percent year over year, according to the Nielsen company SuperData, with 55 percent of U.S. residents saying they played video games during the early part of last year's lockdowns. While game earnings saw a 6 percent year-over-year increase in 2020's first two months, the earnings increased 14 percent for the rest of the year, with free-to-play games generating 78 percent of digital revenue in 2020.  
"Among Us," a free game developed by InnerSloth LLC in which groups of four to 10 players work together to determine the identity of the "Imposter," launched in June 2018 but saw a surge in popularity last summer, when Twitch users began playing the game on live streams for their followers. Industry experts also attributed the collaborative, multiplayer nature of "Among Us" to its surge during the pandemic. 
"With social isolation, having a social-based, online multiplayer game was perfectly fit for entertaining children and adults at home," said Renee Gittins, executive director of the International Game Developers Association.
Downloads of the game from Apple Inc.'s App Store and the Google Play store surged from 1.8 million in June to a high of 82.8 million in September, according to data from Sensor Tower, which said the mobile app generated nearly $22 million in revenue from in-app purchases such as cosmetic items and costumes in October. 
But in subsequent months, downloads steadily decreased, down to 11 million last month.
Kate Edwards, executive director of Global Game Jam, an annual international game creation event, said a slowdown in gaming is not unexpected because people are feeling increasingly comfortable getting back to more leisure activities. 
"That need for pure escapism because we're all stuck at home will obviously be alleviated to some degree as well as things start to open up again," she said. 
As consumers return to movie theaters, sporting events and restaurants, giving players a reason to open the games on mobile devices will be key, experts said, whether it's through traditional gameplay or console-based games that offer related online components. 
"When people are out and about, and spending less time dedicated in front of their computer or their console, making sure that you continue to keep them cognizant of what's going on in the game is what's really going to help make sure that that stickiness remains when things open up," said Sean Gilbert, associate vice president with Teknos Associates, a valuation firm focused on technology companies.
That type of investment might be challenging for independent titles such as "Among Us" and "Carto," he said, though consolidations like Epic Games Inc.'s recent acquisition of Tonic Games Group, developer of the popular "Fall Guys: Ultimate Knockout," could help smaller titles inject more resources into mobile offerings.  
Downloadable content could provide another option for these titles. 
Over the years, Edwards said, video game developers have learned that longevity is one of the most important components to a game's life cycle, and will produce downloadable content — such as adding new maps or characters to an existing title — to keep the game feeling fresh for players.
"Among Us" is using this strategy, canceling plans for a sequel and instead putting planned "Among Us 2" content back into the original game. InnerSloth, which did not respond to requests for an interview, released its latest "Among Us" map on March 31. 
But developers' pandemic innovations — namely incorporating recognizable celebrities and brands into the games — could be most essential to retaining players. 
Epic Games' "Fortnite" introduced new elements for players throughout 2020. The game hosted the world premiere of the trailer for the Christopher Nolan film, "Tenet," last May and was the venue for a virtual concert by Travis Scott, who was reportedly paid "a multimillion dollar fee up front." "Fortnite" also held an in-game film festival in February. 
It's clear that Hollywood is more openly embracing games as they know the younger demographics are far more into games compared to other forms of entertainment media.
Kate Edwards, executive director of Global Game Jam
"'Fortnite' was showing a form of leadership that other games are going to follow. It was the perfect environment in which to try those things," Edwards said. "What they did was prove to a lot of other companies that this is something that's very viable, and people will flock to this kind of event if you hold it."
Forty-five million viewers watched Scott's "Astronomical" concert, a 10-minute performance that was shown five times over three days, while a Lil Nas X concert held in the online gaming platform Roblox drew in more than 33 million viewers. 
But these types of partnerships can pose their own challenges. While working with an A-list influencer like Scott proved to be a no-brainer for "Fortnite," independent games like "Among Us" need to feel certain that such an expensive marketing investment will ultimately improve the title's bottom line.
"Generally, small developers have smaller audiences, so it is unlikely that they would receive direct financial compensation" if they include intellectual property from other rights holders in a video game, Gittins said, noting "the only likely benefit of such a collaboration is marketing or increased in-game sales."
Despite the many factors game developers must weigh before greenlighting a high-profile partnership, these types of deals between developers and celebrities don't seem to be slowing down anytime soon. 
"We are seeing a growing trend of more overt celebrity involvement in games, such as Keanu Reeves' appearance in 'Cyberpunk 2077,'" Edwards said. "It's clear that Hollywood is more openly embracing games as they know the younger demographics are far more into games compared to other forms of entertainment media." 
Sarah Shevenock previously worked at Morning Consult as a reporter covering the business of entertainment.
We want to hear from you. Reach out to this author or your Morning Consult team with any questions or comments.
Contact Us