Voters Currently Don't Want Oprah to Run for President
Golden Globes acclaim may not translate into national support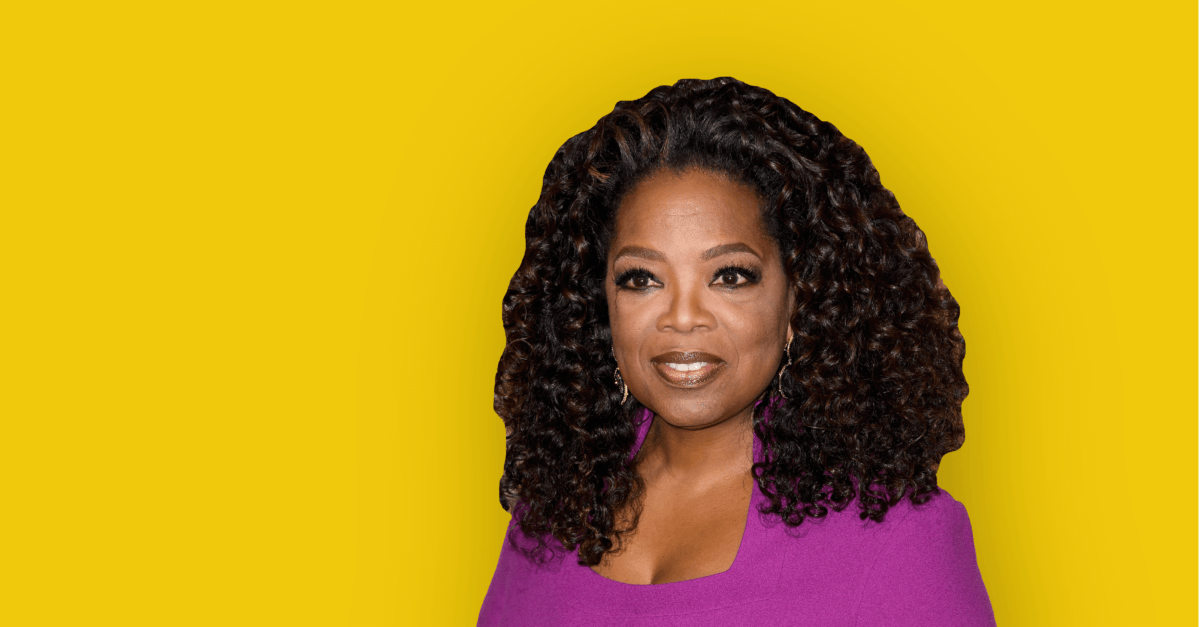 Key Takeaways
41% of voters said a president should have experience in an elected government position before entering the Oval Office.

But 44% said experience in an elected government position is not necessary to be president.
Most voters do not think Oprah Winfrey should run for president in 2020, a new survey shows. But the media mogul would hold a narrow lead over President Donald Trump in a hypothetical head-to-head 2020 matchup.
The Morning Consult/Politico poll was conducted Jan. 11-16 among a national sample of 1,993 registered voters, in the days following Winfrey's Jan. 7 speech at the Golden Globes that sparked talk of a potential bid for political office. Fifty-nine percent of survey respondents said Winfrey should not run for president, compared to 24 percent who said she should. Seventeen percent said they did not know or had no opinion.
If the election were held today, Winfrey would lead Trump 40 percent to 38 percent, within the poll's plus or minus 2-percentage point margin of error.
"If you were watching cable news the Monday after the Golden Globes, you would have thought the numbers would say 99 percent of Americans want her to run," said Robert Thompson, director of the Bleier Center for Television & Popular Culture at Syracuse University, in a Tuesday interview. "Certainly polls have their limitations, but these numbers don't quite indicate that degree of enthusiasm."
In her remarks at the Golden Globes, Winfrey offered a defense of the press in the face of Trump's media criticism and spoke about women who "endured years of abuse and assault" because they had "children to feed and bills to pay and dreams to pursue."
Doug Heye, a former spokesman for the Republican National Committee who is now a CNN contributor, said Winfrey successfully seized the moment at the Golden Globes with a speech about important contemporary issues that was not blatantly political. Asked about the voters who said Winfrey should not run for president, he ascribed that to political fatigue.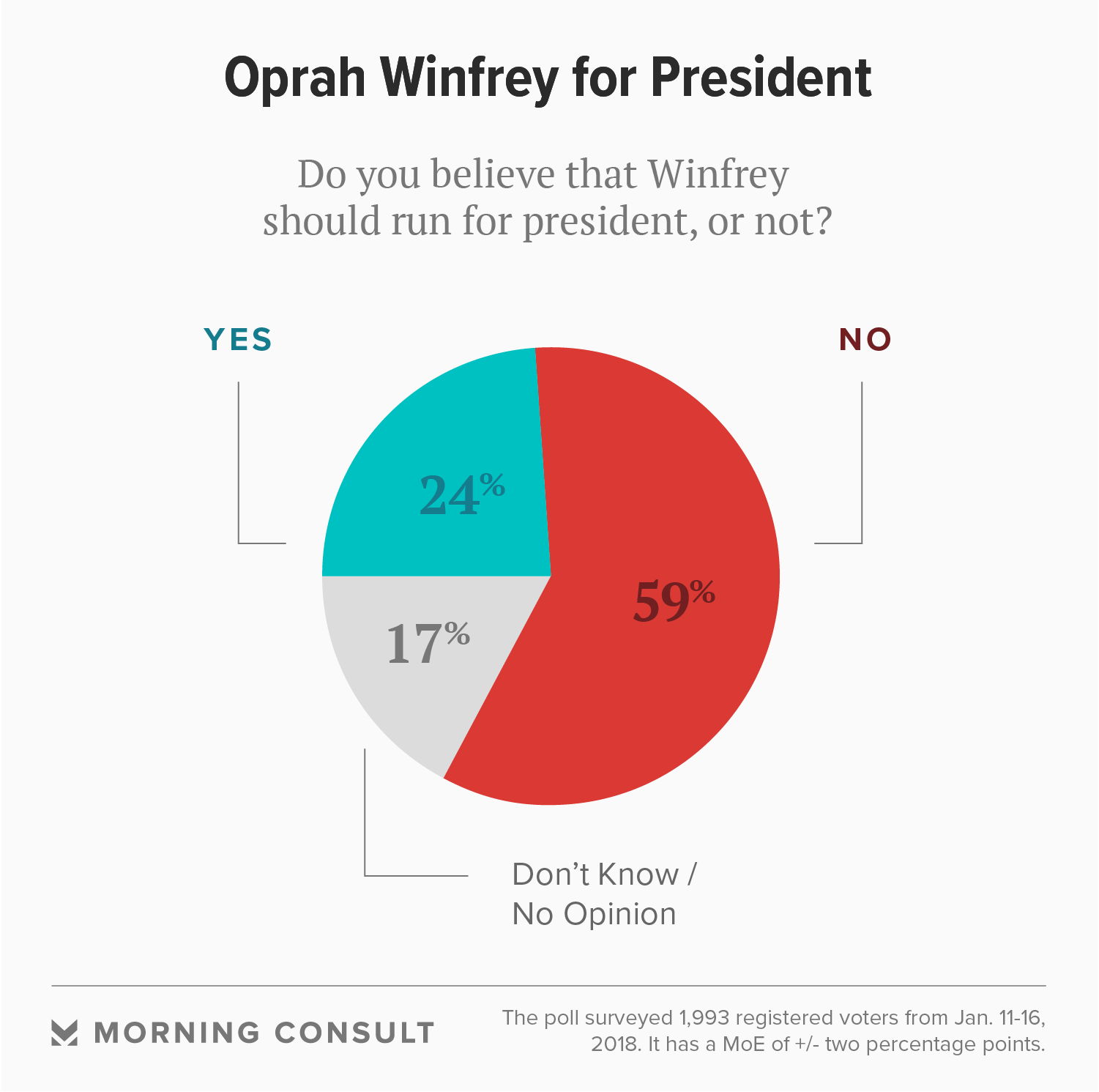 "People like Oprah because they've watched her do amazing things for 30 years now. Yeah, she supported candidates in the past, but being a candidate yourself opens you up to all kinds of political attacks," he said in a Tuesday interview.
Sixty-two percent of those surveyed described Winfrey as liberal, 39 percent of whom described her as "very liberal." Six in 10 Republicans described Winfrey as "very liberal," compared with 28 percent of Democrats who described her as such. A 33-percent plurality of Democrats described Winfrey as "somewhat" liberal.
Winfrey's office did not respond to a request for comment.
Michael Ahrens, a spokesman for the Republican National Committee, said of the poll in a Tuesday email: "Regardless of who the far-left base of the divided Democratic Party chooses, we'll be ready."
Voters are split on the necessity for government experience: Forty-one percent said a president should have experience in an elected government position before entering the Oval Office, while 44 percent said experience in an elected government position is not necessary to be president.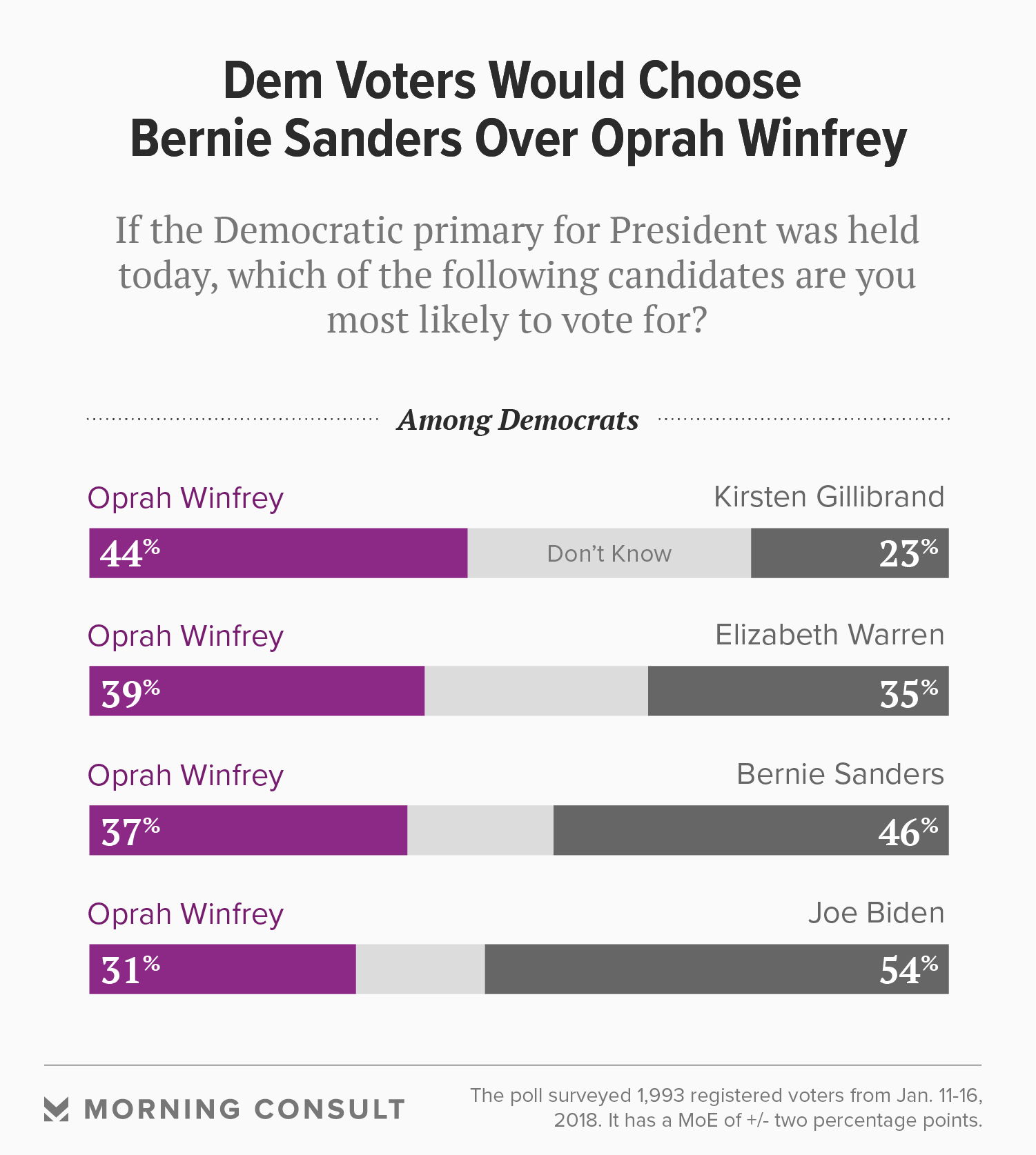 Brad Anderson, an Iowa-based political strategist who is of counsel at Precision Strategies, said the survey results regarding Winfrey's political views may be "premature" because "people think she's liberal because they associate her with Hollywood."
"That could all change once she starts talking about issues," Anderson said in an email Tuesday.
In head-to-head primary matchups with a handful of possible Democratic 2020 contenders, Winfrey performed best against New York Sen. Kirsten Gillibrand among Democrats, leading her 44 percent to 23 percent. She also leads Massachusetts Sen. Elizabeth Warren 39 percent to 35 percent. The poll found Vermont Sen. Bernie Sanders (I) would beat Winfrey, 46 percent to 37 percent. But former Vice President Joe Biden would beat Winfrey by a larger margin, 54 percent to 31 percent, among Democrats.
Still, Anderson said he thinks she could at least get some meetings in Iowa.
"I guarantee any of our 99 Democratic county chairs would be happy to talk to Oprah Winfrey about whatever she wants to talk about, whether its presidential politics or some of her favorite things," he said.
Eli Yokley is Morning Consult's U.S. politics analyst. Prior to his current role, Eli was Morning Consult's senior reporter covering U.S. politics. Eli joined Morning Consult in 2016 from Roll Call, where he reported on House and Senate campaigns after five years of covering state-level politics in the Show Me State while studying at the University of Missouri in Columbia, including contributions to The New York Times, Politico and The Daily Beast. Follow him on Twitter @eyokley. Interested in connecting with Eli to discuss his analysis or for a media engagement or speaking opportunity? Email [email protected].
We want to hear from you. Reach out to this author or your Morning Consult team with any questions or comments.
Contact Us