More Americans Think It's Too Easy Than Too Hard to Vote
Polling underscores Democrats' messaging problem on urgency for federal action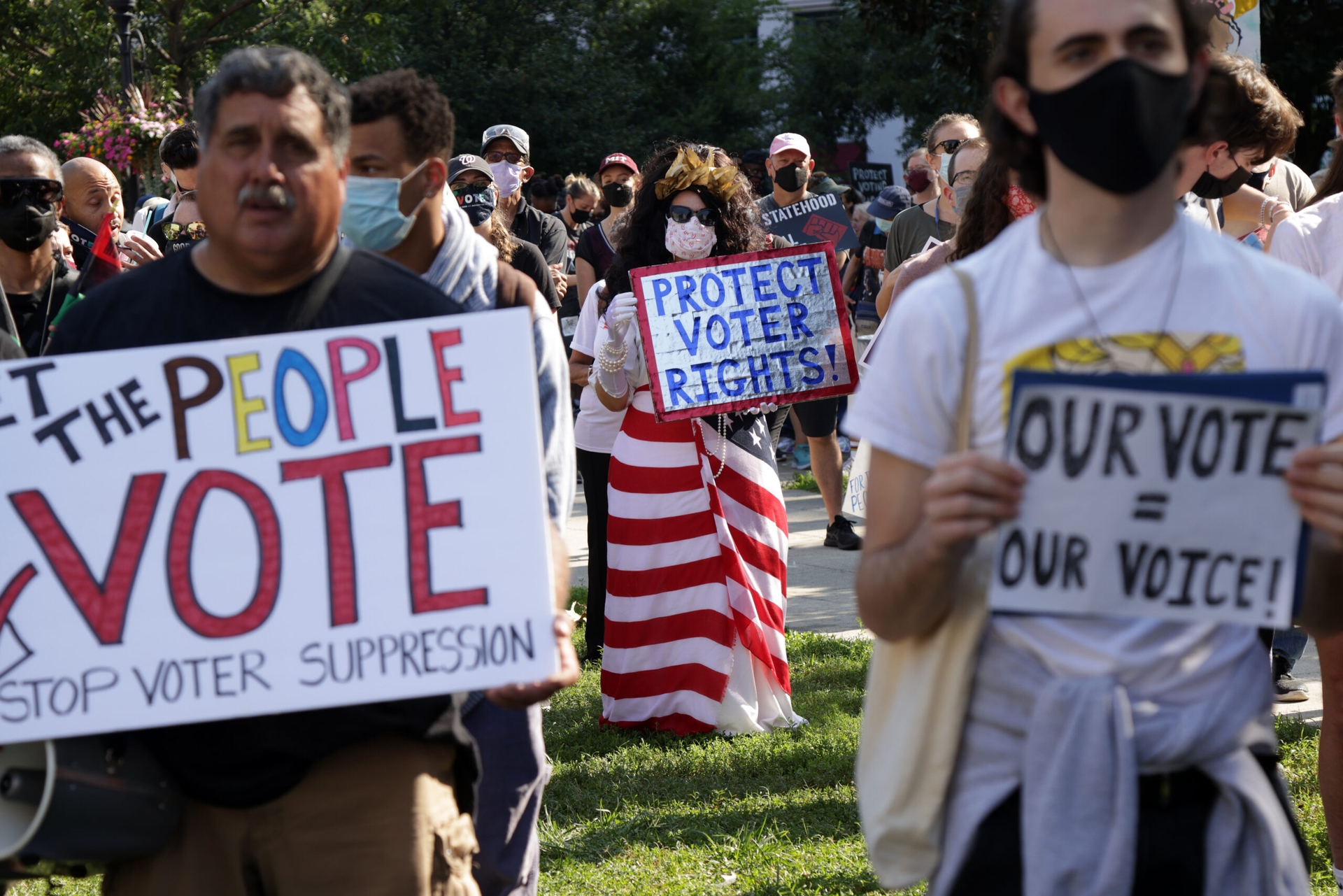 Key Takeaways
U.S. adults are more likely to say the rules around voting are not strict enough to prevent votes from being cast illegally than they are to say that the rules make it too hard for eligible voters to participate in elections.

54% of Democrats say the rules around voting are too strict, while 79% of Republicans say they aren't tough enough.

Black Americans are slightly more likely to say it's too difficult to vote than to say it's too easy, while Hispanic Americans are divided on the question.
Voting rights advocates have used local restrictions passed by Republican state legislatures in the wake of the 2020 election as evidence that suffrage is under attack as they press Democrats in Congress to respond with federal legislation. 
But the idea that it is too hard to vote is not the prevailing sentiment among the American people, according to new Morning Consult polling, revealing a messaging problem for Democrats who already face the practical challenge of circumventing a Senate Republican filibuster of their Freedom to Vote Act.
The Sept. 17-20 survey found that 44 percent of U.S. adults believe the rules around voting are not strict enough to prevent votes from being cast illegally, a rarity in modern American elections, compared with 33 percent who say the rules make it too difficult for eligible citizens to cast their ballots.
Only One-Third of Americans Think It's Too Difficult for Eligible Citizens to Vote
Share of U.S. adults who said the rules around voting…
Poll conducted Sept. 17-20, 2021, among 2,200 U.S. adults, with a margin of error of +/-2%. Figures may not add up to 100% due to rounding.
On this key question in the debate about voting rights, there is less unanimity among Democrats than among Republicans: 54 percent of Democrats say the rules around voting are too strict, compared with 79 percent of Republicans who say the rules are not tough enough.
State-level legislation in Texas and other red-leaning states have prompted charges of racism from voting rights advocates, who say people of color are disproportionately affected by voter ID requirements and limits on early voting. While Black Americans are more likely to say that difficulties in the voting process are a bigger problem than a lack of restrictions, it's not a majority position among the group, and Hispanic Americans are divided on the question.
The polling comes after Senate Democrats reached an agreement in September on voting rights legislation crafted by moderate Sen. Joe Manchin (D-W.Va.), who opposed the party's previous voting and government reform package, the House-passed For the People Act. 
Along with revisions to campaign finance — and perhaps most importantly, restrictions on partisan gerrymandering in redistricting — the measure would expand early voting and create an automatic voter registration system, provisions that are popular with the overall electorate, and opposed by Senate Republicans, who are expected to block floor consideration of Manchin's compromise legislation.
The Senate GOP's blockade is likely to prompt more calls from the left to eliminate the legislative filibuster. Recent Morning Consult/Politico polling found that 37 percent of Democratic voters say nixing the filibuster should be a "top priority" on Capitol Hill, up 13 percentage points since the beginning of the year but unchanged since early June.
As other pieces of President Joe Biden's agenda have been blocked by Republicans in the Senate, about a quarter of all voters say Congress should prioritize the elimination of the filibuster.
Eli Yokley is Morning Consult's U.S. politics analyst. Prior to his current role, Eli was Morning Consult's senior reporter covering U.S. politics. Eli joined Morning Consult in 2016 from Roll Call, where he reported on House and Senate campaigns after five years of covering state-level politics in the Show Me State while studying at the University of Missouri in Columbia, including contributions to The New York Times, Politico and The Daily Beast. Follow him on Twitter @eyokley. Interested in connecting with Eli to discuss his analysis or for a media engagement or speaking opportunity? Email [email protected].
We want to hear from you. Reach out to this author or your Morning Consult team with any questions or comments.
Contact Us