Warren Backs Sanders' Health Plan, but Fewer Voters Say She's Honest About Cost
More Democratic voters say Biden, Sanders are honest about health care costs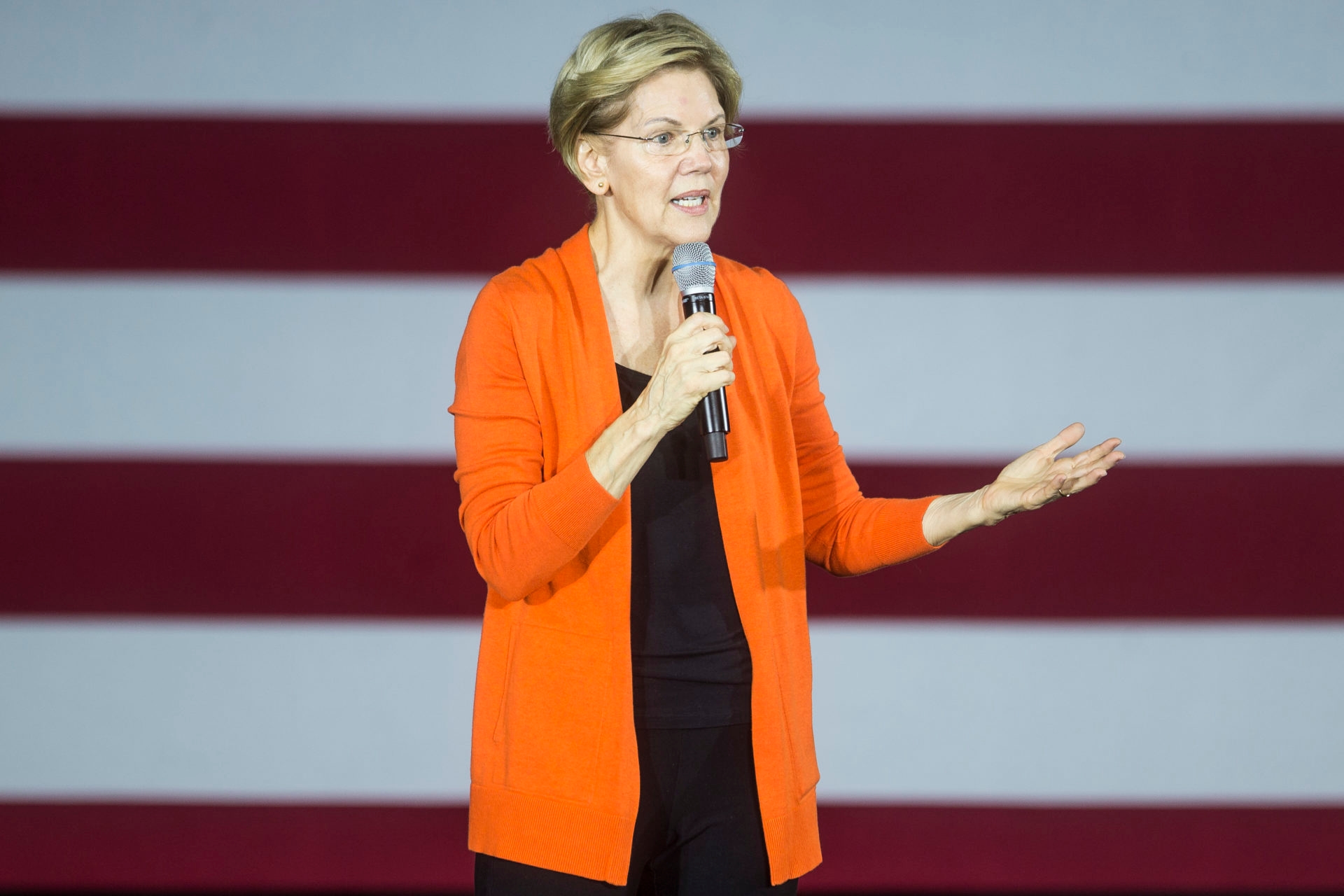 Key Takeaways
62% say Warren is at least somewhat honest on health care costs, compared to 75% who say the same for Sanders.

A quarter of Democrats say Biden is the most qualified to solve problems with the existing health system, while 1 in 5 are undecided.
Sen. Elizabeth Warren has a plan for nearly everything, but there is a hill left for her to conquer — and it just so happens to be one of the most important issues for Democratic voters heading into 2020.
The impending release of the Massachusetts Democrat's plan to pay for a "Medicare for All" health system is a big moment for her presidential campaign, which has ridden sustained momentum to second place among Democratic primary voters and within 10 percentage points of the race's front-runner, former Vice President Joe Biden.  
As Warren readies her much-anticipated health care plan, a new Morning Consult poll reveals no candidate has a clear advantage on the topic yet. But compared to her top competition, Warren has a weak spot to overcome: honesty about costs.
Asked how honest each of the top-tier primary candidates has been about how their health plans would affect costs, Warren trails Sen. Bernie Sanders (I-Vt.) by 13 percentage points among Democratic voters: 62 percent say she is at least somewhat honest on the subject, compared to 75 percent and 67 percent who said the same of Sanders and Biden, respectively. The Oct. 16-21 poll surveyed 1,996 registered voters, including 771 Democrats. The overall sample has a margin of error of 2 percentage points, and the Democratic sample has a 3-point margin of error. 
Warren's colleague from Vermont readily acknowledges that his ambitious proposal comes at a substantial cost and requires tax increases across the board in exchange for universal coverage and a reduction in Americans' overall health spending.
By contrast, Warren has avoided direct questions about paying for the plan, instead trying to frame the debate around overall costs for the average American family. It's a departure for a candidate known for her comprehensive and detail-oriented plans in other policy areas, as noted by candidates in last week's debate in Ohio.
"Your signature, Senator, is to have a plan for everything. Except this," South Bend Mayor Pete Buttigieg of Indiana said. 
Warren responded with a pledge not to sign a bill into law that would raise costs for middle class families, but sidestepped the question of tax increases. On Sunday, she announced she will release her plan to pay for Medicare for All in the coming weeks. The Warren campaign declined to comment.
Warren and Sanders, like Medicare for All advocates on Capitol Hill, prefer to guide the cost debate toward a referendum on the affordability of the current health care system.
"It is being talked about in completely the wrong way," said House Progressive Caucus Co-Chairwoman Pramila Jayapal (D-Wash.), the lead author of the Medicare for All bill in the House. "You can't look at the cost of any proposal without looking at the cost of the current system."
Imposing taxes on the middle class to pay for Medicare for All has long been a political risk. A Morning Consult poll in April found that highlighting that Medicare for All would require tax hikes is among the most effective arguments in turning off its supporters. While a tax on the rich is one of the few widely popular ways to pay for Medicare for All, critics of Warren's approach note that she has already said her administration would allocate that money to her other major priorities, such as canceling student debt.
While nearly three-quarters of Democrats back Medicare for All, only 48 percent said they'd support a plan requiring the middle class to pay higher taxes even if tax hikes are offset by overall savings on individual costs, according to the new poll. A similar gap exists among the overall electorate, but that's not a concern for Sanders, who has long been the party's loudest and most candid voice on Medicare for All.
"The Democratic Party, for years, had an approach that said, 'If this gets 50 percent plus one in a poll, that's where we'll stand,'" said Mike Casca, the communications director for Sanders' campaign. "The senator is more interested in changing public opinion -- to change what people think is possible."
Polling suggests no candidate has an advantage on health care yet, with 1 in 5 Democrats unsure which candidate is most qualified to solve the problems with the existing U.S. health care system, exposing an opportunity for a candidate to break through on an issue that is tied with the economy as most important among Democrats. In spite of hours of exhaustive televised debate on the subject, voters have hardly changed their views on who is most qualified to tackle health care since August.
However, voters trusted all of the top-polling Democratic candidates to reduce health care costs more than they trusted President Donald Trump.
Progressive strategists echoed Jayapal's concerns that keeping the conversation in the Democratic primary focused on questions of tax increases -- devoid of context concerning current cost-sharing -- benefits the winners under the status quo, mainly major health companies.
If a presidential candidate who supports Medicare for All can successfully convey that their plan reduces health care payments, whether they are called premiums or taxes, it could fundamentally shift the goalposts of the debate. A third of all voters, and 52 percent of Democrats, said they are not confident that tax increases under Medicare for All would be offset by overall savings on health care costs.
Whether Elizabeth Warren wins this debate or not hinges solely on how good of a teacher she is.
Jonathan Gruber, MIT economist and an architect of the ACA
"I think the solution to this polling is to literally write into the legislation: For middle-income families, health care payments will be payments under current law minus, say, 10 percent," said Topher Spiro, health policy expert at the Center for American Progress.
But just as the stakes are high for Warren pending the release of her financing plan, strategists say candidates who have taken aim at Warren -- including Buttigieg and Sen. Amy Klobuchar of Minnesota -- may have likewise backed themselves into a corner if Warren does deliver on her word.
Jonathan Gruber, an economist at MIT and an architect of the Affordable Care Act, said it is a hard sell to convince voters that overall costs will decline even if taxes go up, but that Warren's professorial past gives her an edge in crafting a compelling pitch. 
"Whether Elizabeth Warren wins this debate or not hinges solely on how good of a teacher she is," Gruber said. "Can she teach people that replacing a hidden tax by a non-hidden tax doesn't really cost you money? No one has ever been able to do that in my lifetime. If anyone can fix it, it's Elizabeth Warren, but it's a challenge she faces."
Eli Yokley is Morning Consult's U.S. politics analyst. Prior to his current role, Eli was Morning Consult's senior reporter covering U.S. politics. Eli joined Morning Consult in 2016 from Roll Call, where he reported on House and Senate campaigns after five years of covering state-level politics in the Show Me State while studying at the University of Missouri in Columbia, including contributions to The New York Times, Politico and The Daily Beast. Follow him on Twitter @eyokley. Interested in connecting with Eli to discuss his analysis or for a media engagement or speaking opportunity? Email [email protected].
Yusra Murad previously worked at Morning Consult as a reporter covering health.
We want to hear from you. Reach out to this author or your Morning Consult team with any questions or comments.
Contact Us