What Did People Watch the Most on Netflix in January? Netflix Originals.
Children's programs such as 'CoComelon' were also popular
Key Takeaways
62% of the titles in the Top 10 throughout the month were Netflix originals.

"Bridgerton" was in the Top 10 for 31 days in a row, and in the top three for 30 days.

About one-fifth of programs in the Top 10 were children's titles.
Not only did Netflix Inc.'s original films and TV shows dominate last week's Golden Globe nominations, but they also led the service's U.S. Top 10 list throughout January, underlining the platform's ongoing promotion and popularity of its original programming.
Daily Morning Consult analysis of the service's U.S. Top 10 rankings found that 62 percent of the titles were Netflix originals. Netflix calculates the list based on how many accounts watch at least two minutes of a show.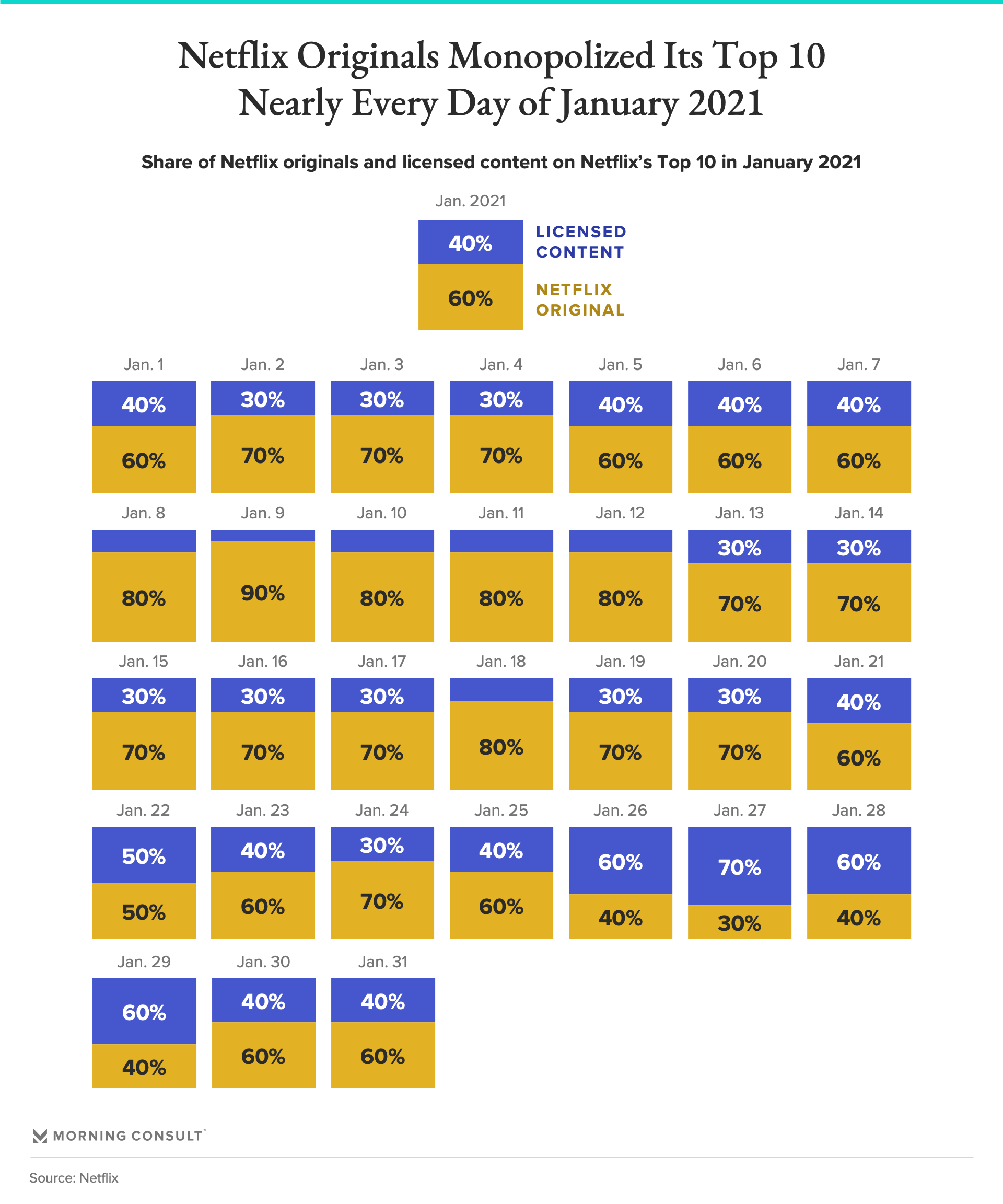 "Bridgerton," a historical drama that premiered on the service Dec. 25, was in the Top 10 every day in January, and only left the top three on Jan. 31. On social media, Netflix has touted the Shonda Rhimes series as one of its most popular originals, with a reported 82 million accounts worldwide checking out the series.
The show, which earned two Screen Actors Guild Award nominations, was the service's most-watched streaming original Dec. 28-Jan. 3, with audiences tuning in for roughly 2.65 billion minutes, according to Nielsen Holdings PLC.
"Cobra Kai," which Nielsen said U.S. viewers spent 2.61 billion minutes watching, spent 20 days in the Top 10, and the original family film "We Can Be Heroes" ranked in the Top 10 for 18 days last month. It was the second-most watched film, according to Nielsen, behind Walt Disney Co.'s "Soul" during the week of Dec. 28-Jan. 3. 
The analysis comes as Netflix faces a streaming ecosystem that stands in deep contrast with the one it helped establish in 2007, when it began offering streaming video. Netflix has invested in its originals more each year, as popular shows such as "The Office" have exited the platform and as more services debut their own original programming, such as Disney+'s "The Mandalorian."
Netflix, which touted nearly 74 million paid subscribers in the United States and Canada as of Dec. 31, has consistently remained a popular choice for consumers looking for streaming services. The company was projected to spend more than $17 billion on content last year.
Even amid a crowded market, Netflix remains viewers "must have" service. A Sept. 12-15, 2019 Morning Consult/The Hollywood Reporter survey found that 53 percent of U.S. adults would include Netflix when creating their perfect streaming service bundle. For consumers looking to bundle a trio of services, Netflix, Amazon.com Inc.'s Prime Video and the ad-supported version of Disney's Hulu, were most popular in that order. 
While "Bridgerton'' and other original titles were clear favorites, Netflix's children's programming and licensed content also made an impact on the rankings,
In addition to "We Can Be Heroes," children's television programs such as "CoComelon," "Henry Danger," "Gabby's Dollhouse" and "Jurassic World Camp Cretaceous" appeared in the Top 10 throughout the month, as many children remain at home due to the coronavirus pandemic. 
An Aug. 13-15, 2020 Morning Consult survey found that, while YouTube was the most popular video platform among children, Netflix came in second, with 55 percent of parents saying their children used the service. Netflix ranked 20 percentage points higher than the third-most popular service, Disney+. 
Sarah Shevenock previously worked at Morning Consult as a reporter covering the business of entertainment.
We want to hear from you. Reach out to this author or your Morning Consult team with any questions or comments.
Contact Us