Why Biden's Still in the Driver's Seat Despite Sanders' Rise
Democrats significantly more likely to say they'll back the former VP over Vermont senator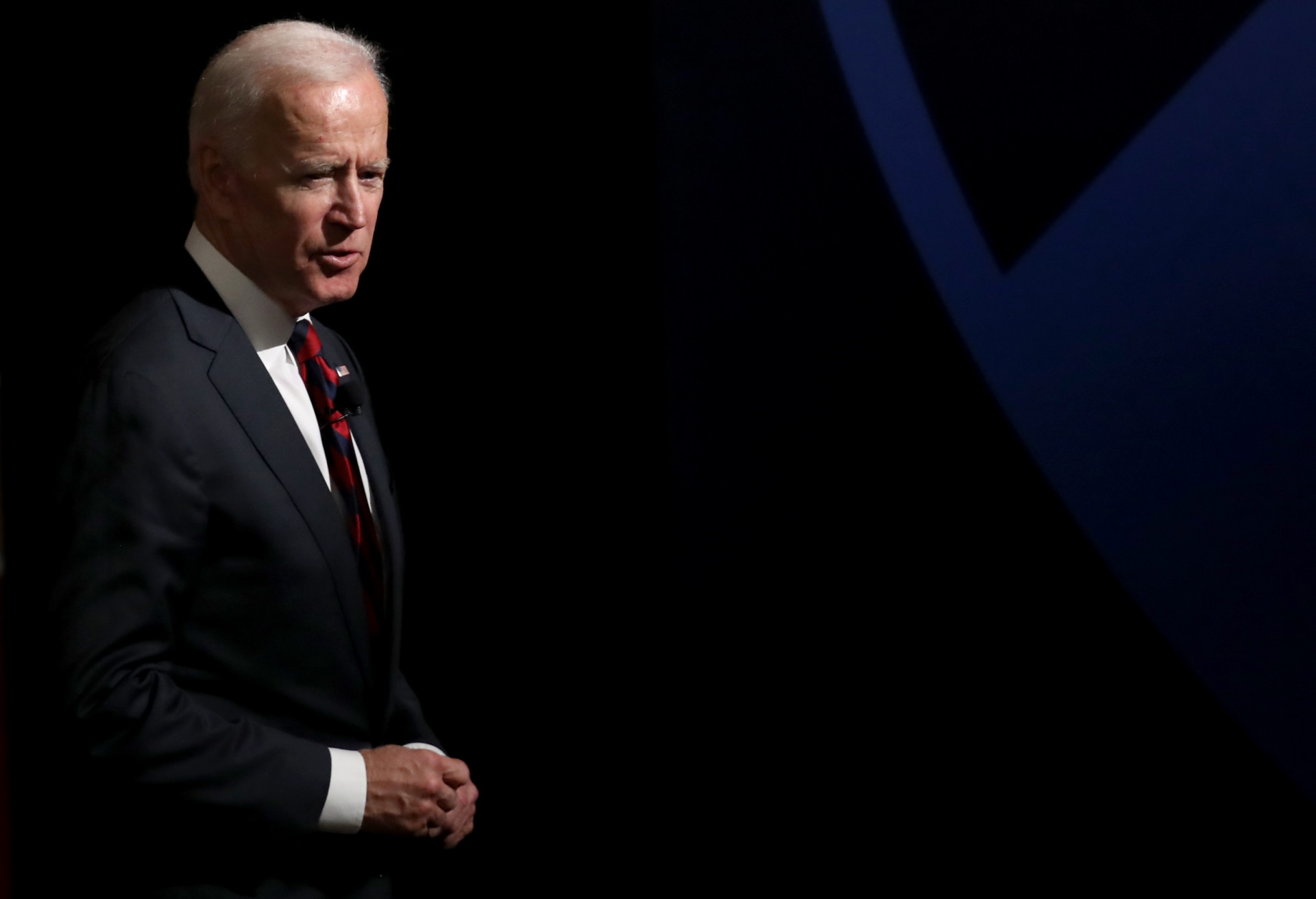 Key Takeaways
51% of Democrats said Biden is one of their top choices for president, compared with 38% for Sanders.

Biden's base is also 9 points bigger, with 40% saying they'd definitely vote to nominate him if the primary or caucus were held in their states today, compared to 31% for Sanders.

Democrats were most likely to say they definitely wouldn't vote for former New York City Mayor Michael Bloomberg.
Sen. Bernie Sanders has surged in popularity following the launch of his 2020 presidential campaign, picking up 6 percentage points in the space of a week to bring him to within 2 points of former Vice President Joe Biden, who's led the polls.
But a new national Morning Consult/Politico poll indicates that Biden, who said Tuesday that his family has signed off on a 2020 bid but that he has yet to make a final decision, may have a more decisive advantage over the Vermont independent than Morning Consult's latest horse-race poll suggests.
In the Feb. 22-24 survey, 681 Democratic voters nationwide were pressed on their opinions regarding the top two politicians leading the polls, and the results showed more affinity among respondents for former President Barack Obama's No. 2 than the independent who challenged Hillary Clinton for the party's nod in 2016. Fifty-one percent of Democrats said they agreed that Biden was one of their top choices for the party, and that they'd gladly support him in the primary -- 13 points higher than the 38 percent who said the same of Sanders.
Biden, speaking with historian Jon Meacham at the University of Delaware, said as he decides whether or not to run, he is taking a "hard look" at "how deep" his support runs.
"What I don't want to do is take people's time and effort and commitment without there being a clear shot that I can be the nominee," he said. "I think we can. I think that's where we are. But there's still a couple hurdles to go through to make sure we have all this in place."
Thirty-three percent of Democrats said they had a favorable opinion of Sanders but would prefer if the party nominated someone else to take on President Donald Trump next year.
The finding comes as Morning Consult's latest primary tracking poll, which surveyed 15,642 Democratic primary voters Feb. 18-24, found 27 percent backing Sanders as their first choice, compared with 29 percent who opted for Biden -- the smallest gap between the two candidates Morning Consult has measured so far.
Morning Consult polling has seen similar bounces for other candidates following their rollouts. Sen. Kamala Harris (D-Calif.) saw an 8-point bump in the two weeks that followed her Jan. 21 campaign announcement on ABC's "Good Morning America" and Sen. Elizabeth Warren (D-Mass.) was at 11 percent when tracking began on Jan. 13, two weeks after she announced she was running, compared with 2 percent in a Dec. 14-16 survey. Since those high points, both candidates have seen their share of first-choice support drop 4 points.
The survey's findings also underscore just how wide open the race remains, with more than 11 months until the Iowa caucuses and the New Hampshire primary.
Biden and Sanders each have the strongest bases of support, with 2 in 5 Democrats saying they'd definitely vote for the Delaware Democrat and 31 percent saying they'd definitely pick the Vermont senator if the nominating contests were held in their states today. At the same time, very few voters were ready to say they'd definitely oppose any of the 19 candidates or potential candidates tested.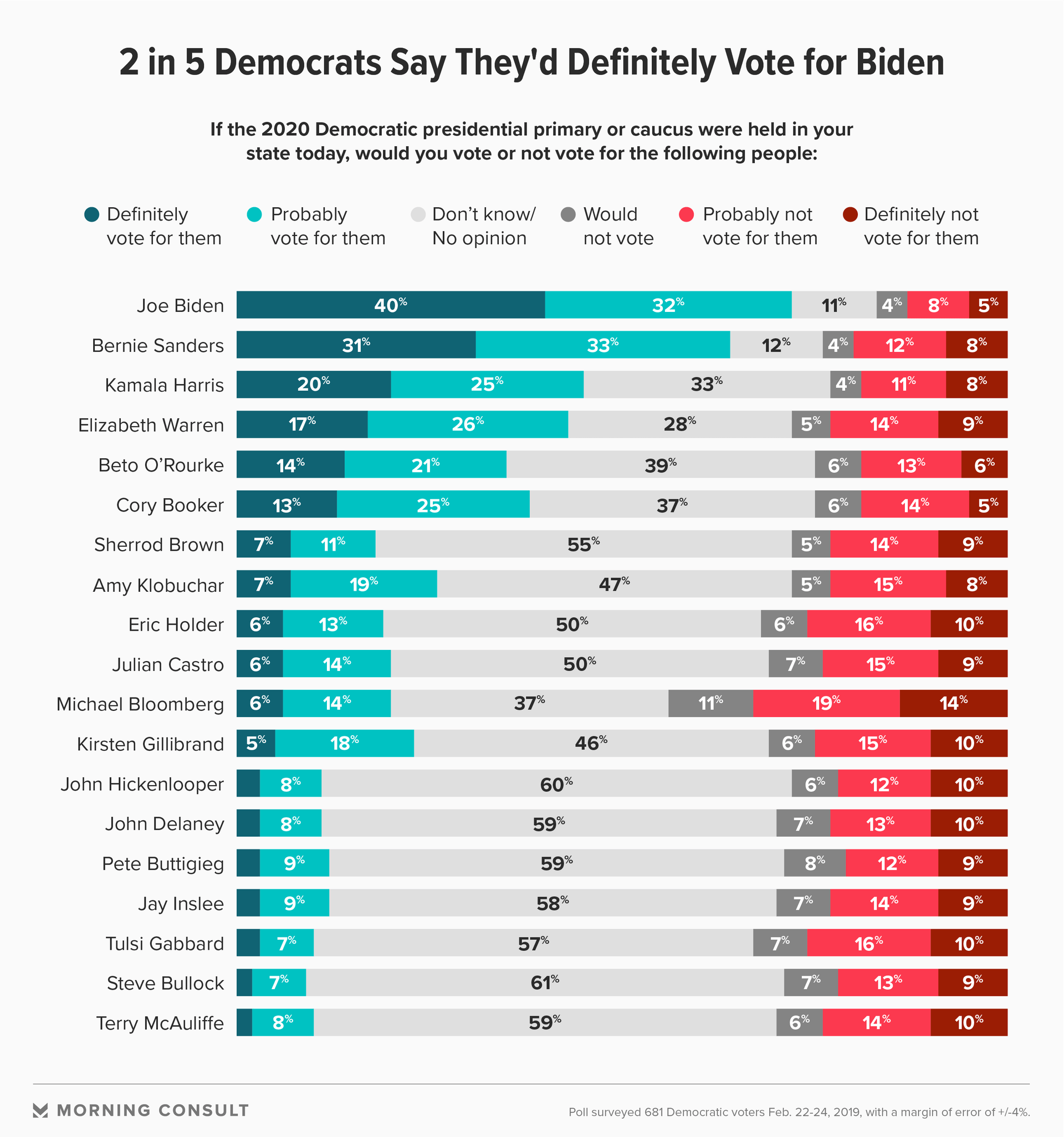 Only one potential candidate, former New York City Mayor Michael Bloomberg, at 14 percent, drew more than 10 percent as an option Democratic voters definitely wouldn't go for.
Steve Schale, a political strategist in Florida who directed the 2008 Obama-Biden campaign in the state, welcomed a crowded primary and said it would be smart for those candidates who aren't yet well-known to jump in sooner rather than later.
And while Schale said he believes Biden has a "pretty good lane" to the presidency with his working-class appeal, he noted that the 2008 and 2016 cycles produced big surprises for political pundits, something that may happen yet again.
"I think it's going to get crazy regardless. We're Democrats," he said.
Correction: Due to an editing error, a previous version of this story mischaracterized the sample of primary voters.
Eli Yokley is Morning Consult's U.S. politics analyst. Prior to his current role, Eli was Morning Consult's senior reporter covering U.S. politics. Eli joined Morning Consult in 2016 from Roll Call, where he reported on House and Senate campaigns after five years of covering state-level politics in the Show Me State while studying at the University of Missouri in Columbia, including contributions to The New York Times, Politico and The Daily Beast. Follow him on Twitter @eyokley. Interested in connecting with Eli to discuss his analysis or for a media engagement or speaking opportunity? Email [email protected].
We want to hear from you. Reach out to this author or your Morning Consult team with any questions or comments.
Contact Us