Why Haven't We Heard More From Warren About the CFPB on the Campaign Trail?
Polling shows most Democratic voters would be more likely to support her based on involvement in creating agency
Key Takeaways
59% of Democrats say knowing Warren's role in creating the CFPB would make them more likely to support her.

Voters are more than twice as likely to know what the Fed is compared to the CFPB.

44% of Democrats said the government didn't go far enough in regulating the financial industry after the 2008 financial crisis.
Sen. Elizabeth Warren (D-Mass.) is walking a tightrope on the 2020 presidential campaign trail when it comes to financial policy. 
Warren rose to national prominence through her financial policy prowess but has focused on more approachable topics such as health care and broader economic issues like a wealth tax in her presidential bid. Despite her reputation as one of Wall Street's harshest critics, her role in creating the Consumer Financial Protection Bureau has merited only a few explicit mentions in stump speeches and debates. 
Financial policy and the CFPB have barely been mentioned during Democratic presidential debates thus far, which Connor McWilton, an analyst in financial policy for Capital Alpha Partners LLC, expects to continue. So it's up to Warren to make financial policy and consumer protection a leading topic in the Democratic primary, if it's going to be addressed at all, he said. 
"No one wants to debate her on financial issues, not a single person on that stage," McWilton said. 
Experts are divided on whether avoiding the CFPB is a smart tactic.
On the one hand, the creation of the CFPB is arguably Warren's greatest achievement in Washington. As a law professor at Harvard, Warren proposed the idea of a consumer-focused agency and was later tapped by President Barack Obama to lead the creation of it. 
And although the CFPB remains controversial, creating an entire government agency isn't something even longtime lawmakers, such as Democratic frontrunner and former Vice President Joe Biden, can include on their resume. 
But the CFPB faces a tough hurdle on the campaign trail — experts say it's boring. So while Warren might reference "fighting for consumers" frequently, she isn't talking about the exact mechanisms she uses to do so. 
"The bureaucratic jargon causes most Americans to roll their eyes," said Jim Manley, a Democratic strategist and former communications adviser to former Senate Majority Leader Harry Reid (D-Nev.). 
Warren's campaign did not respond to a request for comment.
Voters aren't even likely to say they know what the CFPB is, according to recent data from Morning Consult.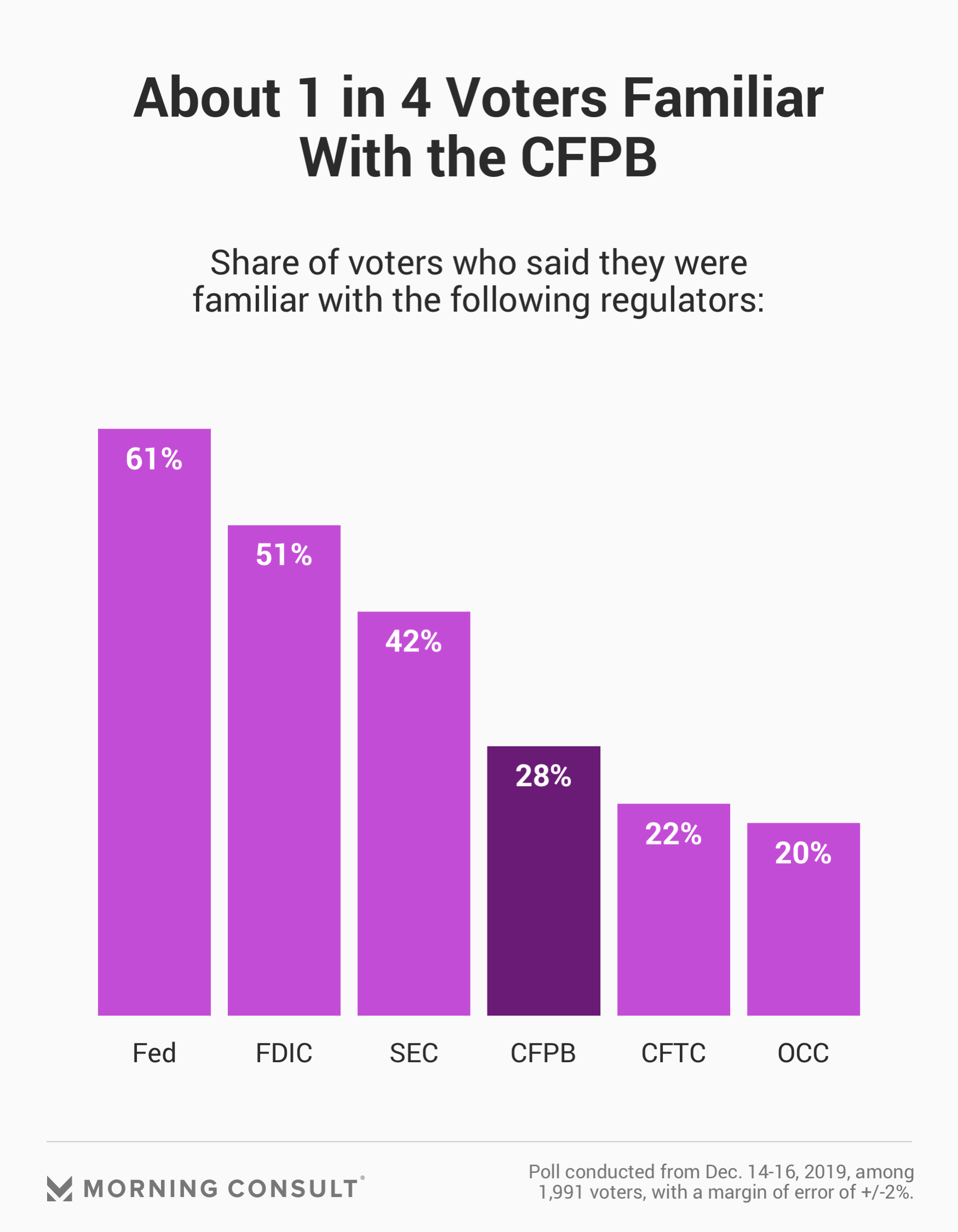 Just 28 percent of voters say they are very or somewhat familiar with the CFPB. 
Other financial regulators — including the Federal Reserve (61 percent), the Federal Deposit Insurance Corp. (51 percent) and the Securities and Exchange Commission (42 percent) – were more familiar to respondents. The poll, conducted from Dec. 14-16, surveyed 1,991 registered voters and carries a margin of error of 2 percentage points. 
Warren's toughest battle right now is with Sen. Bernie Sanders (I-Vt.) for the more progressive side of the Democratic base. Her role in creating the CFPB could give her an edge in that fight, said Brad Bannon, president of the Democratic consulting firm Bannon Communications Research. 
"She's not really fighting Biden right now; she's fighting Sanders to be the standard bearer of the very liberal wing of the party," he said. "The beauty of hearing about her agency, it says something about her character and her personality and her longtime commitment for fighting for people against the financial industry." 
While voters overall are more divided on the issue, Democrats continue to be critical of Wall Street and support stricter financial regulation.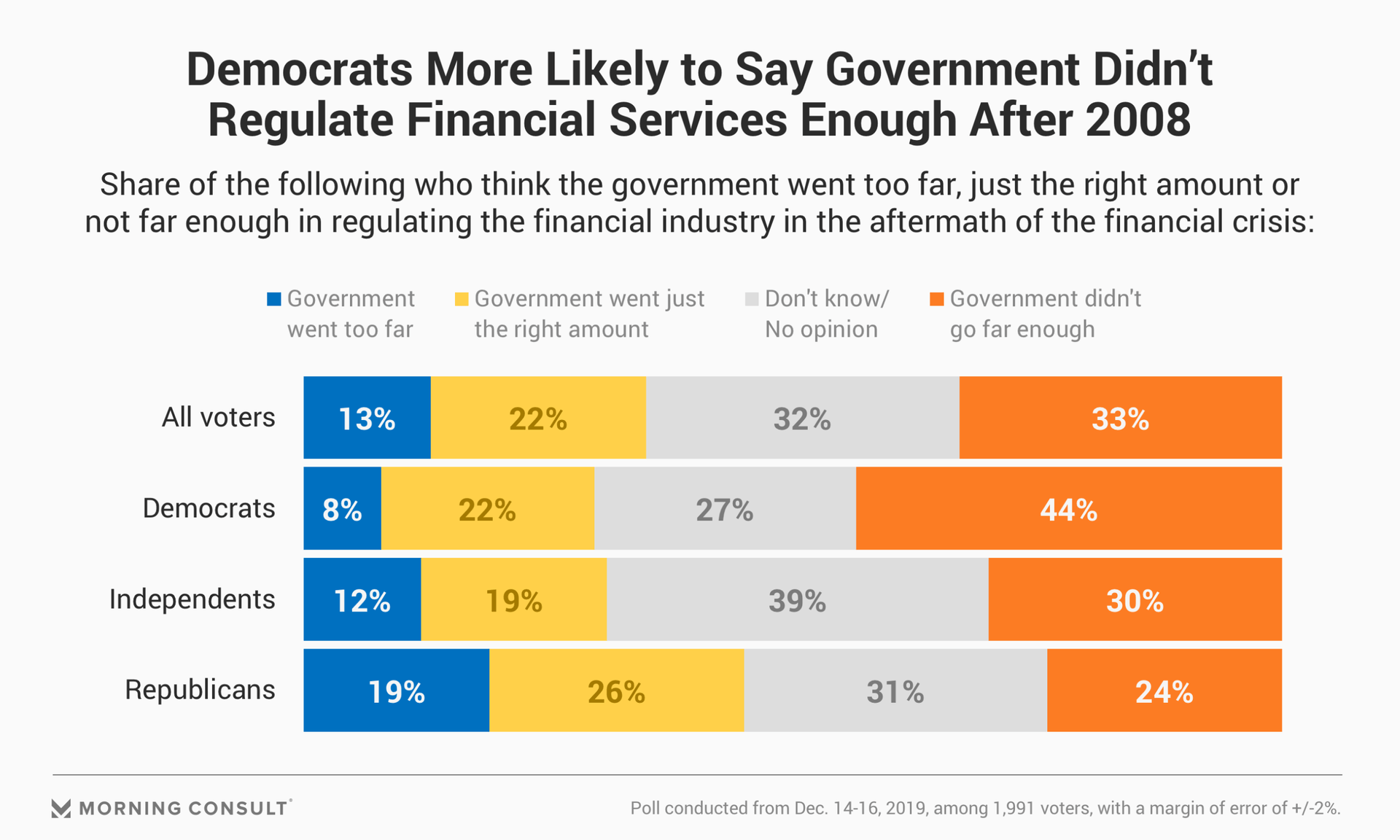 Forty-four percent of Democrats said the government didn't go far enough in regulating the financial industry after the 2008 financial crisis. Only 8 percent said the government went too far. 
Once they're told that Warren played a key role in creating the CFPB, most Democrats say it makes them more likely to back her. Fifty-nine percent said it makes them much or somewhat more likely to support her in the Democratic presidential primary, compared to 9 percent who said it makes them somewhat or much less likely to back her in the contest. 
The issue isn't entirely partisan: About a quarter of Republicans said the government didn't go far enough after 2008. Thirty percent of independents say the same. 
Overall, 35 percent of voters are much or somewhat more likely to support Warren based on her CFPB connection, while 26 percent said they are somewhat or much less likely. Forty percent said they didn't know or had no opinion.
So Warren's most likely path forward could be to tap into these beliefs among the Democratic base, while avoiding the more complicated financial talk that could turn voters off, Manley said.  
"She's gotten far with the way she's done stuff," he said, "and I don't expect that to change." 
Claire Williams previously worked at Morning Consult as a reporter covering finances.
We want to hear from you. Reach out to this author or your Morning Consult team with any questions or comments.
Contact Us