With or Without Perry, DOE's LNG Export Sign-Offs Likely to Continue
Trump's DOE working to approve applications faster than Obama administration, which also supported the exports
In just one month, supporters of liquefied natural gas exports will lose a top advocate when Energy Secretary Rick Perry officially leaves his post.
But despite the Dec. 1 departure of Perry, LNG backers have little reason for concern. The Department of Energy is expected to continue approving LNG export applications, advocates say, carrying forward the previous administration's practice of authorizing the shipments.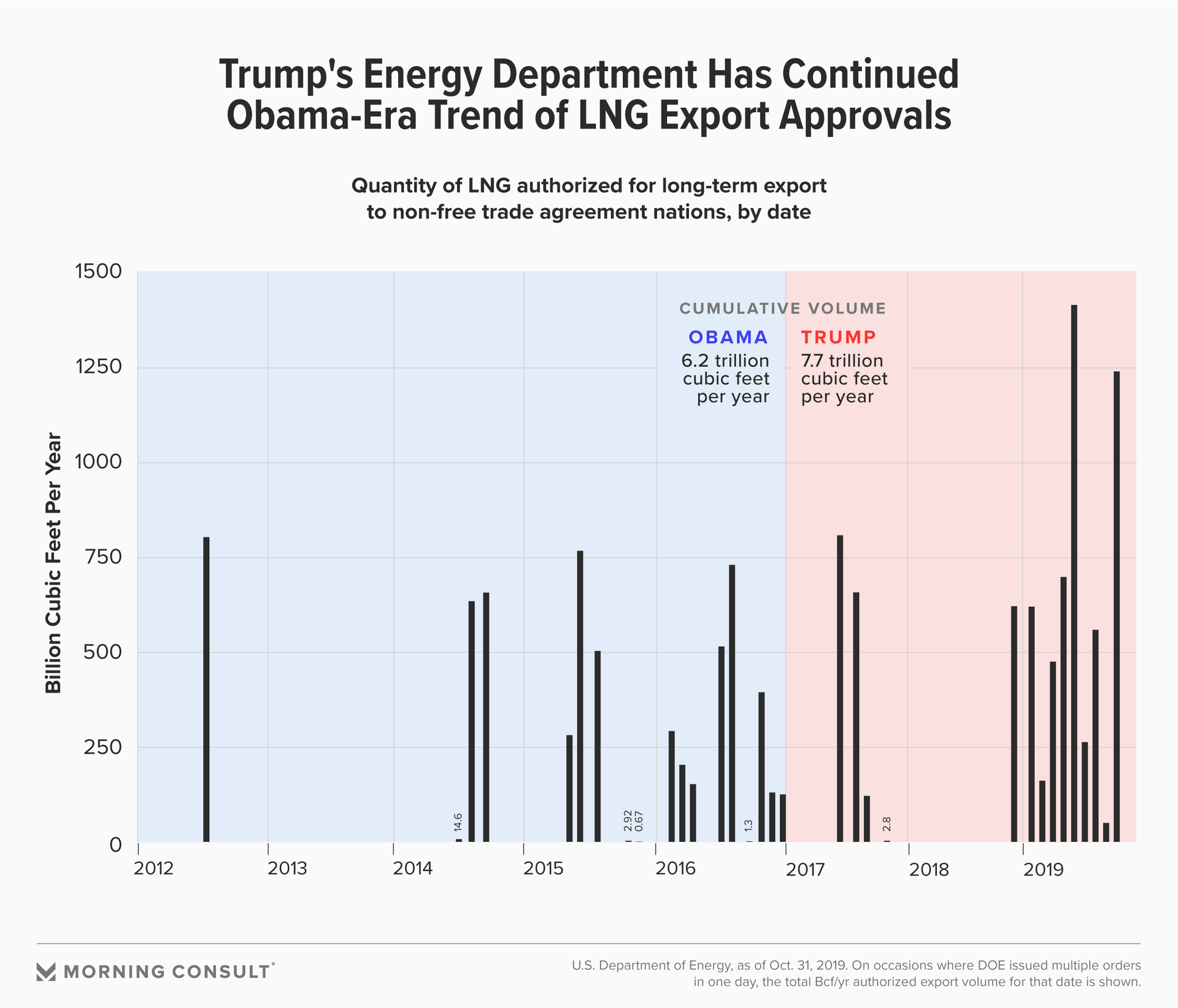 By volume, the Obama administration authorized the export of a cumulative volume of about 6.2 trillion cubic feet per year of LNG exports to countries without free trade agreements with the United States, slightly less than the approximately 7.7 Tcf/yr that the Trump administration has authorized to date. The totals do not include export volumes granted to free trade agreement nations, which by law are considered in the public interest and are to be approved quickly. Non-FTA LNG exports are authorized for 20-year periods.
DOE by law is tasked with assessing the public interest of applications for the export of LNG -- natural gas that is significantly cooled to turn it into a liquid to be shipped, delivered, re-warmed and distributed. Depending on their scale or where they are sited, some applicants also apply only to the Energy Department and not to the Federal Energy Regulatory Commission, which handles siting and construction authorizations for LNG import and export facilities. 
Between the Obama and Trump administrations, the key parts of the public interest standard applied to LNG exports "have remained the same," said Amy Sweeney, director of the Energy Department's Office of Regulation, Analysis, and Engagement, adding that "there's a lot of precedent." But under President Donald Trump, "a lot of the studies that we do to look at the public interest of LNG have been updated or expanded."
Support under Trump
LNG supporters expect the sign-offs to carry on apace under Deputy Energy Secretary Dan Brouillette, Trump's choice to succeed Perry. The LNG boosters credit the Trump Energy Department with streamlining and prioritizing the authorization of long-term LNG export applications to non-free trade agreement nations.
Perry was "an unabashed supporter of U.S. LNG exports" by raising the matter on trips abroad, said Fred Hutchison, president and chief executive of the nonprofit LNG Allies.
The pace of the DOE's authorization process often depends on FERC. But the Energy Department under Trump has set a public goal to issue non-FTA authorizations two weeks after FERC issues a final order. In the past, the department waited to issue LNG export authorizations until FERC concluded the rehearing processes, which normally lasted about six months following a FERC final order, according to Hutchison.
The change under Trump "obviated any need to put a congressional shot clock on the DOE process," Hutchison said.
The agency also recently reaffirmed in a report that LNG exports to Europe and Asia are not projected to increase life-cycle emissions compared to regional coal mining and use for power. The update to the report benefits LNG companies that can point to more recently issued research in conversations promoting LNG, according to Charlie Riedl, executive director of the Center for LNG, a committee of the Natural Gas Supply Association trade group.
Not everyone is positive about the environmental or economic impacts of the authorizations. The sign-offs vex the Industrial Energy Consumers of America, a business association of manufacturing companies impacted by fluctuations in energy prices. The group has raised concerns that the Energy and Commerce departments have not insulated the country from potential impacts on domestic gas and electric prices or a reduction in pipeline capacity for transporting gas for domestic use.
The Sierra Club, which often objected to the exports on emissions and economic grounds, has brought fewer challenges against FERC and Energy Department approvals of late, after the D.C. Circuit Court of Appeals affirmed multiple times that DOE must issue export permits unless it finds an outright reason not to do so.
The Sierra Club, the Natural Resources Defense Council and the Environmental Defense Fund declined to comment for this article.
The Trump administration also finalized a rule to authorize upon receipt export applications for projects exporting as much as 51.75 Bcf per year to non-FTAs, as long as the applications do not require more stringent environmental review.
The export volumes of those small-scale projects, Riedl said, are "not nearly as significant as where we start getting into large-scale volumes," exporting in a year, perhaps, what one large-scale vessel could almost fit in a single cargo.
So far, only one small-scale exporter of containerized LNG is shipping gas, and its approval came before the small-scale rule. But in the past few months, the department has received "our first couple of small-scale rule applicants, and we're working with those right now," DOE's Sweeney said.
Perry's advocacy
Perry, who will be remembered for using the term "freedom gas" before he takes wing of the administration, made a concerted effort to facilitate an increase in LNG exports abroad, LNG supporters said.
The Energy Department under Trump has helped to foster talks in Europe and in markets that were not even as much of a focus for the industry, Riedl said.
"While I think that the previous administration didn't do anything to necessarily discourage that, they definitely weren't as vocal in their support for LNG as this DOE," he added.
Hutchison said Ernest Moniz, Energy secretary under President Barack Obama, has always championed natural gas, "but that wasn't a perspective that was shared across the entire" administration.
Perry's departure is seen as unlikely to weigh on LNG export authorizations that go through a broader review process. Hutchison pointed to the competency of the natural gas team at the agency.
But the future of U.S. LNG exports does not hinge solely on a favorable regulatory environment. Even with federal and state authorizations in hand, developers must still pin down long-term contracts in investments to finance what are usually multibillion-dollar projects, said Hutchison, who pointed to the necessity of a functional Export-Import Bank, which is examining LNG project requests.
"At the end of the day, price is going to dictate how much gas goes to Europe," Riedl said.
Regardless of whether Trump wins re-election, the 20-year term of LNG export approvals make it highly unlikely that a different incoming executive would alter existing authorizations, Hutchison said.
People have a practical understanding "that once the federal government makes an authorization, they mean it," said Sweeney, adding that she would be surprised if changes were made to those approvals. "That was the stance of the prior administration, as well." 
Jacqueline Toth previously worked at Morning Consult as a reporter covering energy and climate change.
We want to hear from you. Reach out to this author or your Morning Consult team with any questions or comments.
Contact Us