With Seasonal Products Making an Early Return This Year, Consumers Weigh In on Sweet Spot for Promotions
At two months, pumpkin spice products enjoy the longest socially acceptable marketing period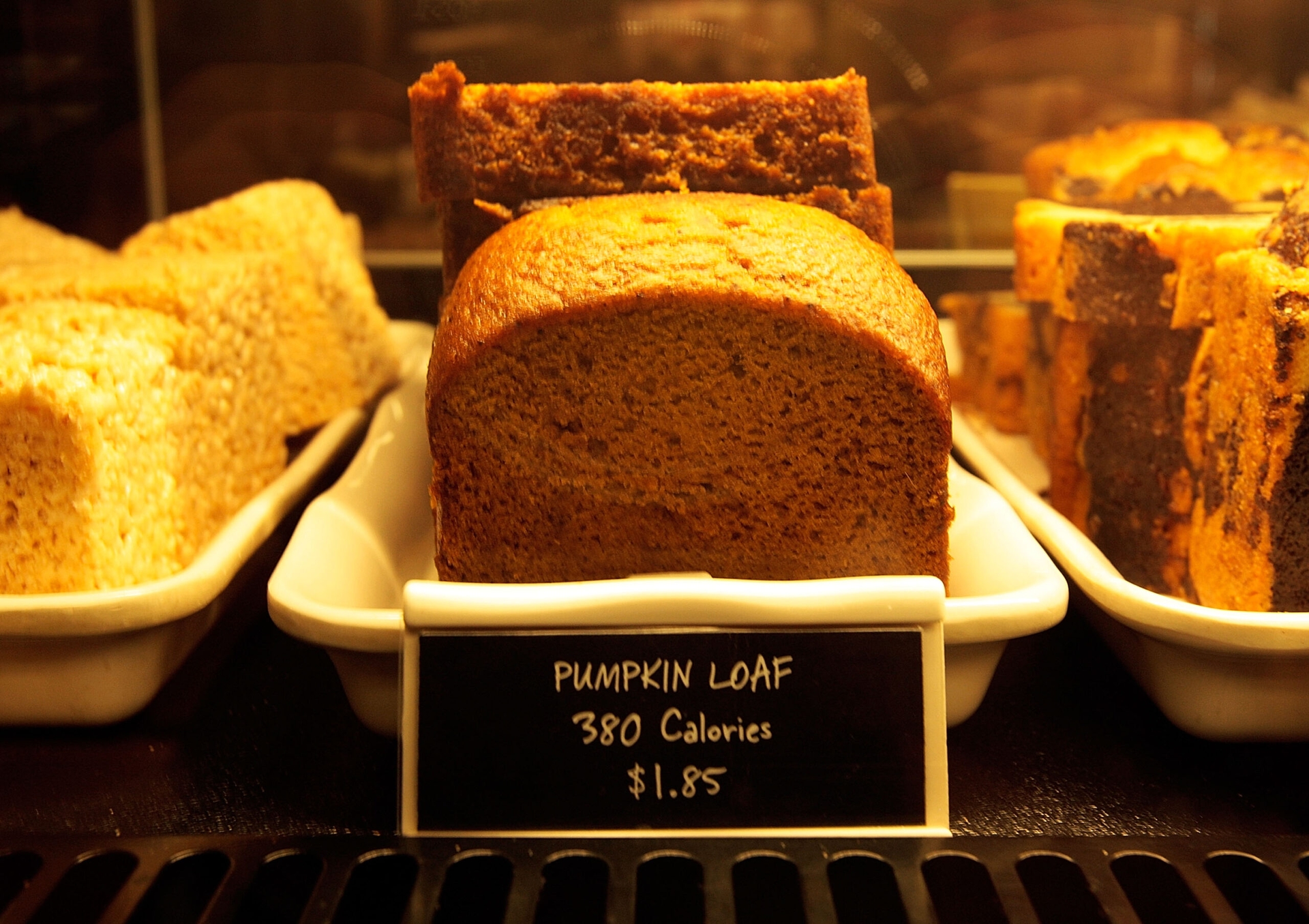 Pumpkin spice came early this year — too early, according to majorities of consumers. 
Dunkin' Donuts' pumpkin-flavored coffee and other fall treats returned to the menu earlier than ever this year, the company said, arriving at participating locations Wednesday. Starbucks Corp. has yet to confirm the return date for its much-loved pumpkin spice latte, but one location reportedly said the product would launch on Aug. 28. 
While some social media users are eager for the early return of fall products — a silver lining in an otherwise difficult year — new polling from Morning Consult shows that many consumers would prefer to see products promoted closer to the seasons or holidays with which they're associated.
The Aug. 9-12 survey asked whether certain periods ("late August," "mid-November") were too early, too late or just right for brands to start promoting seasonal products.
To determine socially acceptable promotional periods for each product, Morning Consult selected the latest period in which a majority of respondents said the marketing was "too early" and the earliest period in which a majority said the promotions were "too late."
October is the sweet spot for pumpkin spice products, which brought in $511 million in sales in 2019, according to Nielsen estimates, up 4.7 percent from 2018. Seventy-one percent of respondents said mid-October was just the right time for brands and companies to start selling pumpkin spice products, while 70 percent said early October was best. Sixty-eight percent said the latter portion of the month was best suited for promotions.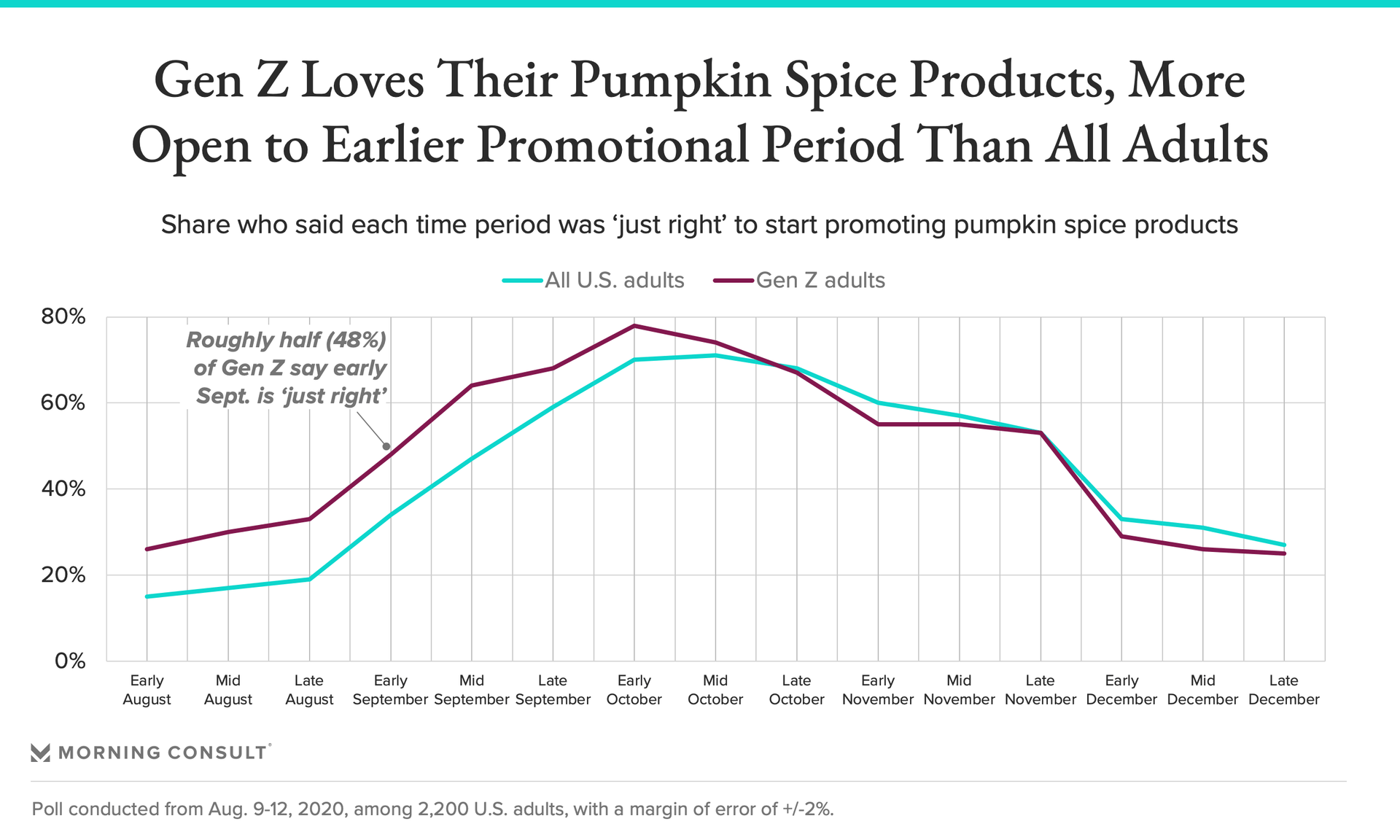 Gen Z adults are more willing to see the pumpkin spice products promoted earlier in the fall than adults of all generations combined.
Starbucks' pumpkin spice latte, a fall favorite among consumers, usually sparks speculation online every year about when it will become available.
Last year, the PSL became available on Aug. 27, its earliest debut since its initial launch in the fall of 2003. Typically, the product returns in early September.
Consumers have a tighter window for Halloween: Majorities said they'd like to see spooky products promoted between mid-September and early October. 
But Halloween has become an increasingly important holiday for marketers over the past decade or so, and brands are typically eager to start hyping festive products sooner rather than later. Target Corp., for instance, last year tweeted that "it's basically Halloween" on July 31. 
In 2019, the National Retail Federation predicted in its annual survey that shoppers would spend $8.8 billion on Halloween products, the third-highest total in the survey's 15-year history. The record belongs to 2017 at $9.1 billion.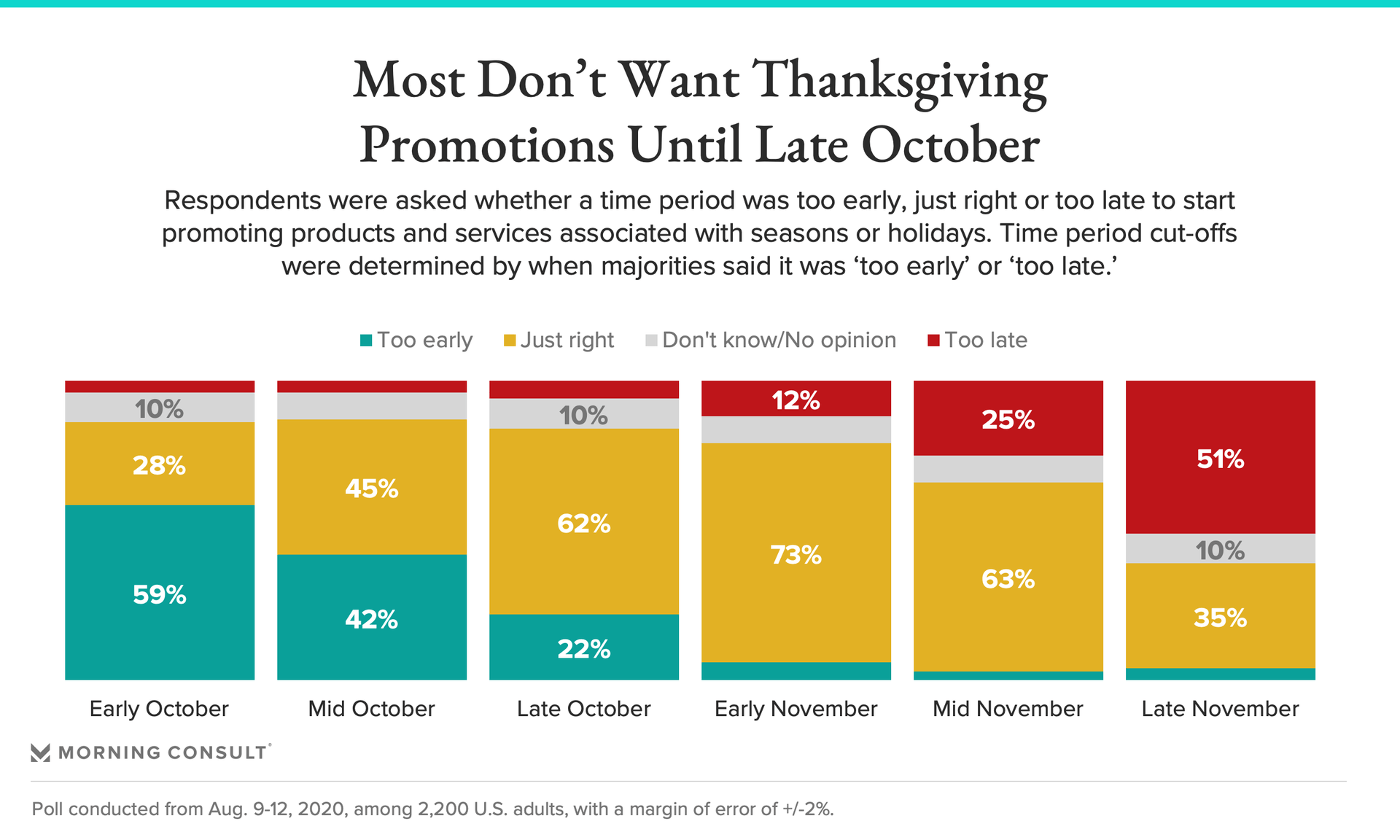 When it comes to goods and services tied to Thanksgiving, almost three quarters (73 percent) of consumers said early November is the best time to promote. Thanksgiving products have a similarly tight window at one month.
The holiday draws significant numbers of shoppers each year. A record 189.6 million consumers in the United States alone shopped from Thanksgiving Day to Cyber Monday last year, up 14 percent from 2018, according to the National Retail Federation. These figures could shift this year, however, with retailers such as Walmart Inc. saying they'll close on the holiday.
And although merchandise associated with winter holidays such as Christmas and Hanukkah is notorious for cropping up in stores shortly after — or even before — Halloween, most people don't want to think about the winter holiday season until after Thanksgiving.
The 2,200-person survey has a margin of error of 2 percentage points.
Alyssa Meyers previously worked at Morning Consult as a reporter covering brands and marketing.
We want to hear from you. Reach out to this author or your Morning Consult team with any questions or comments.
Contact Us