Free Trial
Try 30 Days of Morning Consult Pro — For Free
Experience the full value of Morning Consult Pro and get unlimited access to all of our analysis, reports and chart packs fueled by our expansive proprietary survey research data. Start your 30-day free trial today.
Early Adopters, Always a Step Ahead: For a limited time, first-time subscribers of Morning Consult Pro receive $100 off your annual subscription once your trial concludes.
Real-time Data, Real Peace of Mind: No charge if you cancel your subscription during the 30-day trial.
Not Ready to Start a Trial? Preview our content by signing up for our newsletters or creating a free account for limited access.
Morning Consult Pro
Annual Subscription
Your Free Trial Includes
Unlimited access to analysis
Unlimited report downloads
Unlimited chart pack downloads
Free for 30 days. Then $1,100 $1,200 for your first year after your trial ends.
Start my free trial
Free trial promotion is limited to individual accounts. To learn more about group subscriptions, visit our
subscription
page. Free trial accounts are automatically charged after 30 days and renew each year until you cancel. You can cancel at any time during your trial in your Account Settings.
What you'll get
Readers get exclusive access to all of Morning Consult's reporting and analysis in addition to an expansive library of proprietary survey research data. 
---
Quick, vital insights that cut through the clutter
Our expert analysts leverage proprietary, high-frequency survey data to deliver instant, actionable insight into how major developments are impacting public opinion. 
Including
---
In-depth reports & analysis to keep you ahead of the competition
Morning Consult Pro's in-depth reports help subscribers plan for the long term by delivering the foresight needed to navigate major trends that are reshaping industries.
Including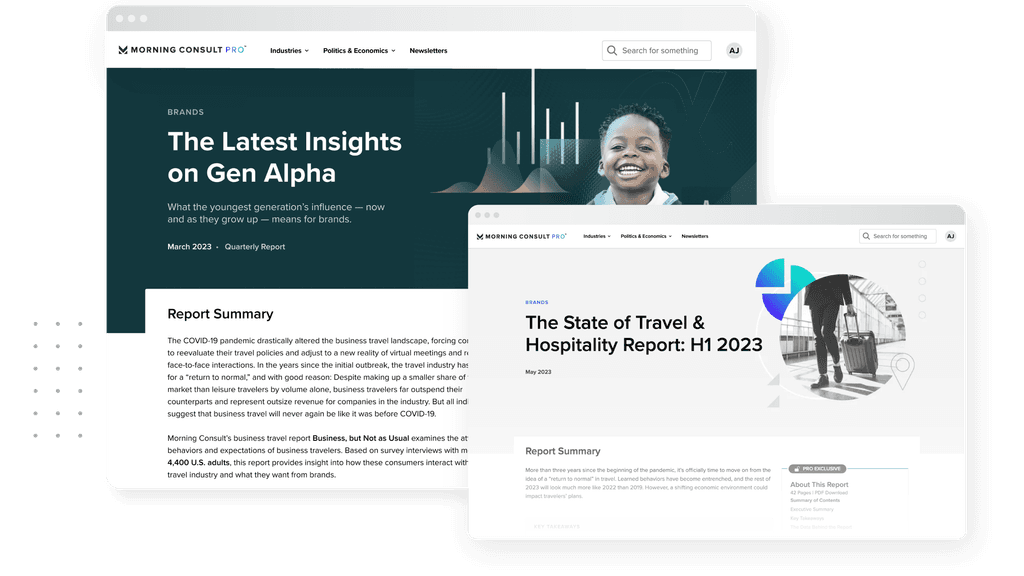 ---
Charts and data built for strategic storytelling
Morning Consult Pro's charts & data help subscribers thoughtfully visualize the impact of news & trends in their industry.
Including
What we cover
Stay ahead of the trends and news driving your industry with our expert analysis. Explore our coverage areas:
Powered by Morning Consult's high-frequency survey data and team of industry, economic and geopolitical experts.
Morning Consult Pro helps you get the information you need, in the formats you prefer, with the least amount of friction.