A Best Picture Oscar for 'Roma' Would Raise Netflix's Profile, and Possibly Its Shares
Given lack of Netflix viewer data, awards and nominations can have outsized influence on investor sentiment
Over the years, Netflix Inc. has seen its original programming -- including television programs "The Crown," "House of Cards" and "The Kominsky Method" and documentary "Icarus" -- take home Oscars, Emmys and Golden Globes, increasing the streaming service's cachet among viewers. Those prizes have also contributed to boosting investor sentiment, especially given the lack of information on viewership figures or other data that would help investors better gauge the company's popularity with consumers.
After winning five Golden Globes on Jan. 6, the streaming service saw its shares rise nearly 6 percent the next day. And investors could be equally optimistic about Netflix's outlook if it wins its first Best Picture trophy (for "Roma"), or most of its 15 total nominations, at Sunday's Oscar ceremony.
But entertainment industry experts say Netflix could still benefit if it walks away from the 2019 Academy Awards empty-handed, just by virtue of making it to the awards at all.
Among public entertainment companies, Netflix is in a unique position to see rises in its stock price after awards show success, due in part to the fact that it focuses only on video content and is now vertically integrated, handling both content production and distribution. Other public companies that produce or distribute content, including AT&T Inc.'s Warner Bros. and Amazon.com Inc.'s Amazon Studios, have not seen these awards-related gains in their stock prices, as they are under larger parent companies or have additional operations outside of content production, which means it can be difficult for awards alone to influence investor sentiment.
However, a nomination doesn't necessarily prompt investors to buy Netflix's stock. In fact, its shares fell 4.1 percent on Jan. 22, the day it received 15 Oscar nominations. CNBC noted that the Nasdaq Composite Index overall was down on that day, due to fears of an economic slowdown.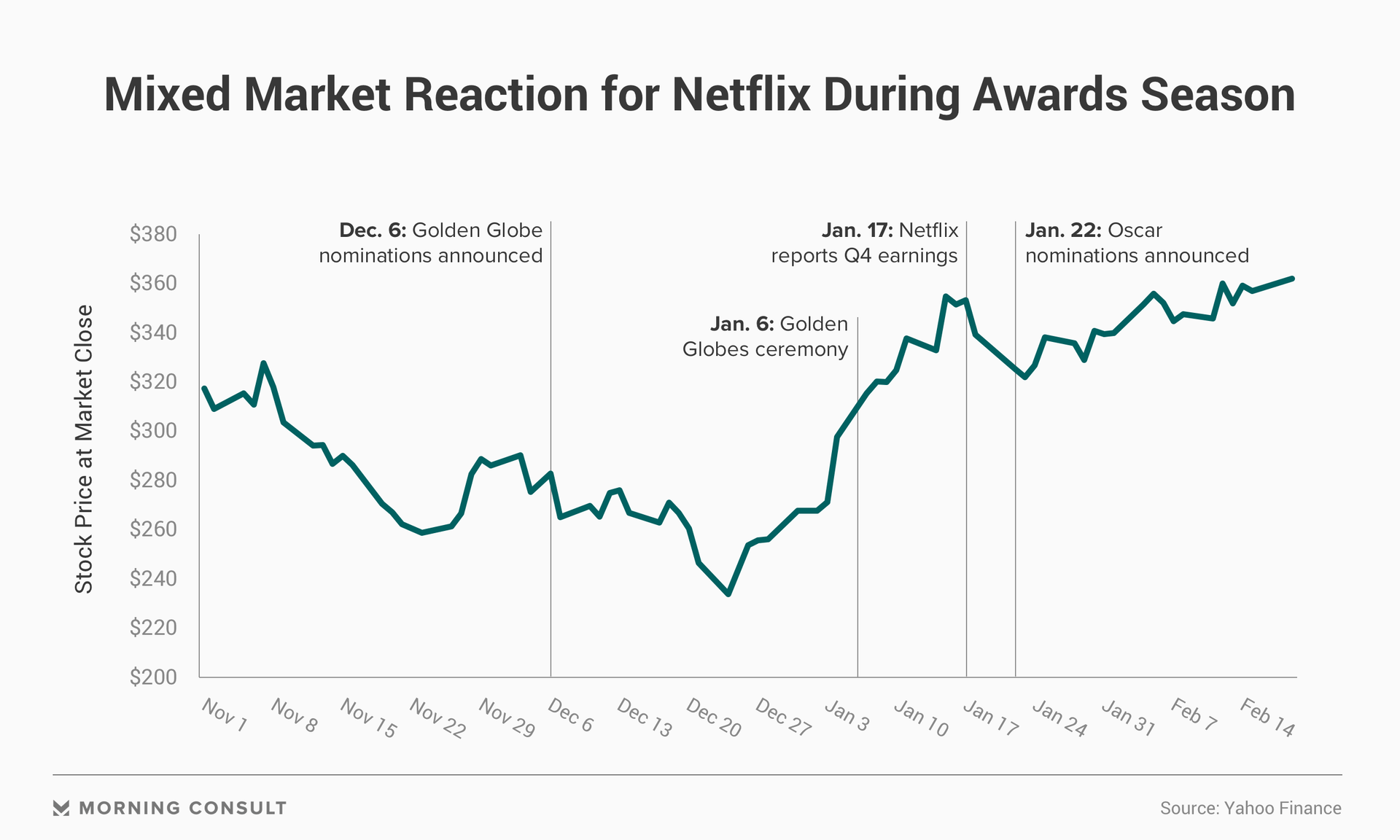 But certainly Oscar nominations and awards can increase consumer interest in a film, which financially benefits the company backing it. For example, ticket sales for "The Shape of Water" skyrocketed 241 percent on the day it received the Oscar nomination for Best Picture in 2018, per a Fandango analysis.
Brett Sappington, the senior director of research at Parks Associates, said awards can play an outsized role in influencing Netflix's stock price because investors don't have many metrics by which to measure Netflix's success. Netflix, which declined to comment for this story, doesn't release viewership numbers for all of its programming or box office grosses, a practice that contributes to these stock price jumps.
"Any good news, particularly in a market with a lack of metrics, is going to produce a greater effect just because of the lack of information," Sappington said.
Content from Netflix has been previously nominated for and won Academy Awards. In 2018, "Icarus" won Best Documentary, and "Mudbound" was nominated for four awards. But this awards season marked a change for Netflix, as it launched a campaign for Best Picture contender "Roma." After initially releasing "Roma" for a limited run, Netflix announced in December that it would expand "Roma's" theatrical release to 600 movie theaters worldwide, in addition to being available to stream on Netflix that month.
Netflix is also reportedly spending large sums of money to promote "Roma" to those who will be voting on awards -- though according to Sappington, just the fact that "Roma" was nominated is "already a win."
Allen Adamson, a founder and managing partner of brand marketing firm Metaforce, said producing Academy Award-nominated content is enough to set Netflix apart from its competitors.  
In recent years, the streaming service has increased its spending on original content, dishing out $12.04 billion on content in 2018, up 35 percent from 2017 -- a trend that "put pressure on the cash flows of the business,"  according to Chief Financial Officer Spencer Neumann.
In the most recent earnings call in January, Netflix Chief Content Officer Ted Sarandos said, "The level of investment that we're doing in our original film space, it definitely changes the economics in terms of licensing films in later windows versus producing films which is a more kind of front-loaded cash activity, but has a much better payback for us."
Adamson believes that continued production of award-nominated content, as well as awards season success, will drive up Netflix's stock price.
"People are starting to realize Netflix is not just a place to watch old movies," Adamson said.  "Now, it's an engine that's driving content creation, that's driving engagement, that's driving connections to a whole broader set of audiences."
Sarah Shevenock previously worked at Morning Consult as a reporter covering the business of entertainment.
We want to hear from you. Reach out to this author or your Morning Consult team with any questions or comments.
Contact Us