Biden's Approval Rating Unmarred Amid Scrutiny of Classified Documents Handling
55% of voters disapprove of the president's job performance, virtually unchanged since before the discovery of Obama-era materials was revealed
Little has changed in how voters view President Joe Biden's job performance following the discovery of classified materials from the Obama administration at his Delaware home and a former private capital office, per Morning Consult survey trends.
Perceptions of Biden's Job Performance Remain Stable Amid Classified Documents Probe
Shares of registered voters who approve or disapprove of President Joe Biden's job performance, before and after the Jan. 9 revelation of Obama-era classified documents in his possession
Surveys conducted among representative samples of roughly 2,000 registered voters each, with unweighted margins of error of +/-2 percentage points. "Don't know/No opinion" responses are not shown.
Biden's approval rating
According to the Jan. 20-22 survey, 55% of voters disapprove of Biden's job performance and 43% approve. The figures are in line with his standing at the end of December, before CBS News reported the initial document discovery on Jan. 9. 
As he prepares to announce his re-election plans, Biden's standing has gone unchanged among Democrats, 4 in 5 of whom approve of his job performance — including 41% who do so strongly. 
Nearly all Republicans (92%) and most independents (61%) disapprove of how Biden's doing his job, more or less unmoved over the past month.
How resonance of Biden's probe compares with Trump's
The discovery of classified documents at the Penn Biden Center for Diplomacy and Global Engagement in Washington, D.C., coupled with the slow drip of information about materials found at Biden's Wilmington, Del., home has not damaged the president's standing, which has recently improved marginally at the state level. But it has become a major headache for the president as he prepares to launch his re-election bid. 
Republicans, already eager to generate negative attention on the White House with their newfound investigative authorities in the House, are planning their own probe on top of the Justice Department's inquiry. Some Democrats, such as Senate Majority Whip Dick Durbin (D-Ill.), have said the president should be "embarrassed" by the situation. He and others argue that Biden has surrendered any moral high ground on the issue over former President Donald Trump, who faces a criminal inquiry over classified materials found at his Mar-a-Lago home in August. 
For now, voter awareness of Biden's document issue pales in comparison with the Trump matter last year: 35% said they had seen, read or heard "a lot" about the discovery of the documents by Biden's lawyers or the House GOP's investigation into the matter, and 23% heard a lot about Attorney General Merrick Garland's appointment of a special counsel, compared with the 58% who heard the same about the FBI's Mar-a-Lago raid.
While the saga over Biden's documents isn't making an equivalent splash, Morning Consult data suggests it could be blunting some positive momentum the president could be enjoying given rosier recent news on inflation.
As Classified Documents Saga Unfolds, More Voters Across the Aisle Report Hearing Negative News About Biden
Shares of voters who report seeing, reading or hearing something positive or negative over the past week about President Joe Biden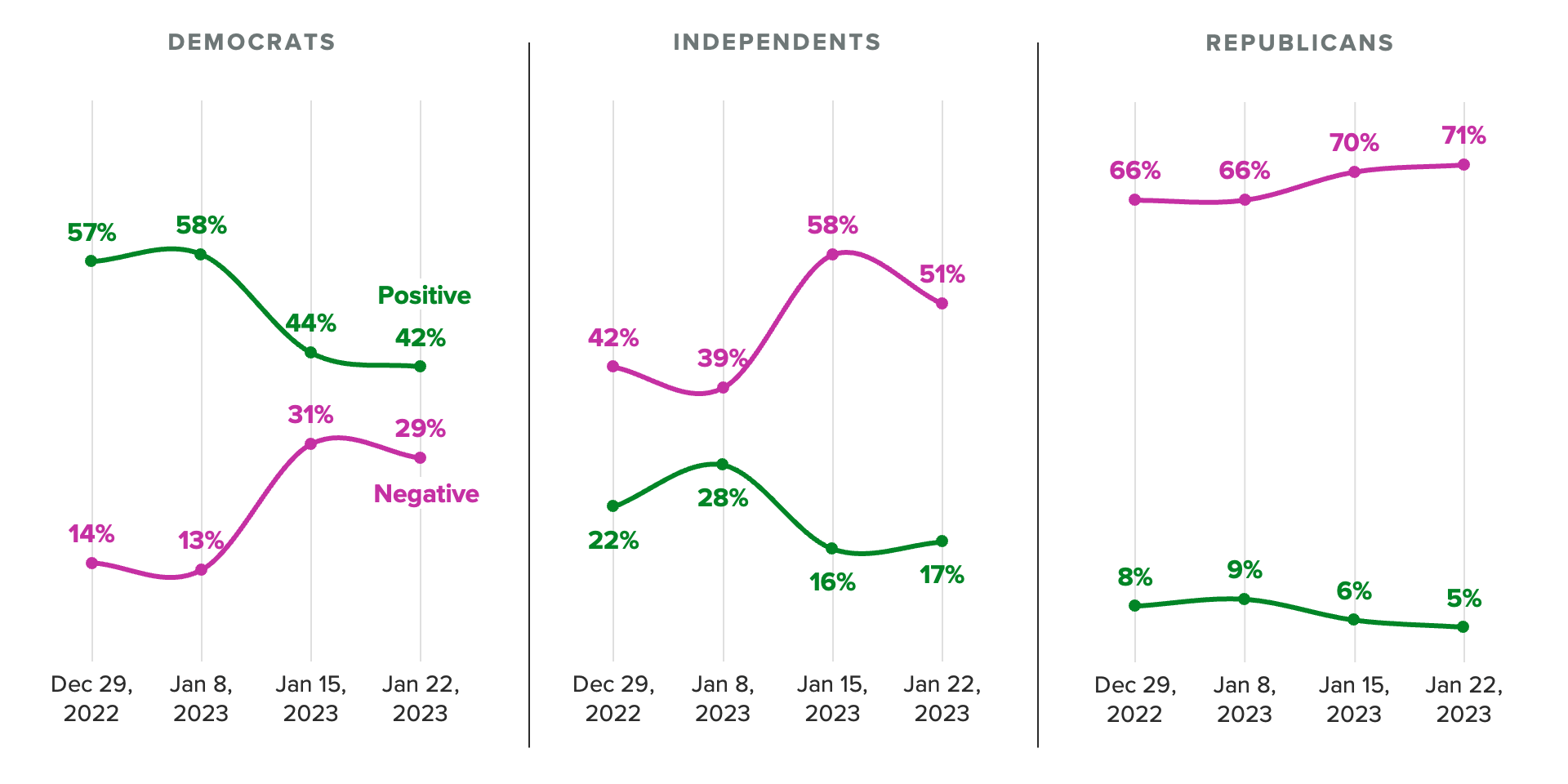 Surveys conducted among representative samples of roughly 2,000 registered voters each, with unweighted margins of error of +/-2 percentage points. The shares of voters who said they had seen, read or heard nothing about Biden are not shown.
Buzz about Biden is increasingly negative
Nearly half of all voters (49%) said they had recently heard something negative about Biden, up from 40% in the final week of December. It's not as large as the share of negative news resonance Trump faced following the raid of his Palm Beach property in August, when 67% of voters reported hearing something negative about him. 
Biden's net buzz rating — which takes the share who heard something positive minus the share who heard something negative — is 26 percentage points underwater, similar to Trump's current standing by the metric.  
The biggest drop in positive buzz came among Democratic voters, who are 15 points less likely to report recently hearing something positive about the president than they were at the end of 2022.
The latest survey was conducted Jan. 20-22, 2023, among a representative sample of 1,990 registered voters, with an unweighted margin of error of plus or minus 2 percentage points. 
Eli Yokley is Morning Consult's U.S. politics analyst. Prior to his current role, Eli was Morning Consult's senior reporter covering U.S. politics. Eli joined Morning Consult in 2016 from Roll Call, where he reported on House and Senate campaigns after five years of covering state-level politics in the Show Me State while studying at the University of Missouri in Columbia, including contributions to The New York Times, Politico and The Daily Beast. Follow him on Twitter @eyokley. Interested in connecting with Eli to discuss his analysis or for a media engagement or speaking opportunity? Email [email protected].
We want to hear from you. Reach out to this author or your Morning Consult team with any questions or comments.
Contact Us