Congressional Republicans Now Lead Generic Ballot Among Child Tax Credit Recipients
46% of voters who received the expired pandemic-era benefit say they'll back a Republican in the midterms
Voters who received expanded child tax credits payments in 2021 ended the year more likely than not to support Democratic candidates for Congress in this year's midterm elections. But months after that benefit expired, a new Morning Consult/Politico survey shows Republicans have made up that ground.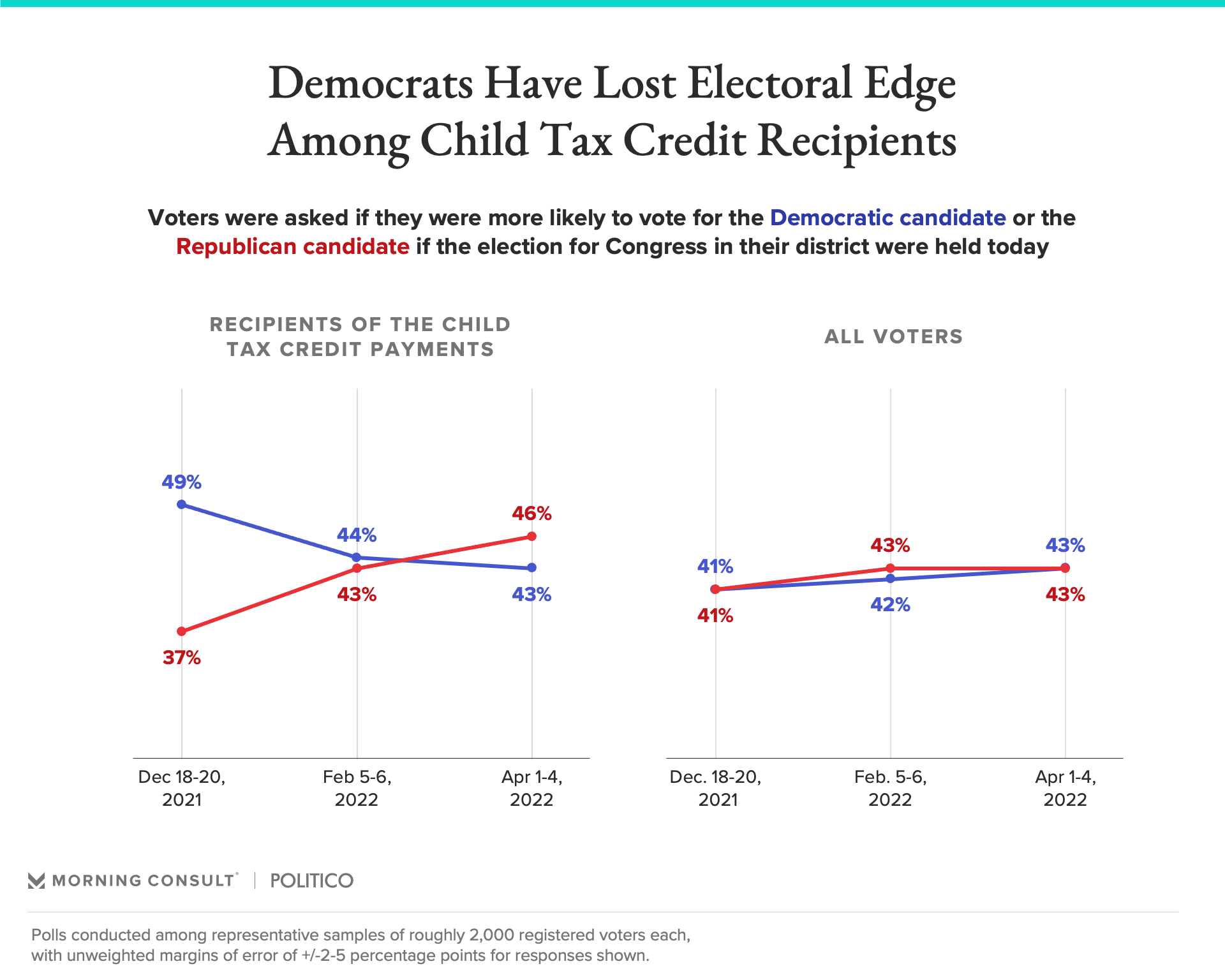 The political impact
Among parents or guardians with at least one child under 18 in the household who received the expanded child tax credit payments, 46% said they are most likely to vote for a Republican congressional candidate this year while 43% said they're inclined to back the Democratic candidate.
The narrow GOP advantage among this group stands in contrast with Democrats' lead of 12 percentage points in late December, before the benefit expired. It also continues a trend first captured in a survey conducted in February.
Among all voters, the latest survey found Democrats and Republicans tied at 43% on the generic congressional ballot.
The context
The expanded child tax credit payments, enacted through 2021 as part of President Joe Biden's COVID-19 relief package, were credited with slashing child poverty. But they were temporary, and their extension failed as part of the demise of Biden's sweeping domestic policy agenda, the Build Back Better Act. It's safe to say this iteration of the benefit, which is opposed by Sen. Joe Manchin (D-W.Va.), will remain off the table for the rest of 2022 at the very least.
As Americans of all stripes have endured the rising cost of living, many voters who received the payments — a group that leans Democratic and makes up just under one-fifth of the electorate — say they're feeling economic strain.
What else you should know
Over 7 in 10 child tax credit recipients (72%) said the expiration of the extended payments had at least a "minor" impact on their financial security, roughly in line with the share who said the same in the February survey.
The majority of these voters (55%) disapprove of Biden's handling of the economy, including 41% who do so strongly, though those figures are reflective of the general electorate's consensus on the topic.
The latest survey was conducted April 1-4, 2022, among a representative sample of 2,003 registered U.S. voters and 337 who reported receiving the tax payments in 2021, with unweighted margins of error of plus or minus 2 and 5 percentage points, respectively.
Eli Yokley is Morning Consult's U.S. politics analyst. Prior to his current role, Eli was Morning Consult's senior reporter covering U.S. politics. Eli joined Morning Consult in 2016 from Roll Call, where he reported on House and Senate campaigns after five years of covering state-level politics in the Show Me State while studying at the University of Missouri in Columbia, including contributions to The New York Times, Politico and The Daily Beast. Follow him on Twitter @eyokley. Interested in connecting with Eli to discuss his analysis or for a media engagement or speaking opportunity? Email [email protected].
We want to hear from you. Reach out to this author or your Morning Consult team with any questions or comments.
Contact Us