China's Alliance With Russia Weakens Its Position in Eastern Europe
Beijing is popular in much of the developing world, but its support for Russia during the invasion of Ukraine is dimming its brightest prospects to make inroads in Europe
China's popularity has declined more in Poland and Romania during 2022 than in any other country except Singapore, Morning Consult tracking in 42 countries shows, as Beijing's support for Moscow during the invasion of Ukraine pushes what once were two of the most China-friendly countries in Europe closer to the mainstream of unfavorable opinion among wealthier countries. 
Poles, Romanians Sour on China Following Russia's Invasion of Ukraine
China's net favorability* among adults in former Soviet bloc countries
*Net favorability is the share of adults with favorable views of China minus the share with unfavorable views
Surveys conducted Jan. 1-31 and July 26, 2022, among representative samples of at least 1,344 adults in each country, with unweighted margins of error of up to +/-3 percentage points.
China's support for Russia irks erstwhile allied European countries
Among 15 European nations surveyed by Morning Consult in January, Romanians were the only populace more likely to view China favorably (45%) than unfavorably (33%). But following a decline of 7 percentage points in favorable views and a nearly equal uptick in unfavorable views, China is 1 point underwater in Romania, according to July surveys, bringing the country into alignment with its European peers. 
Over the same time period, Poles' favorable views of China fell similarly, from 30% to 22%, with unfavorable views rising from 47% to 55%. That puts views of China in Poland in line with those in fellow former Soviet bloc member Czech Republic, more than 30 points underwater.
In Russia, however, the share of adults with favorable views of China has risen from 68% to 74% since the beginning of the year, an increase second only to the United Arab Emirates'.
Collateral damage narrows a crucial window for Beijing's influence in Europe
Beijing has made Eastern Europe a focus of its diplomatic efforts on the continent through the "16+1" format, through which China has pitched its Belt and Road Initiative investments and endeavored to deepen economic integration with former members of the Soviet bloc. China generally has a longer history of relations with former communist states and has sought influence along the eastern frontier of the European Union as a gateway to trade deals with the group as a whole, according to Zoe Zongyuan Liu, a fellow for international political economy at the Council on Foreign Relations. 
"The China-E.U. investment and trade framework agreement discussion resumed a few weeks ago, but before a direct trade and investment framework between China and the E.U. can materialize, China wants to expand its influence in Eastern Europe, hoping that some of these countries can present a more favorable image on China's behalf during negotiations," she said. 
Those efforts were already on rocky ground before the invasion of Ukraine, with Lithuania pulling out of the group last year and considerable suspicion in European civil society. But China's backing of Russia — despite efforts by Chinese diplomats to try to downplay it — has clearly affected how it is viewed in states like Poland and Romania, where many see Moscow's invasion as an existential threat to their own societies. That will likely make trust even scarcer at the negotiating table and diminish China's chances of using its economic influence to create daylight between Europe and the United States.
China Finds Favor Among Developing Countries and in the Middle East, but Struggles Among Richer Countries
Views of China among adults in the following countries: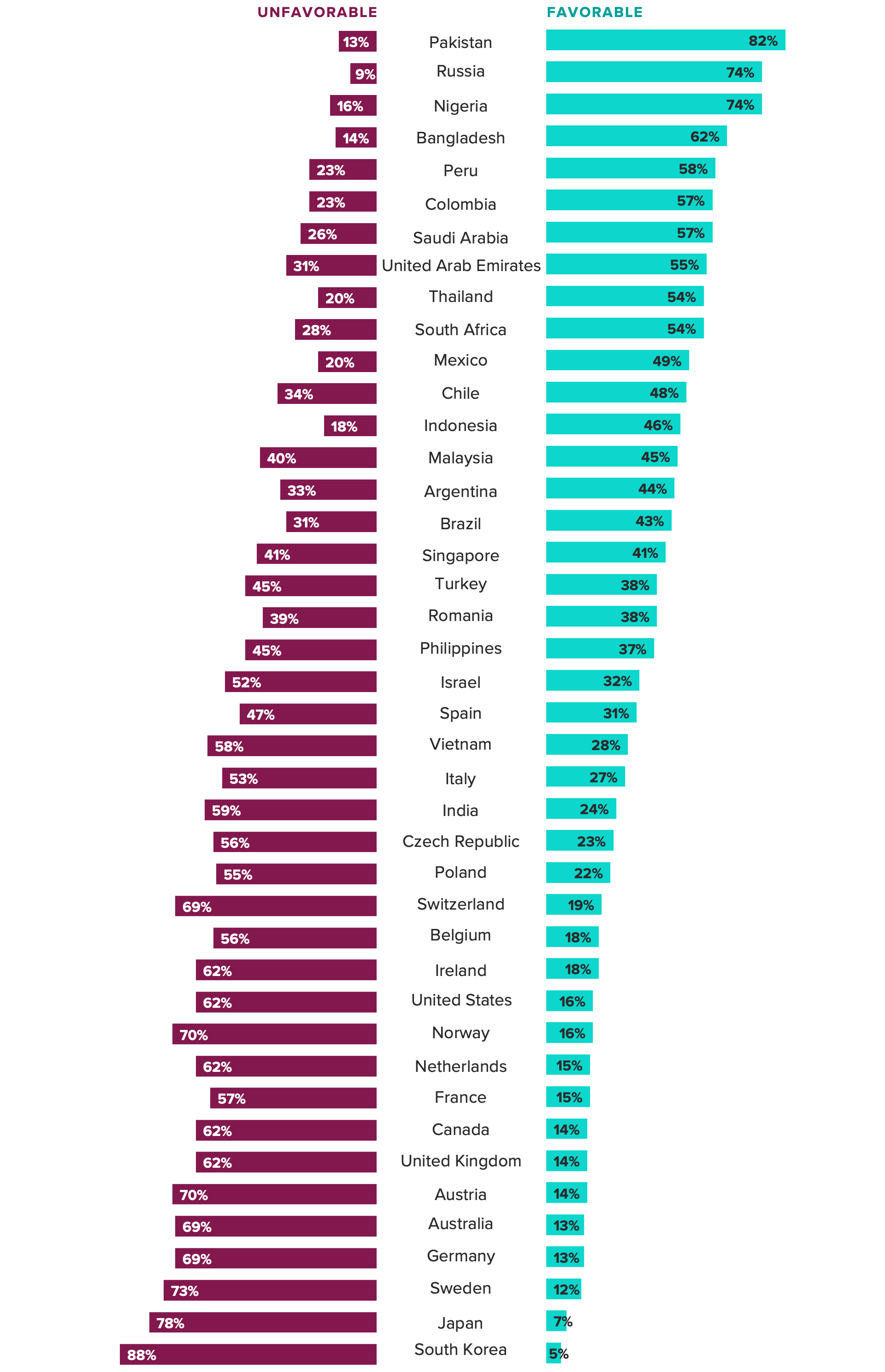 Surveys conducted July 1-26, 2022, among a representative sample of at least 756 adults in each country, with unweighted margins of error of up to +/-3 percentage points. "Don't know/no opinion" responses are not shown.
China finds friends in the developing world
Besides Russia, the five countries with the most favorable views of China are Pakistan, Nigeria, Bangladesh, Peru and Colombia, just ahead of two of China's major fossil fuel sources, Saudi Arabia and the United Arab Emirates. 
While most adults in wealthier developing economies in Latin America, such as Mexico, Chile, Argentina and Brazil, did not have favorable views of China, positive sentiment nonetheless outweighed negative views. 
It's a similar story in Southeast Asia, with positive views in Thailand and Indonesia holding steady in 2022, while in wealthier Malaysia and Singapore, favorable views fell 5 and 8 points, respectively, despite both countries' large, often centuries-old ethnic Chinese communities and strong ties to Beijing.
However, unlike in Latin America, many Asian countries have territorial disputes with China. Favorable views of China in Vietnam and the Philippines, both of which have sparred with Beijing over the South China Sea, sit considerably lower than their neighbors', while just 7% of Japanese and 5% of South Koreans said they had a favorable view of China. 
The Morning Consult surveys were conducted each month in 2022 among a representative sample of at least 456 adults in each country, with unweighted margins of error of up to plus or minus 5 percentage points.
Matthew Kendrick previously worked at Morning Consult as a data reporter covering geopolitics and foreign affairs.
We want to hear from you. Reach out to this author or your Morning Consult team with any questions or comments.
Contact Us