Democratic Governors Facing Re-Election Are Resisting Biden's Drag Effect
While the president is deeply unpopular, most Democratic incumbent governors are not
While most Democratic governors facing competitive re-election bids have seen their popularity decline since President Joe Biden took office, Morning Consult Political Intelligence surveys show most of this movement is marginal, and all of these incumbents remain more popular in their states than the beleaguered commander-in-chief. 
Biden Is Less Popular Than Democratic Governors Facing Re-Election in November
Quarterly net approval* ratings of
President Joe Biden
and the following
Democratic governors
among registered voters in each state:
*Net approval is the share of voters who approve minus the share who disapprove.
Responses gathered each quarter in 2021 and 2022 among representative samples of at least 1,263 registered voters in each state, with unweighted margins of error of +/-1-3 percentage points.
Few Democratic incumbents up in 2022 are unpopular
Among the eight Democratic governors in contests The Cook Political Report currently rates as anything less than "solid Democrat," Connecticut's Ned Lamont is the most popular, with a 58% approval rating. His approval rating among Connecticut voters is 11 percentage points higher than Biden's.
Laura Kelly of Kansas, perhaps the most vulnerable governor on the ballot this fall, is approved of by 56% of Sunflower State voters — a 23-point advantage over Biden and the largest of any governor facing a competitive contest this year. 
In New Mexico, 49% of voters approve of Gov. Michelle Lujan Grisham's job performance, similar to Biden's 47% approval rating. But, while half of New Mexicans disapprove of Biden's job performance in the state, where Republicans are working to flip the governor's mansion red, only 43% disapprove of Lujan Grisham.
Wisconsin's Tony Evers, who sports a 46% approval rating, is the weakest Democratic incumbent facing a competitive re-election bid, though he's markedly more popular than Biden there.
Democratic governors are resisting Biden's decline
The latest surveys, conducted April 1-June 30, 2022, show that — with only a few exceptions — most Democratic governors have been able to float above their party's deteriorating political environment. 
In Michigan and Nevada, for example, half of voters approve of the jobs Govs. Gretchen Whitmer and Steve Sisolak are doing as they face tossup contests this fall, even though more disapprove of Biden. 
That dynamic is especially true for Gov. Jared Polis (D-Colo.), whose 57% approval rating has been remarkably consistent throughout Biden's tenure despite the president's 12-point decline, to 45%, since the first quarter of 2021. With slight declines for a handful of other top state executives, the steadiness of Polis' popularity has propelled him to the list of America's 10 most popular governors for the first time.
Registered voters in each state were asked whether they
approve
or
disapprove
of their governor's job performance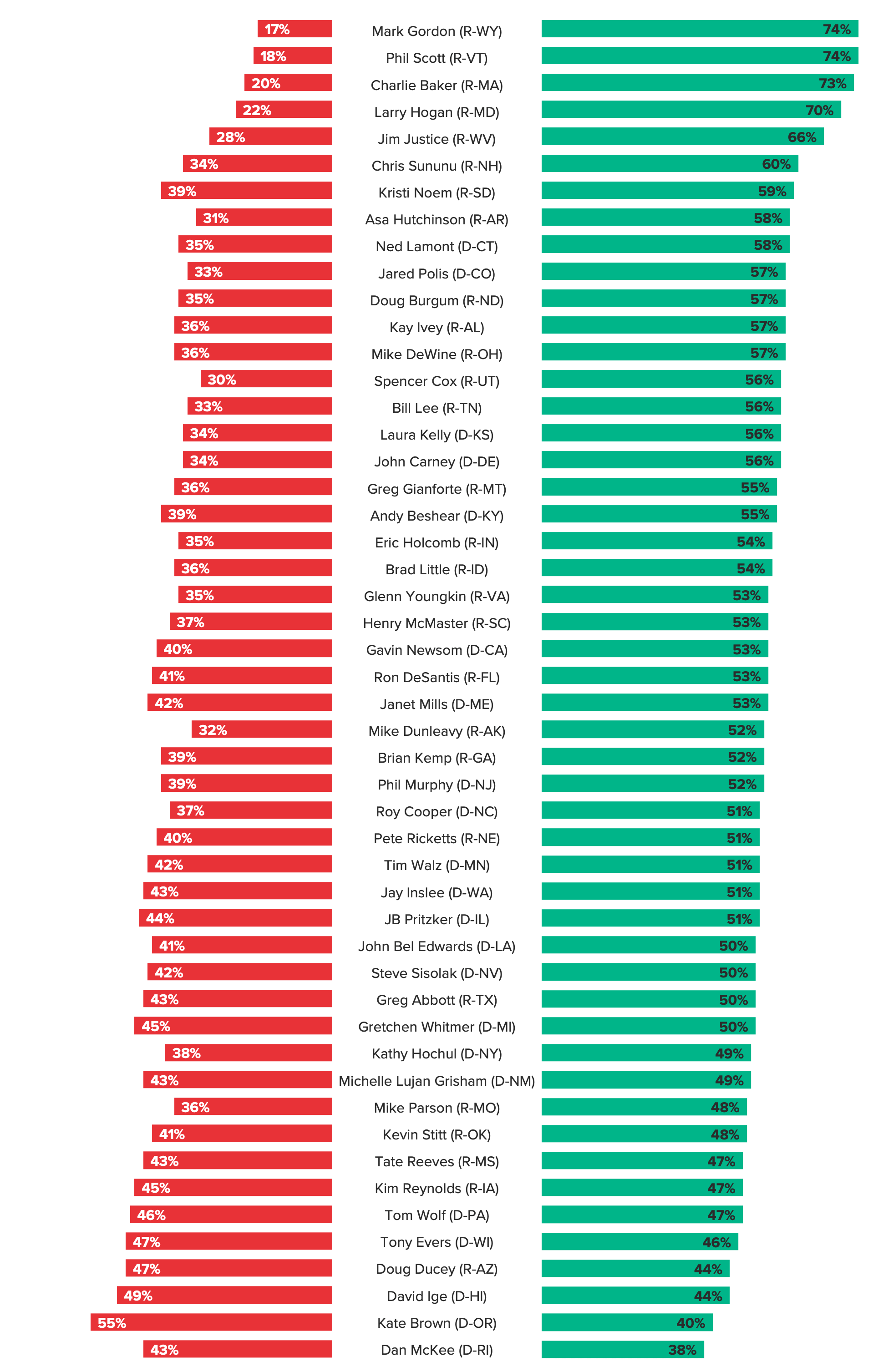 Surveys conducted April 1-June 30, 2022, among a representative sample of at least 431 registered voters in each state, with unweighted margins of error of +/-1-5 percentage points.
America's most popular governors
With 74% approval ratings, Wyoming Republican Mark Gordon and Vermont Republican Phil Scott are America's most popular governors. 
Along with Polis, South Dakota Republican Kristi Noem appears on the top 10 list for the first time, with a 59% approval rating among voters in her state.
Democratic Govs. Kate Brown of Oregon and David Ige of Hawaii are America's most unpopular governors, with respective 55% and 49% disapproval ratings.  
Republican Govs. Ron DeSantis of Florida and Glenn Youngkin of Virginia, two potential presidential prospects in 2024, both hold 53% approval ratings, though the Floridian's standing has dropped slightly (from 56%) in the previous quarter.
For Morning Consult's state-level survey data, weights are applied to each state separately based on age, gender, education, race, home ownership, marital status, presidential voting history and — for a subset of states — race by education as well as an age-by-gender interaction.
Margins of error for responses from all voters in each state range from 1 to 5 points. For more detailed information, you can download the 50-state data set of gubernatorial approval ratings among all voters here.
Eli Yokley is Morning Consult's U.S. politics analyst. Prior to his current role, Eli was Morning Consult's senior reporter covering U.S. politics. Eli joined Morning Consult in 2016 from Roll Call, where he reported on House and Senate campaigns after five years of covering state-level politics in the Show Me State while studying at the University of Missouri in Columbia, including contributions to The New York Times, Politico and The Daily Beast. Follow him on Twitter @eyokley. Interested in connecting with Eli to discuss his analysis or for a media engagement or speaking opportunity? Email [email protected].
We want to hear from you. Reach out to this author or your Morning Consult team with any questions or comments.
Contact Us