Most Governors Facing Re-Election This Year Are Quite Popular
Democrats in Rhode Island, Wisconsin, and New Mexico have the weakest job approval ratings of governors up for re-election in 2022
Most governors facing re-election in November are beginning the year popular with voters in their states, according to Morning Consult Political Intelligence quarterly tracking. And despite declines over the past year, a handful of Republicans among them are some of the most-liked governors in the country.
Most Governors Up for Re-Election in November Are Popular
Net approval ratings* of governors up for re-election in 2022
*Net approval is the share of voters who approve minus the share who disapprove.
Surveys conducted Jan. 1-March 31, 2022, among a representative sample of at least 601 registered U.S. voters in each state, with margins of error of up to +/-4 percentage points.
How governors facing re-election stand with voters
Among the 28 governors up for re-election this fall, just one — Democrat Tony Evers of Wisconsin — is viewed more negatively than positively by voters in his state: 45% of Wisconsin voters approve of his job performance, compared to 48% who disapprove.
Half of Georgia voters, including 76% of Republicans, approve of GOP Gov. Brian Kemp's job performance, as he faces a primary challenge from former Sen. David Perdue, who has former President Donald Trump's endorsement.
Democratic governors who face contests viewed as toss-ups by The Cook Political Report are fairly popular: 55% approve of Laura Kelly in Kansas, 51% approve of Steve Sisolak in Nevada and 50% approve of Gretchen Whitmer in Michigan, though 46% disapprove.
In Colorado, 57% of voters approve and 35% disapprove of Democratic Gov. Jared Polis, largely in line with his standing throughout Joe Biden's presidency.  
Democratic Gov. Dan McKee of Rhode Island has seen a substantial drop in his approval rating in recent months, from 60% in the third quarter of 2021 to 42% now. Over the same time period, the share who disapprove of his job performance increased from 25% to 40%, marking the biggest decline in sentiment about a governor facing voters this fall.
The big picture
Across the country, all but eight governors are backed by 50% or more of their state's voters. And in nearly all cases, the Democrats among them are getting higher approval ratings than Biden, while more often than not drawing more cross-party support than the president and Democratic senators.
But when considering each state, the average GOP governor has a higher approval rating than the average Democratic governor (58% to 51%), boosted by the popularity of a handful of blue-state Republicans.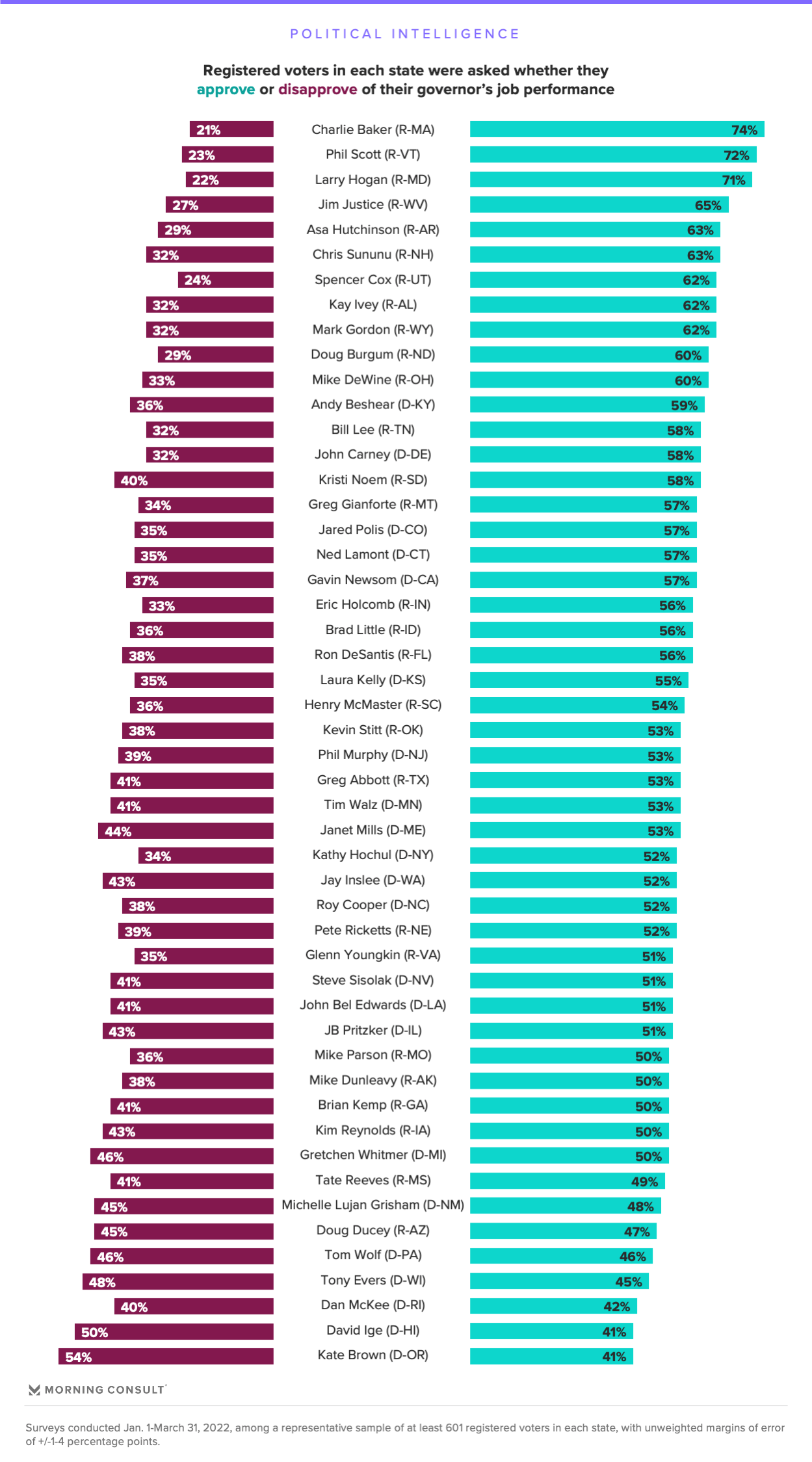 America's most popular and unpopular governors 
With approval ratings above 70%, Republican Govs. Charlie Baker of Massachusetts, Phil Scott of Vermont and Larry Hogan of Maryland are America's most popular governors. Scott, who is the only member of that trio who may seek re-election this year, has seen his approval rating fall from 84% in the first quarter of 2021 to 72% in the first quarter of 2022.
Not a single Democrat ranked among the 10 most popular governors, but Kentucky's Andy Beshear came close. Ahead of his re-election campaign next year, 59% of Kentucky voters approve of Beshear's job performance, while 36% disapprove, making him the most popular Democratic governor in the country.
Facing 54% disapproval, Democrat Kate Brown of Oregon is America's most unpopular governor, followed by Hawaii Democrat David Ige, who's unpopular with half of the electorate in The Aloha State.
2022's lone addition to the ranks of governors, Republican Glenn Youngkin of Virginia, is favored by 51% of voters in his state, while 35% disapprove of his job performance.
For Morning Consult's state-level survey data, weights are applied to each state separately based on age, gender, education, race, home ownership, marital status, presidential voting history and — for a subset of states — race by education as well as an age-by-gender interaction.
Margins of error for responses from all voters in each state range from 1 to 5 points. For more detailed information, you can download the 50-state dataset for governors' approval ratings among all voters here.
Eli Yokley is Morning Consult's U.S. politics analyst. Prior to his current role, Eli was Morning Consult's senior reporter covering U.S. politics. Eli joined Morning Consult in 2016 from Roll Call, where he reported on House and Senate campaigns after five years of covering state-level politics in the Show Me State while studying at the University of Missouri in Columbia, including contributions to The New York Times, Politico and The Daily Beast. Follow him on Twitter @eyokley. Interested in connecting with Eli to discuss his analysis or for a media engagement or speaking opportunity? Email [email protected].
We want to hear from you. Reach out to this author or your Morning Consult team with any questions or comments.
Contact Us