Global Views of Russia Deteriorate After Ukraine Invasion — but America Isn't the Main Benefactor
Multilateral institutions appear to be owning the moment, with NATO and the E.U. proving more popular in the wake of Russia's attack on Ukraine
The populaces in America's allies around the world are looking even more askance at Russia after its invasion of Ukraine, but it's not the United States that has picked up any additional adoration — instead, Morning Consult surveys show the trans-Atlantic alliance itself has been the winner, particularly among countries not in the pact.
On the numbers
At least two-thirds of adults in nine countries — the United States, five major European NATO members and three non-NATO allies in the Indo-Pacific region — have unfavorable views of Russia following its invasion of Ukraine. 
Compared to the week before the invasion, Russia's unfavorability rating increased by an average of 8 percentage points in the United States, Germany, the United Kingdom, Australia and Japan, along with 10-point upticks in South Korea and Spain and 16- and 19-point gains in France and Italy, respectively.
But the United States' favorability rating has remained largely unchanged, with a 6-point bump in Germany and a 4-point bump in the United Kingdom while Australians registered a small decline of 3 points. Canadians offered the largest improvement in sentiment toward their North American neighbor, with favorability up 7 points.
NATO's reputation has seen the broadest improvement, particularly among countries that are not members. Favorable views of the alliance climbed 6 points in Japan, 7 points in Australia and Brazil and 11 points in Mexico. France and Germany saw the biggest gains from within the alliance, climbing 8 and 6 percentage points, respectively.
The big picture
The images coming out of Ukraine have torn heartstrings around the world. Russian cluster bombs ripping through neighborhoods as families shelter underground, parents saying final goodbyes to their children before taking up arms and desperate refugees marching toward the European Union have all made the everyday tragedy of the war harder to ignore. 
It's not too surprising, then, that already dim views of Russia around the world deteriorated even further last week, even in countries thousands of miles away. Among those surveyed, it was British, German, South Korean and Japanese adults who now have the worst opinion of Russia — with about three-quarters expressing unfavorable views — though France and Italy saw the most radical swings against the country following the invasion. 
Before Moscow's troops entered Ukraine, Mexicans held the least unfavorable views of Russia among all countries surveyed, including even Russia itself. While Mexico has had little direct involvement with the crisis, Russia's unfavorability rating among Mexican has risen 16 points while favorability has declined 10 points, rivaling the Italian and French swings. Brazilians registered a similar 8-point decline in favorable views of Russia, while unfavorable views increased 9 points.
However, multilateral institutions are faring much better in the battle for hearts and minds than the United States as the views of Russia slip. Whereas opinions of America have remained flat, favorability toward NATO has ticked up. The European Union also mostly saw an improvement, perhaps most notably among British adults, who voted to leave the European Union six years ago. Britons reported an 11-point decline in unfavorable views toward the bloc over the course of the invasion.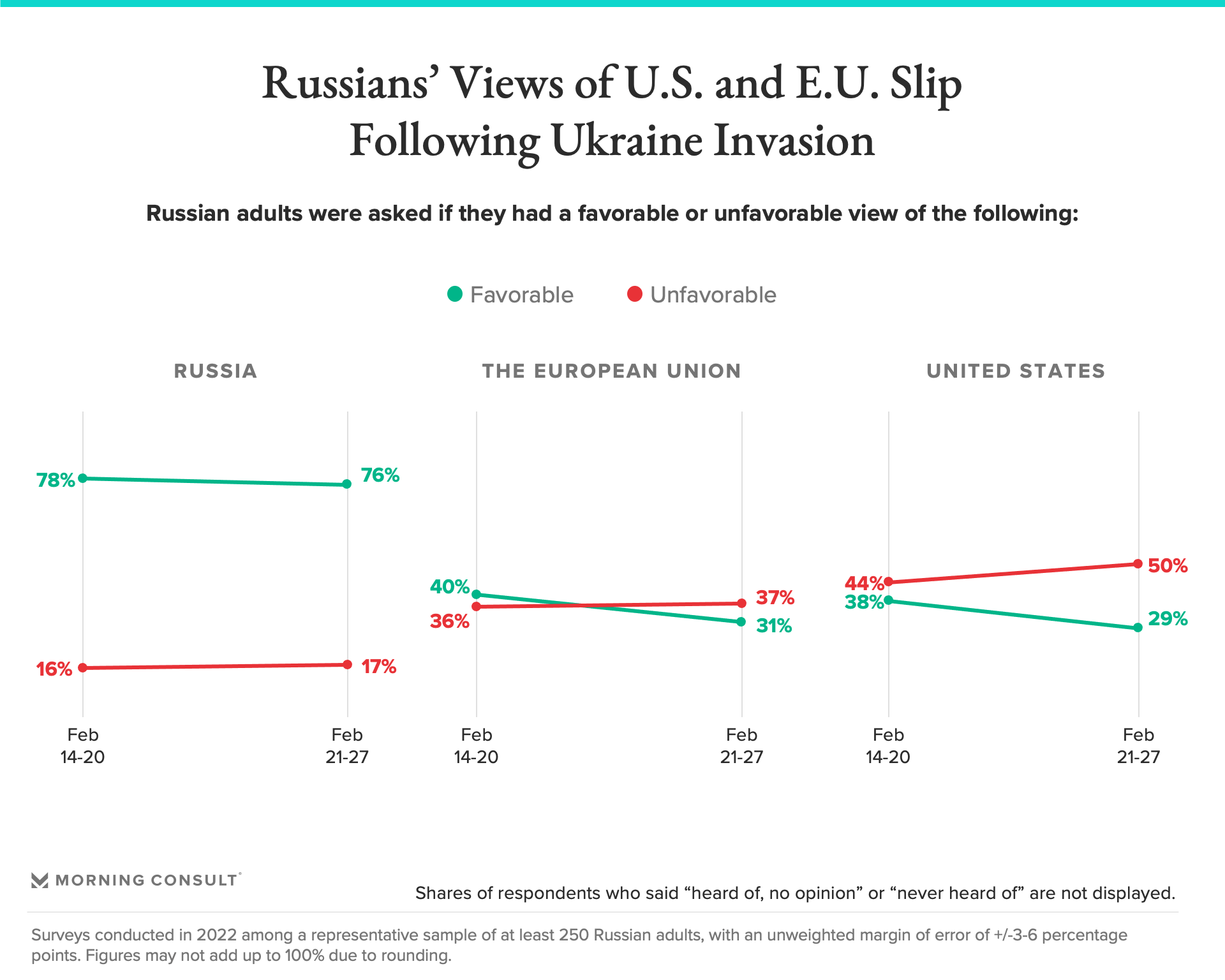 Russians, for their part, held steady in their overwhelmingly favorable views of their own country and unfavorable views of NATO. The popular unrest that broke out in some Russian cities has led some commentators to say Russians are becoming disillusioned with President Vladimir Putin's government. But if they are, it's not impacting their view of the motherland, with three-quarters of Russians expressing a favorable view (though these surveys were conducted before Western sanctions came into full force). 
The European Union, on the other hand, ticked from being more liked than disliked among Russians to the inverse, after Brussels showed more spleen than many expected. Ukrainian President Volodymyr Zelenskyy on Monday asked the European Union to fast-track his nation's membership and European Commission President Ursula von der Leyen said Kyiv belongs in the bloc. It may be a cruel irony for Putin that his attempts to prevent Ukraine from getting closer to Europe may actually end up accelerating it — as long as the Ukrainian forces can keep up their dogged resistance, and the West its diplomatic cohesion.
The latest Morning Consult surveys were conducted Feb. 14-20, 2022, and Feb. 21-27, 2022, among at least 250 adults in each country, with unweighted margins of error of plus or minus 1 to 6 percentage points.
Matthew Kendrick previously worked at Morning Consult as a data reporter covering geopolitics and foreign affairs.
We want to hear from you. Reach out to this author or your Morning Consult team with any questions or comments.
Contact Us