As Republicans Stoke Fear About Increased IRS Enforcement, Most Voters Aren't Concerned
Roughly half of voters believe the most likely target of increased audits will be the wealthy
Senate Democrats' recently passed Inflation Reduction Act of 2022 includes an $80 billion increase in funding for the Internal Revenue Service, a portion of which is specifically geared toward upping enforcement and collections actions. Despite a drumbeat of Republican messaging to the contrary, a new Morning Consult/Politico survey found that most voters aren't worried about being audited due to the potential boost in enforcement, and a plurality believes high-income Americans will be the most likely subject of any increase in audits.
Most Voters Aren't Concerned About Being Audited Amid Proposed $80 Billion Funding Infusion to the IRS
Respondents were asked how concerned they were about the following given Senate Democrats' bill to provide the Internal Revenue Service with $80 billion in new federal funding:
Survey conducted Aug. 5-7, 2022, among a representative sample of 2,005 registered voters, with an unweighted margin of error of +/-2 percentage points. Figures may not add up to 100% due to rounding.
Despite GOP efforts to portray increased IRS funding as the beginning of an audit spree, most voters are not concerned  
Conservative media has echoed GOP lawmakers' efforts to portray an increase in IRS funding as a potential auditing-free-for-all manned by 87,000 new IRS agents, but the majority of voters said they were not concerned about the prospect of being personally audited by the IRS, a view that was consistent among Democrats (74%), independents (78%) and Republicans (77%). 
More specifically, when it comes to possibly being personally audited, 44% of voters said they were "not at all concerned," including 47% of Republicans and 41% of Democrats. 
Regardless of party affiliation, the share of voters who said they were "very" or "somewhat" concerned about being audited personally was about 1 in 4. 
Nearly Half of Voters Believe Increased IRS Audits Will Be Directed at the Wealthy
Given the Internal Revenue Service could receive $80 billion in new federal funding, voters were asked which group they believe would be targeted the most by an increase in audits by the IRS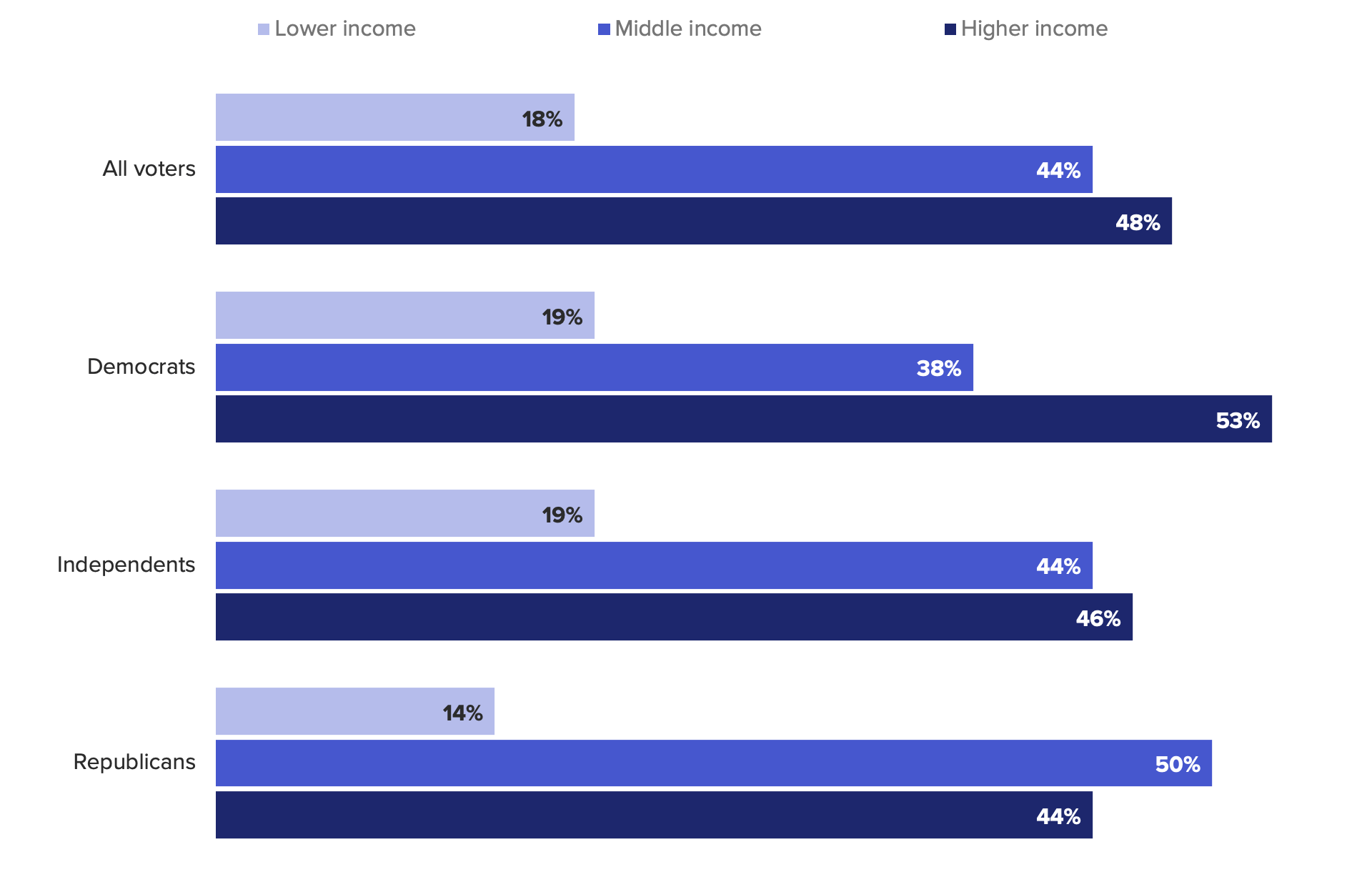 Survey conducted Aug. 5-7, 2022, among a representative sample of 2,005 registered voters, with an unweighted margin of error of +/-2 percentage points. Don't know/No opinion responses are not shown.
Voters most likely to think high-income earners will bear brunt of increased audits, though middle class not far behind 
Amid efforts by Republicans, media commentators and The Wall Street Journal editorial board to paint the spending package as fuel for the IRS to go "beast mode" on middle-class families, IRS Commissioner Chuck Rettig penned a letter to the Senate underscoring that the agency did not plan to utilize increased funds to go after middle-income taxpayers. The Biden administration's version of the message may be getting through: 48% of voters said they believe the IRS will use funds to increase enforcement on wealthy taxpayers.
Voters did see potential for middle-income earners to be subjected to increased audits, including 38% of Democrats, 44% of independents and 50% of Republicans who said that group of taxpayers may be the most likely target of ramped-up enforcement.
Reports that Republican lawmakers were concerned about increased audits on lower-income families in part stemmed from a study that found households earning $25,000 or less were more likely to be audited. However, only 18% of voters said they believe that the IRS would use its new enforcement funds to go after low-income earners, including just 14% of Republicans. 
The Aug. 5-7, 2022, survey was conducted among a representative sample of 2,005 registered voters, with an unweighted margin of error of plus or minus 2 percentage points.
Amanda Jacobson Snyder previously worked at Morning Consult as a data reporter covering finance.
We want to hear from you. Reach out to this author or your Morning Consult team with any questions or comments.
Contact Us