The Jan. 6 Hearings Hurt Trump With Independents. Will It Cost the GOP in November?
Unaffiliated voters have grown more likely to blame Trump for Capitol riot and to indicate support for Democrats in November
The summer slate of hearings by the House committee probing the Jan. 6 Capitol attack may not be causing former President Donald Trump problems with his base, but a new Morning Consult/Politico survey suggests it might be a different story with unaffiliated voters, who have grown more likely to blame him for the insurrection and to say they plan to vote for a Democrat for Congress in November — a bright spot in a midterm election year that looks tough for the party in power.
More Independents Hold Trump Responsible for Insurrection Following Jan. 6 Hearings
Share of voters who said former President Donald Trump was at least somewhat responsible for the events that led to the Jan. 6 Capitol attack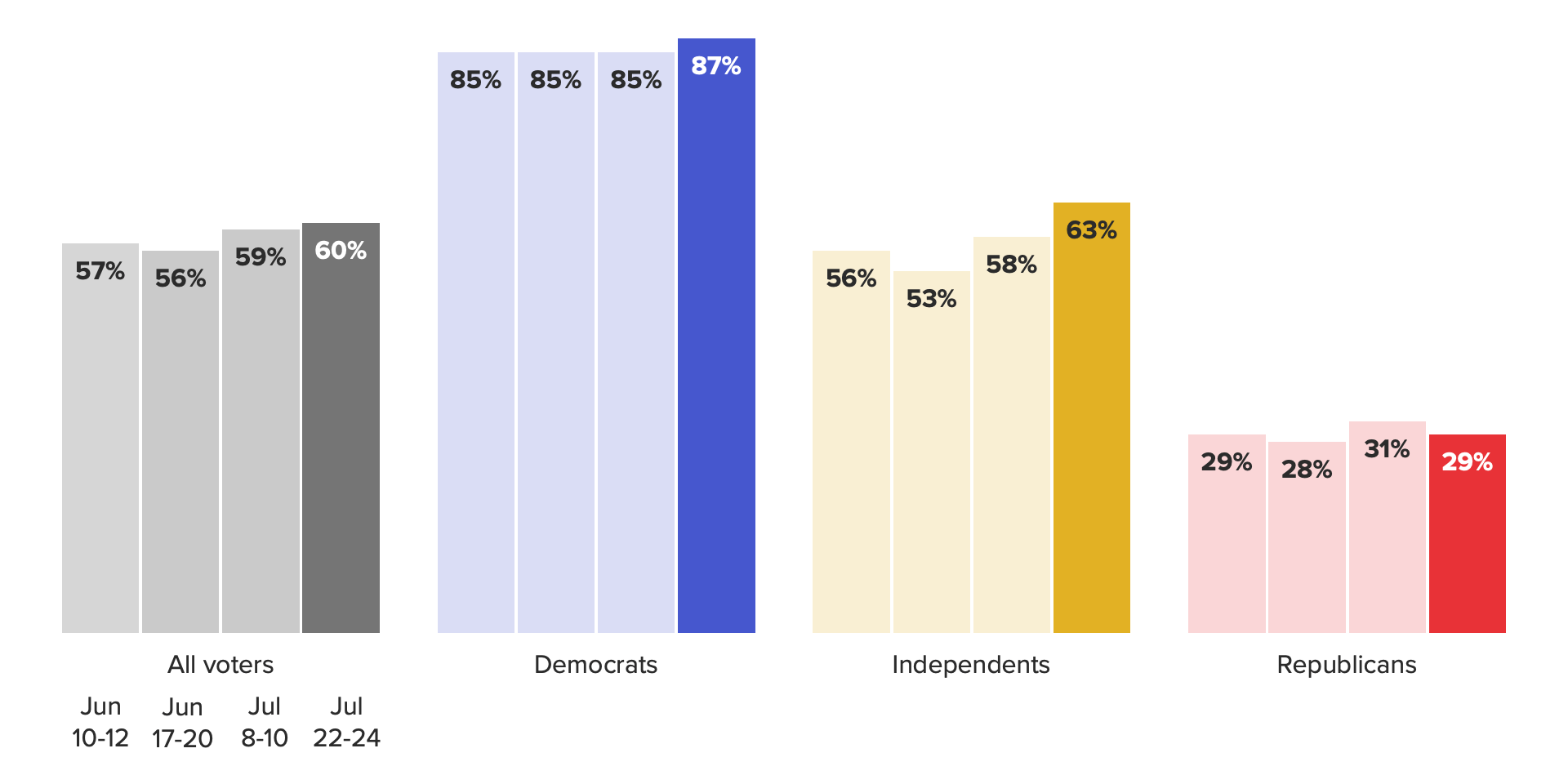 Surveys conducted in 2022 among representative samples of roughly 2,000 registered voters each, with unweighted margins of error of +/-2 percentage points.
How the Jan. 6 hearings impacted views about Trump and Jan. 6
According to the July 22-24 survey, 63% of independent voters say Trump is at least somewhat responsible for the events that led to the early 2021 riot at the Capitol, up from 56% in early June following the select committee's first prime-time hearing.
The share of independents who now blame Trump for Jan. 6 is the highest on record, with the next highest share (60%) coming at the height of his second impeachment trial in February 2021. 
At the end of this tranche of public hearings, 87% of Democratic voters and 29% of Republican voters hold Trump responsible for Jan. 6, similar to the shares who said the same just after the panel kicked off its public work in early June.
How Jan. 6 may affect the midterms
Democrats are facing a dismal political environment ahead of the midterms, which are historically a referendum on the party in power. President Joe Biden's dire approval ratings suggest his party faces a big challenge in campaigning on its record. That's where Trump, the GOP's unpopular standard bearer who is flirting with another presidential campaign launch in the coming months, comes in.
On the campaign trail, Democrats have already spent millions to help candidates in Republican primaries closely aligned with Trump's movement in hopes of capitalizing on ill will against the former president, and the Jan. 6 committee is preparing to inject itself into the national conversation with more hearings in September, when voters are traditionally more likely to be attuned to the political debate.
While the panel's public work didn't happen in a vacuum (it came in the same time period that the Supreme Court overturned the Roe v. Wade decision that had protected abortion rights nationwide for nearly 50 years), recent data trends suggest the Jan. 6 hearings may have thrown a wrench into Republican efforts to take back the House and Senate this fall.
Democrats' Generic Ballot Lead Among Independents Swells to New High as Trump's Image Worsens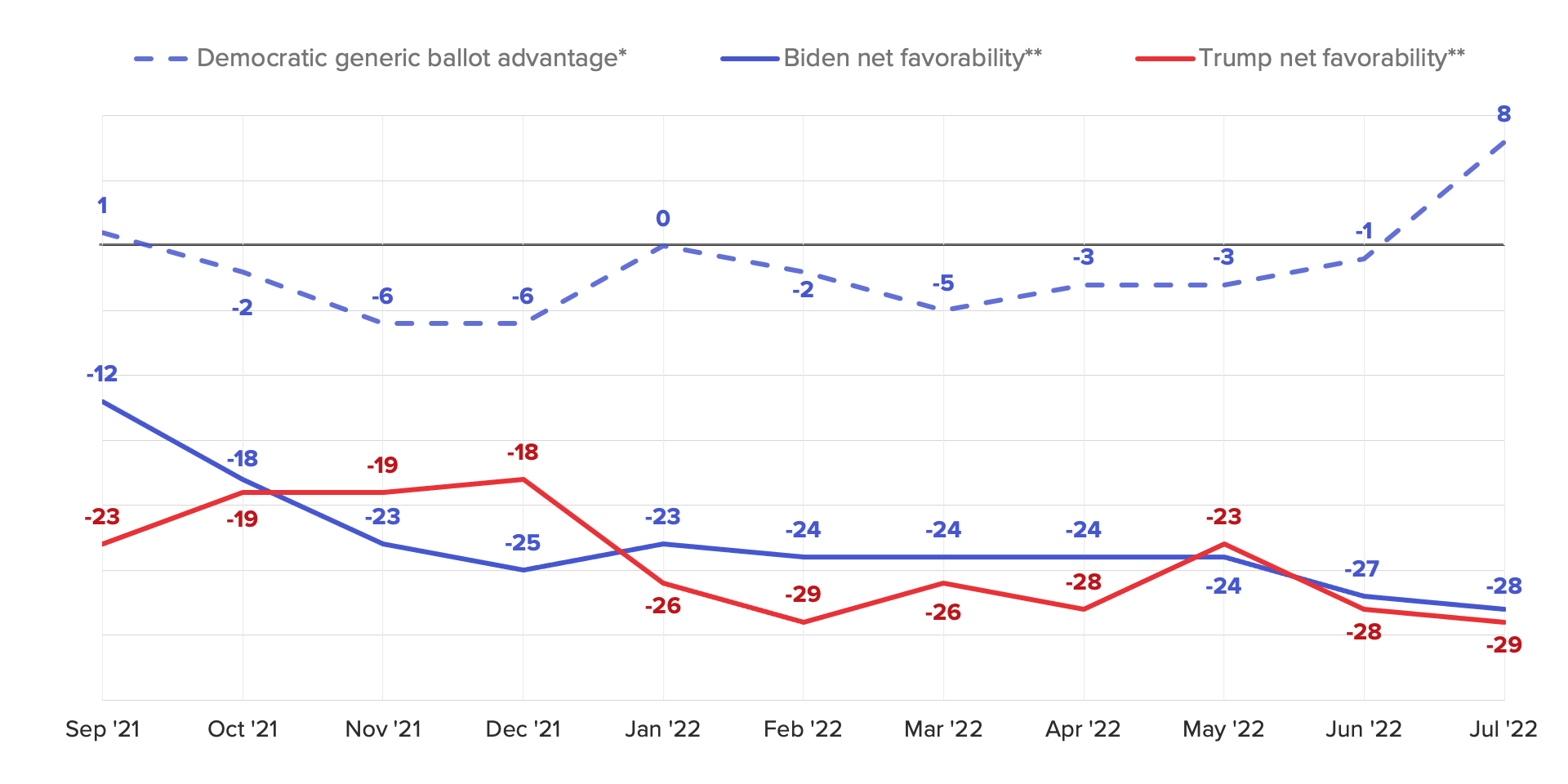 *The share of independents who said they are more likely to vote for a Democratic candidate minus the share who said they are more likely to vote for a Republican candidate if the congressional election in their district were held today.<br> **The shares of independent voters with favorable views minus the shares with unfavorable views of Donald Trump/Joe Biden.
Monthly averages taken from weekly surveys of at least 494 independent voters each, with unweighted margins of error of +/-4 percentage points.
Trump, Biden and the generic ballot 
The 41st Morning Consult/Politico tracking survey conducted since September 2021 found congressional Democrats with their biggest advantage over Republicans — 37% to 26% — on the congressional generic ballot yet. On average in July, Democrats held a lead of 8 percentage points over the GOP on the question, up from a 1-point deficit in June and a 3-point advantage in May.
At the same time, independent voters have soured on Trump in recent weeks: The latest survey found 29% of independents hold favorable views of the former president, matching his standing in a survey conducted the weekend after the Jan. 6 Capitol attack and down from 38% at the end of May.
Democrats' gains on the generic ballot among independents are out of step with sentiment about Biden, whose numbers continue to crater: Since May, Biden's favorability rating has dropped among independents, and his job approval rating with unaffiliated voters (27%) is worse than it has ever been in 66 surveys conducted since he took office. 
That disconnect suggests independent voters may view November's contests as less of a referendum and more of a choice between two parties. That would benefit Democrats, provided they can define their races on those favorable terms. 
The latest Morning Consult/Politico survey was conducted July 22-24, 2022, among a representative sample of 2,006 registered U.S. voters, with an unweighted margin of error of plus or minus 2 percentage points.
Eli Yokley is Morning Consult's U.S. politics analyst. Prior to his current role, Eli was Morning Consult's senior reporter covering U.S. politics. Eli joined Morning Consult in 2016 from Roll Call, where he reported on House and Senate campaigns after five years of covering state-level politics in the Show Me State while studying at the University of Missouri in Columbia, including contributions to The New York Times, Politico and The Daily Beast. Follow him on Twitter @eyokley. Interested in connecting with Eli to discuss his analysis or for a media engagement or speaking opportunity? Email [email protected].
We want to hear from you. Reach out to this author or your Morning Consult team with any questions or comments.
Contact Us