Voter Backing for Jan. 6 Panel Ticks Up After Prime-Time Hearing
But the share of Americans who blame Trump for the insurrection continues to decline
In the wake of last week's prime-time hearing by the special committee investigating the Jan. 6 Capitol attack, a new Morning Consult/Politico survey shows more voters approve of the panel than they have in months, though they are no more likely to blame former President Donald Trump for the failed insurrection.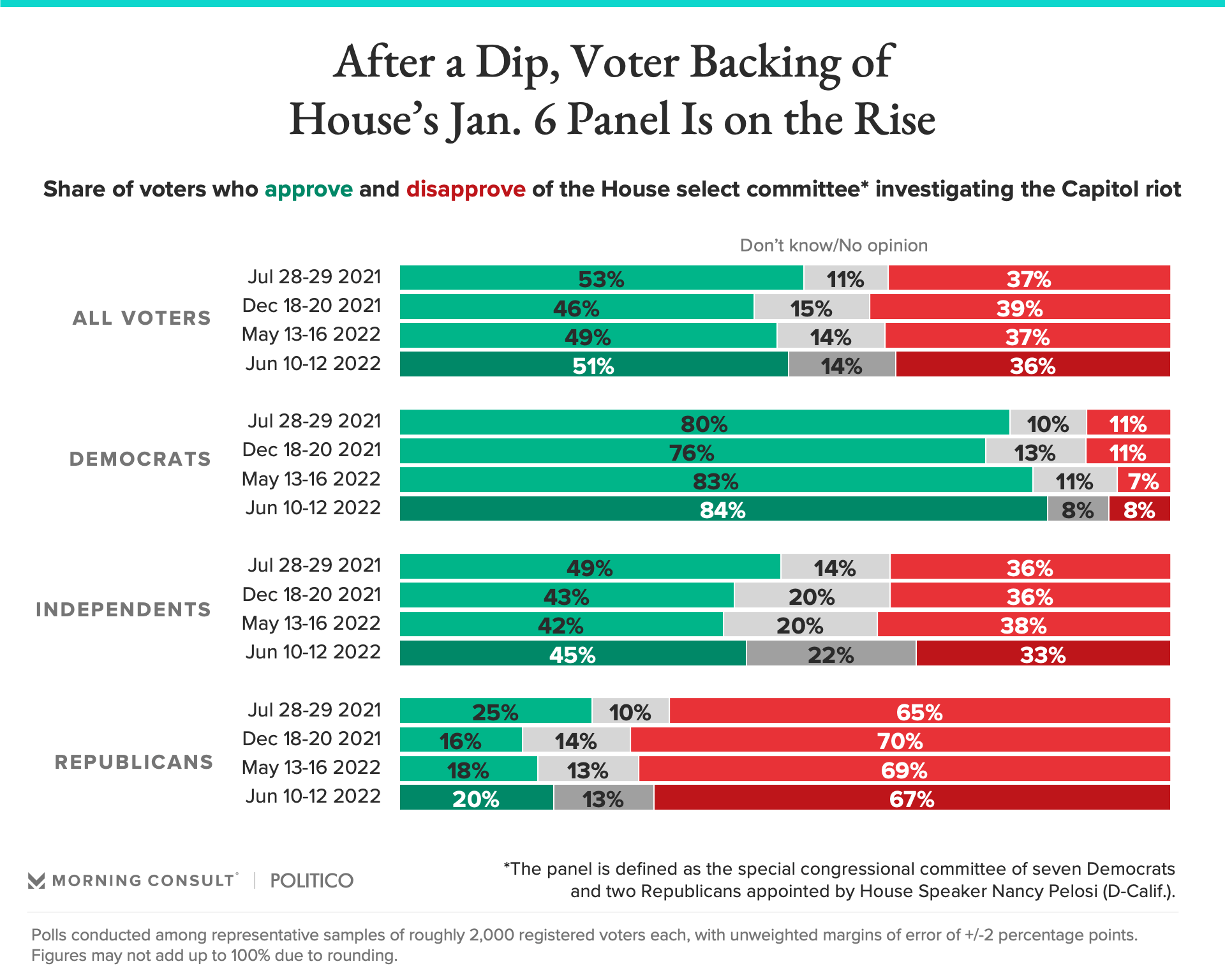 Voter sentiment on the Jan. 6 committee
A slim majority (51%) of voters in the June 10-12 survey approved of the House select committee, which was defined as a special committee of seven Democrats and two Republicans appointed by House Speaker Nancy Pelosi (D-Calif.).
That share of approval is the highest Morning Consult has measured since the first time it posed the question to voters following the announcement of its creation in July 2021, when 53% approved.
More than 4 in 5 Democrats approve of the panel, compared with nearly 7 in 10 Republicans who disapprove of it, and independents back the committee 45% to 33%.
Trump's role in Jan. 6, and what voters make of it
Though the Jan. 6 panel's probe is comprehensive in nature, opening statements from the June 9 hearing suggest it will argue that Trump is fully culpable for the events of that day. The latest survey suggests that the prospects for changing anyone's mind about that at this point remain low.
While most voters say Trump was "very" or "somewhat" responsible for the events that led to the attack on the Capitol in early 2021, it's a share that has only declined since the aftermath of the incident. And while most Democrats (85%) and independents (56%) blame Trump for the failed insurrection, most Republicans (64%) do not.
Nearly 3 in 5 Voters Blame Trump for Jan. 6
Share of voters who said the following were at least somewhat responsible for the events that led to a group of people attacking the Capitol on Jan. 6, 2021:
Surveys conducted among representative samples of roughly 2,000 registered voters each, with unweighted margins of error of +/-2 percentage points.
So even if views of the panel itself have rebounded in recent months — a potential testament to its work — in terms of public opinion, there are few remaining persuadable voters on the issue, and those tuning into the latest news cycle do not appear to be among them. While 40% of voters reported watching at least some of the June 9 hearing live, that percentage was driven by Democrats, 57% of whom said they tuned in. Just one-third of independents and 27% of Republicans reported doing the same. 
A regular viewing audience of that composition is unlikely to translate into a big swing in public opinion, or help Democrats in the upcoming November contests for House and Senate majorities: Only 32% of voters in the survey said Jan. 6 would have a "major impact" on the way they vote in the upcoming midterm elections, a 3-point increase from last month.
The latest Morning Consult/Politico survey was conducted June 10-12, 2022, among a representative sample of 2,005 registered U.S. voters, with an unweighted margin of error of plus or minus 2 percentage points. 
Cameron Easley is Morning Consult's lead analyst for U.S. politics. Prior to moving into his current role, he led Morning Consult's editorial coverage of U.S. politics and elections from 2016 through 2022. Cameron joined Morning Consult from Roll Call, where he was managing editor. He graduated from the University of North Carolina at Chapel Hill. Follow him on Twitter @cameron_easley. Interested in connecting with Cameron to discuss his analysis or for a media engagement or speaking opportunity? Email [email protected].
We want to hear from you. Reach out to this author or your Morning Consult team with any questions or comments.
Contact Us