Biden's Approval Rating Is Underwater in 40 States as He Preps Re-Election Bid
The president has seen no notable improvement of his standing in 2024 battleground states
Perceptions of President Joe Biden's job performance remain negative across most of the country, including in battlegrounds like Arizona and Georgia that were pivotal to his 2020 victory, marking a stubborn continuation of his standing a year ago as he prepares to launch a re-election campaign.
Tracking Biden's Popularity Among Voters in All 50 States
More voters disapprove than approve of Biden in 40 states
Biden's net approval rating — the share of voters who approve minus the share who disapprove — is underwater in 40 states, according to Morning Consult Political Intelligence quarterly tracking. The latest quarterly surveys, conducted Jan. 1-March 31, show a slight improvement from the fourth quarter of 2022, when his approval rating was in the red in 42 states. 
Biden's support is strongest in blue territory such as California, Hawaii, Maryland and Vermont, while he performs worst in red enclaves such as West Virginia, North Dakota and Wyoming, where at least 7 in 10 voters disapprove of his job performance. 
In Illinois, where Democrats plan to host their national convention next year, voters are evenly split on Biden's job performance.
Voters' views of Biden are stagnant
Biden's state-by-state standing hasn't changed much since the fall, when he saw a modest uptick in his approval in many states following a polling low point of his presidency last summer.  Biden's static state-level approval reflects his approval rating nationally, which was 42% on March 31 — 2 percentage points below where it was on the final day of 2022, according to Morning Consult's daily tracking surveys.
That trend extends to states that could be key to the 2024 presidential contest as Biden expresses his intent to run but holds off on an official announcement.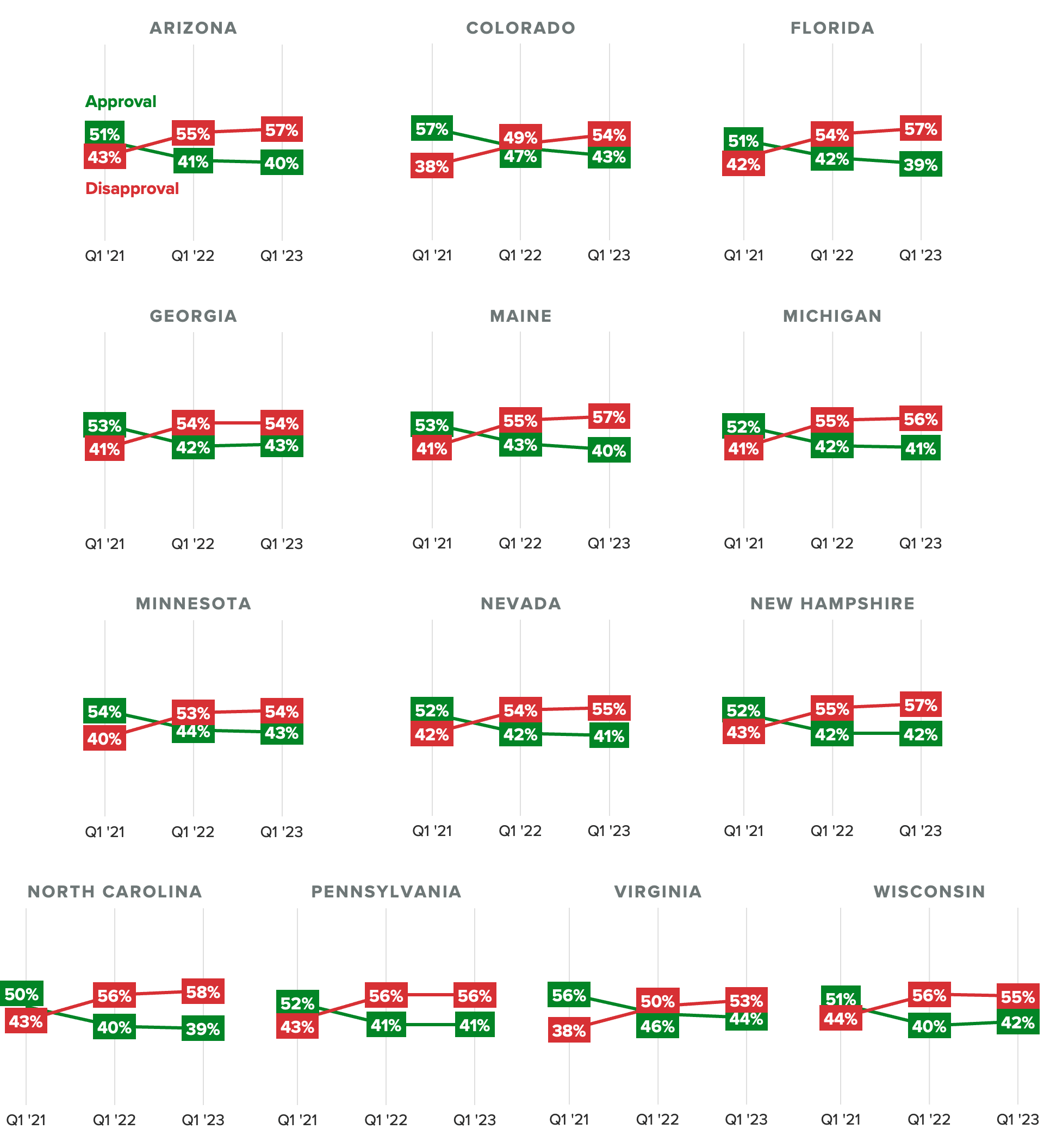 Quarterly surveys conducted among representative samples of at least 1,354 registered voters in each state, with margins of error of +/-1 to 3 percentage points. "Don't know/No opinion" responses are not shown.
Biden's standing in battleground states
Biden's approval rating remains underwater in battleground states, as he's failed to improve his standing much among Democrats or independent voters. Voter perceptions of Biden's job performance have stayed roughly the same in some contested states, such as Georgia and Nevada, but they've slightly declined in others, like Colorado and Florida. 
Among the competitive states, Biden performs worst among Democratic voters in Maine (77%), Colorado (78%) and Pennsylvania (78%), the latter of which proved critical to his 2020 electoral victory. He gets his best marks from his party's voters in Wisconsin (86%), New Hampshire (84%) and Georgia (84%).
Among independent voters in battleground states, Biden performs worst in Arizona and Michigan, where they're 36 points more likely to disapprove than approve of his job performance. Only 29% of independents in either state give him positive marks. 
For Morning Consult's state-level survey data, weights are applied to each state separately based on age, gender, education, race, home ownership, marital status, presidential voting history and — for a subset of states — race by education as well as an age-by-gender interaction.
Margins of error for responses from all voters in each state range from 1 to 5 percentage points.
Eli Yokley is Morning Consult's U.S. politics analyst. Prior to his current role, Eli was Morning Consult's senior reporter covering U.S. politics. Eli joined Morning Consult in 2016 from Roll Call, where he reported on House and Senate campaigns after five years of covering state-level politics in the Show Me State while studying at the University of Missouri in Columbia, including contributions to The New York Times, Politico and The Daily Beast. Follow him on Twitter @eyokley. Interested in connecting with Eli to discuss his analysis or for a media engagement or speaking opportunity? Email [email protected].
We want to hear from you. Reach out to this author or your Morning Consult team with any questions or comments.
Contact Us