Nearly Half of Voters Support California Governor's 'Data Dividend' Plan
But experts caution the payout may not be worth it
Key Takeaways
45% support a plan for California residents to receive payments from big tech companies that profit off of their personal information, while 28% oppose.

67% place "a lot" or "some" value on the information they share online, compared with 33% who said "not much" or "nothing at all."
California is positioning itself as a trailblazer on the heels of its landmark privacy law with Democratic Gov. Gavin Newsom's proposal to give consumers a share of the money tech companies make from their personal information.
But, while a plurality of voters support such a plan in a new survey, some experts are concerned that the proposed "data dividend" may not be able to match the value of the free services users are already getting.
In a Morning Consult/Politico poll conducted Feb. 15-19 among 1,914 registered voters, 45 percent of respondents said they would support a plan where state residents receive payments from big tech companies that profit off of their personal information, such as a person's listed interests on social media profiles for online advertising purposes. When broken down by party lines, 53 percent of Democrats and 38 percent of Republicans said they'd support such a plan.
The survey has a margin of error of 2 percentage points.
During his Feb. 12 State of the State address, Newsom said California residents should "be able to share in the wealth that is created from their data" by technology companies, proposing the creation of a "data dividend," though he stopped short of outlining what that would look like.
Jim Steyer, founder and chief executive at Common Sense Media, a nonprofit that helped shepherd California's state privacy law last year, said the group has already discussed a "data dividend" plan with California lawmakers that is expected to be introduced in the next few weeks, although he declined to mention specifics of the proposal.
"It's the next frontier in privacy," Steyer said. "The average person now knows that their personal information is theirs, and not the companies, and they should have the right to control what happens to their information."
In the survey, 59 percent said they are "not comfortable at all" with companies being able to purchase data related to them for online advertising purposes, and 68 percent said the same about companies selling their data.
The Internet Association, a trade group that counts Google and Facebook as members, said in a statement that it looks forward to reviewing Newsom's "data dividend" proposal. However, spokesperson Mahsau Daee noted that "free and low-cost, data-driven online services" already offer users "enormous benefits."
Research published in April concluded that people would have to be paid roughly $3,650 to give up internet maps for a year, $8,400 to give up email and $17,500 to forgo search engines as a way of determining how much people value internet services that rely and collect personal data. Alternatively, CNBC calculates that the average active monthly user is worth $7.37 to Facebook and roughly $9.48 to Twitter Inc. when dividing the company's total revenue by the total number of monthly users -- indicating that individual users may not be worth as much as the services they're getting.
According to the Morning Consult survey, 31 percent of all voters said they place "a lot" of value on the information they share online, including listed interests on their social media accounts or their online shopping activity, while 36 percent place "some" value on that information and 33 percent said they don't place much or any value on it.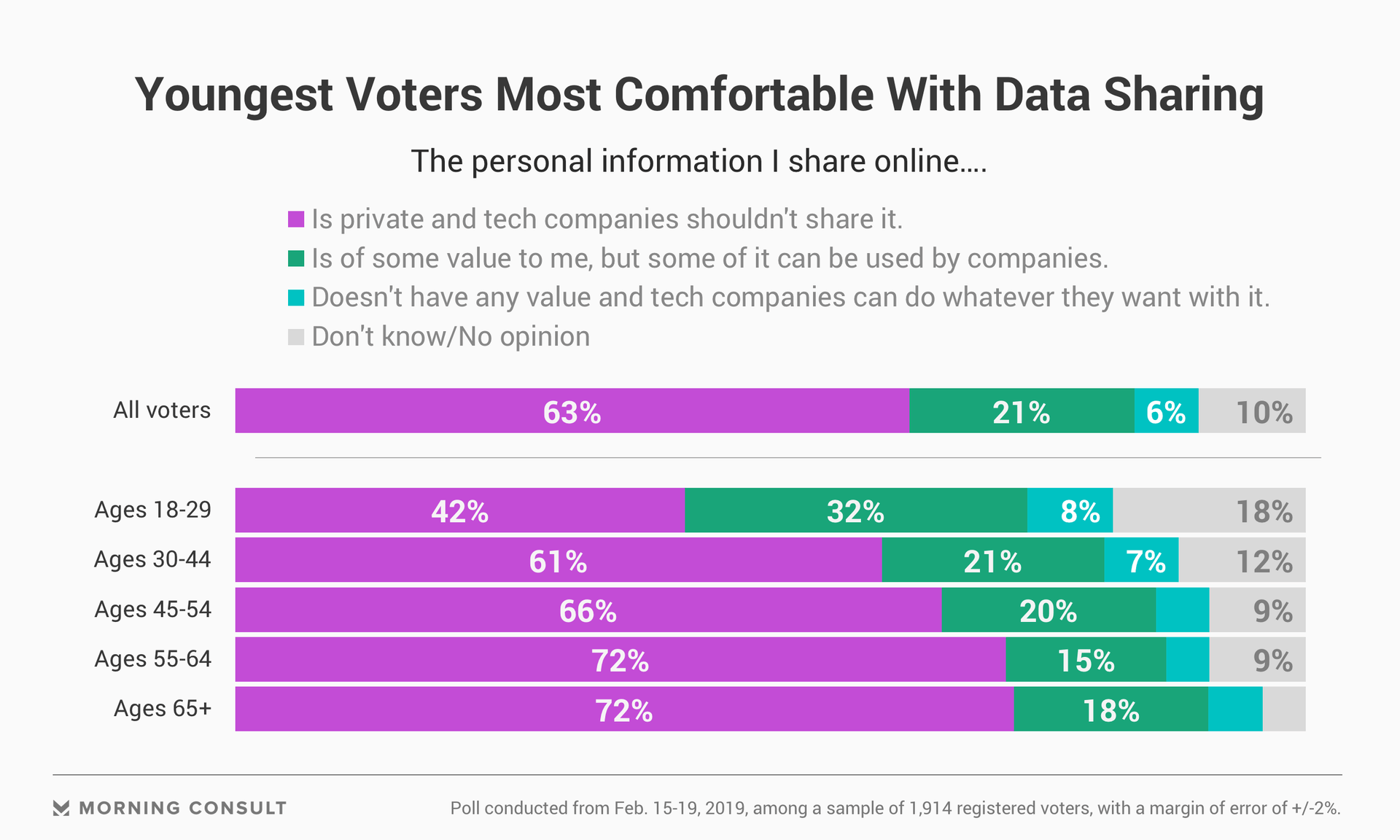 Nearly two-thirds (63 percent) of voters in the survey agreed that the personal information they share online "is private and tech companies should not have it." Twenty-one percent said their data is of "some value" to them and some of it can be used by companies, and 6 percent said they don't place "any value" on their data and they don't care what companies do with their information.
The youngest voters were more likely to tolerate companies' use of some of their data: Forty-two percent agreed that their information is private and companies shouldn't have it and 32 percent said it had "some value" and can be used in some cases.
Will Rinehart, director of technology and innovation policy at the American Action Forum, said most conversations about online data privacy tend to focus on what kind of data is disclosed to companies, rather than the actual monetary value of that data. Now, California appears to be taking the conversation over to value, he said, but noted that this could be due to the specific impact of tech industry wealth on local cities.
"California does appear to be going down that path, but it may just be because of its big tech presence," Rinehart said.
Sam Sabin previously worked at Morning Consult as a reporter covering tech.
We want to hear from you. Reach out to this author or your Morning Consult team with any questions or comments.
Contact Us