Nike's Reputation Took a Hit After Kaepernick Ad. Now It's Climbing Back
After initial drop in consumer sentiment, Nike's favorability rating is slowly recovering, Morning Consult data shows
Key Takeaways
Nike's net favorability, which was at +69 when ad campaign was announced Sept. 3, was at +39 as of Sept. 18 after hitting a low of +28 on Sept. 12.

More African-Americans, young adults and Hillary Clinton voters say they are "absolutely certain" they would buy a Nike product compared to pre-campaign figures.

Those who voted for President Donald Trump, white people, rural residents and senior citizens are less likely to buy Nike merchandise.
When Nike Inc. revealed on Sept. 3 that it had brought on former National Football League quarterback Colin Kaepernick, who began kneeling during the national anthem to protest racial and social injustice, to star in its 30th anniversary "Just Do It" campaign, the brand took an immediate hit to its reputation amid calls for a boycott of Nike products, according to Morning Consult Brand Intelligence data. But since then, the brand has seen consumer sentiment recovering.
Following the announcement about Kaepernick, Nike's net favorability (which is calculated by subtracting negative sentiment figures from positive sentiment) dropped 34 points in two days, from a net favorable rating of plus 69 on Sept. 3 to a plus 35,  according to a Morning Consult report released Sept. 6. Net favorability also dropped among all key demographics.
The overall figure fell further to plus 28 on Sept. 12, its lowest point since Morning Consult began tracking the company in October 2016. 
Now, Nike is slowly bouncing back, with its current net favorability standing at plus 39 as of Tuesday.
To be sure, the company's decision to feature Kaepernick had its fervent supporters as well. Nike's online product orders rose 31 percent between Sept. 2 and Sept. 4, according to digital commerce researcher Edison Trends, compared to a rise of 17 percent during last year's Labor Day weekend.
The share of people who said they are "absolutely certain" they will purchase Nike products has grown to 28 percent as of Tuesday, from 24 percent on Sept. 3, according to Morning Consult Brand Intelligence. Morning Consult Brand Intelligence surveys between 300 and 500 U.S. adults on average per day on Nike's brand, and each data point in the report is based on five-day rolling averages.
African-American consumers saw a notable jump of 15 percentage points, with 55 percent of respondents reporting they are "absolutely certain" they will purchase a product. More young adults, urban residents and those who voted for Hillary Clinton in the 2016 presidential election also said they are "absolutely certain" they would buy from Nike compared to when the ad campaign was first announced.
But when including respondents who said they were "very likely" or "about 50-50" on buying a Nike product, the urban dweller figure is still below the Sept. 3 numbers.
And overall purchasing consideration, which includes "absolutely certain," "very likely" and "50-50" responses, is still well below the pre-campaign level of 69 percent.
People who voted for President Donald Trump, white people, those who live in rural communities and consumers older than 65 are less likely to buy Nike merchandise. Purchasing sentiment by Trump voters showed a notable decline, with 37 percent saying they might buy a product from the retailer, down 31 percentage points from Sept. 3.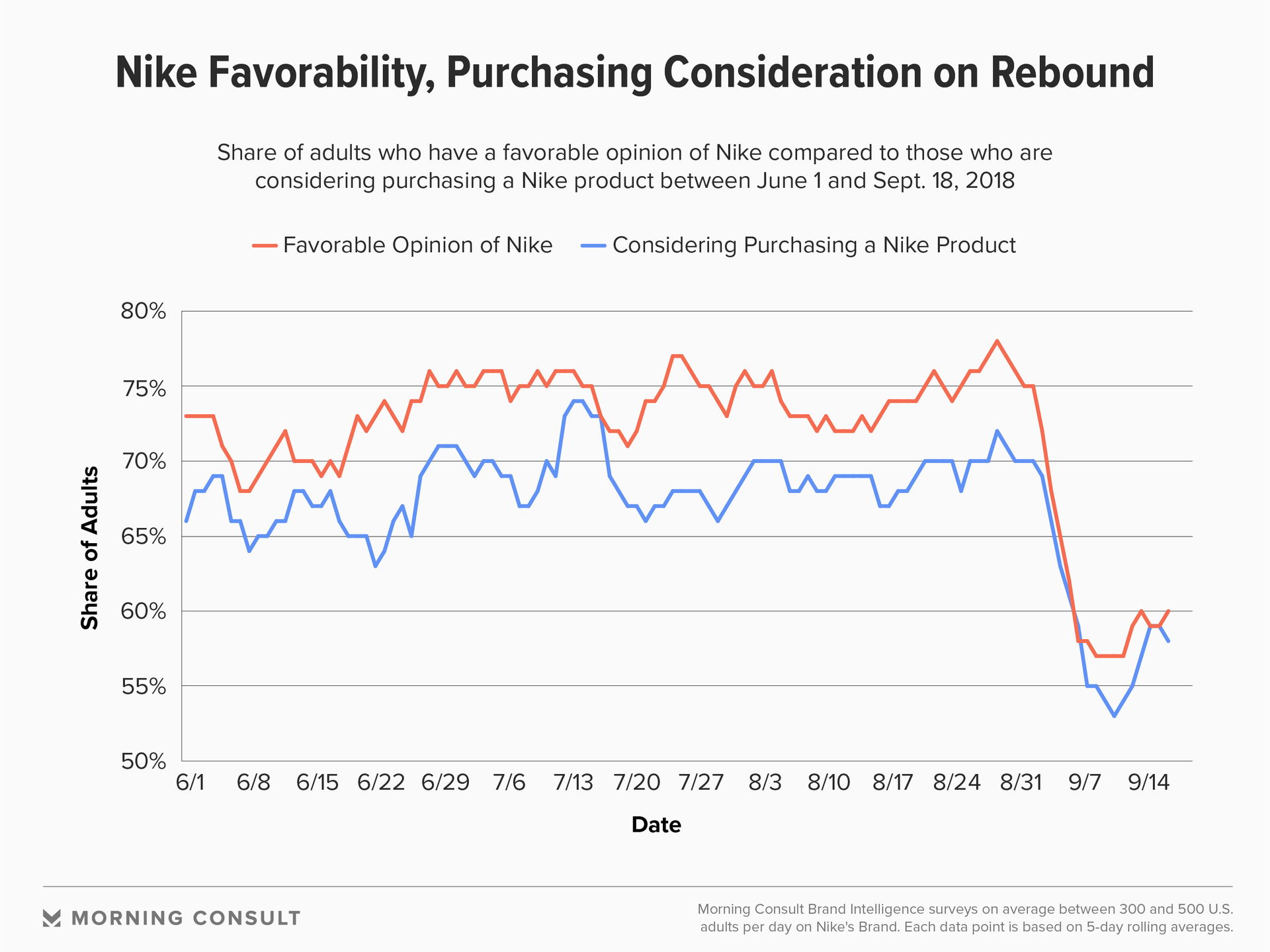 Eunkyu Lee, associate dean for global initiatives and professor of marketing at Syracuse University, said in a phone interview Wednesday that from a brand manager's point of view, the decision to weigh in on a social issue comes down to how a company's target consumers will react and less so about how its overall favorability will be affected.
"In general, people are really increasing their expectations for companies and brands to show their true selves and take a stance on sometimes controversial or sensitive social issues," Lee said. "I think many companies have been trying to do that in recent years."
And Lee said that by now, the worst should be over for Nike.
"The pushback and the controversy will linger, but the jury of public opinion has already spoken," Lee said.
It's not uncommon for companies' reputations to see a recovery of sorts after a controversy. For example, United Continental Holdings Inc., whose Morning Consult favorability rating plummeted after a passenger was dragged off one of its planes in April 2017, had been seeing a slow upward climb in consumer sentiment until March 2018, when a passenger's 10-month-old French bulldog died in an overhead bin.
Nike has also faced its own additional internal controversies in 2018, but they didn't receive the same public outcry as the Kaepernick campaign announcement. In April, a New York Times investigation detailed female employees' complaints of discrimination and harassment, and last month former employees filed a lawsuit against the company that alleged systemic gender discrimination.
Investors appeared to shrug off those events, and currently they also seem to be unfazed by the controversy over the Kaepernick ad campaign. During the first trading session after Kaepernick's inclusion in the "Just Do It" campaign was announced on Labor Day, Nike's shares dropped 3.2 percent to $79.60. But as of Wednesday, the stock price of Nike, which will report on Sept. 25 earnings for the quarter ending in August, was near a record high, closing at $84.43.
Lee said that if a brand is acting true to its personality, it usually can withstand the impact of a consumer boycott prompted by the company's social or political views.
Nike has a history of taking a stance on political or social issues through its ad campaigns. For example, during the 2017 Grammy Awards, Nike released "Equality," a campaign featuring black athletes including LeBron James, Serena Williams and Gabby Douglas that talked about equality in sports and the world overall.
"When a brand takes a stance on a socially sensitive issue, but it is being perceived as expressing as your true self, being consistent with your personality, then although there will be people who hate it, that will be more of a positive brand statement," he said.
Sam Sabin previously worked at Morning Consult as a reporter covering tech.
We want to hear from you. Reach out to this author or your Morning Consult team with any questions or comments.
Contact Us