Planes, Trains and (Ride-Hailing) Automobiles
Most airports make a lot of money from parking, but only some are losing revenue to Uber and Lyft
Up to one-quarter of airports' revenue comes from another source of transportation: cars.
U.S. airports earn nearly half of their income from non-aeronautical sources. According to the Airports Council International-North America Concessions Benchmarking Survey this year, 46 percent of cash flow comes from places like airport retail stores and rental cars.
The largest chunk of this income comes from auto parking. On average, car parking and ground transportation revenue provides 19 percent of all U.S. airport revenue, or about $3.49 billion annually, according to calculations from the report. For some major airports, it can make up more than a quarter of all revenue.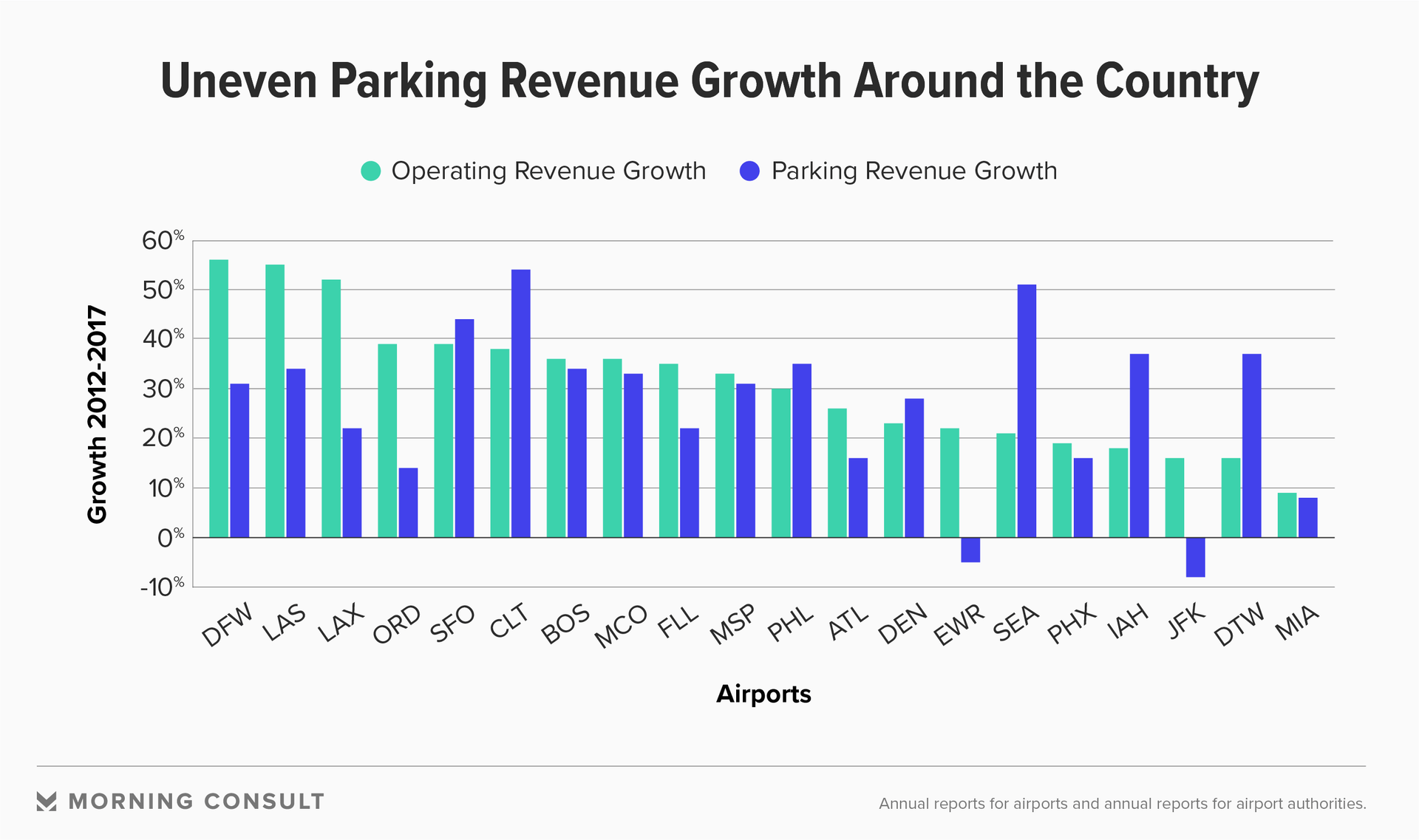 The popularity of ride-hailing apps has had an adverse impact on airports' bottom line, according to a 2017 report from the Transportation Research Board, part of the National Academies of Sciences, Engineering and Medicine.
It estimates that 10 to 20 percent of customers of transportation network companies, or TNCs, previously used private vehicles to get to the airport, and it predicts up to a 13 percent decline this year in both public parking transactions and rental car revenue as a result of the apps' popularity.
For most airports, fees charged to TNCs would not make up for the shortfall in parking revenue, according to the report.
"It is under threat; there's no way of denying it," Darren Perry, a managing director for the aviation and travel unit of management consulting group L.E.K. Consulting LLC, said of airport parking revenue. Perry said most of that drop is due to TNCs -- how the transportation industry refers to ride-hailing apps like Uber Technologies Inc. and Lyft Inc.
Perry estimates that every Uber or Lyft vehicle is displacing eight to 10 parked vehicles at any given airport.
But a new Morning Consult analysis shows the range in airport parking revenue across the country, with some airports' parking revenue outpacing that of its operating revenue, somewhat rebuking industry predictions.
That said, in 12 of the top 20 busiest U.S. airports, growth in parking revenue has lagged behind operating growth over the past five years, since ride-sharing apps became more popular.
Uber serves 146 airports to Lyft's 326, including the 20 airports in this analysis.  
Nevada's McCarran International Airport has seen one of the largest discrepancies in parking revenue growth, with operating revenue expanding 55 percent but parking increasing 34 percent between 2012 -- a year after Uber debuted -- and 2017, according to the airport's annual reports.
As a tourist destination, Las Vegas has a higher number of visitors over locals, said Christine Crews, a spokeswoman for McCarran, so there has always been a high demand for temporary transportation such as taxis and, in recent years, TNCs.
Crews attributes the discrepancy in growth rates to passenger volume increasing overall, which pushed up operating revenue, and does not point to TNCs to fully explain the gap.
In contrast, the Seattle-Tacoma International Airport has achieved what only a handful of major U.S. airports have: seen its growth in parking revenue eclipse operating revenue.
Much of that can be credited to its in-house marketing team, said Stephanie Nelson, the parking revenue manager at Sea-Tac, which devotes a significant portion of its $300,000 marketing budget toward promoting parking.
"Convenience is one of our big selling points," Nelson said of airport parking. "The TNCs have definitely mirrored that convenience factor."
Nelson also credits Sea-Tac's parking coupon program, launched in 2012, which offers $10 off daily parking. Whatever revenue the airport has lost in coupon offerings has been made up in new customers, she said.
TNCs now constitute 41 percent of Sea-Tac's ground transportation, Nelson said, while taxis make up 18 percent. Back in March 2016, taxis made up 31 percent of ground transportation.
This is roughly in line with findings from the TRB report, which estimated that TNCs created a  decline of up to 30 percent in the use of taxicabs at any given U.S. airport.
Other airports have managed to keep their parking growth on track thanks to fees.
Minneapolis-Saint Paul International Airport is one of them, and airport spokesman Patrick Hogan said the $3 fee it charges TNCs keeps its revenues fairly balanced and thus does not necessarily see TNCs as a threat.
In a statement to Morning Consult, a Lyft spokeswoman said that "with the proliferation of ridesharing, we are 100% committed to working with airports on fee structures that reflect the cost specific to ridesharing operations." Uber did not respond to a request for comment.
Minneapolis' growth in parking revenue has nearly mirrored that of operating revenue between 2012 and 2017 (31 percent and 33 percent, respectively), but Hogan said they have seen parking revenues drop 2.6 percent over the past year. He believes this is a direct result of the popularity of TNCs.
The airport is still planning on investing in parking. Its 5,000-space parking structure that is set to open in 2019 will add additional parking options to the airport's 23,000 existing spaces. Hogan said the airport aims to get creative with its parking pricing and possibly make space in the structure for autonomous vehicles.
As a point of comparison, Vancouver International Airport, the largest airport in a city where Uber has been banned and Lyft does not operate, has seen operating and parking revenue growth nearly mirror each other: 31 percent and 34 percent.
Perry said airports needed to become more "sophisticated" in their parking offerings by providing different pricing based on the time of day or weekends, appealing to customers with more convenient options such as a "pre-booking" service, or offering services like a valet and car wash.
"There's nothing they can do to reverse the trends," Perry said. "What they can do is be smarter about the parking operation itself."
Sea-Tac has said they're already working on a pre-booking option, which will come in early- to mid-2019.
Airports should also be mindful of the rising trend of autonomous vehicles and could market themselves as a space to store and charge that technology, Perry said, further entrenching their status as transportation hubs.
Joanna Piacenza leads Industry Analysis at Morning Consult. Prior to joining Morning Consult, she was an editor at the Public Religion Research Institute, conducting research at the intersection of religion, culture and public policy. Joanna graduated from the University of Wisconsin-Madison with a bachelor's degree in journalism and mass communications and holds a master's degree in religious studies from the University of Colorado Boulder. For speaking opportunities and booking requests, please email [email protected].
We want to hear from you. Reach out to this author or your Morning Consult team with any questions or comments.
Contact Us