Republicans Overwhelmingly Oppose Griner-Bout Swap With Russia
The broader electorate is divided over the prisoner exchange
The Biden administration is not reaping the political reward it may have hoped for from the swap that ended WNBA star Brittney Griner's monthslong imprisonment in Russia, according to a new Morning Consult/Politico survey, as conservative opposition outweighs support among the president's base.
Republicans Overwhelmingly Oppose Griner Deal
Voters were asked if they support or oppose the Biden administration's release of Russian arms dealer Viktor Bout in exchange for the release of WNBA player Brittney Griner from a Russian prison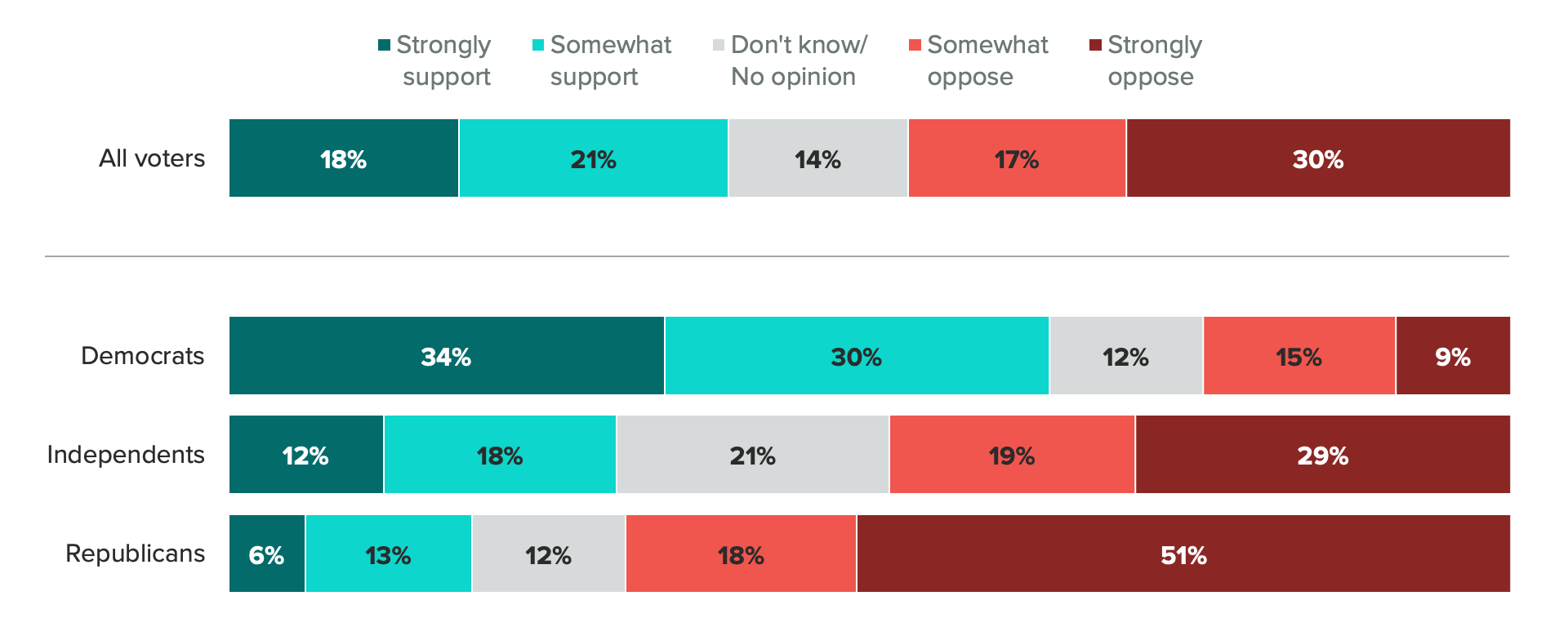 Survey conducted Dec. 9-12, 2022, among a representative sample of 2,005 registered voters, with an unweighted margin of error of +/-2 percentage points. Figures may not add up to 100% due to rounding.
More than two-thirds of Republican voters (69%) oppose the deal that brought Griner home in exchange for convicted international arms dealer Viktor Bout. In fact, a slim 51% majority of GOP voters "strongly oppose" the deal.
Most Democrats favor the swap, but the administration's base of support isn't nearly as ardent as Republicans' opposition, with just 34% saying they "strongly support" it.
Nearly half of independent voters (48%) oppose the deal, while just 3 in 10 support it. Among all voters, 47% oppose the swap while 39% support it.
Conservative commentators fight culture war over Griner
Former President Donald Trump attacked the deal that freed Griner as "stupid" and "unpatriotic," and argued her safe return from dangerous and degrading conditions in a Russian prison was not worth the release of the so-called "Merchant of Death." He belittled Griner as "a basketball player who openly hates our country" and questioned why former U.S. Marine Paul Whelan, who has been held in Russia since December 2018 on espionage charges, was not included in the deal. Conservative commentators have used similar lines of questioning to attack the deal as an example of U.S. "woke" weakness, or to imply the administration does not value veterans such as Whelan.
Whelan's family, for their part, said "the Biden Administration made the right decision to bring Ms. Griner home, and to make the deal that was possible, rather than waiting for one [including Whelan] that wasn't going to happen," and characterized Trump's comments as "really offensive." Fiona Hill, who served as senior director for European and Russian affairs on the National Security Council under Trump, said on CBS' "Face the Nation" that "President Trump wasn't especially interested in engaging in that swap for Paul Whelan" during his time in office.
Biden administration officials reportedly met with Russian officials on Monday to discuss a deal for Whelan's release, and the president has vowed to bring him home as well.
The latest Morning Consult/Politico survey was conducted Dec. 9-12, 2022, among a representative sample of 2,005 registered voters, with an unweighted margin of error of plus or minus 2 percentage points.
Matthew Kendrick previously worked at Morning Consult as a data reporter covering geopolitics and foreign affairs.
We want to hear from you. Reach out to this author or your Morning Consult team with any questions or comments.
Contact Us