Rick Scott's Plan to Tax All Americans Is Unpopular, but Other Parts of His Agenda Aren't
51% of voters oppose requiring all Americans, including low earners and retirees, to pay income tax
A provision described in Florida Sen. Rick Scott's plan for Republican governance that would require all Americans to pay income tax could prove to be a political liability — especially among the country's lowest earners — according to a new Morning Consult/Politico survey. But other pieces of the cultural and economic message the Senate GOP campaign chief has touted ahead of the midterm elections are generally backed by the U.S. electorate.
Only a Third of Voters Support Senate GOP Campaign Chief's Tax Proposal
Voters were asked whether they support or oppose a proposal to require all Americans to pay income tax, including low-income and retired individuals, included in the "Plan to Rescue America" authored by Sen. Rick Scott (R-Fla.):
Survey conducted Feb. 25-27, 2022, among a representative sample of 2,004 registered voters, with an unweighted margin of error of +/-2 percentage points. Figures may not add up to 100% due to rounding.
Where voters stand on the tax provision
A slim majority of voters (51 percent) — including 62 percent of Democrats and 39 percent of Republicans — oppose Scott's call to require all Americans to pay federal income tax, which would impose new costs on low earners and retirees.
Scott, who chairs the National Republican Senatorial Committee, said all Americans should "have skin in the game, even if a small amount" when it comes to income tax, specifically referencing the half of Americans he said avoid the levy. Currently, millions of Americans do not pay income taxes because they're retired, do not make enough money or receive tax credits.
While Scott has moved in the press to add caveats to the proposal, the majority of the electorate's lowest earners (those from households making less than $50,000 a year) and retirees oppose the measure amid voter concerns about the cost of living.
The context
Scott's messaging document, containing dozens of objectives and sometimes vague policies wrapped into an 11-point plan, seeks to lay out what Republicans would fight for if they were to win the Senate this fall. But it also gives the potential 2024 presidential aspirant, who is largely unknown to the nationwide Republican electorate, another platform to preach to the party's pro-Trump voters. 
The document was released by Scott's campaign committee, not the Senate GOP's arm, and has already become a focus of paid Democratic attacks. Senate Minority Leader Mitch McConnell (R-Ky.) has so far declined to put his own agenda to paper, instead opting to try to keep the 2022 contests focused on President Joe Biden's unpopularity, and panned Scott's tax proposal.
"We will not have as part of our agenda a bill that raises taxes on half the American people and sunsets Social Security and Medicare within five years," he told reporters Tuesday at the Capitol. "That will not be part of the Republican Senate majority agenda."
Aside from the tax policy, which, many of the 13 provisions of Scott's plan tested in the survey were popular both with the Republican base and the wider electorate.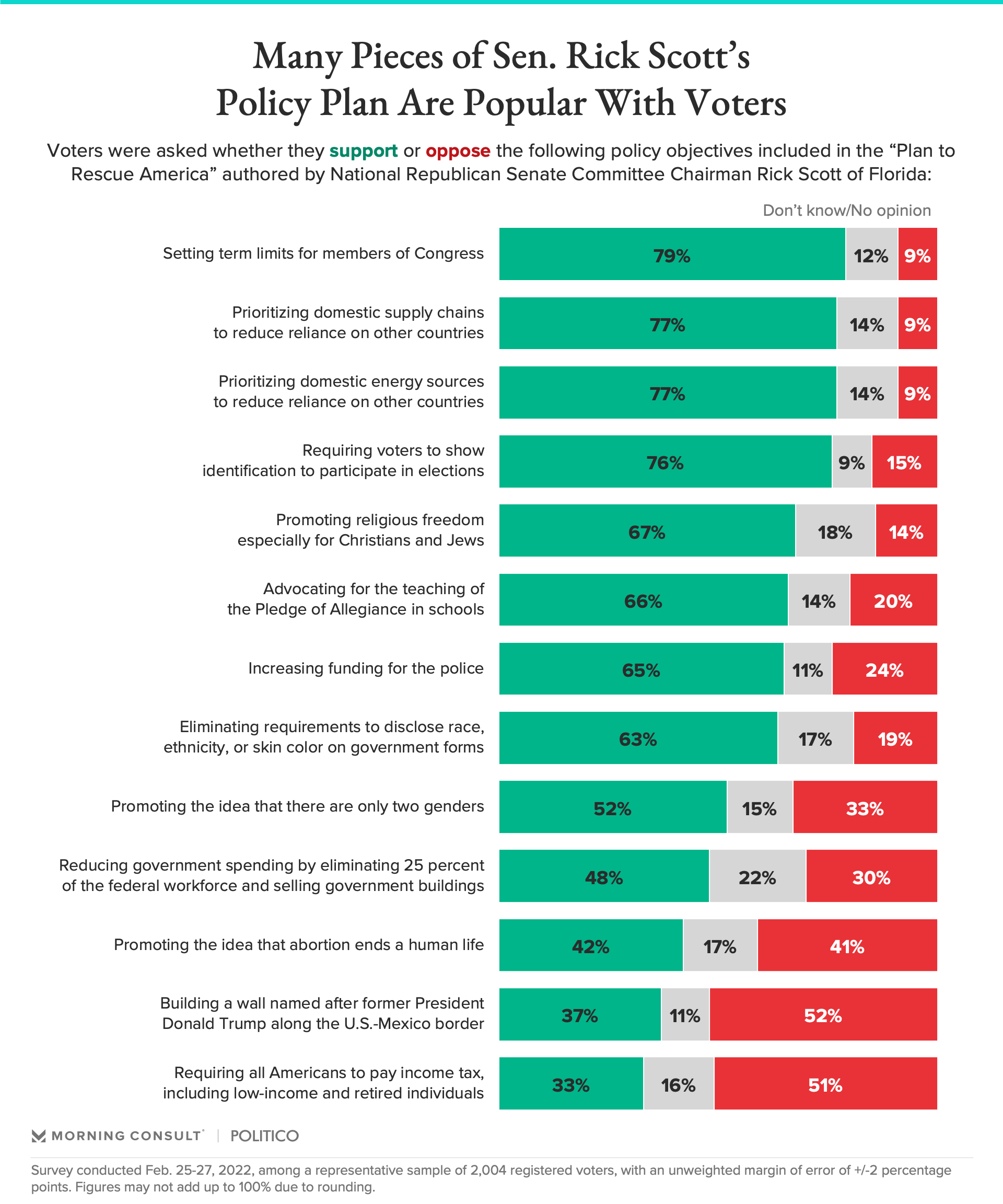 Where voters stand on Scott's larger plan
More than 3 in 4 voters support prioritizing domestic supply chains and energy sources to reduce reliance on foreign countries, as well as term limits for members of Congress and requiring voters to show identification to participate in elections.
Roughly two-thirds of voters — including sizable shares of Democrats — support promoting religious freedom, especially for Christians and Jews, and advocating for the teaching of the Pledge of Allegiance in American schools.
A slim majority of voters (52 percent) support promoting the idea that there are only two genders, the basis of Republican attacks on transgender athletes that have already emerged on the campaign trail, or the traditional conservative orthodoxy of reducing government spending by slashing the federal workforce and selling government buildings.
Fifty-two percent of voters also oppose Scott's proposal to build a wall along the U.S.-Mexico border and name it after former President Donald Trump, while a third support it, driven by 69 percent of Republicans.
The latest Morning Consult/Politico survey was conducted Feb. 25-27, 2022, among a representative sample of 2,004 registered U.S. voters, with an unweighted margin of error of plus or minus 2 percentage points.
Eli Yokley is Morning Consult's U.S. politics analyst. Prior to his current role, Eli was Morning Consult's senior reporter covering U.S. politics. Eli joined Morning Consult in 2016 from Roll Call, where he reported on House and Senate campaigns after five years of covering state-level politics in the Show Me State while studying at the University of Missouri in Columbia, including contributions to The New York Times, Politico and The Daily Beast. Follow him on Twitter @eyokley. Interested in connecting with Eli to discuss his analysis or for a media engagement or speaking opportunity? Email [email protected].
We want to hear from you. Reach out to this author or your Morning Consult team with any questions or comments.
Contact Us