West Virginians Sour on Joe Manchin After He Delivers a Big Win for Democrats
Over the last quarter, Manchin saw a greater decline in his home-state approval rating than any other senator
Democratic Sen. Joe Manchin's job approval rating has fallen by double digits among West Virginia voters in recent months as he has played a pivotal role in advancing a pared-back version of President Joe Biden's major domestic policy legislation, Morning Consult Political Intelligence tracking shows. This places him comfortably among America's most unpopular senators ahead of a potential 2024 re-election run.
Republicans, Independents Drive Recent Decline in Manchin's Popularity in West Virginia
Shares of West Virginia voters who approve or disapprove of Democratic Sen. Joe Manchin's job performance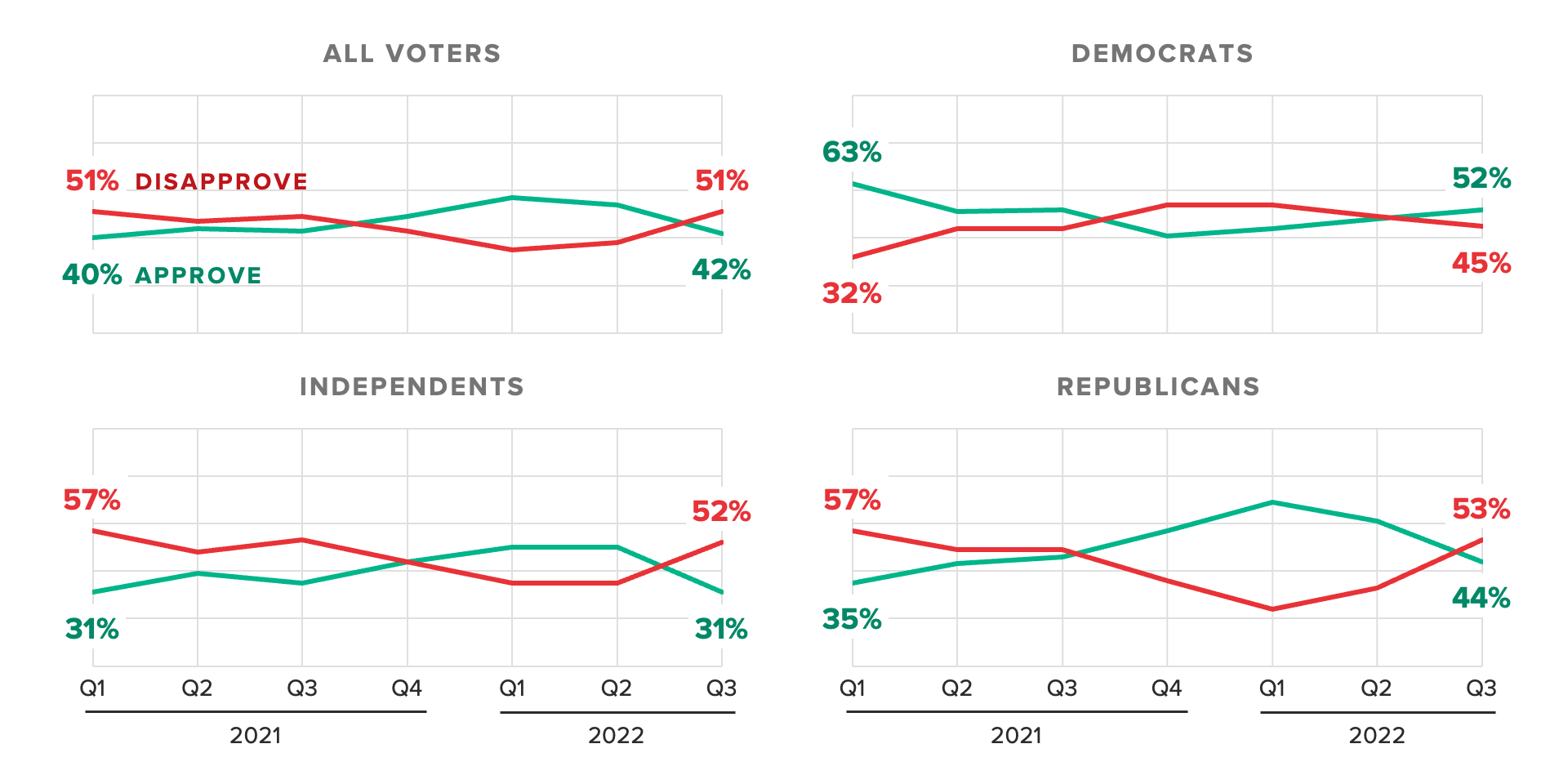 Quarterly surveys conducted in 2021 and 2022 among representative samples of at least 2,057 registered voters in West Virginia, with unweighted margins of error of +/-2 percentage points. "Don't know/No opinion" responses are not shown.
Joe Manchin's approval rating in West Virginia
A slim majority of West Virginia voters (51%) disapprove of Manchin's job performance, according to surveys conducted July 1-Sept. 30, up from 38% in the second quarter of the year. This matches his disapproval rating from the beginning of Biden's presidency.  
The increase in disapproval was driven largely by West Virginia Republicans and independents, majorities of whom disapprove of Manchin's job performance after expressing positive views earlier this year.
Half of West Virginia Democrats (52%) approve of the senator's job performance, up from 41% at the beginning of the year. His strengthened standing among Democrats contributes heavily to his 42% approval rating. Less than half of Republicans and about a third of independents approve of his job performance.
Contextualizing Manchin's job approval rating
The latest surveys, taken from daily tracking data and analyzed quarterly to make comparisons across states with large and small populations, show many West Virginians are reverting to the views they held of their senior senator before he spent the bulk of Biden's early White House tenure tapping the brakes on a progressive agenda.
Following a quarter in which he played a pivotal role in the enactment of Democrats' Inflation Reduction Act — a massive climate, health care and taxes measure — Manchin saw a greater decline in his approval rating and a larger surge in disapproval than any other Senate incumbent. That has dragged him to similar levels of home-state support held by controversial senators such as Democrat Kyrsten Sinema of Arizona and Republicans Mitt Romney of Utah and Lisa Murkowski of Alaska, all of whom are among America's most unpopular senators.
America's Most Popular and Unpopular Senators
Voters in each state were asked whether they approve or disapprove of the following senators:
Most popular and unpopular senators are ranked by the largest approval and disapproval shares, respectively. Net approval rating — the approval share minus the disapproval share — is used to break ties.
Surveys conducted July 1-Sept. 30, 2022, among representative samples of registered voters in each state, with unweighted margins of error of up to +/-5 percentage points. Figures may not add up to 100% due to rounding.
Senators ranked by approval and disapproval ratings
Manchin is topped in disapproval only by Senate Minority Leader Mitch McConnell (R-Ky.) and Sen. Ron Johnson (R-Wis.), who are disliked by 63% and 55% of voters in their states, respectively.
In Alaska, 38% of voters approve of Murkowski's job performance, down from 46% in the second quarter, while the share who disapprove has increased from 39% to 46%, driven by declines among Democrats and Republicans.
Sen. Maggie Hassan (D-N.H.) has seen her name recognition increase over the past few months amid a multimillion-dollar re-election campaign: 6% of voters have no opinion of her, down from 12% in the second quarter. While she has largely maintained positive marks over that time, she has seen the share who disapprove increase from 38% to 46%, moving her onto the unpopular list.
With a 68% approval rating, Cynthia Lummis (R-Wyo.) is America's most popular senator with home-state voters, followed by Republican Sen. John Barrasso, also of Wyoming, and Sen. Bernie Sanders (I-Vt.) at 65% each.
For Morning Consult's state-level survey data, weights are applied to each state separately based on age, gender, education, race, home ownership, marital status, presidential voting history and — for a subset of states — race by education as well as an age-by-gender interaction.
Margins of error for responses from all voters in each state range from 1 to 5 points. For more detailed information, you can download the 50-state data set for senatorial approval ratings among all voters here.
Correction: A previous version of a chart in this article misstated Sen. Patrick Leahy's party affiliation. He is a Democrat. The chart also misstated which state Sen. Ron Johnson represents. He represents Wisconsin.
Eli Yokley is Morning Consult's U.S. politics analyst. Prior to his current role, Eli was Morning Consult's senior reporter covering U.S. politics. Eli joined Morning Consult in 2016 from Roll Call, where he reported on House and Senate campaigns after five years of covering state-level politics in the Show Me State while studying at the University of Missouri in Columbia, including contributions to The New York Times, Politico and The Daily Beast. Follow him on Twitter @eyokley. Interested in connecting with Eli to discuss his analysis or for a media engagement or speaking opportunity? Email [email protected].
We want to hear from you. Reach out to this author or your Morning Consult team with any questions or comments.
Contact Us