Opposition Is Growing Among Voters for Another Extension to the Student Loan Repayment Pause
Over the past five months, voters — especially independents and Republicans — have hardened when it comes to letting borrowers suspend their payments
With the end of the current federal moratorium on repayment of student loans looming for millions of borrowers, a new Morning Consult/Politico survey shows fading support for another extension of the pause.
Voter Opposition to Extension of Student Loan Repayment Moratorium Has Risen Over the Past Five Months
Respondents were asked if they support or oppose extending the suspension of monthly payments and interest for federal student loans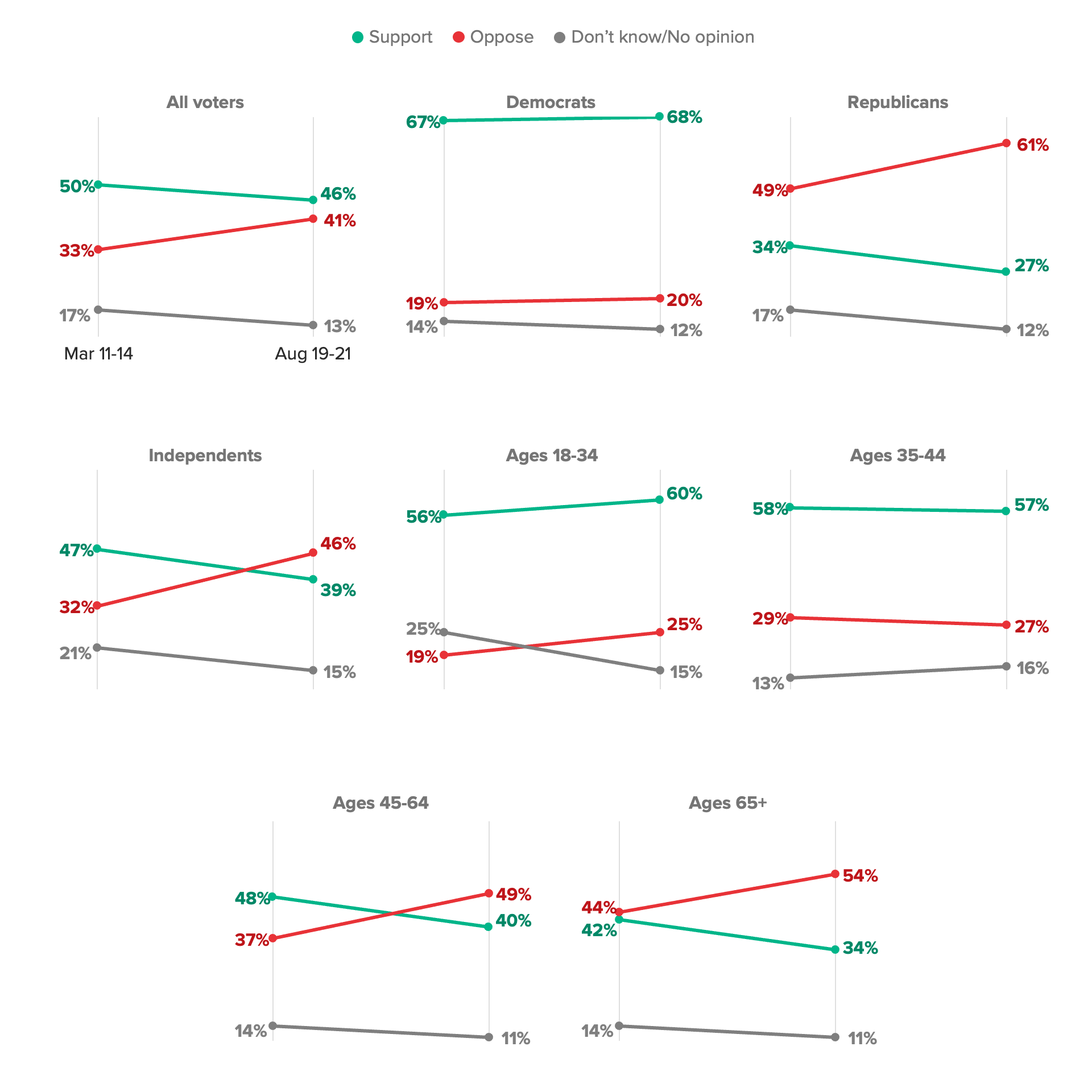 Surveys conducted March 11-14, 2022, and Aug. 19-21, 2022, among representative samples of 2,005 registered voters each, with unweighted margins of error of +/-2 percentage points. Figures may not add up to 100% due to rounding.
Middle-aged voters, independents and Republicans increasingly oppose extending the student loan repayment moratorium
President Joe Biden has extended the moratorium on the repayment of most federal student loan debt four times, a pause that was first enacted during the onset of the COVID-19 pandemic in March 2020. The last extension continued the payment reprieve for borrowers until Aug. 31, but the survey suggests voters may be running out of sympathy for those who owe the federal government for their education. 
While Democrats' views held steady from March to August, support for the moratorium fell among independents and Republicans, while opposition rose. The share of GOP voters who said they oppose extending the moratorium climbed to 61% in August, up from 49% in March. The share of independents who said they oppose another extension jumped from 32% in March to 46% in August. Among all registered voters over that time period, support fell 4 percentage points to 46% and opposition increased 8 points to 41%.
Opposition to another extension of the moratorium has also risen among voters over the age of 45. The share of voters over 65 who oppose the extension rose 10 points from March to August to 54%. In March, voters between the ages of 45 and 64 were more likely to support than oppose the extension, 48% to 37%, but in August, those shares essentially flipped, to 49% oppose and 40% support. 
What's next for student loan borrowers
In addition to the possibility of extending the moratorium again, the Biden administration is reportedly considering further student debt relief plans that could include up to $10,000 in loan cancellation for borrowers who make less than $125,000 a year. Borrowers may not have to wait much longer for news: Bloomberg reported that Biden will announce his plans for student debt on Wednesday. 
The administration has been doing some groundwork to prepare the industry for what's to come; in late July, the Department of Education told an industry group of loan servicers not to bill or communicate with borrowers about resuming payments ahead of the Aug. 31 date. The agency also circulated a letter to financial aid professionals about its "Fresh Start" program, which would bring an estimated 7.5 million borrowers in default on their student loans into good standing. 
The latest Morning Consult/Politico survey was conducted Aug. 19-21, 2022, among a representative sample of 2,005 registered voters, with an unweighted margin of error of plus or minus 2 percentage points.
Amanda Jacobson Snyder previously worked at Morning Consult as a data reporter covering finance.
We want to hear from you. Reach out to this author or your Morning Consult team with any questions or comments.
Contact Us