The Taylor Swift Fandom Is White, Suburban and Leans Democratic
A slim majority of U.S. adults identified as fans of Swift, according to a recent Morning Consult survey
Get the latest entertainment industry news and analysis delivered to your inbox every morning.
Are you ready for it? Taylor Swift's highly anticipated "Eras" tour kicks off Friday in Glendale, Ariz., the pop star's first U.S. trek in five years.
About half of America is likely ready and eager. 
A slim majority of U.S. adults (53%) identified as fans of Swift, according to a recent Morning Consult survey, while 16% identified as "avid" fans of the "Anti-Hero" singer. Ahead of Swift's latest tour, the survey explores one of music's most passionate fandoms, looking into who they are, what makes them tick and their favorite albums.
One of the biggest pop stars in the world, Swift has sold more than 200 million albums globally and earned 12 Grammy Awards since the release of her debut album nearly two decades ago, at age 16. Over that time, Swift has attracted a massive fandom, nicknamed "Swifties," whose devotion to the singer knows no bounds. 
The enormous demand for tickets to Swift's "Eras" tour — over 3.5 million people registered for its pre-sale alone — crashed the Ticketmaster platform and single-handedly renewed accusations that the company is monopolizing the live event industry.
The Swift fandom, which outnumbers that of other pop stars like Beyoncé, Miley Cyrus and Harry Styles, is largely made up of millennials, and leans white, suburban and Democratic, according to the Morning Consult survey. Swift has not yet earned the admiration of many Gen Zers, but perhaps her "Eras" tour can change that.
Demographic profile of avid Taylor Swift fans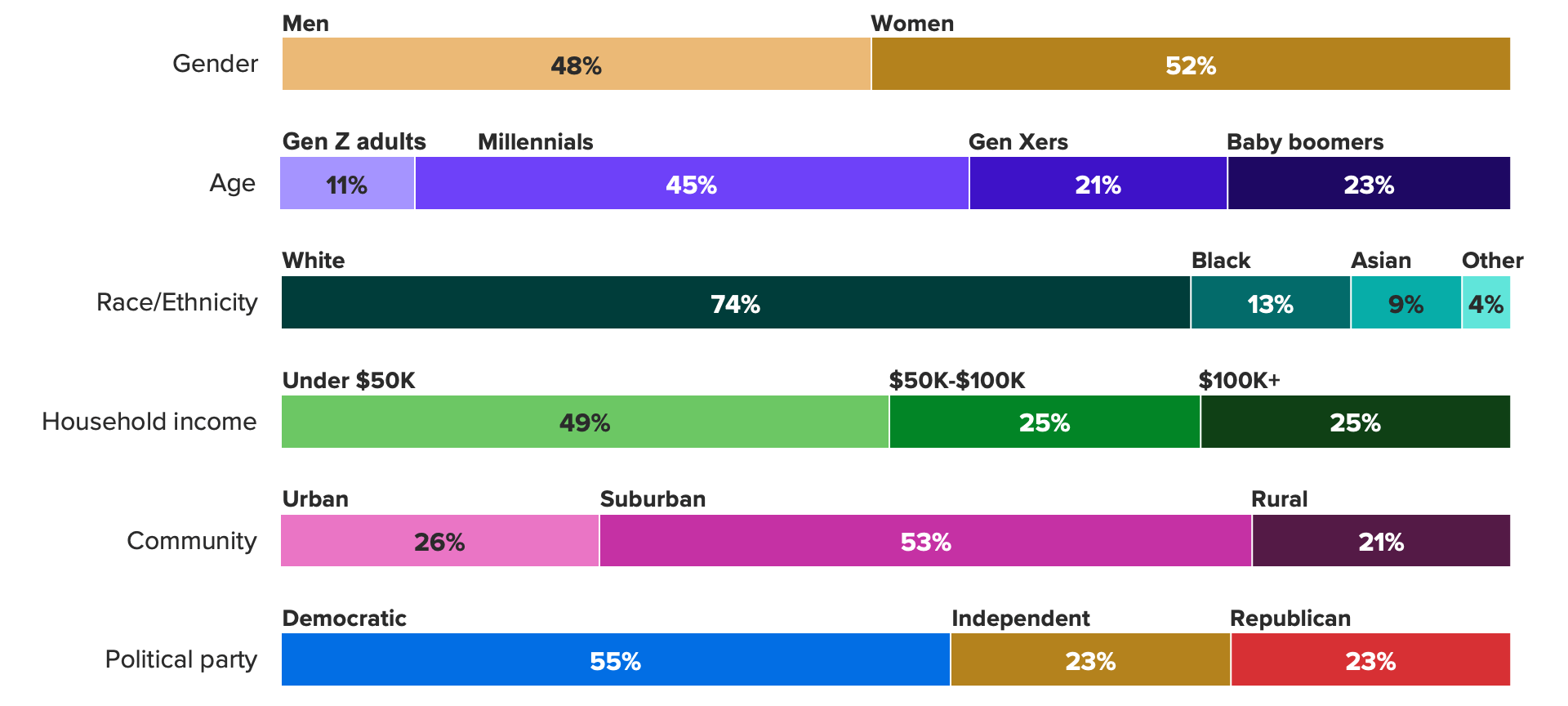 Survey conducted between March 3-5, 2023, among a representative sample of 356 self-identified avid Taylor Swift fans, with an unweighted margin of error of +/-5 percentage points. Figures may not add up to 100% due to rounding.
A breakdown of the Taylor Swift fandom 
Nearly three-fourths (74%) of self-described avid Swift fans are white. Majorities also identified as Democrats (55%) and live in suburban areas (53%). 
The gender profile of avid Swift fans is more evenly split: Women (52%) slightly edged out men (48%). 
Nearly half (45%) are millennials, while Gen Xers (21%) and baby boomers (23%) each represent just under one-fourth of total avid Swift fans.  
Almost 3 in 4 (73%) avid fans cited enjoyment of Swift's music as a major driving force behind their fandom, significantly more than any other tested reason. Enjoying Swift's performances and music videos (50%) and feeling she is relatable (42%) were the next most popular reasons.
About half of the avid Swift fandom (49%) reported a household income under $50,000.
A separate survey question found that less than half (44%) of the avid fans consider themselves to be part of the "Swiftes" community, suggesting hesitance with being associated with the group, which has a history of questionable online behavior. Previous Morning Consult research showed Swifties viewed themselves as responsible for the harassment of Swift's ex-boyfriends. 
Avid Taylor Swift Fans Anoint '1989' as Pop Star's Best Album
The shares of respondents who said each of the following is their favorite Taylor Swift album:
Survey conducted between March 3-5, 2023, among a representative sample of 2,204 U.S. adults, including 356 self-identified avid Taylor Swift fans, with unweighted margins of error of +/-2 and +/-5 percentage points, respectively.
Taylor Swift albums, ranked
"1989," which features hits like "Blank Space" and "Shake It Off," ranked as the top Swift album among both adults overall and avid fans. Her self-titled 2006 debut album ranked second among avid fans and third among adults. 
Gen Xers ranked 2019's "Lover" slightly higher than did Gen Zers, millennials and baby boomers. The album featured a track with the veteran country band The Chicks. 
Swift's earlier country pop albums, "Fearless" and "Red," also ranked highly among adults and avid fans. 
Newer albums such as "Reputation," "folklore" and "evermore" ranked lower among both groups. Swift's re-recorded albums — which she made after her first record label, Big Machine Label Group, sold the master recordings of her first six albums to Ithaca Holdings LLC — didn't break the top five rankings among avid fans. 
Swift justice
Despite the botched pre-sale for the "Eras" tour, which left millions of fans unable to buy tickets, in-person events are less important to Swift's supporters than other aspects of her fandom. Avid fans ranked attending Swift concerts (32%) second-to-last among the major reasons why they consider themselves fans of the artist. 
Still, widespread outrage by fans — including the airing of grievances on social media, in-person protests and a series of class-action lawsuits — prompted the U.S. Senate Judiciary Committee to hold a January hearing to investigate Live Nation Entertainment Inc.'s outsized control of the ticketing industry. President Joe Biden also put pressure on the entertainment giant in the months following the ticketing debacle, calling for Congress to pass legislation limiting the fees that companies like Live Nation can charge for concerts and sporting events. 
While public opinion of "Swifties" may be somewhat volatile — as is often the case with Taylor Swift herself — one thing is clear: They are a highly-engaged bunch. And their passion just might change the live event landscape for good. Look what you made them do.
The March 3-5, 2023, survey was conducted among a representative sample of 2,204 U.S. adults, with an unweighted margin of error of plus or minus 2 percentage points.
Saleah Blancaflor previously worked at Morning Consult as a data reporter covering the business of entertainment.
Ellyn Briggs is a brands analyst on the Industry Intelligence team, where she conducts research, authors analyst notes and advises brand and marketing leaders on how to apply insights to make better business decisions. Prior to joining Morning Consult, Ellyn worked as a market researcher and brand strategist in both agency and in-house settings. She graduated from American University with a bachelor's degree in finance. For speaking opportunities and booking requests, please email [email protected].
We want to hear from you. Reach out to this author or your Morning Consult team with any questions or comments.
Contact Us