3 in 5 Voters Want Title 42 Border Policy Extended
Nearly half also say the border situation has worsened under Biden
A Louisiana judge who indicated he would block the White House's efforts to wind down Title 42 might actually be doing the Biden administration a political favor. The measure, which was introduced by the Trump administration during the early days of the COVID-19 pandemic, allows the government to expel migrants outside of normal immigration law, and a new Morning Consult/Politico survey shows that 3 in 5 voters want it extended.
What voters think should happen with Title 42
Just 24% of voters say Title 42 should be repealed instead of extended, with even Democrats slightly more likely to favor its extension over repeal, 43% vs. 38%. Republicans, meanwhile, are overwhelmingly in favor of an extension at 78%. 
White voters are by far the most likely to favor extension (63%), but more voters of color than not favor it as well, including Hispanic voters, by a margin of 8 percentage points. 
The big picture
The Trump administration's migration policies struck a resounding chord with his voter base in 2016 and thereafter, as the "build the wall" chants in stadiums full of supporters attested. The Biden administration has struggled to follow through on its promises to do away with many of his predecessor's most-criticized policies due to legal, logistical and political hurdles.
A separate court order forced the While House to maintain the "Remain in Mexico" policy that sent some 60,000 asylum seekers to squalid camps on the Mexican side of the border during the Trump era, and the Biden White House has increased the use by immigration authorities of private facilities to house detained migrants despite promising to end the practice. They say there is simply nowhere else to house the migrants.
But despite few policy changes, Americans largely think the situation has worsened.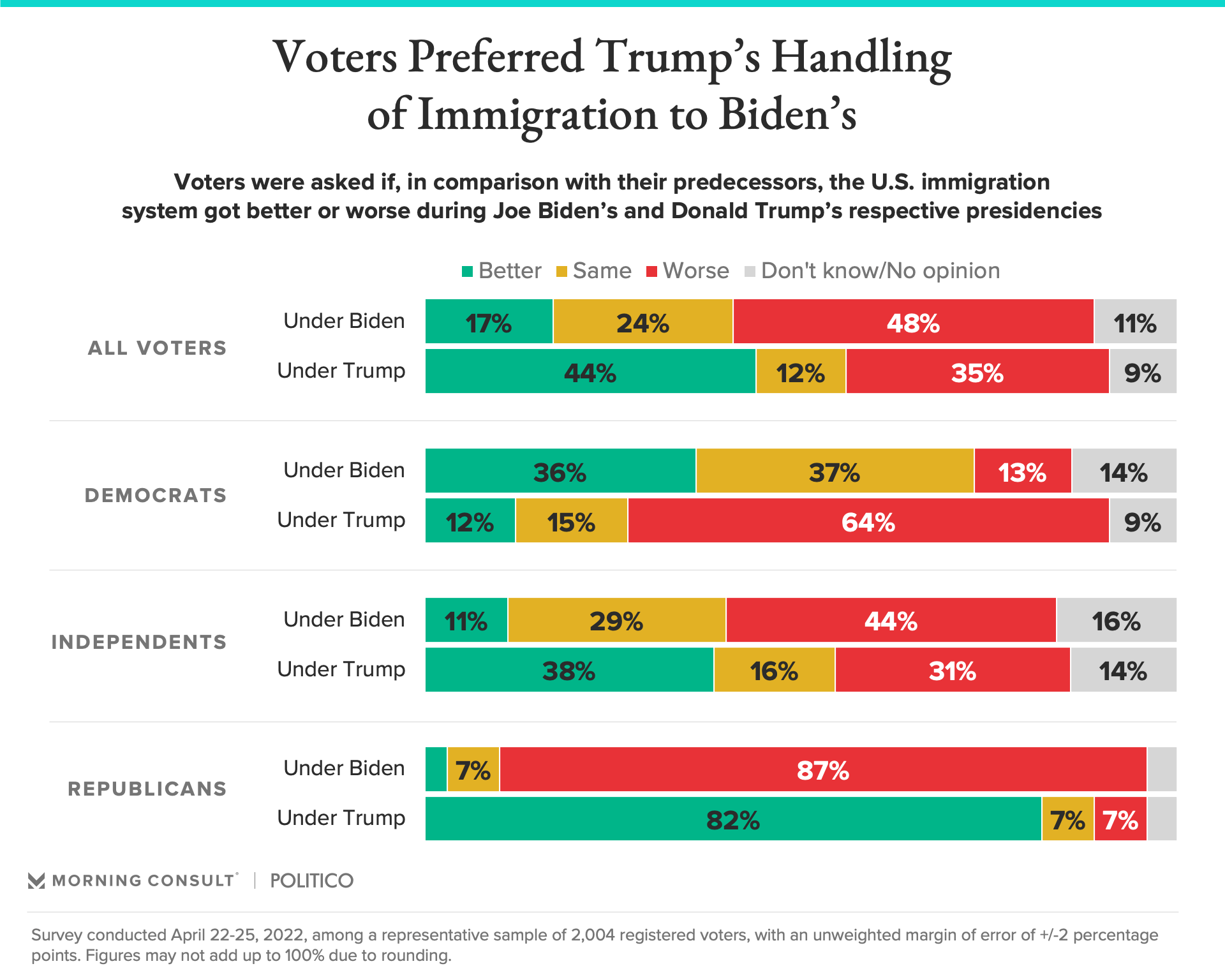 Perceptions of Biden's handling of immigration
Nearly half (48%) of voters say the U.S. immigration system has worsened under the Biden administration in comparison with its previous status, even though the Democratic president has left many of policies instituted under his predecessor, former President Donald Trump, in place. By comparison, 44% of voters say the immigration system improved under Trump in comparison with previous administrations.
Republicans nearly universally agree the things have gotten worse, but the lion's share of independents feel the same way. Even among Democrats, relatively few are convinced having one of their own in the White House has made the situation better. 
Nearly half (45%) of voters also describe the situation at the U.S.-Mexico border as a "crisis," which is down 5 points from a March 2021 survey. Nearly as many (43%) say the situation represents a "problem, but not a crisis." 
The latest Morning Consult/Politico survey was conducted April 22-25, 2022, among a representative sample of 2,004 registered U.S. voters, with an unweighted margin of error of plus or minus 2 percentage points.
Matthew Kendrick previously worked at Morning Consult as a data reporter covering geopolitics and foreign affairs.
We want to hear from you. Reach out to this author or your Morning Consult team with any questions or comments.
Contact Us