Top 5 Retail Industry Predictions for 2019
Experts are keeping a close eye on Amazon, possible tariffs and bankruptcies next year
In 2018, many legacy retailers filed for bankruptcy protection, while box store and online brands such as Amazon.com Inc., Walmart Inc. and Target Corp. continued to grow. Analysts and academics are watching a slew of different retail trends in 2019, from more bankruptcy filings to Amazon's push into the brick-and-mortar space.
More bankruptcies and store closures
In 2018, high debt loads and decreasing foot traffic bankrupted several retail chains, including Sears Holdings Corp., David's Bridal Inc. and Mattress Firm Inc. Mark Cohen, director of retail studies at Columbia University's business school and a former Sears executive, said he expects such bankruptcies to continue in 2019.
"Eventually circling the drain, in my opinion, is J.C. Penney, which is not in any kind of financial danger at the moment," Cohen said. In March, J.C. Penney Co. announced it would cut 360 store and corporate jobs, following its more than 5,000 layoffs and almost 140 store closures in 2017. "I think they've got consequential, existential issues that they are not likely to solve."
Cohen, who served as chairman and chief executive of Sears Canada Inc., also said he doesn't see much hope for Sears' recovery, despite Chairman Eddie Lampert's offer to purchase the retailer's storefronts and other assets out of bankruptcy court.
"Sears is basically toast," Cohen said, adding that even if a bankruptcy court allows Sears to come out of Chapter 11 bankruptcy status, it would just go bankrupt again because it lacks an operating strategy "that's worth talking about."
Amazon's push into brick-and-mortar
In 2018, Amazon expanded further into brick-and-mortar spaces with the unveiling of its Amazon Go stores, its cashierless, food-and-beverage-focused convenience stores; introduction of its concept store called "Amazon 4-Star," which features products rated four stars on its site; and the expansion of its physical bookstores.
Online sales currently account for 9.8 percent of total U.S. retail purchases, according to the U.S. Department of Commerce., but Moody's Investors Service Inc. estimated that share could grow to 20 percent in the next five years -- and Amazon will continue to dominate the space. The research company eMarketer estimated in July that Amazon would account for 49.1 percent of all online sales this year, with eBay Inc. a distant second at 6.6 percent.
Charlie O'Shea, lead retail analyst at Moody's, said the company's continued expansion into brick-and-mortar is validation that Amazon needs physical spaces to spur growth to compete with Walmart.
"If you're only playing in the 15 or so percent of retail sales that are online, you're kind of stuck," he said. "There are limits to how high you're going to go as a pure-play online retailer."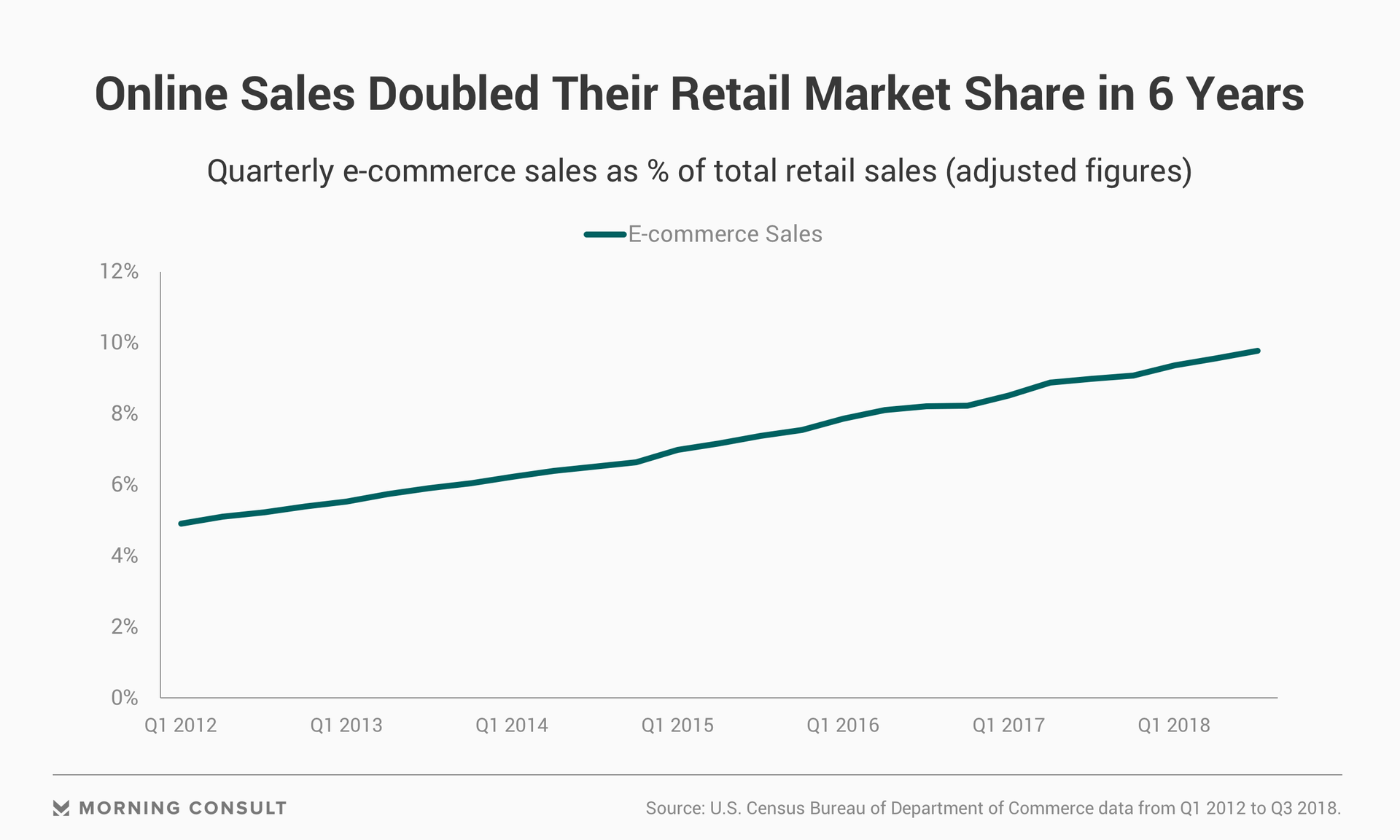 U.S.-China trade dispute
Retail industry experts are also eyeing the ongoing trade dispute between the United States and China, particularly how a proposed increase in tariffs will impact consumers.
Tariffs are "going to lead to marked increases in consumer prices, there's no question about that," Cohen said. "The consumers are going to pay a price on this kind of stuff, and that's going to cast a pall on the map, which is going to affect performance and employment."
Technological investments
For the past few years, retailers have been refocusing investments in physical spaces away from opening new locations or updating current ones to tech advancements to integrate e-commerce tools, said Brian Yarbrough, an analyst at St. Louis-based brokerage firm Edward Jones. One such example is in delivery methods, including the rollout of same-day deliveries, in-store pickups of online purchases and curbside pickup.  
Neil Stern, senior partner at Chicago-based retail consulting firm McMillanDoolittle, said he predicts technological improvements will continue to focus on how consumers purchase in-store products, such as the cashierless advancements being piloted by Amazon and Walmart.
"There should be a lot more developments pushing the boundaries in frictionless retail -- removing the pain points of physical shopping," he said in an email. "Amazon Go will likely try and scale up in size and potentially license to other retailers. Walmart is piloting a full scan-and-go store with Sam's Club, and we expect to see others."
Higher retail wages
In January, Walmart announced it would increase its starting wage to $11 per hour for U.S. workers following the December 2017 passage of the federal tax overhaul, from its prior level of $9. Target made a similar move in late 2017 to boost its starting wage to $11 and increase it to $15 by 2020.
But a low unemployment rate will likely force retailers to continue raising wages at what Yarbrough said is an unprecedented rate.
"I've been doing this for 20 years now, and I've never seen this type of inflation," Yarbrough said.
Sam Sabin previously worked at Morning Consult as a reporter covering tech.
We want to hear from you. Reach out to this author or your Morning Consult team with any questions or comments.
Contact Us