Americans Support Sanctions Against Russia — Even if It Means Higher Prices
A solid plurality of U.S. voters say they're willing to face higher prices at home in order to sanction Moscow for invading Ukraine — and fewer than 1 in 10 oppose any sanctions
As President Joe Biden walks a tightrope of formulating a tough response amid already surging inflation at home, nearly half of U.S. voters surveyed by Morning Consult following Russia's invasion of Ukraine support sanctions against Moscow even if it leads to increased prices. Only 7 percent of voters, meanwhile, say they are opposed to sanctions in any case.
More voters approve than disapprove of how Biden is handling the Ukraine crisis, as more than 4 in 5 Americans blame Russian President Vladimir Putin for escalating the crisis into a full invasion. But an overwhelming majority is also now concerned about a military conflict between Russia and the United States, and only 19 percent of voters prefer direct U.S. military aid to Ukraine as America's primary response to the situation.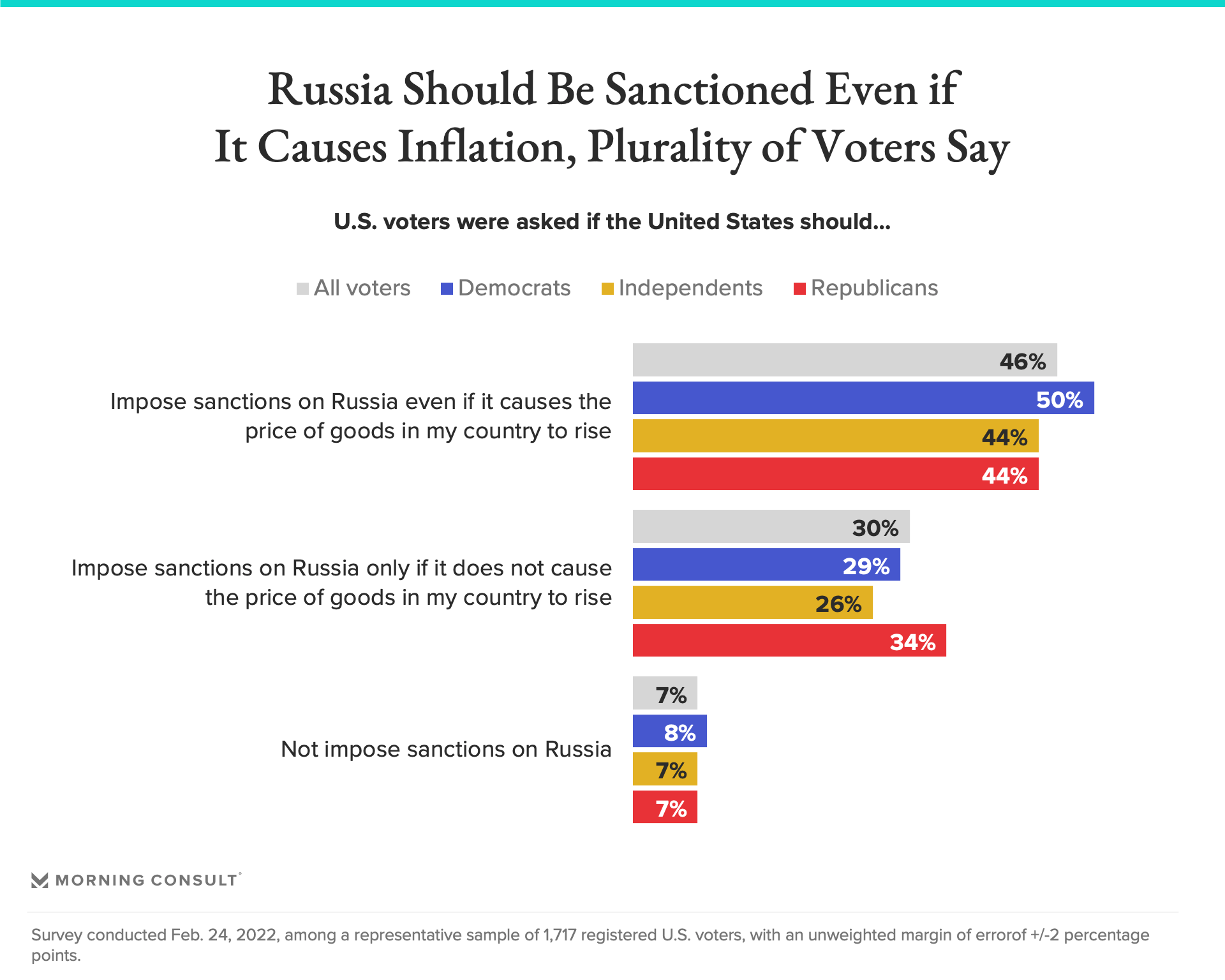 On the numbers
Many U.S. voters are prepared to take a hit to their pocketbooks to impose penalties on Russia, with 46 percent of voters supporting sanctions even if it causes prices in the United States to rise. Another 30 percent support sanctions only if there are no related price increases, and just 7 percent say they do not support sanctions in any form.
Nearly half (48 percent) of voters also approve of Biden's handling of foreign policy in Ukraine and Eastern Europe, while 43 percent disapprove. Support for the president largely falls along party lines, with 78 percent of Democrats backing his handling and 74 percent of Republicans taking the opposite tack. 
Nonetheless, 83 percent of Republicans say Putin is responsible for starting the conflict — a figure reflected among all U.S. voters — despite appeals from conservative commentators such as Fox News host Tucker Carlson for people not to blame Moscow.
Sixty-nine percent of voters support kicking Russia out of the SWIFT global banking system, which has been complicated by financial ties between Russia and Europe.
A slim majority (54 percent) of voters said the United States should, at the very least, launch cyberattacks against Russia that respond in equal measure to hacking the Kremlin is said to have orchestrated in Ukraine. 
The big picture
As much as Americans appear ready to apply financial pressure to Moscow, they are clearly nervous about escalating the crisis with Russia further, with about 4 in 5 voters saying they were concerned about a military conflict with Moscow now developing. And when presented with three options — diplomacy, sanctions or direct military support — as the primary U.S. response to the situation, just 19 percent backed the most bellicose approach. Most voters (55 percent) also approved of Biden's decision not to send U.S. troops to rescue Americans who did not evacuate Ukraine prior to Russia's invasion, which he said could trigger a "world war.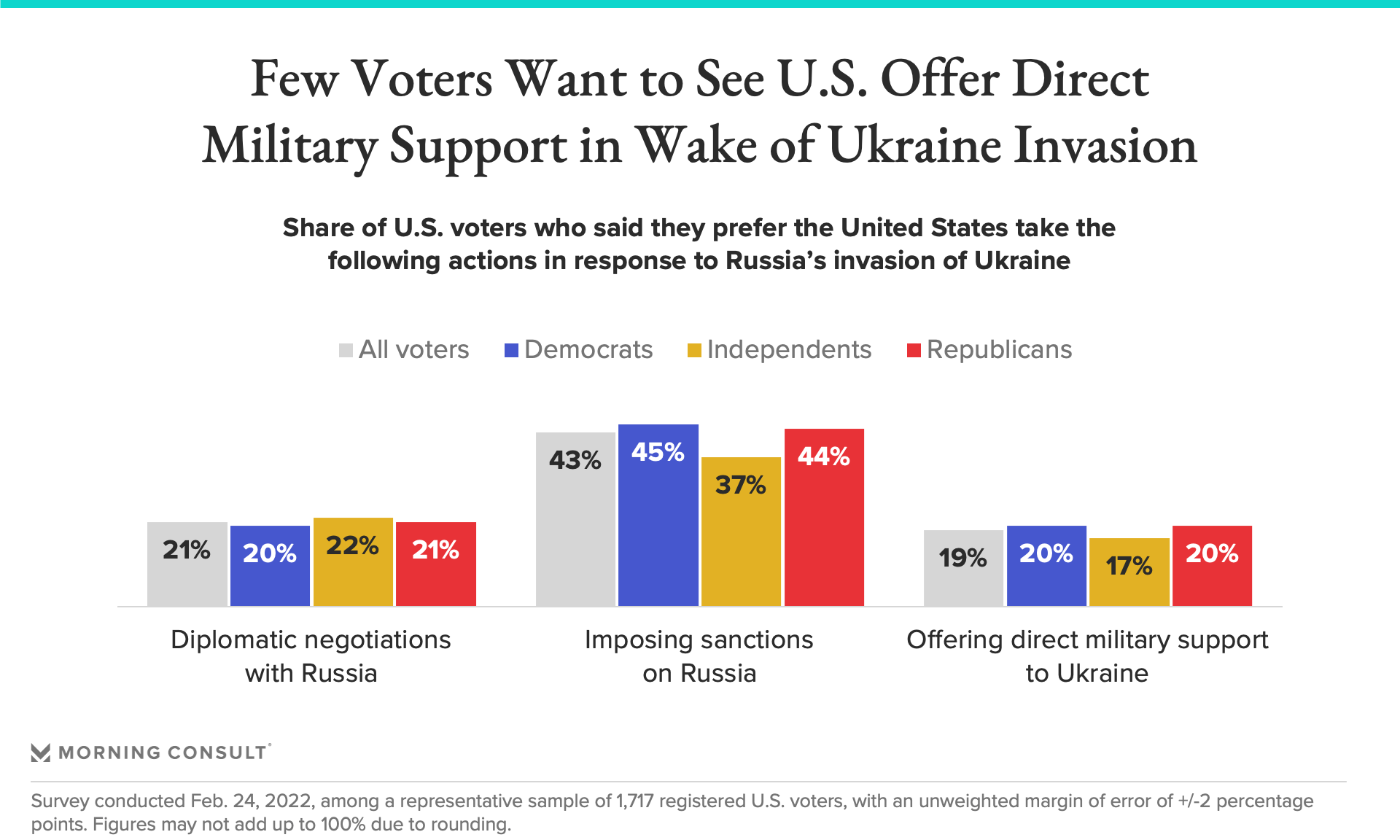 With nuclear armageddon on the line, it seems voters find discretion is the better part of valor.
Americans are not ignoring the crisis, though: 86 percent report hearing "a lot" or "some" about the invasion and 43 percent successfully identified Ukraine on a blank map of Europe, up 9 percentage points from a similar test conducted earlier this month. And as U.S. troops in Poland scramble to help local authorities process fleeing Ukrainians, two-thirds of voters agreed that the United States has an obligation to help refugees displaced during humanitarian crises.
The latest survey was conducted Feb. 24, 2022, among a representative sample of 1,717 registered U.S. voters, with an unweighted margin of error of plus or minus 2 points.
Matthew Kendrick previously worked at Morning Consult as a data reporter covering geopolitics and foreign affairs.
We want to hear from you. Reach out to this author or your Morning Consult team with any questions or comments.
Contact Us