U.S. Voters Back Russia Sanctions in Response to Donbas Incursion, but They'd Blame Biden for Related Gas Price Hikes
A majority of voters said they would hold the U.S. president responsible for higher gas prices caused by Russia's conflict with Ukraine
American voters overwhelmingly prefer sanctions over troop deployments as the response to Russia's recognition of independence for a breakaway eastern Ukrainian region and the Kremlin's plans to place troops there, according to a new Morning Consult survey, but data shows they would also blame the Biden administration for any resulting gas price increase.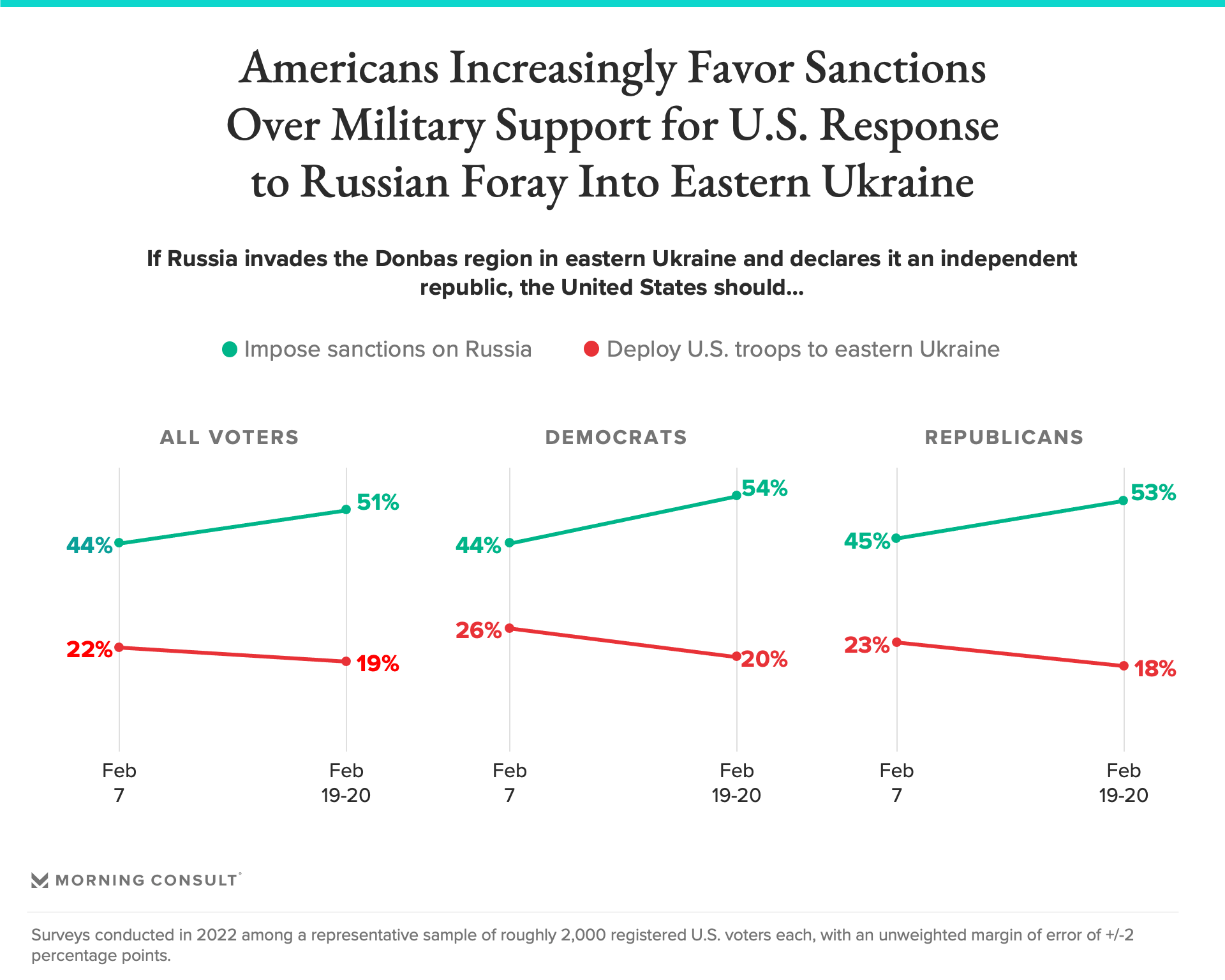 On the numbers
A slim majority (51 percent) of voters said the United States should primarily respond with sanctions if Russia invades eastern Ukraine's Donbas region and declares it independent of Kyiv, with only 19 percent supporting U.S. troop deployment to Eastern Europe.
Support for sanctions is up 7 percentage points since a Feb. 7 survey, while support for sending troops is down 3 points, a trend reflected among both parties.
Fifty-five percent of voters said they thought it was at least somewhat likely Russia would invade Ukraine "in the next week," up from 40 percent on Feb. 7.
The context
Russian President Vladimir Putin has launched "peacekeeping operations" in the rebel-held regions of Donetsk and Luhansk in the Donbas of Ukraine after recognizing each as independent republics. The decision prompted a strong rebuke from Western leaders, who have for weeks warned that they would impose harsh economic sanctions against Moscow if it invades Ukraine again following its 2014 annexation of Crimea.
German Chancellor Olaf Scholz announced that his country will halt the certification of the new Nord Stream 2 gas pipeline that would further cement its energy dependence on Russia — a move that German voters are divided over — due to the "incomprehensible and unjustified action by the Russian president." President Joe Biden, for his part, called Putin's recognition of the independence of Ukraine's eastern reaches the beginning of invasion and a form of "political provocation," announcing sanctions that include cutting Russia off from the West's financial systems.
But while U.S. voters support sanctions, that doesn't mean there won't be blowback for the president, whose party faces increasingly difficult prospects of retaining its slim majorities in Congress in November's midterm elections.
Global oil prices are surging toward $100 per barrel due to fears that sanctions against Russia — the world's third-biggest producer — would curtail supply. That would lead to even higher prices at the gas pump, a political pain point ahead of the midterms as the White House considers releasing strategic reserves and Democrats in Congress push for a suspension of the federal gas tax.
Unfortunately for Democrats, despite support for sanctions against Russia in response to an invasion of eastern Ukraine, a majority of U.S. voters said they would also blame the president for any further gas price hikes that would result from the conflict, according to a new Morning Consult/Politico survey.
A majority (58 percent) of U.S. voters, including 44 percent of Democrats, said that they would hold Biden at least partly responsible if a conflict between Russia and Ukraine led to further increases in gas prices. 
Almost as many Republicans said they would blame Biden (73 percent) for price hikes as those who would blame Putin (77 percent).
The Morning Consult survey was conducted Feb. 19-20, 2022, among a representative sample of 2,005 registered U.S. voters, with an unweighted margin of error of plus or minus 2 percentage points. The Morning Consult/Politico survey was conducted Feb. 19-21, 2022, among a representative sample of 2,005 registered U.S. voters, with a 2-point unweighted margin of error.
Alex Willemyns previously worked at Morning Consult as an editor for coverage of geopolitics and foreign affairs.
We want to hear from you. Reach out to this author or your Morning Consult team with any questions or comments.
Contact Us