The Ukraine-Russia Storylines That Are Moving the Needle With Americans
Stories on U.S. response, wartime atrocities resonate more deeply with U.S. voters than the European response to the conflict
Two months into Russia's invasion with Ukraine, Americans have been inundated with headlines about atrocities and the U.S. response to the war, according to Morning Consult surveys fielded each week since the Feb. 24 invasion, but are less aware of those focused on Europe's role in the conflict.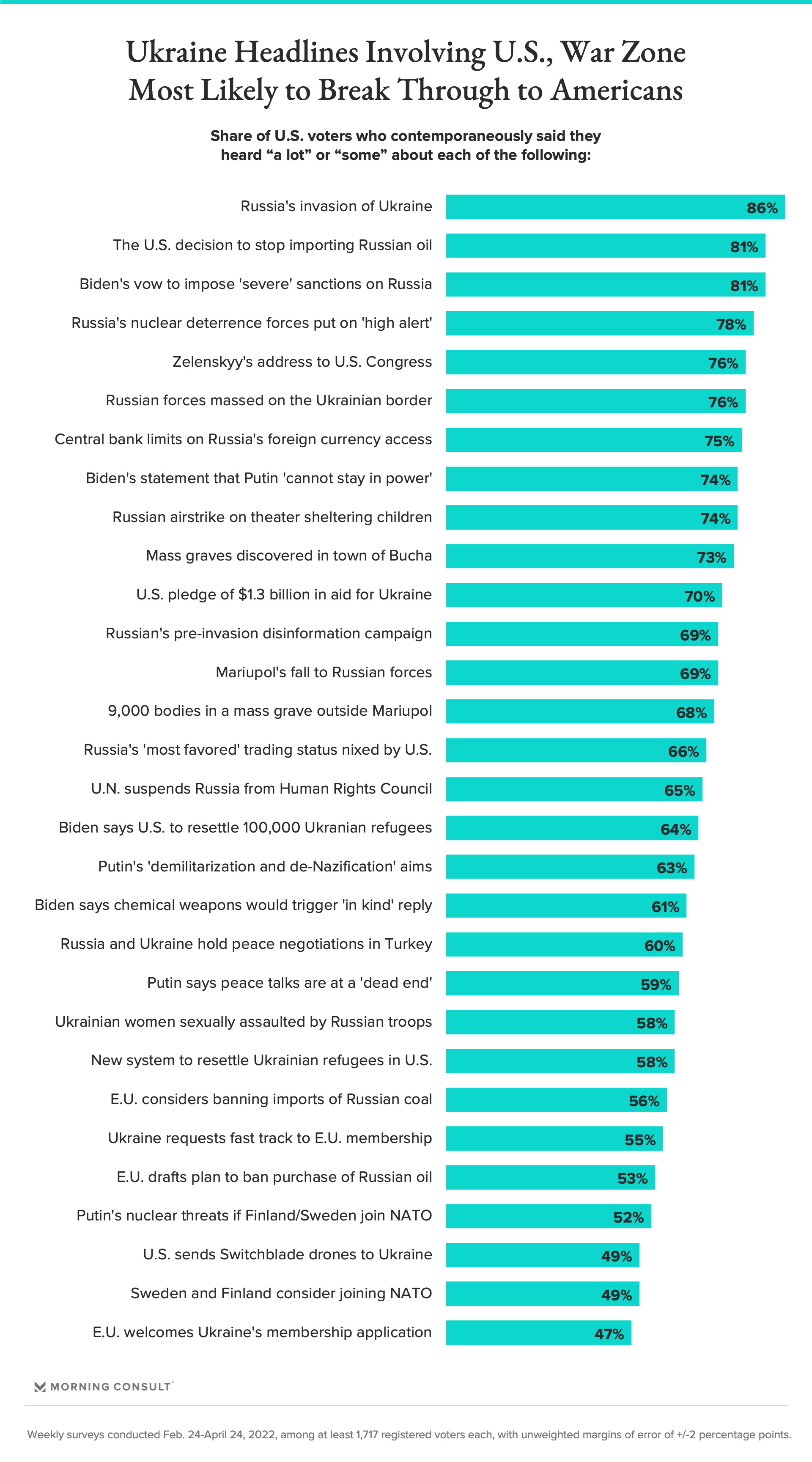 What Americans have heard about Russia's war on Ukraine
The invasion itself was pretty hard to miss, with 86% of U.S. voters reporting hearing "a lot" or "some" about it as it happened. Stories about Moscow's preparations for invasion also attracted attention at that time, with 3 in 4 voters hearing about Moscow's buildup of forces and 7 in 10 hearing about its pre-invasion disinformation efforts.
Many of the stories that broke through after the invasion were those with an impact on American pocketbooks: 81% of voters apiece said they heard of President Joe Biden's promise to impose "severe sanctions" and the decision to sanction Russian oil. 
Stories from the war zone also spread widely, with almost 3 in 4 voters hearing about Russia's strike on a theater in Mariupol where children were sheltering (74%), and nearly as many hearing about Mariupol's fall to Russian forces (69%) and the discoveries of mass graves both on the city's outskirts (68%) and in Bucha (73%). 
When it comes to more Europe-focused news stories, though, salience drops. Only around half of U.S. voters heard at least something about the European Union's welcoming of Ukraine's membership application (47%), Sweden's and Finland's consideration of NATO membership (49%), Putin's nuclear threats in response to that news (52%) and the European Union's tentative plans to impose painful oil sanctions on Moscow (53%).
The big picture
Americans have heard quite a bit about Russia's war on Ukraine and the U.S. response to it over the past two months. That's more or less intuitive, as both Democratic and Republican politicians jockey to be seen as the more vehement supporters of Ukraine's valiant resistance. 
But Americans are also getting plenty of coverage of the human consequences of the war, such as the uncovering of mass graves, and they are very supportive of resettling Ukrainian refugees. In fact, voters are so outraged by news of atrocities committed by Russia that most indicate they do not want to lift sanctions until either Putin is out of power or pays reparations to Kyiv. 
But stories more centered on Europe and fledgling attempts at peace have resonated less.
The peace talks between Russia and Ukraine in Turkey, for instance, attracted the notice of 60% of voters — about the same as Russian President Vladimir Putin's announcement that they had reached a "dead end." 
Ending Europea's extensive imports of Russian energy might prove much more impactful on Moscow's pocketbook than any American sanctions have, but the complexities surrounding the subject may have dampened its audience: 56% said they had heard about potential European coal sanctions and 53% about any potential oil sanctions. 
But it's arcane diplomatic subjects, which require the most context to understand, that have gotten the least widespread play: Four of the six least-noticed stories had to do with either Sweden and Finland's potential accession to NATO or Ukraine's application to join the European Union.
Matthew Kendrick previously worked at Morning Consult as a data reporter covering geopolitics and foreign affairs.
We want to hear from you. Reach out to this author or your Morning Consult team with any questions or comments.
Contact Us