Heading Into 2023, the Inflation Reduction Act Is Bringing 'a Lot of Confidence' to the Renewables Industry
A package of clean energy tax credits is expected to continue boosting growth across sectors in the new year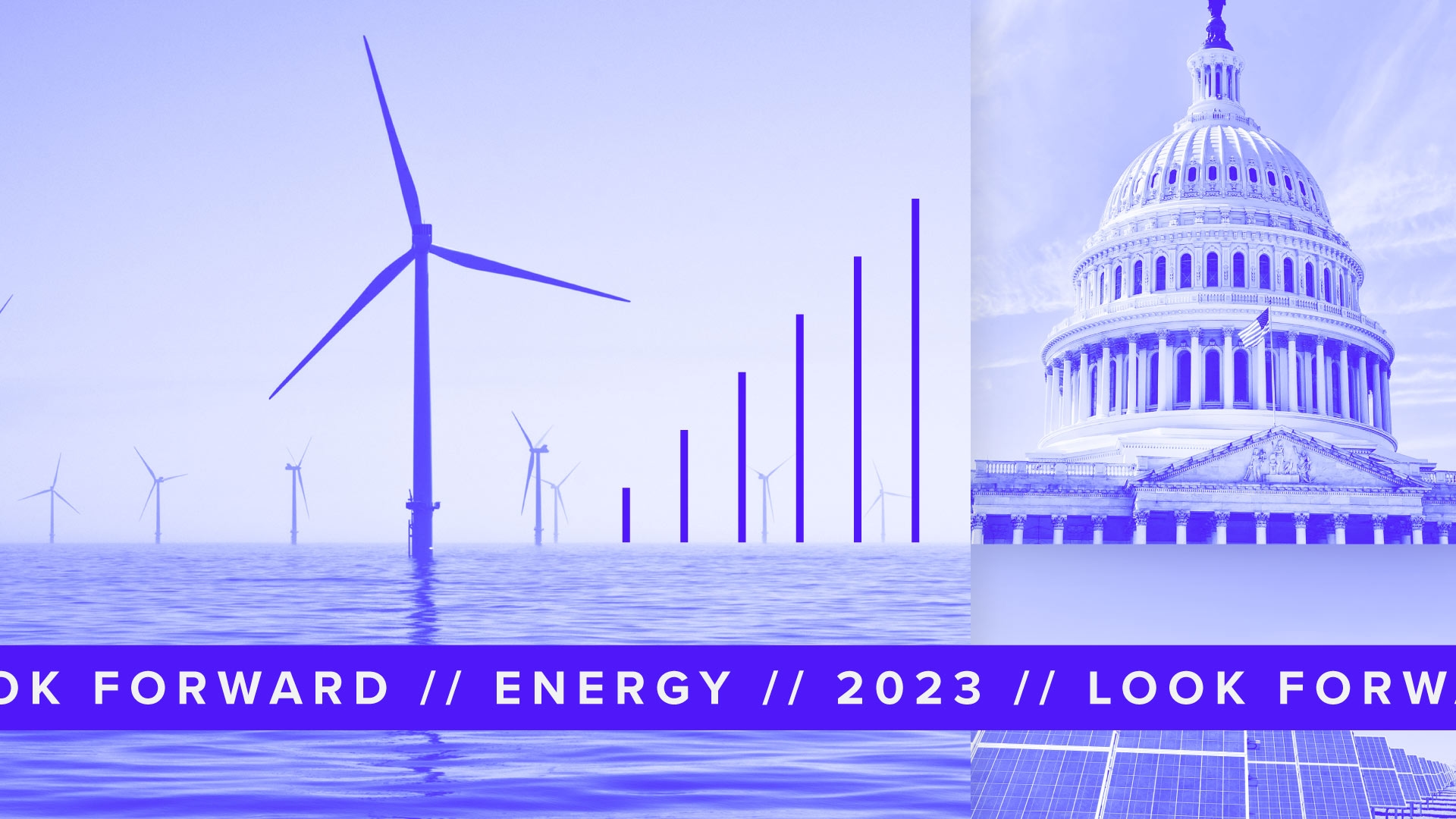 Key Takeaways
The Inflation Reduction Act will boost installed solar (70.3 gigawatts) and onshore wind (85.2 GW) capacity by an additional 155.5 GW by 2030, according to Rystad Energy.

At least 20 new clean energy manufacturing facilities or expansions have been announced since the adoption of the IRA.

Supply chain diversification and permitting reform remain top issues in the industry.
The passage of the Inflation Reduction Act marked the largest federal climate investment to date, with more than $370 billion set aside to spark domestic manufacturing of clean energy and to lower greenhouse gas emissions through a variety of tax incentives. 
The legislation has already invited an influx of clean energy commitments, and 2023 is set to see more investment as companies familiarize themselves with the available credits and as they await tax code guidelines from the White House, which are expected early next year. 
Since the implementation of the $700 billion IRA — signed by President Joe Biden into law on Aug. 16 after the surprise late-July agreement between Sen. Joe Manchin (D-W.Va.) and Senate Majority Leader Chuck Schumer (D-N.Y.) — companies have made $40 billion in domestic clean energy investments. That figure is equal to the total investment estimated for all clean energy projects installed in 2021, according to a report from the American Clean Power Association. 
In total, companies have announced 20 new clean energy manufacturing facilities or expansions, adding 13 gigawatts of new clean energy capacity. Solar tops the list with 12 new manufacturing facilities announced, a 300% increase in U.S. solar module manufacturing capacity.
"The Inflation Reduction Act has really instilled a lot of confidence because now we have tax credits for 10 years, we have certainty," said Geoff Hebertson, renewable energy analyst for Rystad Energy. The legislation provides for a lot of new opportunities for solar, wind and battery storage projects to come to fruition, he added. 
The new clean energy incentives in the IRA are expected to attract more than $270 billion in additional investments by the end of the decade, adding around 85 GW of onshore wind capacity and about 70 GW of utility-scale solar installations by 2030, according to Rystad. Solar projects can take advantage of the production tax credit, while battery storage projects now have their own tax incentives.
Next year is all about setting up for a successful 2024, Hebertson said.
"2023 is exciting in that the IRA has really energized the industry, but we still have work to do," he said. "There is new capital that still needs to come in, permitting reform that must happen in interconnection queues, an inflationary environment and supply chain issues."
Inflation Reduction Act Could Add 70.3 GW of Solar Capacity by 2030
Outlook for solar photovoltaic installed capacity (in gigawatts)
Source: Rystad Energy
Robbie Orvis, senior director of modeling and analysis at Energy Innovation Policy & Technology LLC, anticipates a boost in electric vehicle adoption next year as more people opt to use the expanded EV credits. He also hopes that the necessary personnel and infrastructure is set up to take advantage of the rest of the major programs in the IRA. 
"I'm really excited to see, especially in the next year as companies really start to digest the IRA and determine what it means for their bottom line, to see all of the growth in the manufacturing facilities that might come as a result of the IRA," Orvis said, adding that a lot of facilities have been announced in GOP-led states. 
The IRA was adopted along party lines, without a single Republican vote. 
Orvis added that all eyes will be at the state level now, since "we've kind of seen as much climate policy from Congress, for the most part, as we're going to see."
Energy Innovation has shifted to looking into how states will adapt to the IRA, specifically how state utility commissions and integrated resource plans for utilities will change given that the economics for clean energy have changed so much because of the legislation. 
The clean electricity tax credit will also provide more growth in those sectors, Orvis said, although there are some mitigating factors like supply chain issues that have affected the availability of some components.
Chinese supply chain dominance under scrutiny with solar tariff investigation
Supply chain issues are expected to ease as more clean energy manufacturing capacity is added in the United States, shifting demand away from the powerhouse of China.  
From a project development standpoint, the United States needs to "decouple its reliance on Chinese imports in order to meet demand that the IRA is expected to have," Hebertson said. "We have to have solar manufacturing here in the United States, or at least coming from other parts that aren't under investigation." 
The Commerce Department recently released preliminary findings of a monthslong investigation that found four companies, which account for as much as half of the solar cells imported into the nation, had skirted tariffs that applied to Chinese-manufactured solar panel components, importing them instead from Malaysia, Cambodia, Thailand and Vietnam. 
The findings are expected to be finalized by May, but in the meantime, Hebertson expects substantial solar imports into the country as companies take advantage of a 24-month tariff exemption for solar panels from the four Southeast Asian nations. 
Inflation Reduction Act Could Add 85.2 GW of Onshore Wind Capacity by 2030
Outlook for onshore wind installed capacity (in gigawatts)
Source: Rystad Energy
Permitting reform remains the thorn in the side of the energy industry
Optimism for any permitting reform has waned after Manchin failed several times to have any changes included in must-pass spending legislation, with the latest miss stemming from a failed amendment to the National Defense Authorization Act. 
It's unclear if there will be any push to get permitting reform on the agenda for next year as Republicans take control of the House and progressives remain staunchly opposed to any legislation that includes the advancement of the Mountain Valley Pipeline, which Manchin has pushed for. 
"Two groups that almost never agree with each other both agree on opposing the bill, but for completely opposite reasons," Orvis said. "So it'll be pretty hard to bridge that gap with such a closely divided Senate and House." 
Republicans will enter 2023 with a grudge against Manchin for striking an earlier deal with Schumer on the IRA.
The GOP has already pivoted to not wanting to give Democrats any victories next year, said John Coequyt, director of the federal policy team at renewable energy think tank RMI.
Increased oversight on federal agencies could slow implementation, but not stop it
Republicans have recently come out swinging against Biden's energy policies, as the GOP has promised to investigate how the administration will spend funding from the IRA and last year's Infrastructure Investment and Jobs Act. 
Some lawmakers, including Rep. Cathy McMorris Rodgers (R-Wash.), have gone as far as comparing the IRA to "Solyndra on steroids," referring to the failed government-funded solar panel startup that went bankrupt during the Obama administration. 
There will be a lot of oversight on the disbursement of the Inflation Reduction Act's climate and energy funding, with the aim of attacking the Biden administration on ideological grounds, Coequyt said. 
The expectation is that the heads of the Environmental Protection Agency and the Department of Energy will have to testify over and over again regarding the deployment of funding, in an effort to slow things down rather than to improve the process, Coequyt said. 
The Biden administration will be able to tout the slew of announcements from companies building or expanding solar and battery plants, the creation of jobs and lessening the reliance on China's supply chain in those oversight hearings, he added. 
Julia Martinez previously worked at Morning Consult as an energy & auto analyst on the Industry Intelligence team.
We want to hear from you. Reach out to this author or your Morning Consult team with any questions or comments.
Contact Us