Voter Support for Ukraine Has Softened, but U.S. and Allies Are Unlikely to Change Course
Russia's atrocities and expansionism are no less threatening, and allied interests are firmly tied to Ukraine's fate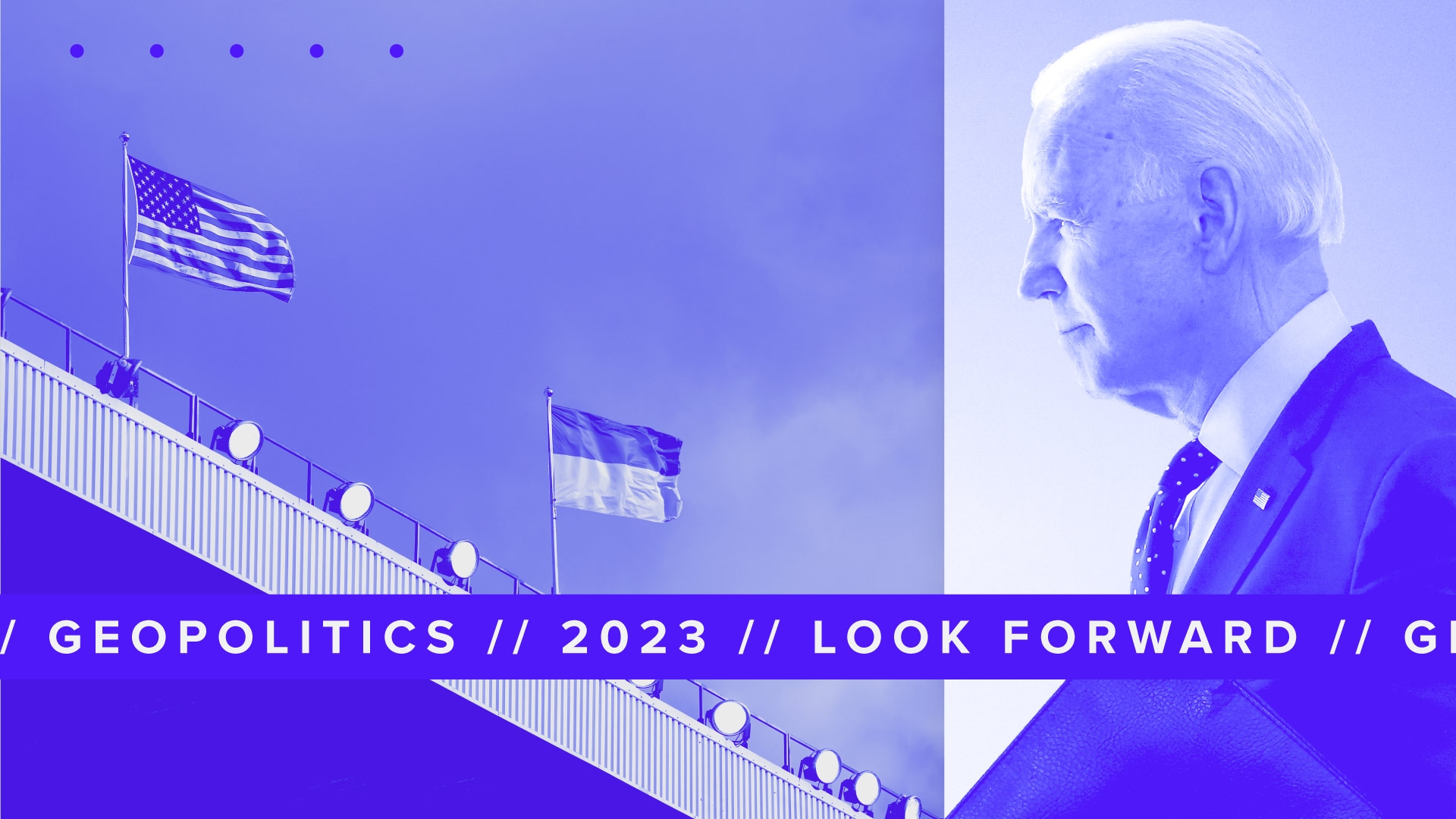 Key Takeaways
Morning Consult surveys show a gradual softening of public support for U.S. efforts to aid Ukraine, just as European allies face intense economic pressure from Russia sanctions. 

Despite those pressures and some gaps in rhetoric between Western leaders and Kyiv on war aims, the conflict has taken on greater geopolitical and human rights implications that disincentivize backing off support for Ukraine's fight. 
Russia's invasion of Ukraine defined 2022 geopolitically and looks set to have ramifications for years to come, even after fighting ends. As the conflict matures, the urgency U.S. voters feel to support Ukraine has waned, but Western interests remain fundamentally in line with Kyiv's and are unlikely to rupture in 2023.
That said, some daylight has begun peeking through Western and Ukrainian rhetoric about how to end the war, and sanctions seem in some ways to be having more political impact in Europe than Russia. But Ukraine controls the initiative on the ground, and the existential threat Moscow poses means allied powers are unlikely to get cold feet even if Ukraine comes close to crossing Russia's stated or implied red lines.
"National security folks in Washington will tell you it is extremely unlikely that Ukraine will be able to retake Crimea, but I think the administration will be extremely cautious about telling the Ukrainians the United States won't support them going beyond certain borders," said Sonnet Frisbie, Morning Consult's managing director of geopolitical risk analysis for Europe, the Middle East and Africa. She added that strategically there is little benefit to playing hardball with Kyiv.
"It would be hard for the United States to walk away from a situation in which — without losing American lives — they can support Ukraine in doing the heavy lifting for U.S. interests in the region," Frisbie said.
Domestically, Biden faces a different environment in 2023
Shortly after the war began, 58% of voters said they were "very concerned" about the invasion, while 47% said the United States had a responsibility to protect Ukraine and 32% said Washington wasn't doing enough to support Kyiv. The bipartisan consensus around Ukraine aid and Democratic control of Congress made action relatively straightforward for the Biden administration.
But now, voters are evenly split on whether the United States has a responsibility to defend Ukraine, and slightly more voters say Washington is doing too much rather than not enough to support Kyiv. Meanwhile, the share of voters who are "very concerned" about the invasion has fallen 17 percentage points. Among Republicans in particular, 53% now don't see Ukraine's protection as a U.S. responsibility and they are almost twice as likely to say Washington is providing too much aid than too little. 
House Republican leader Kevin McCarthy of California, the presumptive House speaker for the next Congress, caused a stir before the midterm elections by saying there would be no "blank check" for Ukraine if Republicans won the House. And indeed, Democrats made sure to lock in funding for Ukraine in two of the last major bills they will pass while in control of both chambers of Congress. The National Defense Authorization Act includes some $800 million for Ukraine and the $1.7 trillion government funding bill that Congress is expected to pass this week includes nearly $45 billion for Ukraine and NATO allies.
But despite GOP voters' wavering support for Ukraine, it's far from certain whether the Republican-led House will clamp down on aid. More than 170 GOP lawmakers voted for the NDAA, and a close reading of McCarthy's rhetoric is essential to understanding what his plans may be if he's elected speaker, according to Yoshiko Herrera, professor of political science at the University of Wisconsin-Madison who specializes in U.S.-Russia relations. 
"He didn't say 'we're cutting support' or 'the Republicans don't support Ukraine.' He's going to come into office and say 'these Democrats, they did a terrible, terrible job, but now we're going to do a much better job and be much more efficient,'" said Herrera. "I expect criticism of the Biden administration, but that doesn't mean criticism of Ukraine."
And Frisbie said the softening of U.S. public opinion may have more bark than bite, politically. 
"It's not that the bottom has dropped out of support for Ukraine, but I think you're going to see more challenges of Ukraine funding when it comes up," she said. "Not necessarily with the aim to block it, but to get some sort of concession on other foreign policy issues, like immigration on the southern border, which according to our U.S. Foreign Policy Tracker is the issue that Republicans care the most about."
Winter will test Europe, but not break its resolve
After decades of dependence on Russian energy among some member states, the European Union spent much of 2022 negotiating internal bargains to sanction Russian energy imports and deprive Moscow of funding for its invasion. The exercise has not come without cost, however, as households and businesses across the continent face historic inflation and a cold, dark winter. And data suggests it's putting pressure on European leaders: Of the leaders of Western Europe's biggest economies, only recently elected Italian Prime Minister Giorgia Meloni can point to significant popularity at home, according to Morning Consult's Global Leader Approval tracker. 
Polling in Russia shows strong support for the war and for Russian President Vladimir Putin, but experts dismissed the reliability of that polling even among formerly independent outlets. Ashley Blum, a postdoctoral researcher at the Massachusetts Institute of Technology who studies Russian media and public opinion, said Putin's messaging around a potential second mobilization of reservists is much more indicative of domestic risks.
"The Kremlin has made an effort to communicate that they don't have any plans to continue with the mobilization," she said. "This was a major public opinion challenge for the regime, in part because ordinary people are more aware of it as something that's highly visible and harder to distort with mass media." 
Cristina Vanberghen, a senior expert at the European Commission, said political pressure is beside the point of sanctions.
"In some autocratic states, political pressure is actually less likely to arise when sanctions are in place. The pressure must instead be generated at international level," she said. "This is the purpose of our sanctions: To weaken Russia's ability to finance the war and in the longer term to disable Russia's economy and decouple it from the global economy."
And despite the economic hardships, the European Union is not letting up the pressure.
"Outside of Russia there is constant support for Ukraine and no war fatigue of the kind Russia has been banking on," said Vanberghen. "That's why the European Council has adopted a ninth package of sanctions against Russia. This is the European way of responding to the escalation of war crimes."
Ukraine has sometimes expressed discomfort with some European leaders, most notably French President Emmanuel Macron, who's committed to maintaining open lines for talks with Russia. But an open door to communication doesn't mean European allies are inclined toward actually cutting a deal for energy, said Herrera.
"Russia's brazen behavior — the atrocities, the war crimes, the bombing of civilian infrastructure — has made the case that the Ukrainians wanted to make, which is that Russia is dangerous, and we can't allow Putin to have a victory here because Moldova is next and another country in Europe will be after that," Herrera said. "There isn't going to be a return to buying Russian oil and gas even if the war ended tomorrow."
Matthew Kendrick previously worked at Morning Consult as a data reporter covering geopolitics and foreign affairs.
We want to hear from you. Reach out to this author or your Morning Consult team with any questions or comments.
Contact Us