Biden's Net Approval Rating Is Underwater in 40 States
The president has made up no ground in states that'll be key to Democrats' chances in 2022 and 2024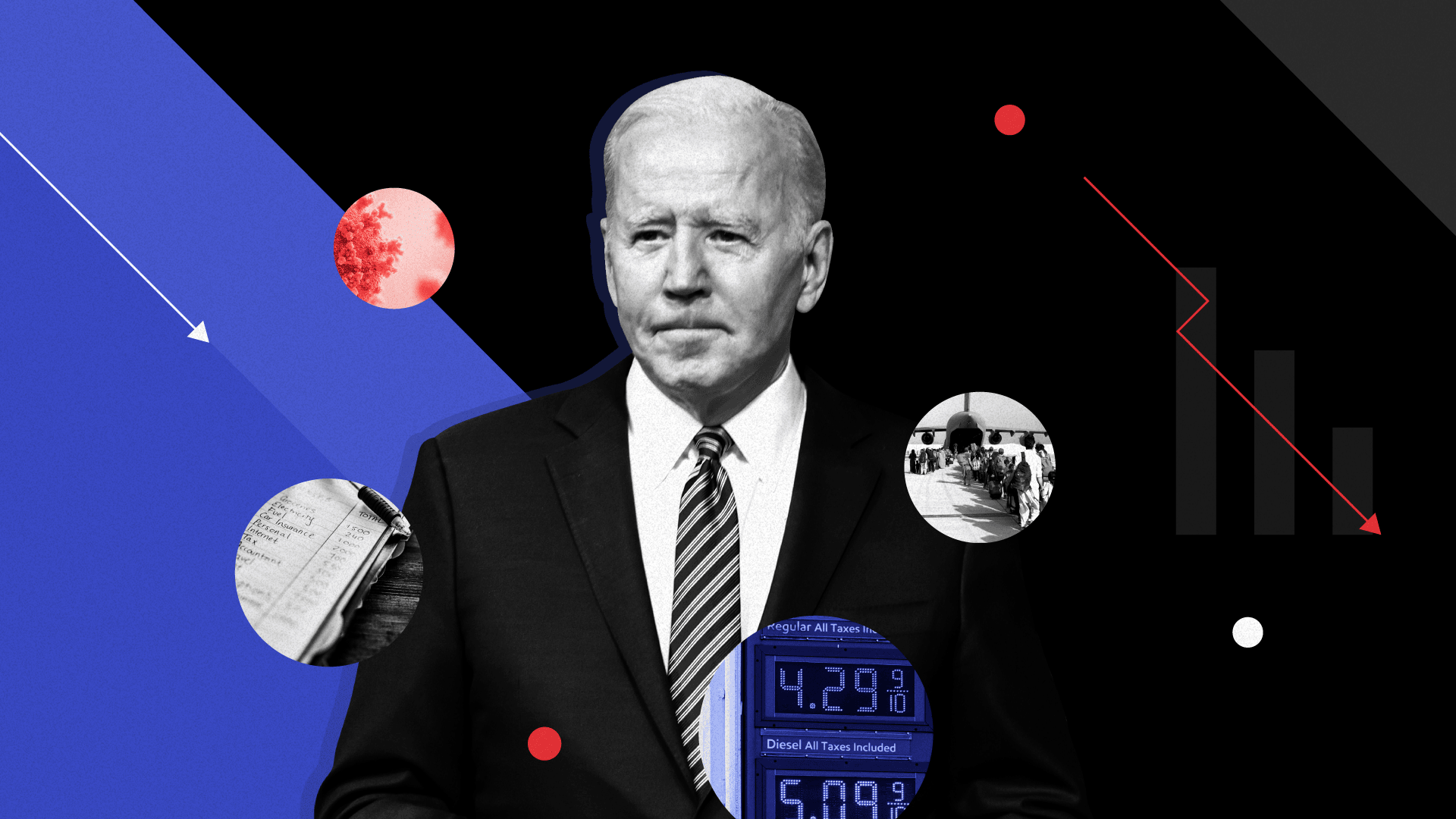 Key Takeaways
In most states, the pace of Biden's decline slowed between the last quarter of 2021 and the first quarter of 2022, but he's still deep in the red.

Biden's net approval rating fell by 38 points among independents in Michigan, along with 33-point declines with the group in Georgia and Minnesota.

More than half of Democratic voters "strongly" approve of Biden's performance in just one state — Wyoming — compared to 47 states in the first quarter of 2021.
Perceptions of President Joe Biden's job performance worsened across most of the country in the first quarter of this year, deepening the challenges for his party in key states ahead of this year's midterm elections that largely overlap with the 2024 presidential map.
According to Morning Consult Political Intelligence quarterly tracking in all 50 states, more voters now disapprove than approve of Biden's job performance in 40 states, following double-digit declines in his net approval rating — the share of voters who approve minus the share who disapprove — since he took office in January 2021.
Biden's Net Approval Rating Is Underwater in 40 States
Biden is underwater by double digits in 33 states, from conservative enclaves such as West Virginia and Wyoming, to battlegrounds that were pivotal to his 2020 victory, such as Arizona, Pennsylvania and Georgia.
In just 10 states and the District of Columbia do more voters approve than disapprove of Biden's job performance, though even those spreads have shrunk dramatically since the end of the first quarter of 2021. 
Even in Biden's home state of Delaware, which he won by nearly 20 percentage points in 2020 and where voters had previously elected him to seven terms as their senator, voters are closely divided over his job performance. Half of First State voters approve of Biden's job performance, down from 62% at a similar time last year, compared with 45% who disapprove, up from 32%.
If there's a silver lining for the president, it's that in most states, the pace of his decline slowed between the last quarter of 2021 and the first quarter of 2022. But that might not provide much solace for Democrats in key states in this year's elections, or for his party looking to place itself on good footing ahead of the 2024 presidential election.
Biden's standing in key states
Biden's net approval rating has dropped by more than 20 points over the past year in all of the states hosting hotly contested Senate races or competitive House races this fall that are also set to feature prominently in 2024.
Even in Colorado, which Biden won by nearly 14 points in 2020, more voters disapprove of him than approve, 49% to 47%. It's similar to his standing in Virginia, where his downturn among self-identified suburbanites helped hand Republican Glenn Youngkin the governorship
Voters of all stripes in key states have soured on Biden since he took office last year, but the attrition has been most severe among independents. Except for in Arizona and New Hampshire, the president has seen sharper declines among unaffiliated voters than any either partisan group.
The bleeding has been worst in Michigan, a state Biden won by less than 3 points in 2020, where his net approval rating has dropped by 38 points among independents — larger than the 33-point declines that have pulled him underwater with independents in Georgia and Minnesota. 
The age divide driving Biden's Democratic weakening
Across the country, Biden is weaker among Democratic voters than he was a year ago. In 22 states, the president's intraparty approval rating is at 80% or less, compared to just one — West Virginia — early on in his term. 
That decline has hit the Democratic Party's standard bearer especially hard in New Hampshire, where his approval rating has fallen from 93% to 78% among Democrats, and Colorado, where his backing dropped from 97% to 82%. 
Particularly in New Hampshire, where Democrats are working to hold Maggie Hassan's Senate seat, two congressional districts and take back the Governor's Mansion, Biden's base erosion is driven by the party's youngest voters, those under 45.
In the Granite State, Biden's approval rating among younger Democrats has dropped from 91% to 62%, compared with a 4-point decline among those 45 and up. A similar effect was observed, albeit to a smaller degree, in Minnesota, Pennsylvania, Michigan, Georgia, Wisconsin, North Carolina and Nevada. 
In Maine, Florida, Virginia, Arizona and Colorado, Biden's drop was more uniform across the age divide, though he remains more popular among older voters in all 13 states.
While older voters are traditionally more reliable to show up to the polls, the nosedive among young voters in these key states could spell trouble for the party's enthusiasm, as the surveys show the strength of Biden's Democratic support has declined significantly over the past year. 
In just one state, the Republican stronghold of Wyoming, do more than half of Democratic voters "strongly" approve of Biden's performance, compared to 47 states a year ago. The share of Democrats who strongly approve of Biden's job performance has dropped from 65% to 31% in New Hampshire, from 65% to 37% in Colorado and from 65% to 39% in Michigan.
More than 2 in 5 Democratic voters strongly back Biden in Arizona (44%), Virginia (44%), Florida (46%) and Georgia (48%) but each of those figures is down by roughly 20 points over the past year.
For Morning Consult's state-level survey data, weights are applied to each state separately based on age, gender, education, race, home ownership, marital status, presidential voting history and — for a subset of states — race by education as well as an age-by-gender interaction.
Margins of error for responses from all voters in each state range from 1 to 5 points. For more detailed information, you can download the 50-state dataset for Biden's approval ratings among all voters here.
Eli Yokley is Morning Consult's U.S. politics analyst. Prior to his current role, Eli was Morning Consult's senior reporter covering U.S. politics. Eli joined Morning Consult in 2016 from Roll Call, where he reported on House and Senate campaigns after five years of covering state-level politics in the Show Me State while studying at the University of Missouri in Columbia, including contributions to The New York Times, Politico and The Daily Beast. Follow him on Twitter @eyokley. Interested in connecting with Eli to discuss his analysis or for a media engagement or speaking opportunity? Email [email protected].
We want to hear from you. Reach out to this author or your Morning Consult team with any questions or comments.
Contact Us