Most Americans Still Say They Plan to Get an Updated COVID-19 Booster. But Willingness Is Waning
Meanwhile, over 2 in 5 vaccinated adults who haven't gotten an updated booster say a reason for holding out is that they do not see the point of another shot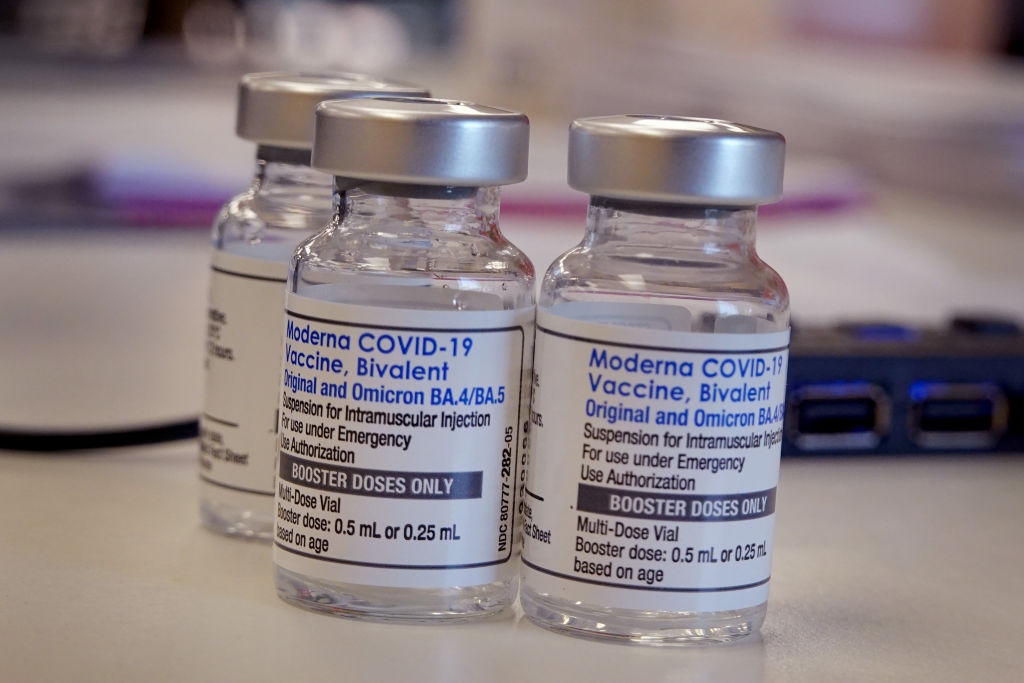 Key Takeaways
53% of U.S. adults plan to get a COVID-19 booster in the next year, including 70% of adults vaccinated against the coronavirus, both down 5 percentage points from a September survey.

47% of U.S. adults who have been vaccinated but did not receive a booster between September and November said that they will not get the updated bivalent COVID-19 booster.

About 125 respondents in the open-ended portion of the survey said that they did not have the time or were too busy to get the latest booster.
As the United States faces another potential winter surge of COVID-19 cases, a majority of Americans still say they plan to get a booster vaccine. However, the shares of those who say they're willing to get the updated shot has declined over the past two months, and many who have so far resisted to do so say they're unconcerned about the disease.
According to the new Morning Consult survey, 53% of U.S. adults say they will "definitely" or "probably" get a COVID-19 booster in the next year, down from 58% who said the same in a September survey. There is a similar drop in respondents' willingness to get an annual booster: 51% said they would "definitely" or "probably" get annual shots in the latest survey, down from 56%.
Among vaccinated adults who have so far skipped the bivalent booster targeting specific omicron variants, more than 2 in 5 said they didn't see a point in getting an additional vaccine, while a nearly equal share listed no longer being worried about COVID-19 as a major or minor reason for their resistance.
"People don't perceive COVID to be a problem anymore," said Dr. Rebecca Wurtz, an associate professor at the University of Minnesota's School of Public Health whose specializations include immunization barriers. "They perceive it to be just something we're all going to live with, and they're less concerned about serious infection, even as hundreds of people still die every day from it."
The Public's Willingness to Get COVID-19 Booster Shots Is Declining
The share of U.S. adults who said they would "definitely" or "probably" get a COVID-19 booster shot in the next year
Surveys conducted Sept. 8-10, 2022, and Nov. 9-15, 2022, among representative samples of 2,211 and 2,326 U.S. adults, respectively, with unweighted margins of error of +/-2 percentage points.
Bivalent booster rates significantly lag those of the primary series
The decline in willingness to get boosters comes as the United States heads into winter, when COVID-19 surges have occurred the past two years. The country is also currently dealing with rising cases of influenza and respiratory syncytial virus, which are filling up hospitals and could create a so-called tripledemic.
Studies have raised questions about the efficacy of the bivalent booster compared to previous versions, but White House health officials have continued to back the shots. A recent study from the Centers for Disease Control and Prevention showed that updated boosters provide slightly better protection from mild illness, but it remains unclear whether they provide improved protection from hospitalization or long-term illness.
Last week, the Department of Health and Human Services announced a six-week campaign to increase low bivalent booster rates, including new funding and publicity efforts.
As of Nov. 24, about 14% of people 18 and older have received the updated booster, compared to nearly 79% of the same population who received the primary series, according to data from the CDC.
Handful of Northeast States Have Highest Bivalent Booster Shot Rates
The share of residents 18 and older in each state who have received the primary COVID-19 vaccination series and the bivalent booster shot
The shading in the chart represents bivalent booster shot rates.
Centers for Disease Control and Prevention data as of Nov. 24, 2022.
Wurtz said low bivalent booster rates are not necessarily due to anti-vaxxers, but "people who are pro-vax and are done with it."
That sentiment may be reflected in the latest survey results. Among vaccinated adults who did not get a booster between September and November, 47% said they do not plan to get the bivalent booster and 26% said they would wait until 2023 or later.
Varied reasons for why vaccinated adults haven't gotten updated booster
For vaccinated adults who did not get a booster between September and November, safety and efficacy worries, lack of concern about getting COVID-19 and difficulty finding time to schedule an appointment were among the reasons cited — though no reason held a majority share.
Among this group, over 2 in 5 listed not seeing a point to get a booster in addition to other COVID-19 vaccines as a major or minor reason for skipping it, and a similar share said the same for no longer being worried about infection.
A similar sentiment can be seen in Morning Consult's tracker on the public's views of the pandemic, where just 10% of U.S. adults said in the latest update that they view COVID-19 as a "severe" health risk to their community.
Reasons for Low COVID-19 Bivalent Booster Shot Uptake Are Tough to Pinpoint
Respondents were asked to what extent each of the following were a reason they had not received an updated COVID-19 booster shot:
Survey conducted Nov. 9-15, 2022, among a sample of 972 U.S. adults who have been vaccinated against COVID-19 but haven't got an updated booster shot, with an unweighted margin of error of +/-3 percentage points. Figures may not add up to 100% due to rounding.
In the open-ended response portion of the survey, more than 125 people said they did not have the time or their schedules were too busy with work, school or family responsibilities to get the latest booster. Multiple people also specifically mentioned not having time to manage the side effects.
"I have been so busy with school, and I work," a millennial man wrote. "I cannot find the time to get it and have a day off in case of side effects."
Similarly, a Gen X woman wrote that she hasn't had the time to get the booster yet, and a millennial woman said that the vaccine should be prioritized, but scheduling and timing has been an issue as "work has been very busy."
Several respondents also wrote that they've had difficulty scheduling an appointment or had timing issues.
David Blumenthal, president of The Commonwealth Fund, said booster rates are not likely to match those of the primary series as COVID-19 vaccines.
"We're never gonna get to 70%, I don't think," he said, adding that 30% or 40% might be feasible.
Wurtz said strategies to increase booster uptake include more targeted advertising toward the elderly, the immunocompromised and the people who live in those households. However, this could also increase vaccine fatigue.
Blumenthal noted that targeting primary care practices to administer vaccines may help increase rates, as well as developing a vaccine that does not need to be administered every four to six months and better protects against infection. Messaging should also focus on the risks of long COVID rather than infection, he said, because illness can be mild.
Still, it may take another surge in COVID-19 cases or better communicating personal risks like long COVID to ultimately get vaccination rates up.
"People are risk averse when they perceive a real risk," Blumenthal said, "but the risk has to be palpable."
Ricky Zipp previously worked at Morning Consult as a health care analyst on the Industry Intelligence team.
We want to hear from you. Reach out to this author or your Morning Consult team with any questions or comments.
Contact Us