DeSantis Looks More Electable Than Trump Against Biden
But a contentious primary campaign could damage the popular Florida governor's standing among the overall electorate
At the outset of the 2024 contest, Florida Gov. Ron DeSantis looks to be more electable than former President Donald Trump in a hypothetical matchup against President Joe Biden, an advantage that appears to be driven in part because U.S. voters are less likely to have an opinion about him, according to Morning Consult Political Intelligence national tracking surveys.
It makes for a formidable starting point for DeSantis should he launch a campaign against Trump for the GOP's 2024 nomination. However, a nasty intraparty fight against Trump could hurt DeSantis' standing among the electorate, and his electability against Biden. 
DeSantis is less disliked than Biden and Trump
Among registered voters in each of the 10 states with the closest presidential margins in 2020, DeSantis' net favorability rating — the share with favorable minus unfavorable views — is higher than those of both Trump and Biden.
DeSantis Isn't as Unpopular as Biden or Trump in Key States
Share of voters in each state who hold favorable and unfavorable views of former President Donald Trump, Florida Gov. Ron DeSantis and President Joe Biden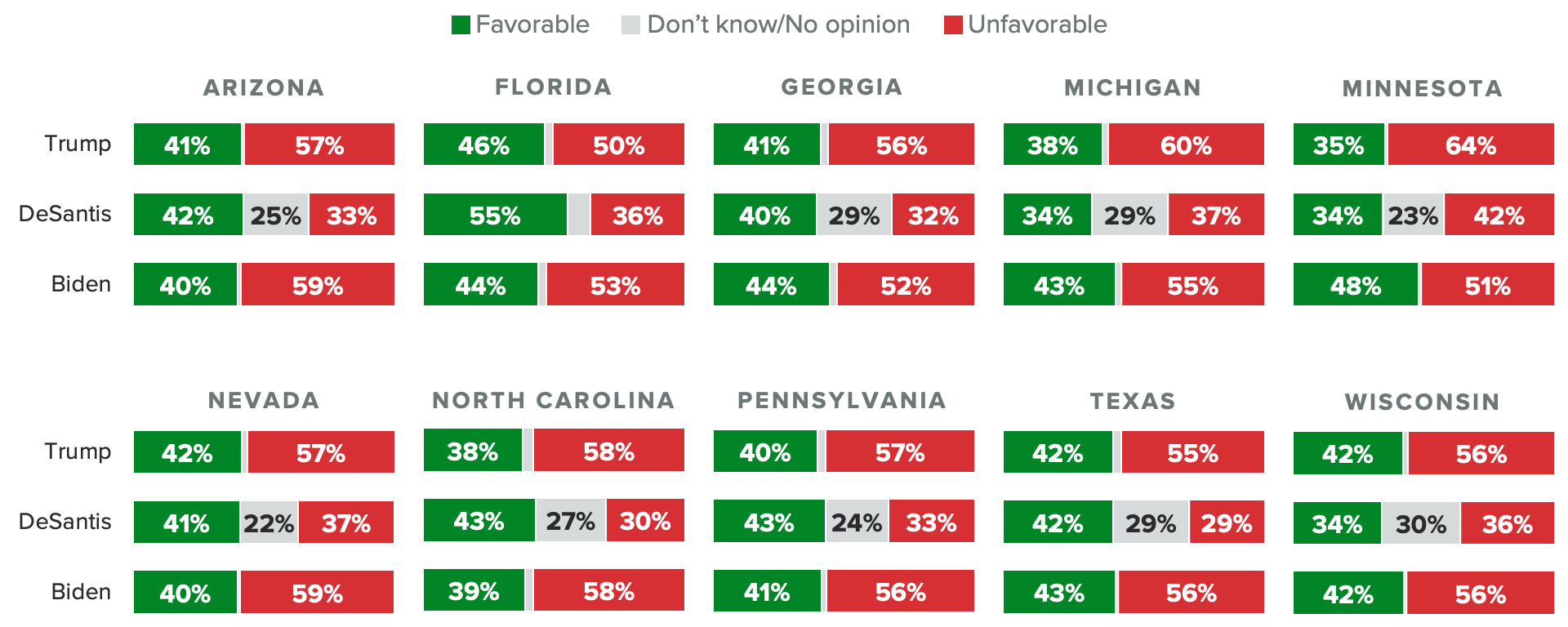 Surveys conducted Nov. 22, 2022, through Jan. 22, 2023, among representative samples of at least 222 registered voters in each state, with unweighted margins of error of +/-3 to 7 percentage points. Figures may not add up to 100% due to rounding.
Along with his home state of Florida, DeSantis gets his best marks in Texas, North Carolina and Pennsylvania — the latter of which pivotally flipped from Trump in 2016 to Biden in the 2020 elections. DeSantis also has double-digit net popularity advantages over Trump and Biden in Arizona, Georgia, Michigan and Wisconsin, all of which will feature prominently in next year's contest.
DeSantis' current popularity is boosted in part by a level of anonymity not enjoyed by the current or former president. In every state besides Florida, somewhere around a quarter of voters have either not heard of him or not formed opinions about him — similar to his standing nationwide, where he's seen only a modest boost in awareness since late November.
Share of voters who hold favorable and unfavorable views of former President Donald Trump, Florida Gov. Ron DeSantis and President Joe Biden
Surveys conducted among representative samples of roughly 2,000 registered voters each, with unweighted margins of error of +/-2 percentage points.
Among the national electorate, DeSantis' popularity has increased as more voters have formed opinions about him, Morning Consult surveys show. More than 2 in 5 voters (41%) held favorable views of DeSantis in a Feb. 4-5 survey, up from 37% in late November, while the share who view DeSantis unfavorably (35%) has gone unchanged over that period. Majorities, meanwhile, continue to view Trump (55%) and Biden (52%) in a negative light.
The same is true among independent voters, who are less likely to hold unfavorable views of  DeSantis than Trump or Biden, though Biden has a higher favorability rating among independents than his two potential Republican rivals, at 39%. Still, that figure is weak: 10% of independents hold a "very favorable" view of Biden compared with 15% for Trump and 19% for DeSantis. 
Beyond his favorability ratings, DeSantis has consistently performed better against Trump in national head-to-head surveys against Biden, driven by a number of slight advantages that could prove decisive next year — should he emerge from an expectedly combative primary with his relative popularity intact. 
DeSantis Performs Better Than Trump Against Biden Among Most Key Groups
The potential nominees' margin against President Joe Biden in a hypothetical contest
Survey conducted Feb. 3-5, 2023, among a representative sample of roughly 6,000 registered voters, with an unweighted margin of error of +/-1 percentage point.
For example, DeSantis performs better against Biden than Trump among older voters — an important constituency in the GOP's coalition. While Trump does better than DeSantis against the White House incumbent among Black voters, DeSantis does better with white voters, most notably those with a college education. Those are the type of voters who have been especially averse to the former president's political brand, fleeing the GOP in recent cycles. 
DeSantis also performs better against Trump among Biden's 2020 voters and has a larger advantage than Trump among people who voted for a Republican candidate in the 2022 midterm elections — suggesting energy among core base voters who were willing to show up in an off-year election.
The challenges DeSantis faces
In the eyes of several prominent Republican strategists, all of whom agreed to speak on the condition of anonymity to speak candidly about the party's uncertain 2024 field, the lasting power of DeSantis' superior standing against Biden is far from certain.
One Trump-aligned Republican consultant said a major challenge for DeSantis is the narrow political lane in which he currently finds himself, given voters' still significant levels of uncertainty about him should he launch a presidential bid after Florida's Legislature concludes its session this spring.
While much has been made of DeSantis' crusade against critical race theory and attacks on "woke" culture, he's been boosted in the broader electorate by the kinds of groups that may be averse to that pugnacious style — such as college-educated white voters, moderates and people who voted for Biden in 2020. 
All of that will be litigated on the campaign trail, the Trump-aligned strategist said, along with DeSantis' past posture toward free trade, which could weaken his standing with working-class white voters, or his current aversion to talking about Ukraine, which could hurt him with the right. There's also the issue of Social Security and Medicare, programs that Trump and Biden have urged the GOP to protect — and that DeSantis has supported privatizing, which could hurt him with older voters.
Others believe that the mere fact that he has some cross-ideological appeal could prove ironically problematic in a GOP primary. One Republican strategist with deep knowledge of the Florida electorate said the electability case could cause the party's base to see him — as Trump recently described him —as an establishment "RINO" (Republican in name only) and to shirk lessons about candidate quality and electability from the GOP's underperformance in recent election cycles. 
If that's the downside for DeSantis, the upside is this: His electability argument is helpful with major Republican donors, according to a veteran GOP presidential campaign strategist not yet involved in the 2024 contest. That could help DeSantis limit the size of the candidate field — his clearest pathway toward the party's nomination — especially given his strength with small-dollar donors who have been recently trending less generous.  
That still doesn't account for Trump, who has already raised salacious claims about the Florida governor's past and is getting the keys back to his money-raising platform on Facebook.
In the eyes of the strategist in Trump's orbit, DeSantis should worry that the former president — who claims to have been instrumental in building his political rise — will try to drag him down with him if he falls next year.
Eli Yokley is Morning Consult's U.S. politics analyst. Eli joined Morning Consult in 2016 from Roll Call, where he reported on House and Senate campaigns after five years of covering state-level politics in the Show Me State while studying at the University of Missouri in Columbia, including contributions to The New York Times, Politico and The Daily Beast. Follow him on Twitter @eyokley. Interested in connecting with Eli to discuss his analysis or for a media engagement or speaking opportunity? Email [email protected].
We want to hear from you. Reach out to this author or your Morning Consult team with any questions or comments.
Contact Us