Half of Google Home Device Owners Keen on Purchasing Apple's HomePod, Poll Shows
More than 4 in 10 Amazon Echo owners are also interested in buying the latest smart speaker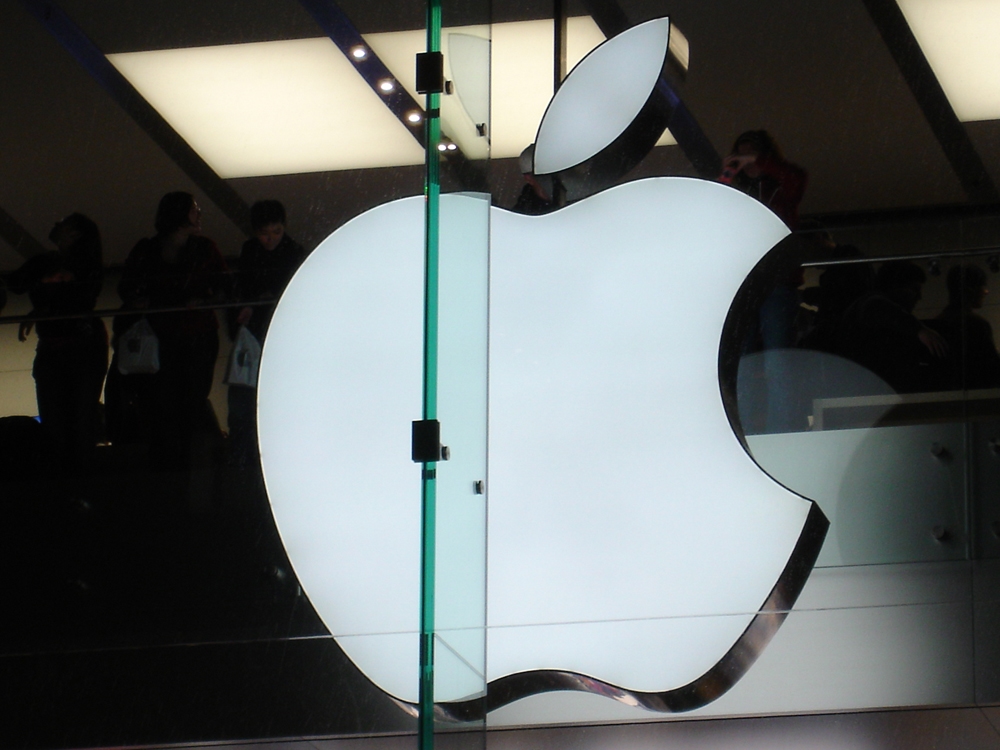 Key Takeaways
50 percent of consumers who own Google Home expressed interest in purchasing a HomePod, as did 42 percent of Amazon Echo owners.

39 percent of Mac owners, 32 percent of iPad owners and 28 percent of iPhone owners said they're likely to purchase a HomePod.
As Apple Inc. gets ready for the Friday release of its first smart speaker, the HomePod, consumer interest is highest among people who already have a voice assistant, with half of Google Home device owners saying they're likely to buy Apple's latest product, according to a new poll.
A nationwide survey by Morning Consult, conducted Feb. 1-4 among 2,201 U.S. adults, found that 50 percent of consumers who have Google Home devices said they were likely to purchase the HomePod in the next six months, a sentiment echoed by 42 percent of Amazon Echo owners and 50 percent of people who own other kinds of smart speakers. The poll has a margin of error of plus or minus 2 percentage points.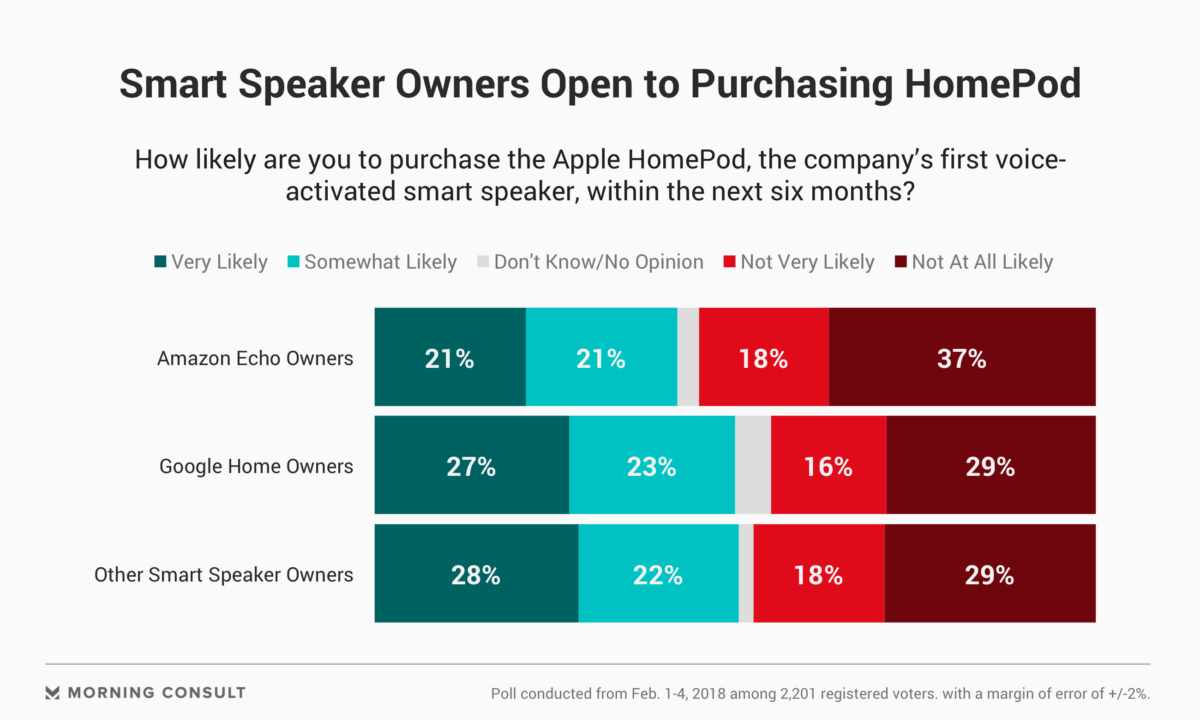 Apple will likely face an uphill battle against Amazon.com Inc. and Google Inc. in the smart speaker realm: A December analysis by Strategy Analytics Inc. found that Amazon controlled approximately 67 percent of the global market for the devices in the third quarter of last year, while Google controlled roughly 25 percent.
Smart speakers are wireless devices with built-in voice control operations that can be used to play a song or act as a personal home assistant. Amazon and Google's smart speaker products have already been on the market for some time -- the Amazon Echo first went on sale in November 2014, followed two years later by Google Home.
Apple announced the HomePod in June but delayed its planned December launch.
"We needed a little more time before it was ready for our customers," Todd Wilder, an Apple spokesman, said in a Thursday email. "We're so excited that it's ready now."
Thirty-nine percent of Mac owners in the Morning Consult poll said they were likely to purchase the HomePod, while 32 percent of iPad owners and 28 percent of iPhone owners said the same.
Shortly after Apple introduced the HomePod, 45 percent of the company's customers expressed an interest in buying the product, while another 45 percent said they weren't interested, according to a Morning Consult poll conducted in June.
Gene Munster, managing partner at Loup Ventures and a longtime Apple analyst, said the initial HomePod device is unlikely to be a mainstream product -- but he noted there is "favorable interest," especially among consumers who already own an Apple device.
"Back in the iPad days, interest was much higher — around 70 percent of Apple owners," Munster said in a Monday phone interview. "So this is no iPad, but the level of interest in buying the Apple Watch is probably more similar to what we're seeing here. So the last two big product categories they had were the watch and the iPad, and I would put this more or less in line with the interest level of the watch."
Overall, 17 percent of respondents in the most recent survey said they're likely to purchase the HomePod within the next six months.
Mike Levin, co-founder of Consumer Intelligence Research Partners, said in a Monday email that cost concerns might prevent some consumers from purchasing the HomePod, which is slated to cost $349.
"Sure, there are tens of millions of potential users that Apple can seek out," Levin said. "Whether they'll buy the expensive speaker remains to be seen, so that's their challenge."
The latest version of the Amazon Echo is available for $84.99, and Google Home currently costs $99. Both Amazon and Google offer cheaper models of their home devices, and Apple hasn't announced any plans to do the same.
The Apple HomePod, which has been available for pre-order since Jan. 26, is set to be released in the United States, the United Kingdom and Australia on Friday.
Edward Graham previously worked at Morning Consult as a reporter covering tech.
We want to hear from you. Reach out to this author or your Morning Consult team with any questions or comments.
Contact Us