Many Americans Want Talks With Iran, Even if a Deal Won't Stop the Bomb
Americans are concerned about Iranian nuclear weapons and are open to lifting sanctions to kick-start negotiations, but a sharp partisan divide makes reaching an accord complex
Key Takeaways
77% of U.S. voters are concerned Iran will manufacture nuclear weapons and a plurality support dropping sanctions to resume talks, even if more are skeptical that a deal would preclude the Islamic republic from going nuclear.

Opinions on the deal are swayed heavily by framing: 56% support the 2015 agreement, though partisan gaps widen over the question of whether Trump was right to withdraw from the deal, with 67% of Republicans supporting the withdrawal and 65% of Democrats opposing it. 

In Iran, President Ebrahim Raisi's administration seeks a better deal than his predecessors attained in 2015 to maintain political credibility at home, making concessions harder.
Most American voters still support the 2015 Iran nuclear deal and believe sanctions should be eased on Tehran if it triggers resumed talks, according to new Morning Consult polling — even as a slim majority said a new deal may not prevent Iran developing a nuclear weapon.
However, President Joe Biden's window of opportunity to act is shrinking as midterm elections approach and former President Donald Trump's shadow looms large, with voters split sharply along party lines over his 2018 decision to withdraw from the Obama-era deal. 
After Trump pulled out, opponents of former President Hassan Rouhani criticized his administration for putting Iran's security at risk without securing sufficient guarantees. Those critics are now in power, and they are sticking to their demands for better terms for Iran than the 2015 accord, even as domestic political concerns also stymie concessions from Washington. 
In a vacuum, the Iran deal is popular, but partisanship makes it hard to restore
The Dec. 28-29 survey shows broad support for the 2015 Iran deal. However, framing matters greatly on the topic: While GOP voters are roughly split over the agreement in principle, they overwhelmingly back Trump's unilateral decision to withdraw from the Obama-era deal less than three years after it was inked.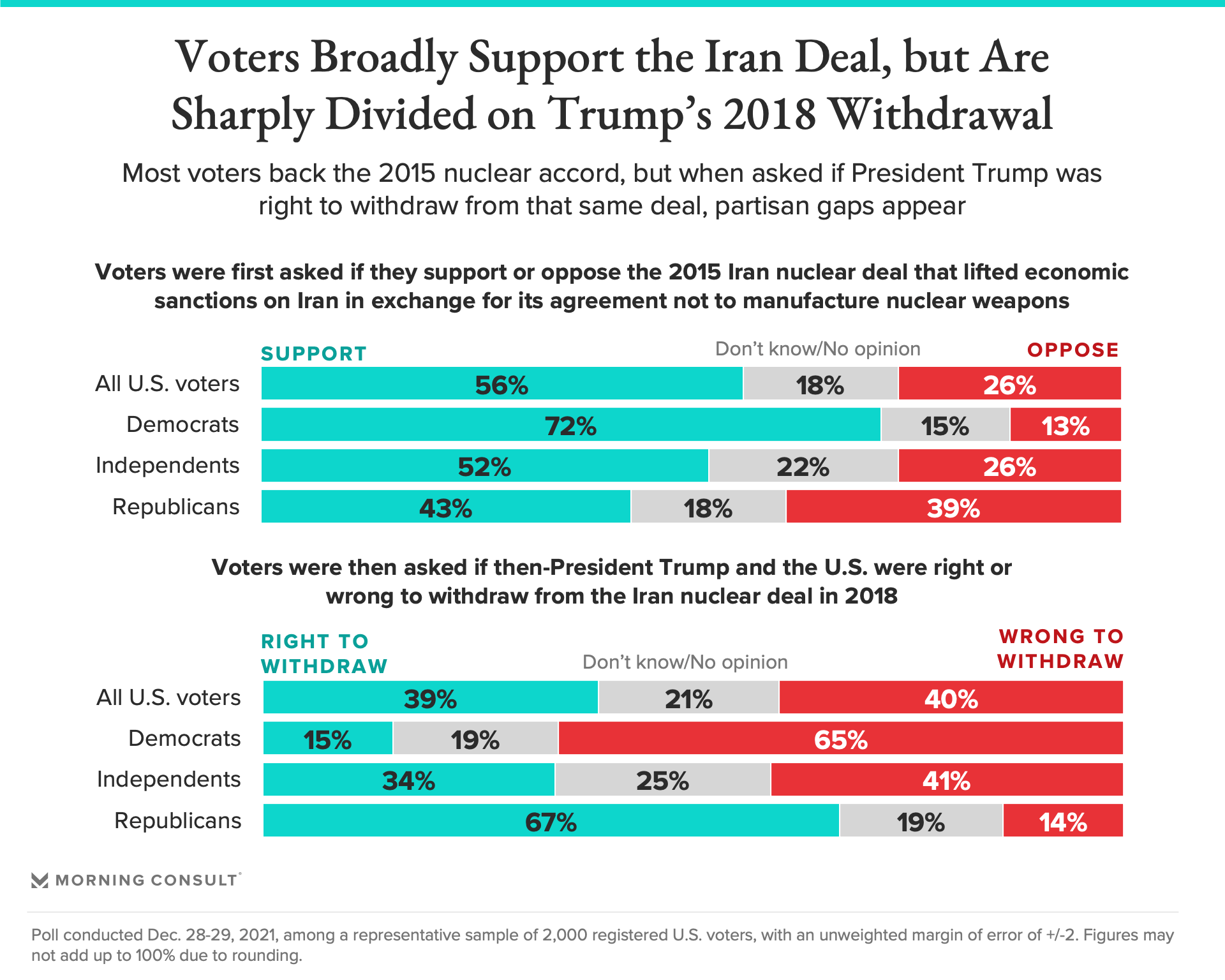 Trita Parsi, the executive vice president of the Quincy Institute for Responsible Statecraft, said Biden may have missed a trick by not easing sanctions and trying to rejoin the deal through an executive order in the opening days of his term. Rejoining would have given Washington increased credibility — and leverage in the form of potential snapback sanctions, he said. 
"Biden's strategy has led to eight rounds of inconclusive negotiations and continued development of the Iranian nuclear program up to 60 percent enrichment," Parsi said, adding that a tentative approach allowed the potential political costs of rapprochement to snowball. 
"They are now much higher than they would have been on day one," he said.
A senior administration official responded by saying the United States has only been able to engage in negotiations at all thanks to the Biden administration's efforts to unify the other parties to the 2015 accord. The official also blamed Trump's withdrawal for setting Iran on its current provocative trajectory – one that has made negotiations all the more difficult in the first place.
Reuel Marc Gerecht, a senior fellow at the Foundation for Defense of Democracies, said few in Washington had the appetite to relitigate the Iran issue now.
"Democrats are fully prepared to let Iran go nuclear. I suspect most Republicans are too," he said. 
While that may well be the reality on Capitol Hill, the poll suggests the U.S. electorate feels differently. 
Half of U.S. Voters Are Very Concerned About Iran Developing Nuclear Weapons
Voters were asked to what extent they are concerned about the following countries manufacturing nuclear weapons:
Poll conducted Dec. 28-29, 2021, among a representative sample of 2,000 registered U.S. voters, with an unweighted margin of error of +/-2. Figures may not add up to 100% due to rounding.
Nearly 4 in 5 U.S. voters said they were concerned Iran will manufacture nuclear weapons, with only North Korea and China drawing a greater share of worry.
Despite those concerns, an exerted effort for an Iran deal, especially, would make little sense for the Biden administration, according to Vali Nasr, a professor of Middle East studies and international affairs at the School of Advanced International Studies. 
As this year's midterm elections approach, any political capital spent on Iran would be diverted from important but flagging domestic priorities like the president's Build Back Better plan. In the end, Nasr said, "a good politician will choose what is least politically costly, even though it's bad foreign policy."
Alex Vatanka, director of the Iran program at the Middle East Institute, said the partisan divide and coming U.S. election timeline  made it difficult for Iranian officials to put much faith in any olive branches extended by American officials.
"What happens in three years if there's a new president? What happens if Democrats lose the midterm elections? What does that mean for relying on any agreement made with Joe Biden?" he said.
Tough talk in Tehran trips up progress
In Iran, the Raisi administration's credibility appears equally threatened unless it can secure a deal that does more to protect Iran against perceived American unreliability.
"The Raisi administration's coming in with a much more tough, menacing posture and will be much slower in implementation," Nasr said. 
Tehran believed the previous government had been too quick to scrap nuclear enrichment, so Trump had little to lose by withdrawing from the deal in 2018, he explained. 
But there also remains Supreme Leader Ayatollah Ali Khamenei, with whom true power in Iran lies, and the Revolutionary Guard Corps. They are more insulated from day-to-day concerns and could offer an opening for progress under the right circumstances, Vatanka said.
"They don't run for office. They don't answer to anyone. And they don't have a better alternative than a diplomatic resolution to the nuclear issue," he said.
Americans want a deal, but aren't convinced it will work
Yet talks in Vienna have been hampered by Tehran's refusal to meet directly with U.S. representatives. Morning Consult polling shows Americans would be willing for the government to lift sanctions on Iran if that was a condition for resumed talks.
Only 1 in 3 voters, though, said they thought a return to the 2015 deal would prevent Iran from gaining nuclear weapons, if it were successfully negotiated. 
Gerecht said it was fair for voters to question that part of the deal, noting that the former head of Iran's atomic energy organization had sold the agreement at home by claiming it would allow Tehran to continue developing nuclear technology without giving much up.
"He was not engaging in any type of braggadocio; I think he was being analytically correct," Gerecht said. 
If talks in Vienna fail, what comes next?
Two in 3 voters in the  Morning Consult survey also said they would support increased economic sanctions against Iran should the talks in Vienna fail, even as some experts dismissed their value.
Americans Back Diplomacy, Sanctions Over Military Action to Prevent Iran From Gaining Nuclear Weapons
Voters were asked to what extent they would support or oppose the following approaches aimed at preventing Iran from manufacturing a nuclear weapon if negotiations to reinstate the Iran nuclear deal prove unsuccessful:
Poll conducted Dec. 28-29, 2021, among a representative sample of 2,000 registered U.S. voters, with an unweighted margin of error of +/-2. Figures may not add up to 100% due to rounding.
"By this point, doubling down on enforcement of existing sanctions will have a marginal economic impact on Iran, whereas the Iranians still have plenty of head space for escalation in the nuclear realm," said Ali Vaez, director of the Iran Project at the International Crisis Group.
Gerecht said the impact of sanctions was limited because Tehran did not see popular uprisings as an existential threat, "as long as the regime's henchmen are willing to kill their own citizenry" instead of changing policy.
Military intervention was the least popular option among voters in Morning Consult's polling.
"War itself is no longer credible," Nasr said. "After Iraq and the hemorrhaging that the U.S. took, the cost is too high for the Iranians to believe Washington would invade." 
Still, he said it may never even get that far.
"Iran is building its nuclear capability in order to get the United States to the negotiating table and they don't need a bomb if the U.S. is worked up about Iran being at 60 percent uranium enrichment," Nasr said.
Matthew Kendrick previously worked at Morning Consult as a data reporter covering geopolitics and foreign affairs.
We want to hear from you. Reach out to this author or your Morning Consult team with any questions or comments.
Contact Us