Few Politicians Have Appeared on Joe Rogan's Podcast. But Data Shows They Should Be Targeting His Fans
Morning Consult research reveals the demographic profile of avid Rogan fans
Key Takeaways
7 in 10 avid Rogan fans are men, and a similar share are under the age of 45.

Rogan fans lean heavily Republican, but almost half didn't vote for Donald Trump in 2020.

A quarter of Rogan fans are Hispanic, while 64% are white.
Politicians, especially Democrats, have largely eschewed appearances on Joe Rogan's chart-topping Spotify podcast, where the elevation of bigoted rhetoric and COVID-19 denialism has thrust him into the center of America's cultural and political fissures.
But despite these controversies — or perhaps because of them — the Ultimate Fighting Championship commentator has amassed an enormous and loyal audience for his show, "The Joe Rogan Experience." New Morning Consult research of self-described "avid" Rogan fans reveals a following that leans Republican, though many say the cohort could also be receptive to a Democratic message.
"If the Democrats aren't going to go to working-class voters, Republicans will, and they do, and that's what happens on a lot of these types of shows," said Briahna Joy Gray, who worked as national press secretary for Vermont Sen. Bernie Sanders' 2020 presidential campaign. Referring to the left's comfort with the personalities of the safe Democratic airwaves of MSNBC, she said, "America isn't filled with Michael Steeles, Rachel Maddows or Nicolle Wallaces." 
The profile of the Rogan fan
To build Rogan's fan profile, Morning Consult surveys in February asked 4,420 U.S. adults if they considered themselves to be an avid fan of Rogan, a casual fan or not a fan. About 1 in 10 Americans described themselves as avid fans, while just over 2 in 10 said they were casual fans and nearly 7 in 10 said they were not fans at all. 
An analysis of Americans who described themselves as avid Rogan fans found a group whose average member is younger, more likely to identify as Republican and less likely to be white than the average nonfan.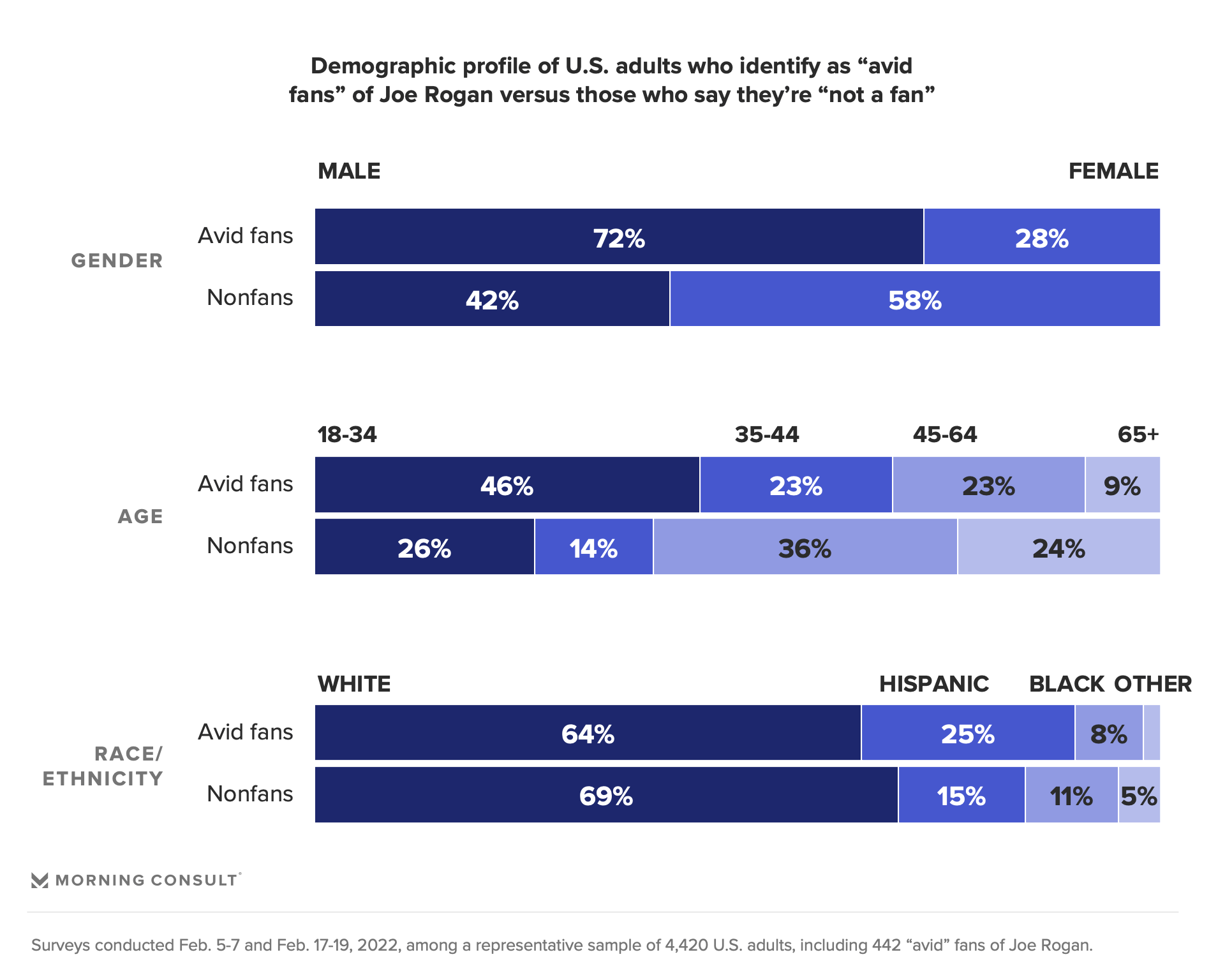 More than 7 in 10 avid Rogan fans are men, and a similar share are under the age of 45. About half of avid Rogan fans identify as Republican, and even more describe themselves as conservative. There are small differences between the average avid Rogan fan and nonfan when it comes to household income, though nearly 7 in 10 adults in both groups have no college education. 
The avid Rogan fan is far less likely than a nonfan to say they live in America's suburbs, and are also slightly less likely to be white, driven by higher levels of fandom among Hispanic adults.
Tim Miller, who ran communications for former Florida Gov. Jeb Bush's 2016 presidential campaign, said the group is "the very demographic Democrats need to be worried about," noting concerns about maintaining the level of support President Joe Biden received in 2020 with "white men with heterodox political views" and stopping attrition from voters of color, especially Hispanics.
Citing Barstool Sports, Dave Portnoy's digital media company, as an example of a similar audience, he said, "If the only thing they're getting is cultural commentary from the right, is it a surprise they're turning toward the right? I don't think so."
But getting Democrats to engage may be easier said than done. 
Blowback from the left
According to JRE Library, a website that chronicles guest appearances on Rogan's podcast, politicians have been the featured interview on just 11 of his nearly 1,800 episodes, including three appearances by former Democratic Rep. Tulsi Gabbard of Hawaii, two by Republican Rep. Dan Crenshaw of Texas and one each by Sanders and Democratic presidential candidate Andrew Yang ahead of the 2020 presidential primary.
At the time, Yang's campaign manager credited his appearance on Rogan's show for generating the level of attention and money that landed the long shot on the presidential debate stage — a sign of the value in talking to Rogan's massive audience. In Sanders' interview, he answered Rogan's conversational questions about universal health care and the influence of money in politics, praising the longform medium's "opportunity to talk about an agenda in more than 12 seconds" in contrast to debates or the traditional television interview.
But those ventures were not without controversy: Sanders drew criticism from liberal groups for later touting an endorsement from a host who had made derogatory comments about transgender and Black people on air – and that was before video of him saying the N-word 24 times on his show was unearthed earlier this year.
"It's one thing for Joe Rogan to endorse a candidate," the liberal activist group MoveOn said on Twitter in January 2020. "It's another for @BernieSanders' campaign to produce a video bolstering the endorsement of someone known for promoting transphobia, homophobia, Islamophobia, racism and misogyny." 
Asked about the backlash, Gray said Sanders' campaign may have been strategically wrong to produce a video promoting Rogan's statement that he'd vote for Sanders, given the perceptions it fueled. But she noted that the Vermonter wasn't alone in the 2020 field in attempting to reach the celebrity's audience. 
"Every presidential candidate was begging to go on," she said. "This idea that they're high and mighty — everybody wants to go on his show." 
A representative of Rogan did not respond to questions for this story.
What politicians could gain from going on Rogan's show
Rogan has continued to make contentious and insensitive comments about transgender people, and his latest controversy centers on his elevation of and sympathetic questions to vaccine skeptics, prompting online outrage that he was leading his audience down an anti-science path. While it's true that avid Rogan fans are less likely than nonfans to have received COVID-19 vaccines, the survey found that the majority of them (55 percent) have received their shots.
No White House official has been dispatched to rebuff such talk in Rogan's studio in Austin, Texas, but he did give time to CNN's on-air COVID-19 expert, Dr. Sanjay Gupta, for a discussion. Despite the (mostly) online opprobrium, those on the left who haven't shunned Rogan see an opportunity in such debates.
Former state Sen. Bakari Sellers (D-S.C.) said the kinds of questions Rogan poses on his show are "almost like the comments section" of a website, and aren't all that different from the things on the mind of the average voter whom both parties — and especially Democrats — need to bring into the process. 
"It is a part of the electorate that you can build from, that would appreciate you talking to them and that you have to treat with respect," he said, urging his party to engage with Rogan and find a "balance between the nonsense and being able to educate."
To participate in a show like Rogan's requires confidence in one's position, said Gray, now a co-host of the podcast Bad Faith. In this, she sees a challenge for the left: Many on that side of the aisle "know there's a right position that they're eager to take even without understanding why it is," leaving them ill-prepared for deep discussions.
Miller, who now writes for The Bulwark, a center-right and anti-Donald Trump publication, said Rogan is far from a "partisan hack" like the conservative media personalities shunned by many Democrats. Because of that, he sees an opening for Democrats to communicate with the 48 percent of Rogan's avid fans who did not vote for Trump in 2020. 
"I don't know that everybody is capable of going on, but if you're a Democrat that's capable of defending your position — who believes in vaccines and trans rights — go on Joe Rogan and say that. Many Joe Rogan listeners are vaccinated; I'm sure many believe in trans rights," he said. "It's not like going on with neo-Nazis."
Eli Yokley is Morning Consult's U.S. politics analyst. Prior to his current role, Eli was Morning Consult's senior reporter covering U.S. politics. Eli joined Morning Consult in 2016 from Roll Call, where he reported on House and Senate campaigns after five years of covering state-level politics in the Show Me State while studying at the University of Missouri in Columbia, including contributions to The New York Times, Politico and The Daily Beast. Follow him on Twitter @eyokley. Interested in connecting with Eli to discuss his analysis or for a media engagement or speaking opportunity? Email [email protected].
We want to hear from you. Reach out to this author or your Morning Consult team with any questions or comments.
Contact Us