Millennials Were Already Putting Off Having Children. Then the Pandemic Hit.
17% of millennials without children said they would delay starting a family because of the COVID-19 crisis
Key Takeaways
15% of millennials say they are less interested in having children because of the coronavirus pandemic.

Nearly 3 in 5 childless millennials say a reason they don't have kids because it is too expensive to raise them.

A little more than half of childless millennials say a reason they don't have children is that they want to focus on their career.
A new series from Morning Consult takes a deeper look at how the coronavirus pandemic could permanently alter millennials' behavior and how, in turn, that could impact the economy at large. The data is drawn from a poll of 4,400 adults, including 1,287 millennials.
Still struggling from the 2008 financial crisis, millennials have delayed major life milestones, such as having children. 
Now, hit by the coronavirus and yet another economic crisis, a significant share of this generation is less inclined to start a family, underlining fears among some economists of a baby bust that could have far-reaching consequences for the economy. 
According to a new Morning Consult survey, 17 percent of 572 millennials (those ages 24 to 39) who don't have children said they would further delay having them because of the pandemic, and 15 percent said they are less interested in having children at all because of COVID-19. Only 7 percent of this group said they are more interested in having children due to the pandemic. 
"That's a very dramatic change in behavior," said Dr. Phillip Levine, a professor of economics at Wellesley College and former senior economist at the White House Council of Economic Advisers who studies the economics of fertility. "All these things are foreshadowing what we might expect to see happen in a few months, when we see the first of the children conceived during the pandemic start being born." 
The poll surveyed 4,400 adults from Sept. 8-10 and has a margin of error of 1 percentage point. Childless adults in the survey totaled 2,201 people with a 2 percentage point margin of error, and the margin of error for the childless millennials subsample is 4 points.
Dr. Hannes Schwandt, an economics professor at Northwestern University who researches economic shocks and fertility, said, "The very unromantic part of fertility is that it's really largely driven by economics. For women who face recessions in their early 20s, we see persistent effects that mostly grow over time. With millennials, this pandemic is definitely not good news."
For many millennials, especially older ones, this pandemic means that the baby bust is looking less like a blip and more like a permanent trend.
"The economic harm that's done to workers because of a recession tends to be long lasting," Levine said. "It could be a substantial period of time before workers laid off could find a new job, and that new job is likely to be at a substantially lower wage than your old job. It takes people years to recover; this isn't something we're going to get out of relatively quickly." 
This period of economic upheaval is bad for everyone, but especially for those starting a family, Schwandt said. Millennial working women who are of childbearing age are most affected this time around, he said, with child care responsibilities shifting from school to home, and many professions that hire large numbers of women, such as hospitality, travel and education, being among the highest impacted. 
"At the same time, women are taking over more of the child care work and withdrawing more from the labor market," he said. "It's the perfect setup for fertility to take a double dip downward." 
And with women taking on the heavier burden of child care during the pandemic, it's a greater long-term opportunity cost for them to leave the workforce and try to re-enter it while the future of the labor market is so uncertain. 
"We know that women make fertility decisions based on economic opportunities," said Dr. Kate Bahn, director of labor market policy at the Washington Center for Equitable Growth. "If you take two years off to have your child, it's not just two years of lost wages, and women know that." 
These trends are reflected in the survey, which suggests that millennials are putting off having families because of financial matters, rather than eschewing parenthood all together.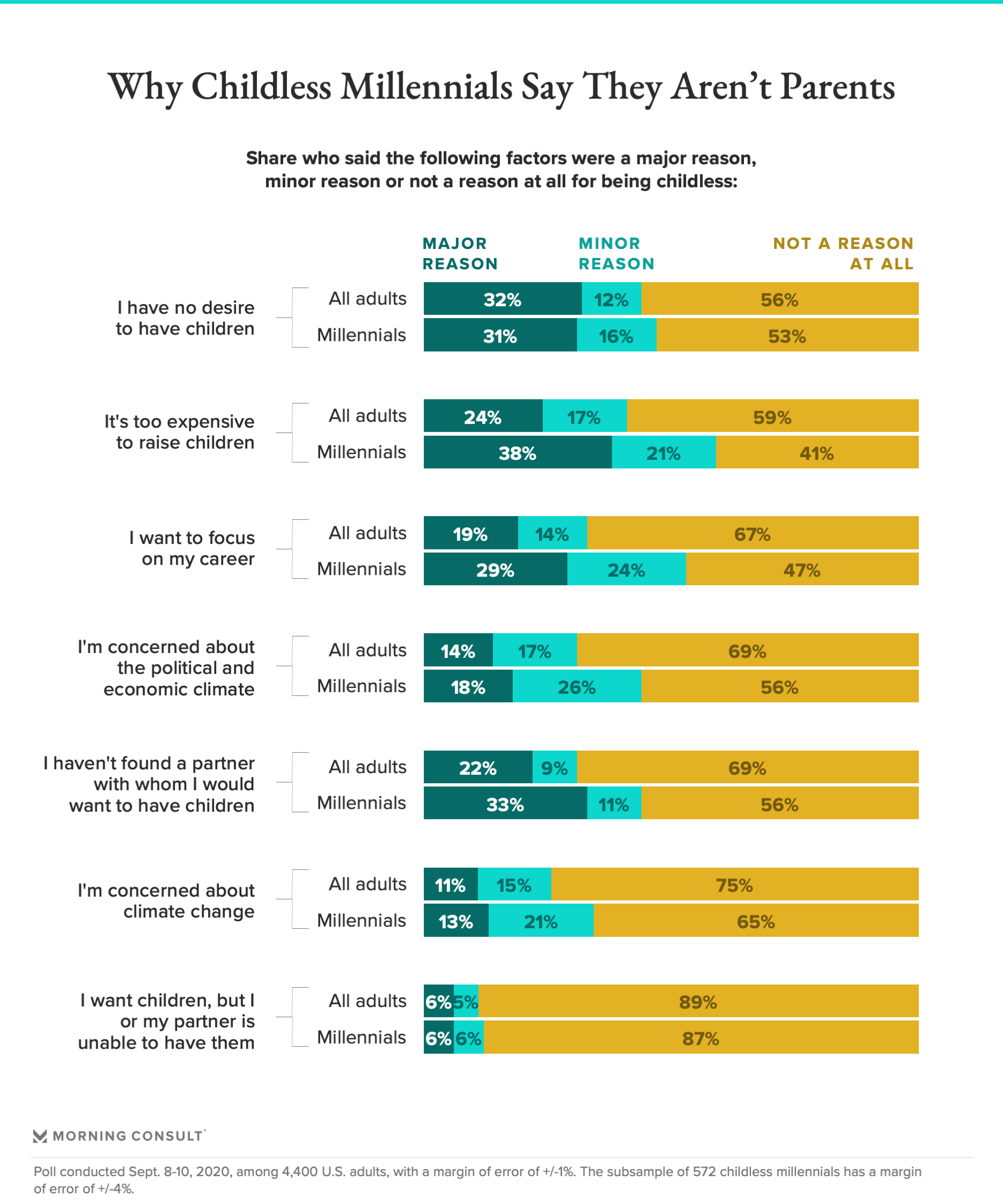 Millennials, along with Gen Z, are more likely than the general population to cite cost as a major reason for not having children. Thirty-eight percent of millennials said a "major reason" they don't have children is because it is too expensive to raise them, and 21 percent said it's a "minor reason." Among all childless adults, 24 percent said it was a major reason and 17 percent said it's a minor one. 
Among Gen Z, 35 percent cited the cost of raising children as a major reason they don't have any, and 29 percent said it was a minor reason, both within the margin of error of the childless millennial subsample. 
That drops off sharply with Gen Xers and baby boomers, with 22 percent of Gen Xers saying it's a major reason and 16 percent saying it's a minor one. Childless baby boomers were the least likely to cite the cost of child-rearing, with 12 percent saying it's a major reason and 10 percent saying it's a minor one. 
Second, childless millennials cited a desire to focus on their careers, with 29 percent saying that was a major reason they don't have children and 24 percent saying it was a minor one. Nineteen percent of childless adults overall said it was a major reason and 14 percent said it was a minor reason.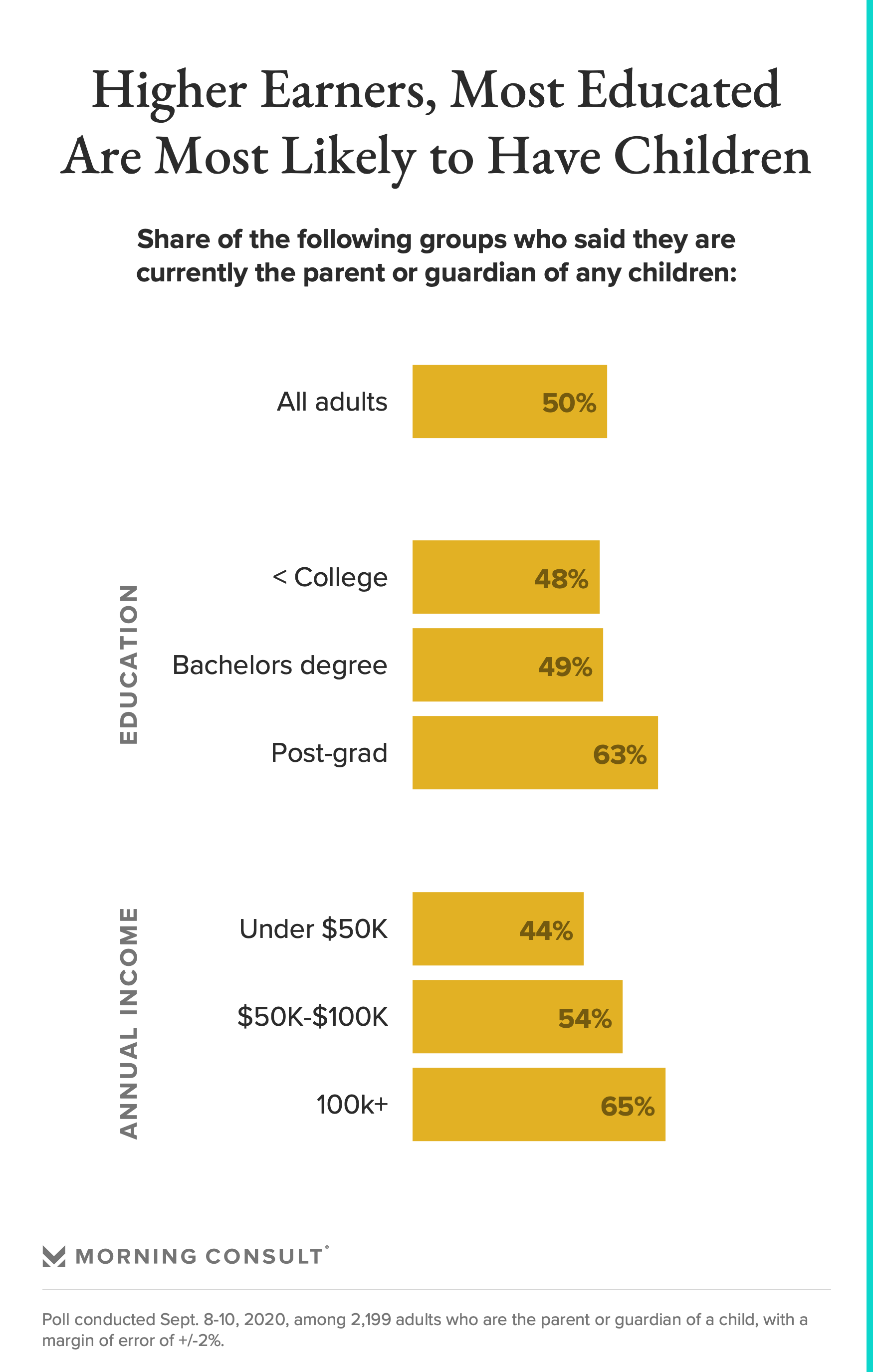 Millennials and Gen X adults without children were the most likely generations to choose "I have no desire to have children" as a major or minor reason they don't have any, at 47 percent and 49 percent, respectively. Forty-four percent of adults overall said the same. 
That largely tracks with existing economic research, Bahn said, where historically, fertility is closely tied to economic prosperity. Parenthood is right now something that is disproportionately experienced by the more economically stable, according to the Morning Consult poll. 
Of those who earn more than $100,000 a year, 65 percent said they are parents, compared with 44 percent of those who earn less than $50,000 a year. 
Half of adults in the survey said they are the parent or guardian of at least one child, including 63 percent with a postgraduate degree. Of those who do not have a college degree, 48 percent said they are parents. 
An important point to remember: It's not yet been nine months since the start of the coronavirus pandemic. So while economists are looking forward at that nine-month mark and beyond, most of what they have to go on are historical trends and general attitudes about childbearing. 

"It'll be interesting to look back one to two years from now and see," Bahn said. 
Claire Williams previously worked at Morning Consult as a reporter covering finances.
We want to hear from you. Reach out to this author or your Morning Consult team with any questions or comments.
Contact Us