Nigerian Emigration Challenges Underscored by Contested Election
Pervasive corruption, economic mismanagement and fragile democratic institutions are driving many Nigerians abroad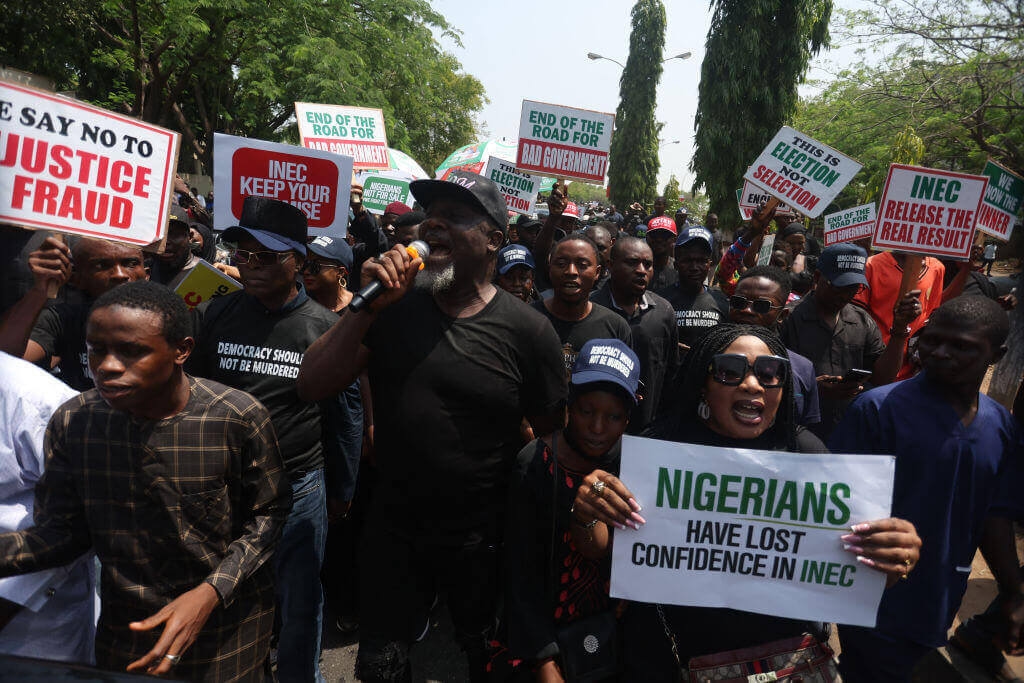 Nigerians are among the most pessimistic about their prospects and see corruption as rampant in their country, according to Morning Consult surveys in 16 countries across six continents, an outlook that is reflected by the outcome of last month's presidential election, which was marred with irregularities and violence.
With a median age of just 18 years, Nigeria's population is almost as young as its democracy, but just over half of Nigerian adults in the survey — and nearly 3 in 5 under the age of 25 — said they would not want to see their own young children grow up in their country. (The survey, which was conducted online and in English, is only representative of the country's English-speaking population with internet access.) Experts blame endemic corruption, rising violence and narrowing opportunities for fueling widespread pessimism among these Nigerians, and a desire for them to seek a better life abroad.
Nigerians Among Least Likely to View Their Country as Desirable for Young Children
Share of respondents in each country who disagreed that "if I were a parent with young children, I would want them to grow up in this country"
Surveys conducted Feb. 22-March 3, 2023, among a representative sample of at least 1,000 adults in each country, with an unweighted margin of error of +/-3 percentage points.
As Nigerian election strife continues, desire for emigration pervades society
Only in South Africa, similarly beset by major social, economic and environmental problems, does a larger share of the surveyed population see dim prospects for young children in their country. 
Few other developing countries exhibit the same phenomenon: In Mexico, which struggles with violence and a weak state, only 1 in 5 adults said they would not want their children to grow up in their country. And in India, where more than half of rural households are subsistence farmers and home to about a quarter of the world's chronically hungry population, just 16% express a similar hesitation. 
The only non-African country with comparable fear for future generations is South Korea, which has the world's lowest fertility rate and where young people speak of "Hell Joseon," a reference to their brutally competitive environment. 
Afolabi Adekaiyaoja, a research analyst at the Centre for Democracy and Development, a Nigerian nongovernmental organization, says the bleakness Nigerians see in their future means emigration will continue to be among the most crucial and intractable problems for the new government. Young Nigerians in particular rallied around dark-horse candidate Peter Obi as a reformer, but official tallies — which Obi's party dispute — showed him in third place. 
"Colloquially, we use the Yoruba word 'japa,' which means to flee or escape," he said. 
"Most of those polled are probably in a position to make plans to follow through on migration, which millions more cannot."
Most Nigerians See Government as Untrustworthy and Corrupt, Are Concerned About Terrorism, Ethnic Tensions
Nigerian adults' views on…
Survey conducted online Feb. 22-March 3, 2023, among a representative sample of 1,000 English-speaking adults in Nigeria, with an unweighted margin of error of +/-3 percentage points.
Nigerians are skeptical of their institutions, see corruption and fear terrorist threats 
The road ahead is daunting. Roughly two-thirds of Nigerians surveyed have little or no trust in the federal government and officials, while 86% agree that corruption is a part of life and just 24% agree that the justice system is fair. Nearly all Nigerians feel threatened by terrorism and overwhelming majorities worry about intra-African conflicts and ethnic and religious tensions. 
Couple that with crushing inflation above 21%, a botched currency swap, violent extremists plaguing the north and southeast and allegations of a mass program of forced abortion committed by the Nigerian Army during counterterrorism campaigns, and the weight of the problems pushing Nigerians to leave becomes all the more evident.
Cheta Nwanze, lead partner at Nigerian geopolitical analysis company SBM Intelligence, said understanding Nigeria's recent history is key to understanding what makes emigration particularly harmful to the country's long-term prospects.
He said this is the fourth major wave of emigration following the Nigerian Civil War of 1967-1970, the oil glut of the 1980s that crashed the economy and the thwarted attempt to transition to democracy in 1993, which was interrupted by Sani Abacha's coup, whom Nwanze described as "a cross between Pinochet, Pol Pot and Robert Mugabe."
"We returned to democratic rule in 1999, and between 2003 and 2007, we had the fastest period of growth in our history," he said. "The economy opened up, things got a lot better, and by the end of 2007, there was a reverse migration; a lot of people began to return from abroad."
Nwanze said the situation began to backslide by 2015, when Muhammadu Buhari, the former military dictator who oversaw the economic collapse of the 1980s, was elected president. In addition to poor economic conditions and strain from COVID-19, events like the 2020 Lekki Massacre, when Nigerian troops killed unarmed protesters in Lagos, have left even socially privileged Nigerians feeling unsafe. Where past emigration waves stemmed heavily from the Igbo community and other minorities, now members of the traditionally politically powerful Yoruba ethnic group are leaving in large numbers.
"It's just gotten that much harder," Nwanze said. "The real tragedy of the current japa wave is the fact that many of the people who are leaving are people who are in their 40s and 50s, relocating their families. When somebody in his 40s emigrates, it means that he has more than 10 years of work experience and all that experience goes with him."
Nigerians, who tend to thrive abroad, have struggled to build democracy at home 
For as much harm as it causes Nigeria, the desire to emigrate has been a great boon to destination countries such as the United States and United Kingdom. Nigerians in the United States are disproportionately likely to earn advanced degrees, fill management positions at work and earn on average more than the median American family. 
Daniel Runde, a senior vice president at the Center for Strategic and International Studies, says the "brain drain" that results from mass emigration "is an issue that has to be managed constantly."
"Some people have tried to say that having diasporas send money back through the form of remittances is a great thing, but I think it's a failure to have a large portion of a nation's GNP coming from remittances," said Runde, who held leadership roles at the U.S. Agency for International Development and World Bank. Remittances amounted to about 4.4% of Nigeria's GDP in 2021, according to the World Bank, above the subsaharan African average of 2.6%.
Training new generations of leaders and professionals is a crucial aspect of development work that the United States should help with, Runde said, but incentives should be built in to encourage talented young people from Nigeria and elsewhere to use that training at home. 
Yet it may be hard to get the brightest and most ambitious Nigerians in particular to stay given the dashed hopes of many young people in the election. Santiago Stocker, resident program director for Nigeria at the International Republican Institute, a democratic advocacy group, said the election was a disappointment. 
"The expectation going in was that if it were a high turnout election, you would have a lot of young people engaged and perhaps a different dynamic," he said. "In fact, we saw violent disruption of voting in 15 to 20 states, and in some cases, quite flagrant voter suppression. We're looking at 27.5% turnout, which is abysmal." 
And low turnout doesn't just sap citizens' investment in the democratic process, but their faith in formal avenues of redress all together, according to Stocker.
"We've seen democratic backsliding all across West Africa accompanied by a dramatic increase in conflict," he said. "We are seeing Nigerians increasingly turn to illegitimate means to pursue interests and grievances, and a lack of consolidated democracy creates the conditions for political violence."
That said, so far Nwanze has been pleased to see the opposition parties air their grievances with the election through the courts, and urge their supporters to remain calm. 
"Back in the old days, people would be rioting and dying in the streets," he said. "Over the next four years, Nigeria is going to be in a dark place. Things will get worse, but it is possible that we will finally hit rock bottom and open an opportunity to begin to turn around."
Matthew Kendrick previously worked at Morning Consult as a data reporter covering geopolitics and foreign affairs.
We want to hear from you. Reach out to this author or your Morning Consult team with any questions or comments.
Contact Us