Novavax's Traditional Vaccine for COVID-19 Could Hit the U.S. Soon. Most Unvaccinated Adults Wouldn't Be Swayed
Biotech's protein-based shot may find warmer reception as a booster dose for the vaccinated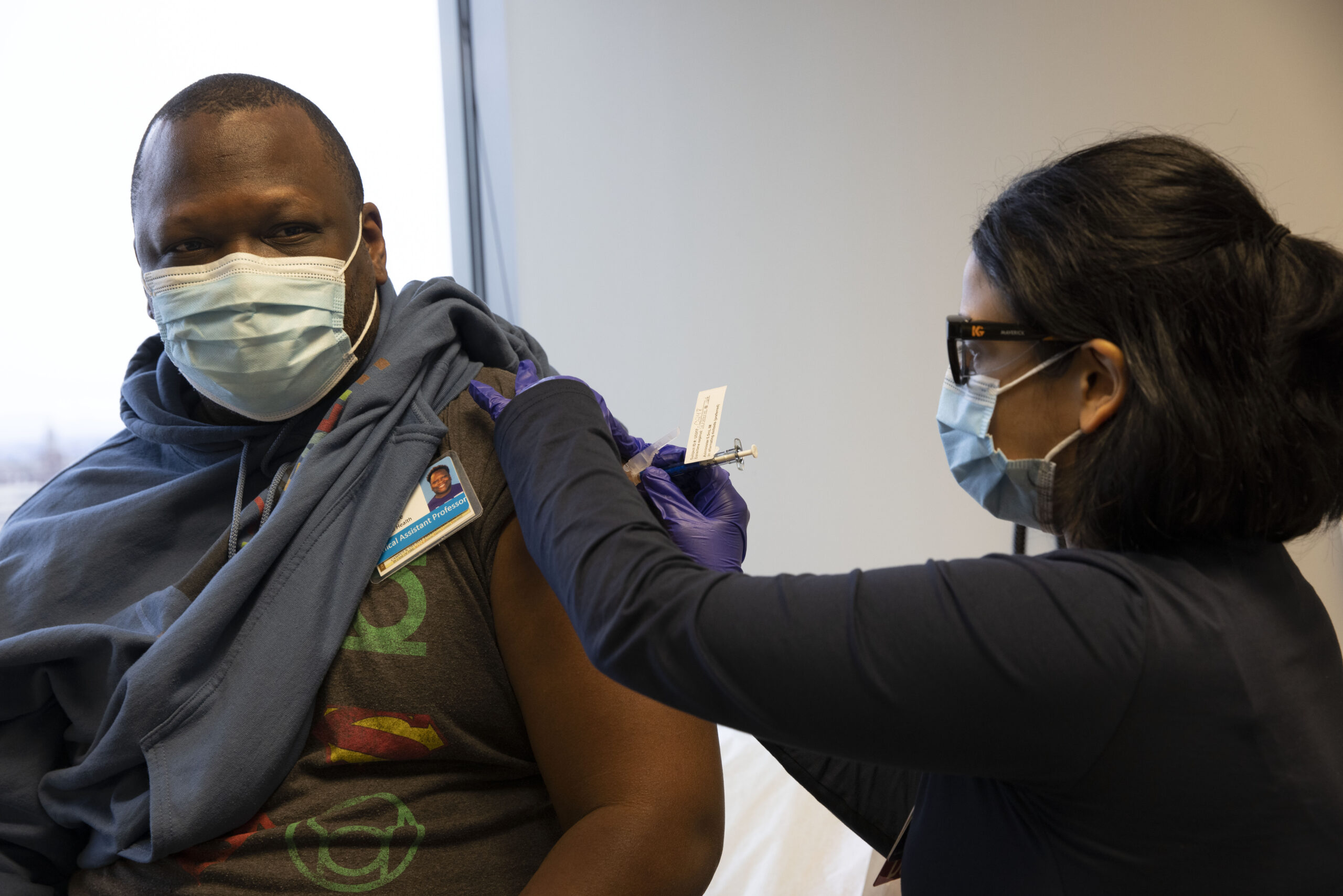 Key Takeaways
77% of unvaccinated adults said they wouldn't get a traditional protein-based COVID-19 shot if one were authorized for use in the United States.

Among unvaccinated adults, 28% said they view traditional protein-based vaccines as safe, compared with 17% who said mRNA shots are safe.

Novavax said it will be ready to offer an omicron-specific COVID-19 vaccine in time for the fall booster campaign.
Novavax Inc. is billing its long-awaited COVID-19 shot as an appealing option for vaccine skeptics who skipped out on shots that used new messenger RNA technology — but new Morning Consult data indicates it isn't likely to move the needle.
The Maryland biotech's protein-based vaccine is in use around the world, but after a federal advisory group cleared the shot last month, 77% of unvaccinated U.S. adults said they wouldn't get a traditional protein-based COVID-19 shot if one were available. The vast majority cited concerns over potential side effects, mirroring qualms they've had with COVID-19 shots overall throughout the vaccination campaign.
The unwillingness was reported across ages, racial groups and political leanings. And it suggests Novavax's biggest market may not be with the unvaccinated, but among those who are due for booster shots, health care providers and public health communicators said.
Few Unvaccinated Adults Are Interested in Traditional Protein-Based COVID-19 Shots
Unvaccinated adults were asked if they would get a traditional protein-based COVID-19 shot if one were authorized for use in the U.S.
Survey conducted June 18-23, 2022, among a representative sample of 1,788 unvaccinated U.S. adults, with an unweighted margin of error of +/-2 percentage points.
"Could we persuade some of those individuals who refuse to take mRNA to take Novavax? Yeah, I think we should try," said Dr. Peter Hotez, co-director of the Center for Vaccine Development at Texas Children's Hospital and dean of the National School of Tropical Medicine at Baylor College of Medicine. But officials should also "try to understand what the reasons are that they're not going to do it. "
In the survey, some unvaccinated groups were less staunchly against traditional shots than others. Democrats, those in urban areas, adults under 35 and Black and Hispanic adults were all less likely than the average unvaccinated American to say they would skip a traditional protein-based shot.
Protein-based shots could appeal to some, though experts warn of misinformation
Among the fully unvaccinated, Novavax's shot may primarily appeal to those who were wary of Moderna Inc.'s and Pfizer Inc.-BioNTech SE's mRNA vaccines, said Stefanie Friedhoff, an associate professor at the Brown University School of Public Health who works with the nonprofit Rockefeller Foundation on its COVID-19 vaccine equity initiative.
"The vaccination decision plays out very differently for Americans based on all kinds of factors, and different communities have different questions," Friedhoff said. "The narrative of, 'some people will never change,' in terms of who will take the vaccine, it's beyond unuseful. It's harming our vaccination efforts, because these decisions are made on a continuum and changing factors might change our take."
Side Effects Are Top Concern Among Unvaccinated Adults Who Don't Want Protein-Based COVID-19 Shots
The share of unvaccinated adults who said the following are major reasons why they wouldn't get a protein-based COVID-19 shot:
Survey conducted June 18-23, 2022, among a representative sample of 877 unvaccinated U.S. adults who said they would not get a traditional protein-based COVID-19 shot, with an unweighted margin of error of +/-3 percentage points.
Some people may be prone to conspiracy theories or believe misinformation about the shots, for example, while others may lack trust in the government or health care systems. And others may have changed their minds over the course of the pandemic — or have gotten COVID-19 themselves, lessening their sense of urgency around getting vaccinated.
Should the Food and Drug Administration authorize Novavax's COVID-19 shot, Friedhoff cautioned that health officials, community leaders and providers should be on the lookout for new misinformation from the anti-vaccine movement, which railed against mRNA.
"Those who are passionately advocating for others not to get vaccinated will shift their narratives," Friedhoff said.
The survey picked up on the concern over mRNA technology. Nearly 3 in 10 unvaccinated adults view traditional protein-based vaccines as safe, compared with 17% who said mRNA shots are safe. And they're far less likely than vaccinated adults to view either type of shot as safe.
Asked how Novavax plans to market its vaccine in the United States, a company spokesperson said the "need for additional vaccine options continues" and that the biotech is "engaged in educational efforts aimed at increasing understanding about our science."
Novavax could find U.S. opening via booster shot campaign
Meanwhile, the Novavax vaccine could be an appealing booster dose for those who have already gotten vaccinated, Hotez said, but only if the biotech can prove that the shot offers strong levels of protection following mRNA vaccination. Last week, Novavax said final clinical trial data is expected in September and that the company is "prepared to supply an Omicron-based vaccine this fall" as part of the U.S. booster campaign.
The fall booster effort may prove challenging, given the ongoing campaign has lagged. Federal data shows that fewer than half of vaccinated adults have gotten a first booster dose.
"There was a terrible mistake made by the Centers for Disease Control and Prevention, in calling people with two doses fully vaccinated," said Hotez, whose lab developed a COVID-19 vaccine that is available in India. "That was never really the case, but they still clung to that outdated concept."
Dr. Leana Wen, an emergency physician and professor at George Washington University, said the most eager cohort for Novavax's shots will likely be those who have kept up to date on their COVID-19 vaccinations.
"I don't even think that we will need to spread the message," Wen said. "There is a group of people who are so eager to get the best protection possible, they are awaiting any news of anything that they can be taking."
The FDA is reviewing changes to Novavax's manufacturing process before it authorizes the shot, but even if it gains clearance, it may be some time before the vaccine is widely available. While the company has pledged 110 million doses to the United States and another 1.1 billion for low-income countries, it's struggled to ramp up production. Novavax's spokesperson said the company is "working with the U.S. government to finalize our order" and has "millions of doses ready to ship."
Ultimately, Hotez said Novavax is under pressure to deliver, given it received $1.6 billion in federal funding through the Trump administration's Operation Warp Speed vaccine development program. He has said his own team got $400,000 from the U.S. government to develop its shot.
"If it were offered to me, I would take it in a heartbeat," Hotez said of the Novavax vaccine's promise as a COVID-19 booster. "Right now, the American people are balking at getting an mRNA booster every few months."
Gaby Galvin previously worked at Morning Consult as a reporter covering health.
We want to hear from you. Reach out to this author or your Morning Consult team with any questions or comments.
Contact Us