Podcasters First Wanted Your Ears. Now They Want Your Eyes Too
YouTube is the most preferred podcast platform among regular listeners, ahead of Spotify and Apple, according to Morning Consult data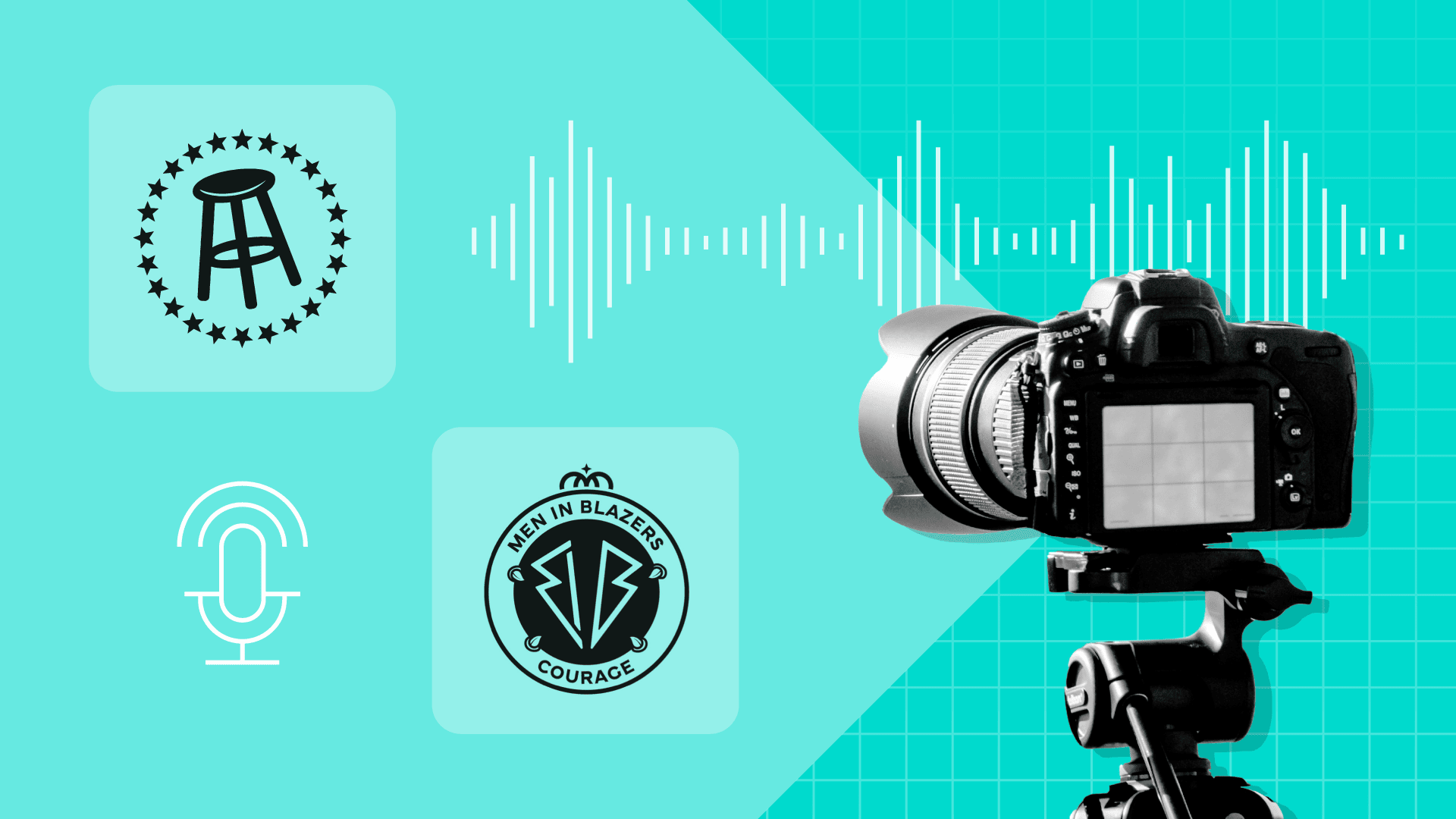 Key Takeaways
46% of podcast listeners said they prefer consuming them with video, compared with 42% who said they would rather listen without video.

15% of podcast listeners said they would pay between $10 and $25 to attend a live recorded event, while 46% said they wouldn't pay to see a live podcast recording.
Roger Bennett, one half of the popular soccer duo "Men in Blazers," skipped onto Manhattan's Terminal 5 stage in November as his co-host Michael Davies trailed behind, smartphone in hand, recording the reactions of nearly 1,000 live audience members. 
"Men in Blazers" has come a long way since their first live show in 2013 sold out at New York's Joe's Pub. But even then, it was clear to Bennett that they had tapped into some aspect of the podcast medium that could propel them from niche media members to rock stars recognizable to soccer fans around the world.
"People saw us as the Grateful Dead," Bennett said.
The Terminal 5 show, which aired live on Amazon.com Inc.'s Twitch, included conversations with comedian (and Liverpool fan) John Oliver and U.S. women's national team player Kelley O'Hara. On-site sponsors included ESPN+, Hublot and Jägermeister, among others.
This is the new era of podcasting, in which the once audio-only format has evolved toward a hybrid model of distribution that often prioritizes video — specifically YouTube and live paid events. Video has allowed fans to know not only what their favorite podcasters sound like, but also what they look like and who they are on a much more personal level.
"I see the hybrid model becoming just as large, if not larger, in a short time period than audio-only formats," said Scott Purdy, national media industry leader at KPMG US. 
Podcasts in several genres, including sports, entertainment, comedy and pop culture, are increasingly utilizing visual media to market their brands, reach new audiences and generate additional revenue, said podcasters, production executives and media experts. 
"If your goal is to find the largest audience possible and you're not figuring out a way to put it on YouTube, you're pretty shortsighted," said Rachael King, founder and CEO of production company Pod People.
A recent Morning Consult survey suggests these initiatives are working: U.S. consumers now arguably see podcasts as more of a video-based medium than an audio one. 
The business case for video podcasting 
Morning Consult found that nearly a third (32%) of Americans said they prefer listening to podcasts with video, compared with 26% who prefer them with just audio, according to the late October survey. 
Active podcast listeners (those who have listened to one in the last month) preferred video too, 46% to 42%. Among the top reasons consumers preferred a podcast with videos were to see facial expressions and reactions from the hosts and guests (51%) and because video helps them to better focus on the podcast (50%). 
Podcast Listeners Slightly Prefer Podcasts With Video Than Without
U.S. adults were asked if they prefer listening to podcasts with or without video
*Podcast listeners were respondents who said they have listened to a podcast in the last month. "Don't know/no opinion" responses not shown.
Survey conducted Oct. 29-31, 2022, among approximately 2,202 U.S. adults, with an unweighted margin of error of +/-2 percentage points.
Some executives said incorporating video into the podcast medium produces a variety of opportunities: It enhances a program's discoverability, helps to reach younger audiences, provides more engaging content, develops additional revenue streams and gives marketers new ways to advertise with podcasters, including product placement and tailored on-screen graphics.
Logan Swaim, head of content for Colin Cowherd's podcast company The Volume, said prioritizing video is part of a "three-fold" initiative for the network, including "discoverability, marketing via social media and monetization."
"We're a young company in a saturated market, so our video strategy helps us get discovered," Swaim said.
Nick Panella, chief strategy officer for Agua Media, which produces shows aimed at the U.S. Latino community, said video strategies have quickly become the norm in podcasting after it became clear they could drive audience growth. 
"A few years ago, on the monetization side, there might have been a handful of top companies that had a video strategy in the space," Panella said. "Now, virtually all of them have some sort of video strategy."
Video elements are almost necessary for a modern social media strategy, according to King. 
"It's so important to have the assets for Instagram and TikTok, and even Twitter," she said. "It performs better if there's a visual element. You can do an audiogram with waveforms, but that doesn't perform as well as when there's human faces."
Morning Consult data found that about one-third of Americans (34%) said seeing influential or celebrity guests is a "major reason" why they prefer watching a video with podcasts. 
"It used to be very, very rare that I would see a clip of a podcast on TikTok and now it feels like 10% of the content that I see," King said. 
Watch your favorite podcaster on YouTube
The Morning Consult survey also found that 1 in 3 podcast listeners said YouTube is their most preferred podcast platform, followed by Spotify (24%) and Apple Podcasts (12%). 
Joe Rogan, host of the most popular podcast on Spotify (and arguably the most controversial), first gained fame in the 2010s by posting full-length episodes to YouTube. Former NFL punter Pat McAfee livestreams a three-hour daily show on YouTube, which reaches six- and seven-figure views on the platform. The audio is then edited and uploaded to dedicated podcast players. 
"If I had my pick, for every new listener, I would say, 'Please go be a viewer, not a listener,'" said Barstool Sports' Kevin "KFC" Clancy, who co-hosts "KFC Radio," a podcast with more than 160,000 YouTube subscribers. Since 2020, Barstool Sports personalities, including PFT Commenter and Dan "Big Cat" Katz of top sports podcast "Pardon My Take," have focused on incorporating YouTube into their podcast distribution strategy, Clancy said.
YouTube Ranks as Consumers' Top Podcast Platform
Podcast listeners were asked which platform they prefer for listening to podcasts
Survey conducted Oct. 29-31, 2022, among a representative sample of 1,172 U.S. adults who said they listened to a podcast in the last month, with an unweighted margin of error of +/-3 percentage points.
Media giants are prioritizing YouTube, too. Over the past year, video podcasting has become "increasingly important" to how Walt Disney Co.'s ESPN has developed its podcast shows, according to Mike Foss, vice president of digital production at the sports network.
More than 25 ESPN podcasts feature some kind of video component, collectively garnering 20 million views per month on YouTube, Foss said. Some podcasts, like the NBA-centric "The Lowe Post," have been distributed in full-length installments on YouTube, while daily football podcast "Fantasy Focus" is livestreamed via the platform. Foss described YouTube as an ideal place for a "lean-back" watch experience.
Bennett of "Men in Blazers" said the opportunity for soccer podcasts on YouTube is "enormous." "We've been taking YouTube seriously as long as YouTube's been taking podcasts seriously," he said. 
In October 2021, YouTube — the second most popular website in the world — appointed Kai Chuk as its podcast lead, the first podcast-focused executive at the technology company. YouTube also launched a dedicated podcasts homepage in the United States in August. Rival Spotify Technology SA responded by making video podcasting tools available to all creators worldwide late last year, though the company has not yet shared internal metrics on the format.
New York City-based multimedia sports company Jomboy Media boasts 12 shows on YouTube, including several that appear on most-popular lists across the podcast industry, like "Talkin' Baseball," "Talkin' Yanks" and "Baseball Today."
CEO Andrew Patterson believes that media companies are in the early stages of figuring out what additive features can be integrated into a video podcast to make it a more visually appealing format. He said the digital sports brand is in the exploratory phase in determining how to leverage YouTube — the "pre-eminent place" for longer-form video, he added — specifically for podcast distribution.
Podcasters take their shows on the road
Beyond YouTube, podcasters are increasingly finding benefits to cultivating a fan base via another method that emphasizes visuals over audio: in-person events.
"We're still going to have the same fun you have on the podcast, but now it's going to be live," said Jared Freid, comedian and co-host of the modern dating podcast "U Up?" with Betches Media co-founder Jordana Abraham. "It's a community event." 
Momentum around podcasters' hosting live events — some of which are recorded, edited and uploaded to YouTube and other platforms — briefly stalled during the coronavirus pandemic, but a resurgence that started last year is expected to continue in 2023, according to media executives and podcast experts. 
After launching in 2019, Acast's "Reality Gays with Mattie and Poodle," for instance, was unable to initially host live shows. But in late 2021, they sold out a theater in Los Angeles. "People came in from Hawaii. People came in from all over the country," co-host Jake Anthony said. "It was super cathartic for everybody there."
While there appears to be an appetite for these events, there's a lot more room for them to grow, according to the Morning Consult survey. Only 13% of podcast listeners said they have attended a live podcast recording. Meanwhile, 15% of listeners said they would be willing to pay between $10 and $25 to attend a live recorded podcast event, though 46% said they would not pay at all.
Some podcasters and executives, such as KPMG's Purdy, noted the challenges with live podcast-style events, including logistics and operations, production costs and competition for consumers' time and money. 
"The video component to podcasting will be a much bigger component of the evolution than live events," Purdy said. He called live events a "different product proposition," competing with other entertainment like concerts, sporting events and movie theaters, rather than with other actual podcasts.
Freid said podcasters who host live shows must give the audience "a reason to leave their house," beyond just being a recorded version of the podcast they can listen to (or watch) at home. He said live shows need to be "a multimedia event," where he and Abraham host games and other segments that can't be effectively replicated via an audio-only format, like a dating profile makeover.
While other companies mull how to invest further in live events (Patterson said Jomboy is determining how to produce events that do not distract from the main business), those already immersed in the space are seeing positive returns.
Freid said 800 to 1,000 people attended each "U Up?" show in a six-city tour last summer. About 9,000 people attended the "Men in Blazers" World Cup tour, where tickets cost between $30 and $90, according to the show's publicist, with four more live events tentatively planned for 2023.
Barstool Sports' pop culture podcast "Chicks in the Office", which hosted eight live events last year, sold out a 1,000-person show at Manhattan's Webster Hall in December in one minute, a spokesperson said. 
"KFC Radio" completed a three-city West Coast tour last fall, with 300 to 1,000 people attending each event, according to the program's publicist. On average, tickets sold for $30 to $35. Clancy admitted he almost decided live shows weren't a fit for his podcast, but the trip through Denver, Phoenix and Los Angeles "rejuvenated and revitalized" him. 
"When you go on stage, your show is done and everyone loves it, it's a great rush," said Clancy, who expects to co-host around 10 live shows in 2023. "It's f*cking incredible."
Mark J. Burns is a sports analyst on the Industry Intelligence team, where he conducts research, authors analyst notes and advises leaders in the sports industry on how to apply insights to make better business decisions. Before joining Morning Consult, he served as a beat reporter at Sports Business Journal, covering the business of hockey and soccer. Mark graduated from the University of Michigan with a bachelor's degree in history and holds a Juris Doctor from Belmont University. For speaking opportunities and booking requests, please email [email protected].
Saleah Blancaflor previously worked at Morning Consult as a data reporter covering the business of entertainment.
We want to hear from you. Reach out to this author or your Morning Consult team with any questions or comments.
Contact Us