Trump's Endorsees May Lose Some Primaries, but He's Still the GOP's Dominant Force
In Georgia, North Carolina, Ohio and Pennsylvania, around 8 in 10 Republicans favor the former president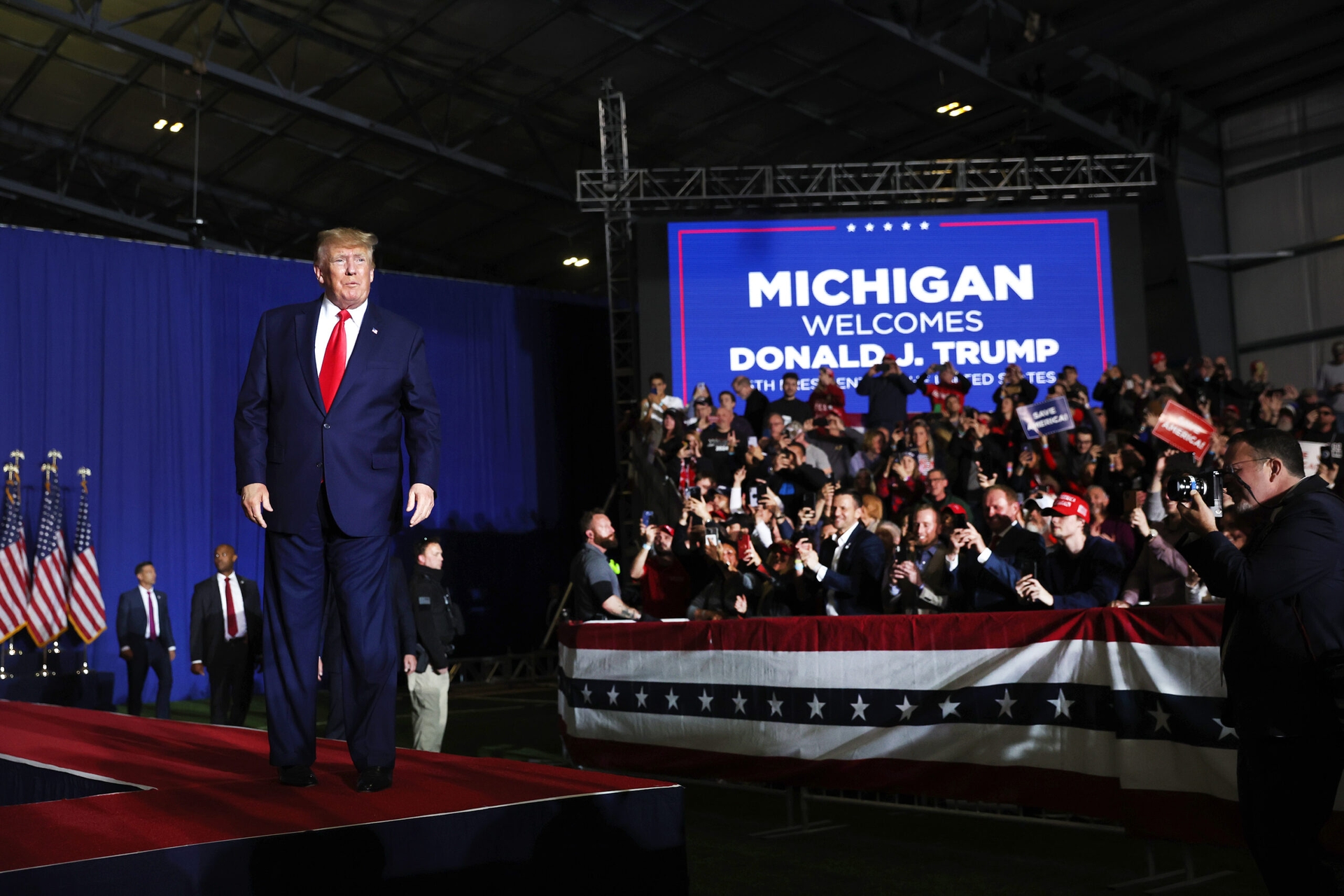 Key Takeaways
Among Republican voters, Trump's favorability rating is 86% in Georgia, 87% in North Carolina, 80% in Ohio and 77% in Pennsylvania.

Trump's standing has improved in North Carolina since he left office as he works to promote Republican primary candidates, while he's seen a modest decline in popularity in Georgia, where candidates for both governor and Senate are counting on his support next month.

Republican strategists say successful endorsees isn't a complete way to measure Trump's strength with the party's base.
The impact of an endorsement from former President Donald Trump will be debated over the coming weeks as Republican Senate candidates with his support face primaries in Georgia, North Carolina and Pennsylvania, and as others in Ohio lean into his brand of politics – and hope for his backing.
Those contests, along with a slate of gubernatorial and down-ballot races where he's looking to make his mark, will help shape the narrative of Trump's influence within the GOP. But Morning Consult survey trends show his own muscle with Republican voters in those key states on the 2022 midterm calendar is enduring, raising questions about what those outcomes actually portend for his grip on the party.
Doug Heye, a former Republican campaign official, said while Trump has helped make his endorsements about his power, candidates endorsed by popular officials can still lose due to factors out of his control. In the end, he said, electoral victories come down to the quality of people running and individual political environments.
"We judge him very differently from every other president, for obvious reasons, but a lot of the same fundamentals apply," Heye said. "Because it's Donald Trump, we're not allowed to acknowledge that some of this is normal politics."
Trump is still very popular among GOP voters
Roughly 4 in 5 Republican voters in the early primary states of Georgia, North Carolina, Ohio and Pennsylvania hold favorable opinions about the former president, according to Morning Consult surveys conducted in March.
Trump's standing has improved in North Carolina, where he has endorsed Rep. Ted Budd for the state's open Senate seat, and in Pennsylvania, where he endorsed former television host Dr. Mehmet Oz for Senate over the weekend as "the one most able to win the General Election against a Radical Left Democrat looking to do unthinkable harm to our Country."
In Ohio, where Trump has also not weighed in on Republican Gov. Mike DeWine's re-election bid or on the state's increasingly nasty and divisive open Senate primary, the former president's standing is roughly where it was when he left the White House. He's seen only a modest decline in popularity in Georgia, where candidates for both governor and Senate are counting on his support next month.
How GOP Voters in Key Senate Primaries View Their Party's National Leaders
Republican voters were asked whether they have a favorable or unfavorable view of…
Surveys conducted March 1-20, 2022, among at least 855 Republican registered voters in each state, with unweighted margins of error of +/-3%.
Across each of the four early primary states, the former president is more popular than other prominent GOP figures, including: Vice President Mike Pence, who's seen positive sentiment decline across the map since January 2021; Senate Minority Leader Mitch McConnell (R-Ky.), who is most polarizing among the GOP electorate; and House Minority Leader Kevin McCarthy (R-Calif.), who is still largely unknown to the rank and file.
The question of Trump's popularity appeared to be on his mind when he sat last week for an interview with The Washington Post. Noting how candidates are seeking his endorsement, he said, "our numbers are higher than ever."
Indeed, Trump's popularity among Republicans in those states roughly matches his standing nationwide. 
Trump's role as kingmaker 
Gail Gitcho has worked for a wide ideological and stylistic gamut of GOP candidates, from Sen. Mitt Romney's 2012 presidential campaign to Sen. Josh Hawley's successful 2018 bid. She said there is a difference between political authority with voters and the ability to totally pull their strings. 
"It's one thing to say, 'Trump is popular,' and quite another to say, 'voters will do whatever they are told every time,'" she said, shaking off the potential losses of Trump-backed candidates as a pivotal indicator of Trump's power with the GOP base.
Early indications paint a mixed picture of how Trump's influence and endorsements are proving their worth ahead of primaries and the November elections.
While former White House press secretary Sarah Sanders appears a shoo-in for the Republican nomination for governor of Arkansas on May 24 after Trump's endorsement, Trump's pick in Nebraska, businessman Charles Herbster, is in a what looks like a tight contest on May 10 with Jim Pillen, an endorsee of term-limited Gov. Pete Ricketts in the open Republican primary race. Trump's also backing Idaho Lt. Gov. Janice McGeachin in a May 17 contest to unseat Gov. Brad Little. 
In North Carolina, where Trump held a campaign rally over the weekend ahead of the May 17 contest, publicly released surveys have generally shown the once little-known Budd gaining on former Gov. Pat McCrory after the former president's endorsement last year. On the House side of the ledger, Trump is facing direct resistance for his backing of Rep. Madison Cawthorn and 26-year-old Bo Hines, who's running to replace Budd in his House seat.
And in Georgia, Trump-backed football legend Herschel Walker holds a comfortable lead over his rivals, while polling shows Trump's support of former Sen. David Perdue has not yet been enough to put him ahead of Gov. Brian Kemp in advance of the May 24 election. 
"Every candidate should be out there seeking a Trump endorsement, because more often than not, it helps candidates substantially," said Republican strategist Gregg Keller, former executive director of the American Conservative Union. "But we're going to find out it's not a silver bullet in all races at all times."
During Trump's presidency — when he was setting the media agenda daily before his ban from major online platforms — Trump had a good success rate (86%) in battleground primary endorsements, according to a tally by the political tracking site Ballotpedia. 
Since leaving the White House, he's been less selective in his endorsement approach, backing established Senate and gubernatorial incumbents but also candidates for offices that manage the electoral process and challengers to those who he views as disloyal. Roughly a third of Trump's political endorsements since 2017 have come since he left office, according to the nonprofit's data. 
Some came early, setting him up for setbacks and questions of his post-presidential strength before ballots were even cast. Even with Trump's support, Sean Parnell dropped his Senate bid in Pennsylvania amid a child custody fight with his estranged wife. And in Alabama, his pick for the Republican nomination for Senate, Rep. Mo Brooks, was performing so badly he revoked his endorsement.
While Parnell's circumstances were unique given the legal entanglements, the Alabama contest had risked a display of impotence in a state where Trump holds enormous popularity, though Trump denies that's why he pulled back.
"Brooks wasn't performing because after earning the endorsement as an America First fighter, he went weak," said Trump spokesman Taylor Budowich, referencing the lawmaker's comments about moving on from Trump's talk about the 2020 presidential election.
"President Trump's endorsement continues to be the most powerful asset in politics and voters support the candidates who align the most closely with President Trump," he said. "Because of that, strong, pro-Trump fighters will sweep Election Day up and down the ballot in 2022." 
The true test of Trump's political power
In the eyes of a number of Republican strategists, even those skeptical of the former president, Trump's political authority shouldn't only be measured by his success rate in primaries. 
Heye pointed to the fealty shown to Trump by the Republican National Committee, which labeled the Jan. 6 Capitol attack "legitimate political discourse," or by dozens of members of Congress, many of whom refuse to acknowledge Trump's 2020 loss. That backward focus — keeping Trump out of the more contemporary political fights — could make him less relevant to Republicans' voting behavior, said one Republican official working on Senate contests.
But he's still at the center of the universe for most Republican voters nationwide. The majority (57%) say Trump should continue to play a "major role" in the GOP, compared with 20% who say he should play a minor role and just 16% who say he should play no role at all, according to a recent national Morning Consult survey. A similar share said in a Morning Consult/Politico survey they would vote for him in a hypothetical 2024 presidential primary – more than four times the second-strongest potential candidate, Florida Gov. Ron DeSantis.
Trump's authority with the Republican base is manifesting itself as much where he has not endorsed as it is where he has. In Senate contests in Ohio and Missouri, candidates have taken on his rhetorical "America First" mantle in hopes of luring his support – or at least his supporters.
"Candidates are the ones who win races and lose races, not their endorsers," said Gitcho. "Trumpism — as in populist, outsider, conservative — without Trump is still very popular."
Eli Yokley is Morning Consult's U.S. politics analyst. Prior to his current role, Eli was Morning Consult's senior reporter covering U.S. politics. Eli joined Morning Consult in 2016 from Roll Call, where he reported on House and Senate campaigns after five years of covering state-level politics in the Show Me State while studying at the University of Missouri in Columbia, including contributions to The New York Times, Politico and The Daily Beast. Follow him on Twitter @eyokley. Interested in connecting with Eli to discuss his analysis or for a media engagement or speaking opportunity? Email [email protected].
We want to hear from you. Reach out to this author or your Morning Consult team with any questions or comments.
Contact Us