Smart Guns Have Been Under Development for Decades. With U.S. Launch in Sight, the Public Appears Relatively On Board
About half of U.S. adults say they support the development of personalized smart guns and over 2 in 5 say they would be interested in using one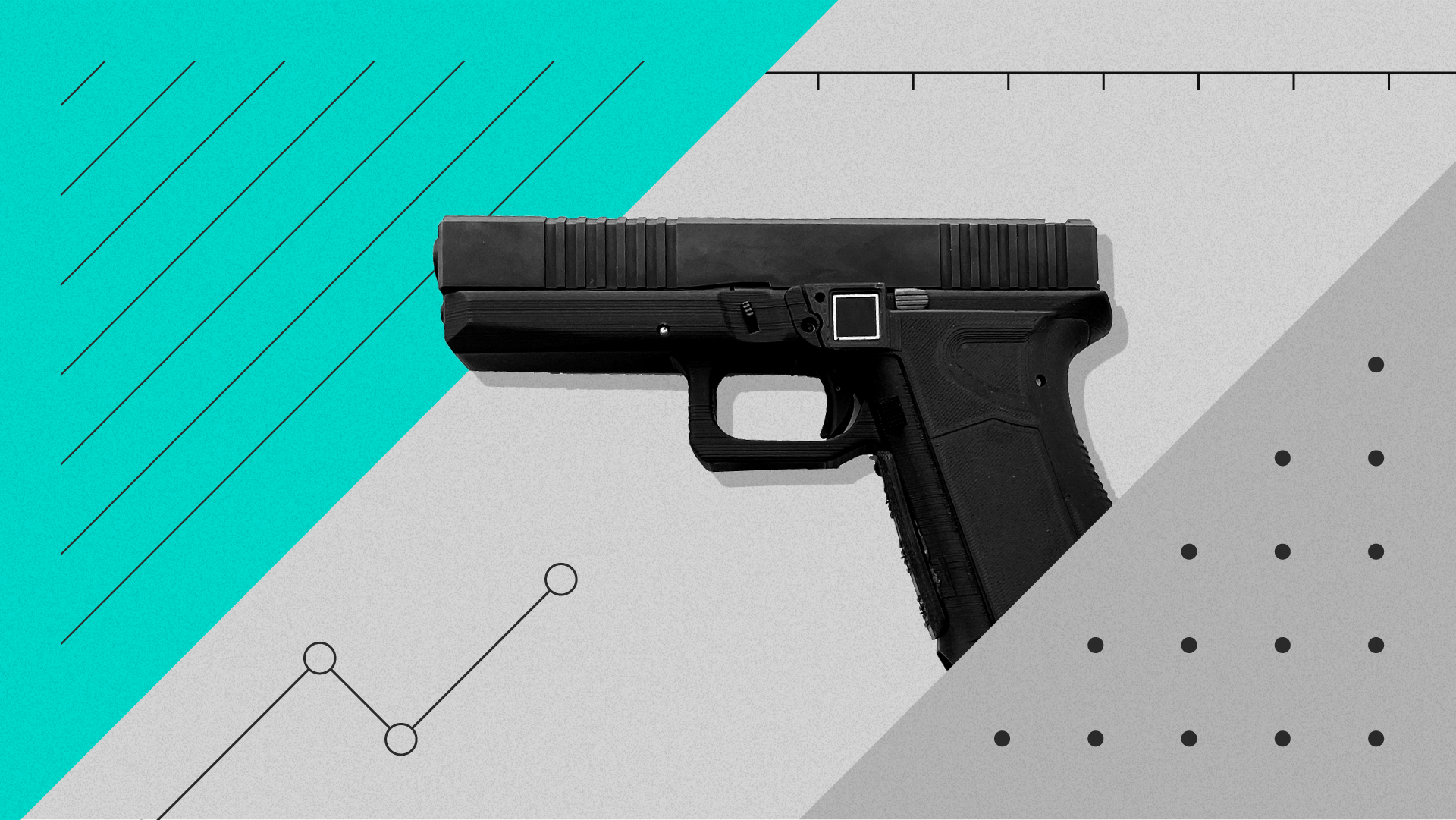 Key Takeaways
Over half of gun owners back smart guns' development, as do 46% of gun nonowners.

55% of gun owners, 45% of adults overall and 39% of gun nonowners said they would be comfortable using a smart gun.

A smart gun developer and the NRA said they are opposed to the regulation of smart guns, but a 48% plurality of the public backs the regulated legalization of the weapons, which can only be fired by verified users after being unlocked by a fingerprint, pin code or app.
After decades of delays and controversy over smart guns, 2022 could be the year that the new weaponry is brought to market in the United States, with one developer saying that the firearms industry is "ripe for innovation."
That industry will find a public with almost as much interest in using smart guns as there is in using regular firearms, a new Morning Consult survey found. Forty-three percent of U.S. adults said they would be interested in using a personalized smart gun, compared to 46 percent who said the same for a regular firearm.
Smart guns can only be fired by verified users, who unlock them by using either a fingerprint, a four-digit pin code or through embedded field communication that connects to a smartphone or other device via Bluetooth.
They have been under development for several decades but have not yet come to fruition; gunmaker Smith & Wesson Brands Inc. attempted to manufacture one in the 1990s as part of a list of voluntary reforms agreed to with the White House under then-President Bill Clinton, but received backlash from consumers that almost put the company out of business.
Most gun owners support the development of smart guns
Gareth Glaser, president and chief executive of smart gun developer LodeStar Works Inc., said smart guns could reduce the risk of mass shootings, suicides and accidental discharge by minors, all of which can be carried out by people using a gun that does not belong to them. And verification technology has advanced enough that it is now feasible to help prevent these types of events, he said.
"It's been around a long time now," he said. "Everybody uses one form or another of authentication technology on their smartphone."
And there appears to be healthy public support for developing them. In the Morning Consult survey, 49 percent of all adults said they supported the efforts, as did 56 percent of gun owners. About a quarter of the public and gun owners opposed the technology's development.
Glaser said LodeStar anticipates its first smart gun, a 9mm handgun, will sell for around $900 by the end of this year, a price he said is marginally more expensive than buying a regular firearm and a biometric safe to store it in. The company is working on prototypes and is in the process of choosing a location in Chattanooga, Tenn., for its first manufacturing facility.
Much of the public appears to be comfortable with the idea of using a smart gun, too. Forty-five percent of all adults said they would be OK to use one, as would 55 percent of gun owners. Gun nonowners, however, were split down the middle.
Smart guns have been more warmly received than 3D-printed guns – and the public posting of the latter's blueprints. A majority of adults (61 percent) said they're not interested in 3D-printed guns. Additionally, 54 percent said individuals should not be able to post blueprints for 3D-printed guns online.
Gun-control advocates said smart gun technology that only allows authorized use could be very helpful in stopping gun violence, with the advocacy group Everytown for Gun Safety calling it a "game-changer" for keeping firearms away from children and criminals.
"Keeping guns out of the wrong hands is critical and smart gun technology can and should play a role in that effort," Shannon Watts, founder of grassroots group Moms Demand Action, said in an emailed statement.
Some gun-rights advocates reject the view that smart guns could be the future of the industry. In an email, National Rifle Association spokesperson Lars Dalseide said smart guns "do not perform as well and are less reliable than firearms currently available to the public."
But there is also evidence that smart guns have so far failed to make much headway with public awareness. When asked how much they had seen, read or heard about smart guns, 56 percent of adults said they have heard "nothing at all" about them, compared to just 20 percent who said they have heard "a lot" or "some."
Proponents and opponents of smart guns wary of regulation, but nearly half the public supports it
Laws governing smart guns have had a checkered past, but the public appears supportive of the weapons' legalization and regulation. Half of gun owners and a virtually equal share of the public overall support regulated legalization of smart guns to prioritize safety, while just over 20 percent of both samples support their outright prohibition.
Gun owners are more enthused (30 percent) about smart guns' unregulated legalization that would prioritize economic freedom than the general public (22 percent), though they are still more likely to oppose an absence of restrictions.
So far, the only states to attempt to regulate smart guns are Maryland, Massachusetts and New Jersey, but New Jersey's law sparked controversy after it passed in 2002. That law mandated that once personalized handguns were available anywhere in the United States, all handguns sold in the state must be smart guns within 30 months.
Proponents and opponents said the New Jersey law caused a chilling effect on smart gun research and sales, as it would have triggered a traditional handgun ban in the state. New Jersey Gov. Phil Murphy (D) signed legislation into law in 2019 that established a commission to set performance standards and approve smart guns, and eventually require gun retailers to sell them but not have to phase out the sales of traditional handguns. 
Glaser said he is opposed to any regulation of smart guns, although he signaled an openness to a rebate program that would give consumers some of their money back if they bought a smart gun rather than a regular firearm, similar to incentives that have been used to get people to buy electric vehicles over gas-powered cars.
"I think that as soon as you start trying to regulate or mandate or anything, you risk a tremendous amount of resistance from the American public," he said. "This should be a market choice."
So far, there has been no other movement toward regulating or encouraging smart guns, unlike a bicameral bill reintroduced last year that would have banned the online distribution of 3D-printed gun blueprints. Spokespeople for the lawmakers behind that legislation — Sens. Ed Markey (D-Mass.) and Robert Menendez (D-N.J.) and Rep. Ted Deutch (D-Fla.) — did not respond to requests for comment.
The NRA's Dalseide said the organization "opposes any regulations that mandate the sale and the use of smart guns."
Glaser said LodeStar Works would submit its smart guns for testing to the Bureau of Alcohol, Tobacco, Firearms and Explosives, as well as any state-level regulators, before they can be bought by the public. ATF spokesman Erik Longnecker said in an email that evaluation and classification by the ATF's Firearms and Ammunition Technology Division is voluntary, but did not comment on smart guns' future.
Glaser said the time is right for firearms to be more technologically driven, especially given that little has changed in them for a long time. He said gun manufacturers' inability to combine both mechanical and electrical engineering is one factor that has hindered them.
"For us, it's somewhat of a mission that we think that the industry is so ripe for innovation," he said. "It's one of the few industries out there that is not innovating in that way. I keep saying there's more technology in my coffee pot than there is in my firearm."
Chris Teale previously worked at Morning Consult as a reporter covering technology.
We want to hear from you. Reach out to this author or your Morning Consult team with any questions or comments.
Contact Us