18 Months Into the NIL Era, Athletes, Fans and Brands Are Mostly Happy. But Messiness Remains
New Morning Consult data, alongside insight from NCAA athletes, leaders and advertisers, offers an evaluation of the evolving marketing ecosystem as it slowly transforms college athletics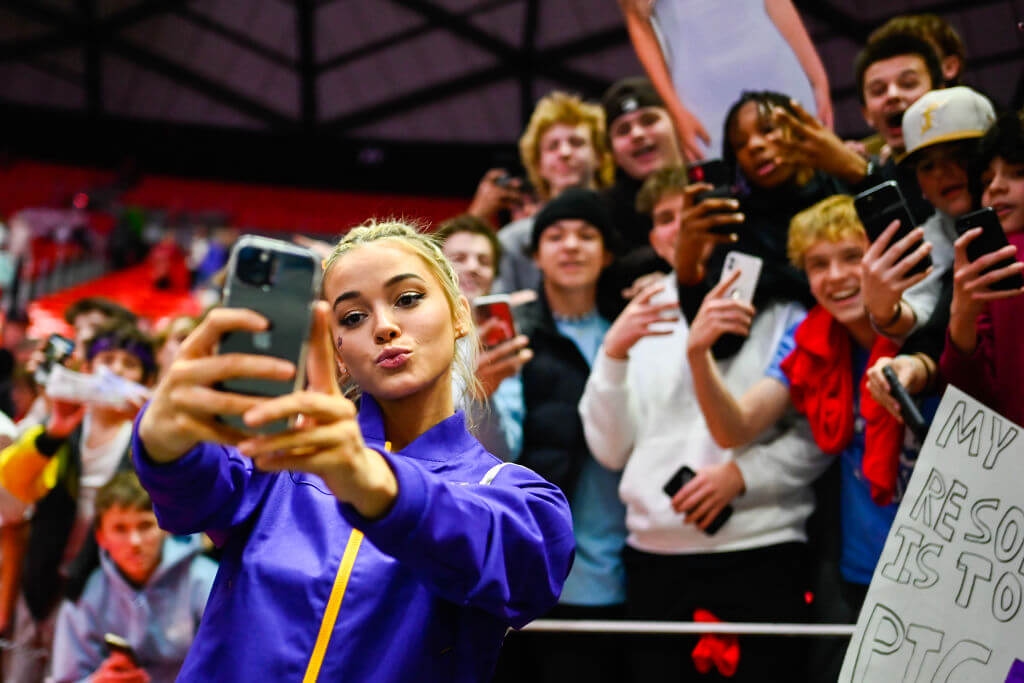 Key Takeaways
A majority of U.S. adults support allowing collegiate athletes to profit from brand partnerships (58%), licensed products (59%) and autograph signings (54%) under the NCAA's updated name, image and likeness (NIL) guidelines.

However, fewer than 1 in 5 U.S. adults have seen, read or heard about any of the 10 recent Division I NIL deals tested in a new Morning Consult survey.
College athletes are, in many ways, everything brands could ask for in an ambassador: hardworking young people pursuing their dreams both in the classroom and on the field. There's an innocence baked into that persona — the idea that, even as they're now allowed to profit off their names, images and likenesses, they're only in it for the love of the game. 
That perception is not lost on anyone involved in the growing NIL market about a year and a half after the NCAA sent athletes and brands off to the races in order to secure partnerships and usher in a new era of sports marketing.
"There is a unique, visceral connection to college athletics," said Chase Griffin, a quarterback at UCLA and the winner of the first NIL Male Athlete of the Year award. "Student-athletes, often in a very televised way, embody the overcoming of physical, mental and emotional struggle. It's hard to watch us and not be inspired." 
Griffin's sentiment is at the core of the nascent NIL industry, comprising thousands of brands across the United States that have made deals with collegiate athletes since the NCAA reversed its decadeslong policy in July 2021 that prevented players from earning money beyond traditional scholarships. 
Media, e-commerce and consumer packaged goods companies have been the most active in the NIL space to date, according to research published by sponsorship marketplace Opendorse, though nearly every industry has now leveraged student-athletes' influence in some capacity.
Morning Consult has been tracking public sentiment around NIL for years, both before and since the NCAA made its ruling. Our latest survey found that, while a majority of Americans still support student-athletes participating in for-profit activities, awareness of those campaigns is quite low. 
As many college sports begin their 2023 seasons, Morning Consult spoke with NCAA athletes, university leaders and brand marketers about the NIL landscape's past, present and future. Alongside our data, these interviews painted a clear picture: The young marketing channel has benefitted all parties involved but still has tons of room to grow. 
"NIL has the capacity to do a whole lot of good, and it also has the capacity to do a whole lot of disruption," outgoing NCAA President Mark Emmert said. Emmert, who will step down later this year, added that NIL is the most important issue he's dealt with since becoming the head of the governing body in 2010.
Americans' Support for College Athletes' Profiting Off Name, Image and Likeness Remains Stable
The share of U.S. adults who said they believe collegiate student-athletes should be able to profit from each of the following:
Surveys conducted between Feb. 26, 2019-Jan. 8, 2023, among a representative sample of roughly 2,200 U.S. adults each, with unweighted margins of error of +/-2 percentage points.
Support for NIL peaked just before the NCAA's policy update went into effect in July 2021 and has held relatively stable since. Autograph signings continue to be the activity type with the lowest amount of support, likely a lingering effect of past high-profile scandals at top football programs like Georgia and Ohio State. 
Approval for all three categories was significantly higher among Gen Z adults and millennials than among the general population. NIL's popularity among younger consumers, whose spending power continues to increase, is part of what makes brands so eager to engage in the space. 
Another part? Student-athletes' often large and loyal social media followings.
Social currency
According to a report by influencer marketing firm Captiv8, NCAA athletes are the "best-performing subset" of online content creators, with engagement rates up to 12 times better than traditional influencers. This internet efficacy is a driving force behind NIL dealmaking — nearly two-thirds of all documented brand-athlete agreements in the first full year since adoption entail posting content to social media.
Advertisers, officials and athletes themselves all pointed to the same reason for the athletes' outsized social media followings: authenticity. Documenting their day-to-day lives on campus — from class and lifts to locker room interviews and post-game meals — makes for compelling, relatable content, especially in an online environment that increasingly rejects highly curated aesthetics. 
"People follow people, not brands, and brands working with a student-athlete can often be more effective pushing their message out through athlete accounts rather than their own," said Sean Kelly, associate general manager of INFLCR, a platform that allows companies to contract with university representatives and student-athletes directly. 
While student-athletes' social media presences are an asset, the content posted on these channels doesn't always make its way to broader audiences.
Awareness of Major NIL Deals Is Low
Respondents were asked if they have seen, read or heard about the following deals between college athletes and brands:
Survey conducted Jan. 7-8, 2023, among a representative sample of 2,206 U.S. adults, including 1,070 self-identified NCAA sports fans, with unweighted margins of error of +/-2 percentage points and +/-3 percentage points, respectively.
An overwhelming majority of U.S. adults and self-identified NCAA sports fans said they have not seen, read or heard about any of the 10 tested NIL deals featuring prominent male and female Division I athletes, according to the Morning Consult survey conducted earlier this month. 
University of Alabama quarterback Bryce Young's deal with Keurig Dr. Pepper Inc., which included a cameo in a national TV commercial, was the most well-known partnership. USC's Caleb Williams, another quarterback, claimed second place with his endorsement of Beats by Dre Inc., followed closely by Auburn University gymnast and Olympic gold medalist Suni Lee's deal with Amazon Inc. 
When it comes to hearing about NIL deals, TV (53%) and social media (51%) were the top exposure channels, by a significant margin, among U.S. adults who reported being aware of at least one tested deal. More than 1 in 5 (22%) reported having heard about a deal via someone they know.
There was relatively little difference in overall awareness levels of deals involving male athletes and those involving female athletes. Despite men's historical advantage over women in collegiate sports, heads of NIL collectives, college administrators and other experts said the success of women student-athletes in the NIL landscape was expected given how many have embraced social media. 
LSU gymnast Olivia Dunne, who has amassed nearly 7 million TikTok followers, is one of the highest-earning collegiate athletes in the United States, with total NIL revenue reportedly in the seven figures — all despite her partnership with athletic apparel retailer Vuori Inc. garnering among the lowest general awareness of the tested deals.
But for most brands involved in the NIL ecosystem, low overall awareness isn't a huge issue — yet. More important than internal metrics at this early stage, they say, is the education being provided to the student-athletes who choose to participate in NIL activities. 
Jeanne Schneider, director of NCAA marketing and licensing at Adidas AG — which emerged as a leader in the space with the creation of its extensive NIL network last year — said that, while the sportswear giant's internal results show NIL initiatives are driving "meaningful brand momentum," success is more about giving student-athletes the ability to "experience an entrepreneurial path."
UCLA's Griffin described what this looks like from the athlete's perspective: "Through NIL, I'm practicing things that I would've learned at age 26 or 27, like brand and content creation, at age 21 and 22."
A spectrum of strategies 
Some brands have opted for a far-and-wide strategy, guided by ambitions to introduce their product to as many potential customers as possible and to provide profit opportunities to as many student-athletes as they can. 
Retailer Rhoback Inc.'s "Rhoback U" program, for example, invites student-athletes to apply via an online portal and, if accepted, are given an affiliate link from which they can earn direct sale revenue. It boasts nearly 3,000 participants across Divisions I, II and III. As part of the program, Rhoback offers athletes apparel discounts and encourages them to post content sporting the gear to their social media accounts. 
Other brands, however, are more selective, preferring athlete partnerships to be few and far between, aligned with brand values and, in some cases, even hyper niche. 
Underwear retailer Shinesty Inc. used this approach last fall when it announced University of Colorado offensive lineman Tommy Brown as "college football's first professional supermodel." The campaign, featuring a mullet-clad Brown donning a series of Shinesty designs in cheeky poses, was picked up by more than 300 media outlets. 
"Our NIL strategy is rooted in a bit of reactivity," said Shinesty creative director Ben Lauderdale. "We're constantly scanning for those moments that pop on TV and Twitter and looking for athletes that might be ready and able to help us join in on the conversation." 
Local or national? Or both?
From car dealerships to neighborhood restaurants, local brands were quick to embrace college athletes as spokespeople when the opportunity arose. 
Morning Consult's survey asked respondents whether they prefer college athletes to partner with national brands, local brands or both types equally. Most NCAA sports fans (57%) said they prefer the balanced approach. Still, many NCAA officials and experts believe localized deals will remain a meaningful part of the NIL ecosystem as it matures.
Jason Belzer, co-founder and chief executive of Student Athlete NIL, which owns and operates over 20 NIL collectives like Penn State University's "Success With Honor" and University of Notre Dame's "Irish United," estimated that only 40 to 50 student-athletes a year are capable of executing a national NIL deal. For the majority of college athletes, local partnerships are the only option, he said. And that's not necessarily a bad thing. 
"College athletes are the greatest grassroots influencers of all time," Belzer said.
Most Americans Are Either Optimistic or Neutral About the NCAA
Respondents were asked if they believe the NCAA and the college sports system are going in the right direction or are on the wrong track
Survey conducted Jan. 7-8, 2023, among a representative sample of 2,206 U.S. adults, including 1,070 self-identified NCAA sports fans, with unweighted margins of error of +/-2 percentage points and +/-3 percentage points, respectively.
Close to one-third (31%) of adults said the NCAA is moving in a positive direction, while 23% said the opposite and 46% had no opinion. 
Meanwhile, about half (49%) of NCAA sports fans said the college sports system is on the right track, while about a quarter (26%) said it is headed in the wrong direction and 25% had no opinion. These figures are essentially tied with results from an August 2021 survey. 
NIL's collective growing pains and successes 
In October, the NCAA attempted to clarify how athletic departments can get involved in NIL activity and interact with collectives. The new guidance sparked more questions and ambiguity, some said. 
Executives interviewed characterized NIL as two separate conversations: the traditional advertising and marketing value for a student-athlete, and then their NIL roster value, similar to recruiting inducements or pay-for-play. 
"What this has morphed into is, for 95% of kids, this is bona fide NIL," said Tom McMillen, president and chief executive of the LEAD1 Association, which represents athletic directors from the 131 members of the Football Bowl Subdivision. "But it's the 5% — the very top — who are making money that's probably not connected to name, image and likeness."
The prospect of NIL money influencing an 18-year-old's four-year academic commitment has clouded college football's early signing period each of the past two seasons. University of Florida football four-star recruit Jaden Rashada requested a release from his national letter of intent last week after a four-year, $13 million NIL agreement that he reportedly signed with the school's Gator Collective fell apart due to insufficient funding.
College athletic departments and NIL administrators walk a tightrope, balancing the NCAA's policy with state legislation and their school-specific rules. Those three things are not always in line.
According to data provided by INFLCR, there are more than 200 collectives — independent entities that pool funds from boosters, donors and fans to facilitate NIL deals, and, in theory, make what's sometimes a complicated process more manageable for student-athletes. Most of the deals aren't huge — Belzer said the average student-athlete's NIL value doesn't surpass the five-figure mark — though there is still money to be made. 
The University of South Carolina's women's basketball players agreed to individual NIL deals worth $25,000 each for the current season through the Garnet Trust and sports marketing firm NOCAP Sports. The Volunteer Club has distributed over $4.5 million to University of Tennessee student-athletes.
Student Athlete NIL is on pace to generate $30 million in deal revenue across its collective portfolio in 2023, Belzer said. The agency signed the University of Oklahoma football team as independent contractors to the Crimson and Cream Collective, which offers a marketing guarantee in exchange for fulfilling specific deal components with local companies. In December, the group raised $1.6 million through a 30-day campaign to support University of Oklahoma athletes in 2023. 
Some experts interviewed, including Marc Spiegel, founder of the Louisville, Ky., collective 502 Circle, questioned the future of NIL collectives as schools await further clarity on their involvement with the donor-backed groups. 
"I wouldn't be surprised if, in two or three years, collectives are no longer around, and they are absorbed within athletic departments or some variation," Spiegel said. 
Bridget Perine, director of name, image and likeness at the University of Memphis, agreed. "Could we help student-athletes understand and negotiate their deals? Could we help them fulfill their contracts?" Perine said. "I could maybe see collectives and those resources coming in-house, and becoming a one-stop shop."
One certainty for the future of NIL: change
Though NIL deals aren't yet salient for the majority of mainstream consumers, according to Morning Consult data, there is widespread acceptance of the practice. That's likely all it needs to significantly grow. As it does, it may not resemble the form it's taken in its first 18 months of existence. Experts interviewed expect additional modifications to the NCAA's rules and regulations, along with changes to existing state NIL laws. 
Emmert and others pointed to former Massachusetts Governor and incoming NCAA President Charlie Baker, whose political background and knowledge of legislative procedures could prove advantageous in dealing with NIL matters and transfer portal issues. 
"Most kids want to know that, even if they're the lowest man on the totem pole, they have some opportunity to earn — it's less about the specific dollar amount," said Amber Bunch, director of football NIL strategy at the University of Washington. She said the future of NIL is "team or small group deals."
502 Circle's Spiegel said there could be another revision by the NCAA to "allow coaches to contribute their own personal money" to NIL deals. He added that he could foresee several NCAA investigations into NIL improprieties by next year.
Belzer believes there will be several lawsuits in 2023 centered around breaches of contract by collectives to student-athletes and vice versa, in addition to breaches of contract by student-athletes to universities. 
"This is the year that all of this comes to a head," Belzer said. "It takes time for that to bubble up." 
Dr. Jim Phillips, commissioner of the Atlantic Coast Conference, said congressional involvement in NCAA matters will "remain front and center" as the governing body addresses the need for possible federal legislation. Some administrators, like Emmert, have advocated for congressional intervention. Last year, the Power 5 conference commissioners urged NIL-specific legislation to address recruiting inducements disguised as NIL.
"Absent some congressional action that allows for the creation of a single set of policies around the country, then the confusion that's out there now with NIL is only going to grow," Emmert said. There are around 30 state-specific NIL laws, which some argue present recruiting advantages to select institutions. 
Emmert proposed the creation of a third-party entity — not the NCAA or Congress — to serve as a "depository of information" for public visibility and transparency into NIL deals. He stressed the urgency that Congress acts this calendar year, given the natural slowness of action in Washington and the upcoming presidential cycle. 
"It's still unlikely that the NCAA will regulate [the NIL environment]," LEAD1's McMillen said. "You're going to see this get real messy. Sometimes messiness is good if you want congressional action."
Mark J. Burns is a sports analyst on the Industry Intelligence team, where he conducts research, authors analyst notes and advises leaders in the sports industry on how to apply insights to make better business decisions. Before joining Morning Consult, he served as a beat reporter at Sports Business Journal, covering the business of hockey and soccer. Mark graduated from the University of Michigan with a bachelor's degree in history and holds a Juris Doctor from Belmont University. For speaking opportunities and booking requests, please email [email protected].
Ellyn Briggs is a brands analyst on the Industry Intelligence team, where she conducts research, authors analyst notes and advises brand and marketing leaders on how to apply insights to make better business decisions. Prior to joining Morning Consult, Ellyn worked as a market researcher and brand strategist in both agency and in-house settings. She graduated from American University with a bachelor's degree in finance. For speaking opportunities and booking requests, please email [email protected].
We want to hear from you. Reach out to this author or your Morning Consult team with any questions or comments.
Contact Us